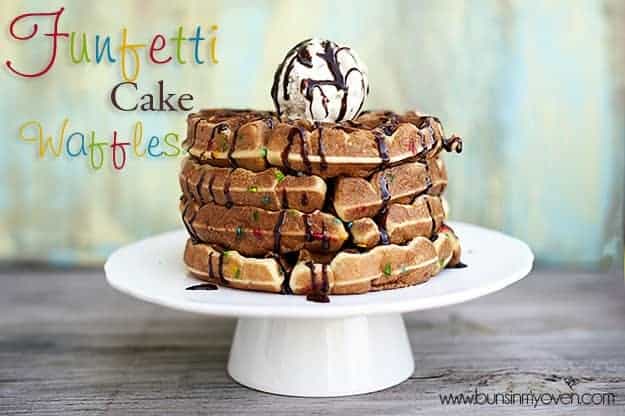 12 years ago today my life drastically changed. There was a baby. And he was mine. And I had to, like, take care of him and stuff.
It was crazy, man. It still is crazy, if we're being honest.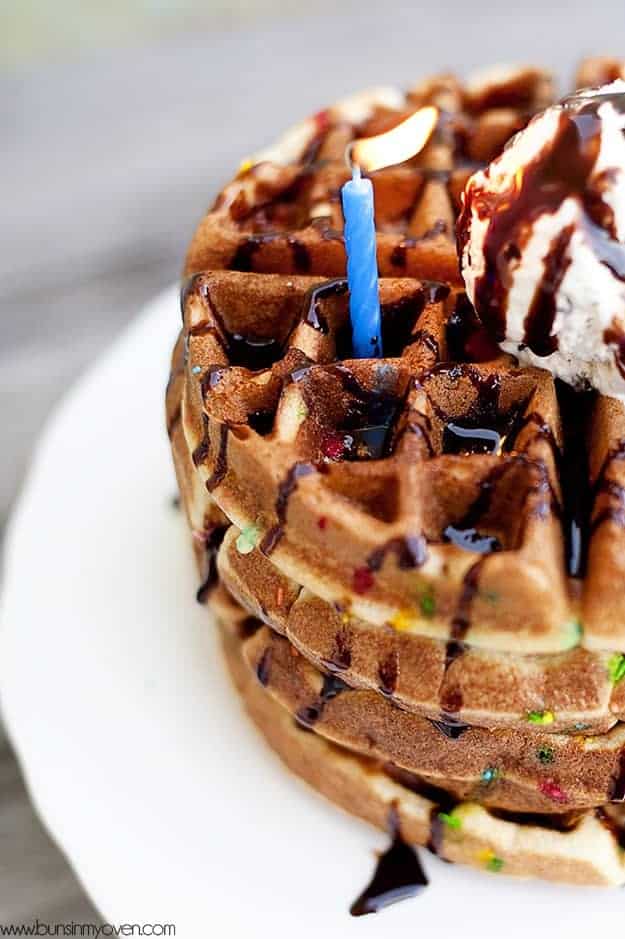 12 years of being a mama. It's an amazing thing.
12 years with the absolute sweetest little boy I've ever met. I'm always telling people what a great kid he is, but I don't think they fully get it. Really, you guys, GREATEST KID EVER.
I love him to pieces, is what I'm trying to say.
So, to make his birthday extra special, I served him up some Funfetti Cake Waffles for breakfast. With a big blob of ice cream and a healthy drizzle of chocolate syrup, natch.
His day is off to a pretty good start.
Happy Birthday, Elijah. Love you always, no matter what.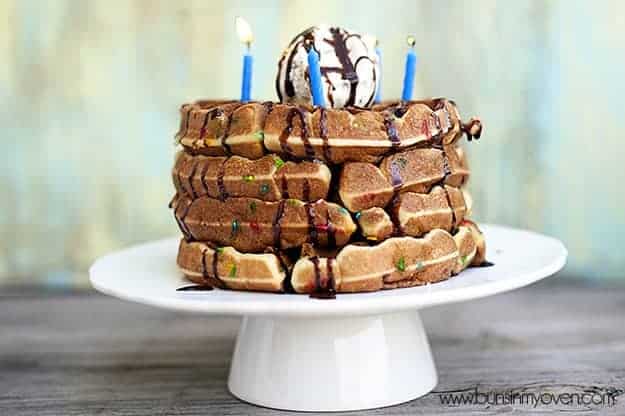 Funfetti Cake Waffles
Cake mix waffles are a fun twist on dessert, but serving them for a birthday breakfast makes the day that much more special!
Prep10 minutes
Cook10 minutes
Total20 minutes
Ingredients
1 box Funfetti Cake Mix
1 cup water
1/3 cup oil
3 large eggs
Instructions
Mix together the cake mix, water, oil, and eggs in a large bowl until well combined.

Drop 2 1/2 ice cream scoops of the cake batter into a preheated Belgian waffle iron and cook for three minutes. Use less cake batter if you're using a smaller waffle iron.

Serve with a scoop of ice cream and a drizzle of chocolate syrup.
Nutrition Information:
Calories: 325kcal (16%)| Carbohydrates: 43g (14%)| Protein: 3g (6%)| Fat: 15g (23%)| Saturated Fat: 2g (13%)| Cholesterol: 69mg (23%)| Sodium: 375mg (16%)| Potassium: 25mg (1%)| Fiber: 1g (4%)| Sugar: 27g (30%)| Vitamin A: 100IU (2%)| Calcium: 32mg (3%)| Iron: 1.2mg (7%)