Blueberry waffles meet muffins! This twist on two breakfast favorites will be a win in your kitchen!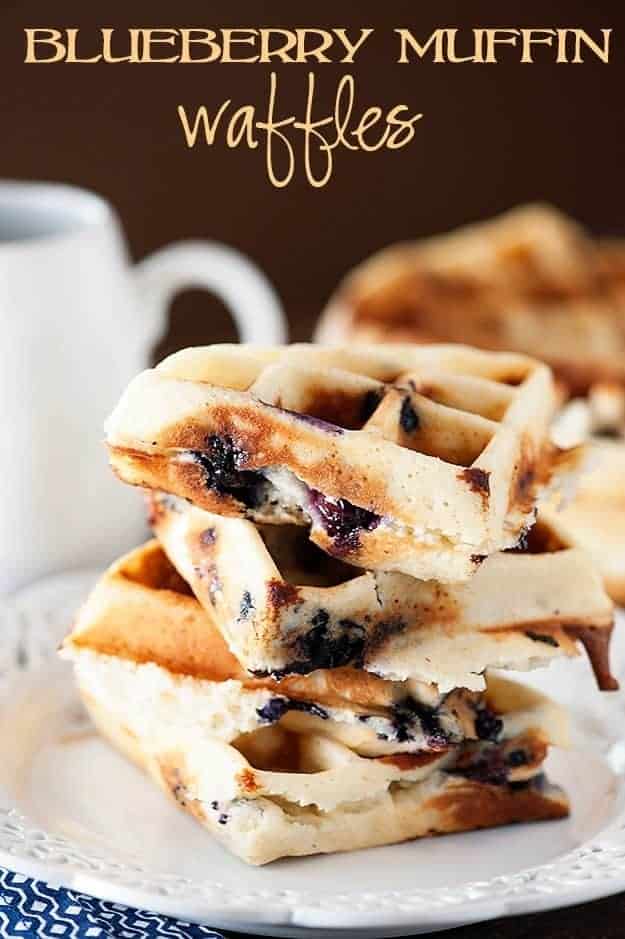 It's a twofer, guys!
Two recipes, mashed together into one delicious breakfast.
Are you excited? You should be excited.

I recently received the cookbook, Dessert Mash-Ups in the mail and the I died. Because, hello, it's full of twofers. S'morescake. Peanut butter cookie fondue. Chocolate chip monkey bread muffins. Sugar cookie dough cups.
Aaaaand, of course, blueberry muffin waffles.
Did I mention that my pal Dorothy wrote the book? I'm so proud of her. I've been reading her blog, Crazy for Crust, for years now. Years! And now I get to hold her book in my hands and drool all over it. I have the coolest friends around.
Anyway, these muffin waffles! They're light and tender with that perfect muffin taste. But they're made in a waffle iron because waffles are more fun than muffins. I'm sorry muffins, but it's the truth.
I used my Belgian waffle iron for these. It's a great iron, easy on the budget, and turns out perfect waffles every time.
Drown these in maple syrup, okay? Its the right thing to do.
Now go buy Dorothy's book. It's full of creative goodies that you will love! She even made a blueberry syrup to go along with these waffles, but I didn't have enough blueberries to make it myself. *sob*
Blueberry Muffin Waffles
Blueberry waffles meet muffins! This twist on two breakfast favorites will be a win in your kitchen!

Prep15 minutes
Cook15 minutes
Total30 minutes
Serves 6 (7-inch) waffles
Ingredients
1/2 cup vegetable oil
1 cup whole milk
2 large eggs
1 cup sugar
1 3/4 cups flour
1 teaspoon baking powder
1 cup blueberries fresh or frozen
Instructions
Preheat the waffle iron to medium high heat.

In a large bowl, whisk together the oil, milk, eggs, and sugar Add the flour and baking powder and stir until well combined.

Fold in the blueberries.

Spray the waffle iron with cooking spray. Fill the waffle iron with about 3/ cup of batter (this will vary depending on your maker) and cook until golden, about 2-3 minutes.

Carefully wipe off any blueberries that stuck to the iron before adding more batter for your next waffle.

Serve with butter and maple syrup.
Nutrition Information:
Calories: 481kcal (24%)| Carbohydrates: 67g (22%)| Protein: 7g (14%)| Fat: 21g (32%)| Saturated Fat: 16g (100%)| Cholesterol: 66mg (22%)| Sodium: 43mg (2%)| Potassium: 202mg (6%)| Fiber: 1g (4%)| Sugar: 37g (41%)| Vitamin A: 170IU (3%)| Vitamin C: 2.4mg (3%)| Calcium: 90mg (9%)| Iron: 2.1mg (12%)