These BLUEBERRY STREUSEL MUFFINS are a family favorite in our house! The simple crumb topping is irresistible and the muffins are so soft and light with juicy blueberries throughout.
It's no secret that my kids end up eating cereal for breakfast most days.
Let's be real – we homeschool, which means that they're here for every. single. meal. Mama can't cook all three meals every day of the week.
Besides, a little Cinnamon Toast Crunch never hurt anybody. 😉
Every now and then I like to surprise them with something a little more involved than cereal and these homemade blueberry muffins always make them smile.
My blueberry muffins with sour cream are extra soft, buttery, and moist. You're going to love them and they're really easy too!
How to make streusel topping for muffins:
We're going to start our blueberry streusel muffins by making the streusel topping.
You'll need melted butter, brown sugar, white sugar, cinnamon, and flour. Just stir all of those together until you have a thick mixture.
Set that aside to dry out a bit as you make the blueberry muffin batter.
How to make homemade blueberry muffins with sour cream:
The muffin batter consists of all the usual suspects: flour, leavening agents, salt, butter, sugar, eggs, vanilla, buttermilk, and blueberries.
We're adding in a bit of sour cream to keep these muffins as moist as possible. They're going to be so amazing!
Whisk together the flour, baking soda, baking powder, and salt and set that side.
Add the softened butter, brown sugar, and white sugar to a bowl and beat with a mixer. Beat in the eggs, vanilla, and buttermilk.
Stir the dry ingredients into the wet ingredients until the flour has just disappeared. Don't overmix!
Fold in the blueberries with a rubber spatula.
I like to use a large cookie scoop (affiliate link) to scoop my muffin batter into the tin. This ensures the muffins are all the same size and will bake evenly.
Now, grab your streusel topping and sprinkle it right over the top of the muffins. If you press the streusel together in your hands you'll have bigger chunks. If you don't press it together, you'll have a finer crumb. Whichever you prefer is fine, but I always go for the big chunks! They're so fun to pick off and munch on every time I walk by the kitchen. 😉
These muffins go into a 425 degree for 5 minutes to help them rise and then you'll drop the temperature down to finish them off.
Don't they look just divine?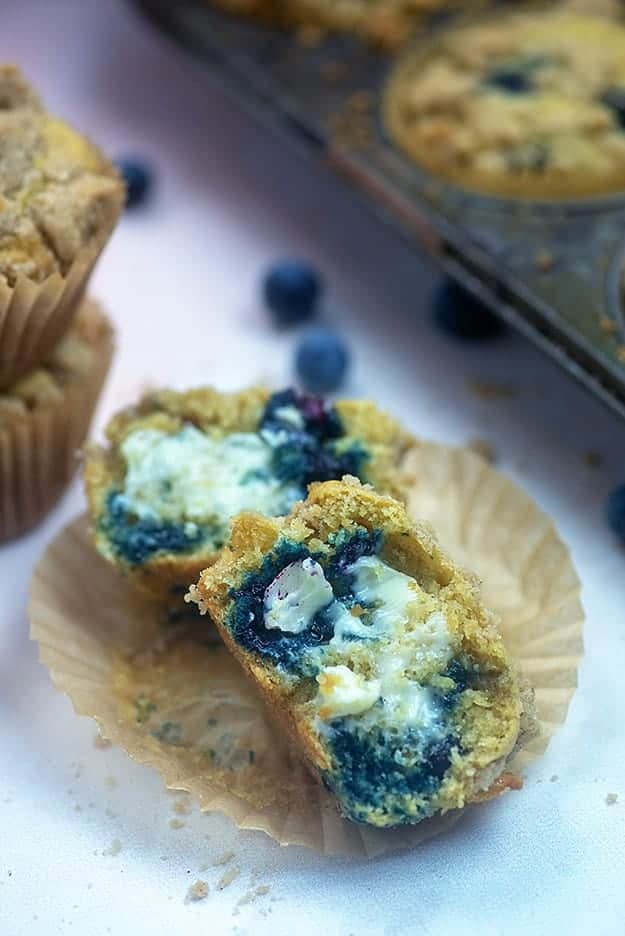 More berry recipes:
Banana Blueberry Muffins: Packed with good stuff.
Blackberry Cobbler: One of my favorites every summer.
Blueberry Breakfast Cake: Cake for breakfast is always a win!
Raspberry Lemonade: Just like Cheesecake Factory!
Blueberry Bread: It's like a giant muffin in bread form.
Blueberry Donuts: Baked instead of fried!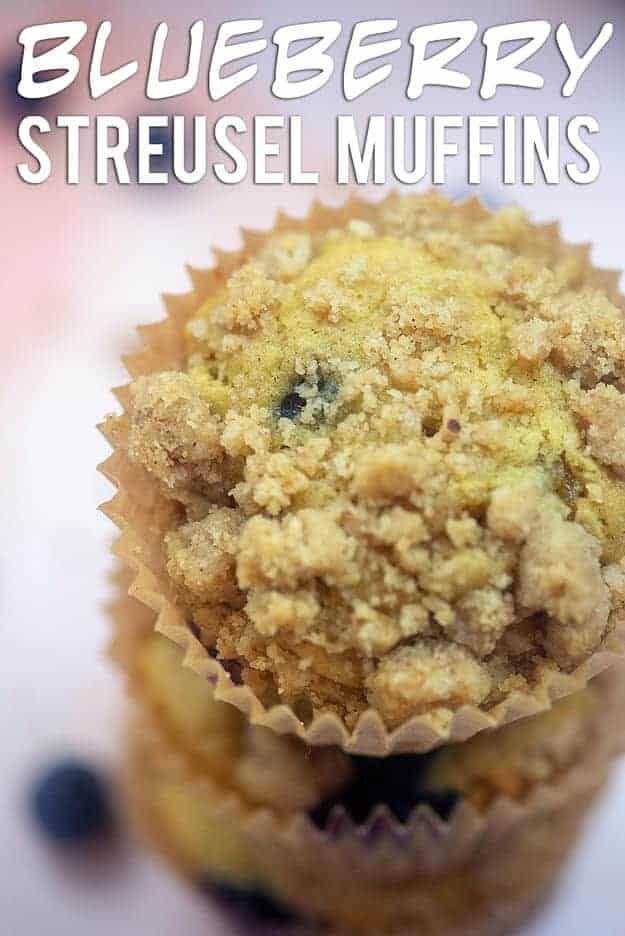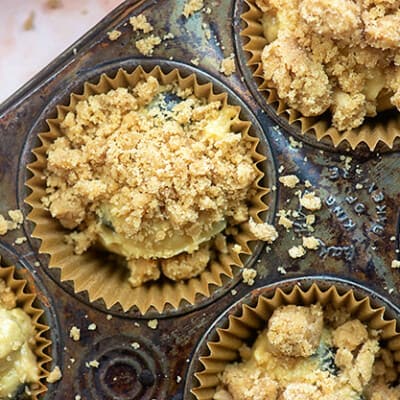 Blueberry Streusel Muffins
These moist blueberry muffins are topped off with big chunks of streusel for the perfect breakfast treat.
Prep10 minutes
Cook25 minutes
Total35 minutes
Ingredients
Streusel Topping
1 1/4 cup flour
6 tablespoons butter melted
1/4 cup brown sugar
1/4 cup sugar
1 teaspoon cinnamon
pinch salt
Blueberry Muffins
1/2 cup butter room temperature
1/2 cup brown sugar
1/4 cup sugar
2 eggs
1/2 cup sour cream
1/4 cup buttermilk
1 teaspoon vanilla extract
1 3/4 cups flour
1 teaspoon baking soda
1 teaspoon baking powder
1/2 teaspoon salt
1 1/2 cups fresh blueberries
Instructions
Streusel Topping
Add all of the streusel ingredients to a mixing bowl and stir well to combine.

Set aside to dry out as you prepare the muffins.
Blueberry Muffins
Preheat oven to 425 degrees. Line a muffin tin with paper liners.

Add the butter, brown sugar, and sugar to a mixing bowl and beat on medium speed until light and fluffy.

Beat in the eggs until well incorporated.

Stir in the sour cream, buttermilk, and vanilla until combined.

Add the flour, baking soda, baking powder, and salt to the bowl and stir by hand until the flour has just disappeared into the batter. Do not overmix or your muffins will be tough.

Gently fold the blueberries into the batter with a rubber spatula.

Fill the muffin tins 2/3 full (a large cookie scoop works perfectly for this) and top with the streusel.

Sprinkle the streusel over the muffin tops generously. For large chunks of streusel, compact the topping with your hand before sprinkling over the muffins. For a finer streusel topping, break the streusel up before sprinkling.

Bake at 425 degrees for 5 minutes and then reduce the heat to 350 and finish baking for 20 minutes or until the tops spring back when lightly pressed and a toothpick insered in the center comes out clean.

Cool for 10 minutes in the muffin tin before removing to the counter to cool completely.
Nutrition Information:
Serving: 1muffin| Calories: 361kcal (18%)| Carbohydrates: 49g (16%)| Protein: 5g (10%)| Fat: 16g (25%)| Saturated Fat: 10g (63%)| Cholesterol: 68mg (23%)| Sodium: 334mg (15%)| Potassium: 130mg (4%)| Fiber: 1g (4%)| Sugar: 24g (27%)| Vitamin A: 530IU (11%)| Vitamin C: 1.9mg (2%)| Calcium: 58mg (6%)| Iron: 1.8mg (10%)