Blackberry cobbler bakes up so easily that it will quickly become a family favorite! It turns out gorgeous every time! This post was originally published in 2010 and has been updated with new photos and a video!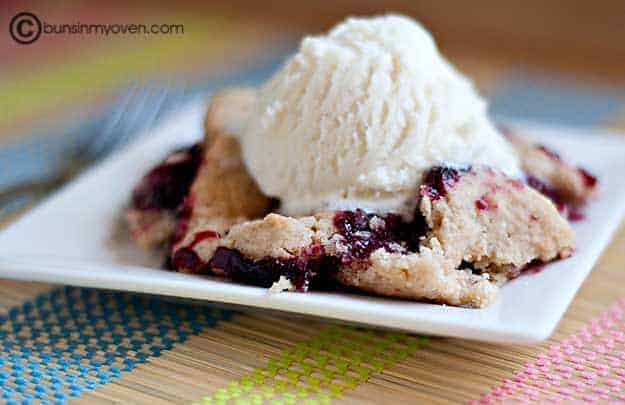 Things I'm obsessed with: berries. All of 'em.
I can't help myself, I just absolutely love berries. I can't resist them. I have a really hard time purchasing them for recipes because the minute I get home from the store, I'm ripping open the package and devouring them.
Especially big, fat, juicy blackberries.
Why are they so amazing?

Blackberry cobbler all summer long!
I have a raspberry bush in my backyard and I always swear that I'm going to make something amazing with it. Perhaps my raspberry coffee cake?
But no. I start picking the berries and I'm transformed into some weird berry eating monster.
It's shameful and embarrassing and I really hope the neighbors are never peeking out their windows when I'm out there hoovering berries into my face before even getting them in the house to rinse them off.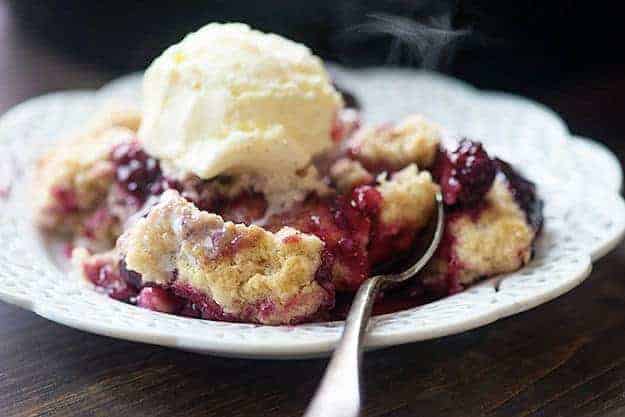 I'm happy to say, though, that I managed to make y'all this blackberry cobbler with some farmers' market blackberries the other day. You should be so proud of me.
I mean, really.
This was worth the torture of not devouring the berries right there in the middle of the farmers' market.
This easy blackberry cobbler recipe is a serious winner.
It would take home the gold in the National Berry Cobbler Olympic Championship, if only such a thing existed.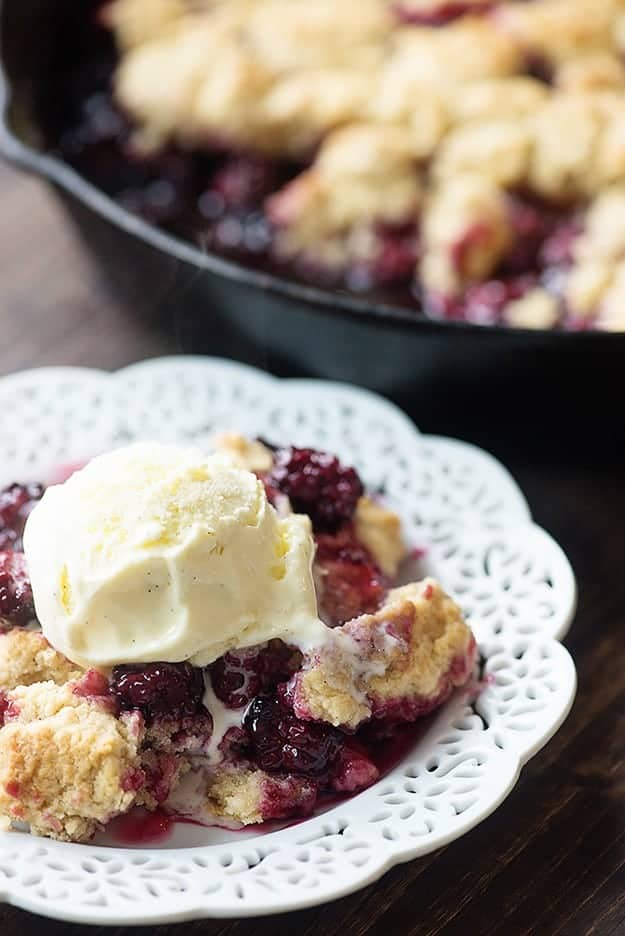 Oh, and this cobbler? I baked it in my cast iron skillet.
I love cast iron, especially for big desserts like this. Clean up is simple enough and everything just looks and tastes better out of cast iron.
I also love how it can go from stove top to oven with no problem, so there is minimal clean up. If you don't have cast iron, buy my skillet here, or just use a regular skillet and then transfer to a 9×9 baking dish before popping it in the oven. 🙂
Lucky you, I also managed to save enough berries for this blackberry crostata and these blackberry pie bars! You're welcome! 😉
The cobbler topping is a bit different from most, in my opinion. It's SO good, though and it's really easy to toss together.
Make this berry cobbler with any berry you love – raspberries, blueberries, or a mix!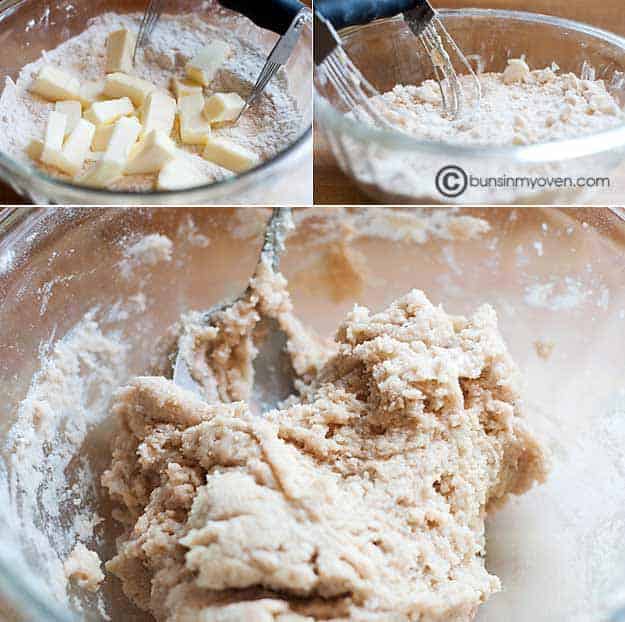 Those photos are from way back when, so no judging, please. 😉
If you love berry cobbler, I hope you'll give this one a try!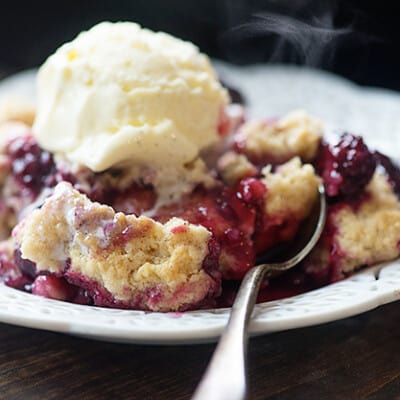 Blackberry Cobbler
Blackberry cobbler bakes up so easily that it will quickly become a family favorite! It turns out gorgeous every time!
Prep15 minutes
Cook25 minutes
Total40 minutes
Ingredients
For the dough:
1 1/2 cups all-purpose flour
1/2 cup sugar
1 1/2 teaspoons baking powder
1/2 teaspoon salt
1 teaspoon cinnamon
9 tablespoons cold butter
1/3 cup boiling water
For the filling:
2 tablespoons corn starch
1/4 cup cold water
1 tablespoon lemon juice
4 cups fresh blackberries
1/2 cup sugar
Instructions
Preheat oven to 400 degrees.

For the dough, mix the flour, sugar, baking powder, salt, and cinnamon in a large mixing bowl. Cut in the butter until you have a coarse, crumbly mixture. Pour in the boiling water and stir together well so that all of the dough is wet. Set aside.

To make the filling, dissolve the cornstarch in the water. Add the berries to a large, deep cast iron skillet over medium heat. Add the cornstarch slurry, lemon juice, and sugar to the pan and stir well.

Heat mixture over medium heat until boiling, stirring frequently. Remove from heat.

Drop pieces of dough over the berry mixture and place the cast iron pan on a foil lined cookie sheet and place in the oven. Bake for 20-25 minutes, until the dough is golden brown and the berries are thick and bubbly.

(If you don't have a cast iron pan, bring to a boil in a sauce pan and bake in a 9x9 baking dish.)

Serve hot with vanilla ice cream.
Nutrition Information:
Calories: 335kcal (17%)| Carbohydrates: 52g (17%)| Protein: 3g (6%)| Fat: 13g (20%)| Saturated Fat: 8g (50%)| Cholesterol: 33mg (11%)| Sodium: 261mg (11%)| Potassium: 217mg (6%)| Fiber: 4g (17%)| Sugar: 28g (31%)| Vitamin A: 550IU (11%)| Vitamin C: 15.8mg (19%)| Calcium: 63mg (6%)| Iron: 1.6mg (9%)