Our homemade Blackberry Cobbler recipe tastes just like the one Mom used to make! Sweet, tart, and perfect for a summer day – especially when you top it with a big scoop of vanilla ice cream!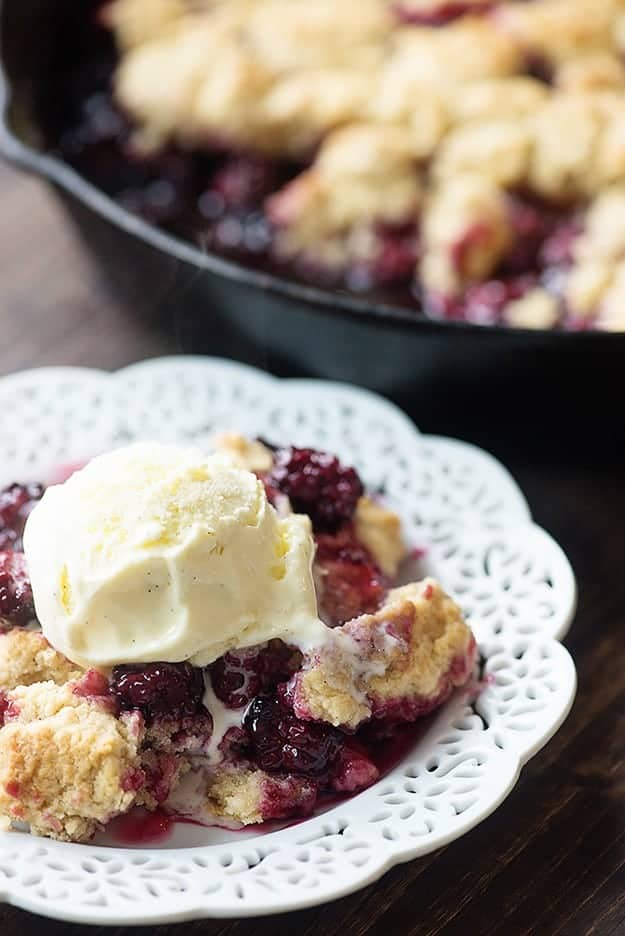 We love fresh blackberries in the spring and summer. Juicy, ripe, and impossible to stop popping in your mouth!
Which is why making a blackberry cobbler is one of the hardest desserts for me to make – not because the recipe itself is tricky (oh my gosh, it's so simple!), but because the second there are berries in our house, I'm eating them straight from the container.
The poor berries almost never make it long enough to get baked into this glorious cobbler with a golden biscuit like topping and that sweet, tart, juicy blackberry mess underneath.
I can confirm that this blackberry cobbler is worth it though! This is a definite summer favorite, loaded with fresh blackberries, topped with a simple crust, and served up with a big scoop of vanilla. It's heaven.
Our raspberry coffee cake is another favorite, along with this keto blackberry cobbler.
Ingredient Notes:
Topping: The biscuit topping for this blackberry cobbler recipe is a mix of all-purpose flour, sugar, baking powder, salt, cinnamon, cold butter, and boiling water. Simple ingredients that make a perfect topping.
Filling: The sweet blackberry filling is made with fresh berries, cornstarch to thicken things up, cold water, and fresh squeezed lemon juice along with a little sugar.
What Readers are Saying!
"Wow! I made this recipe and I was told it should be my signature recipe! I will make it again and again!" – Anthony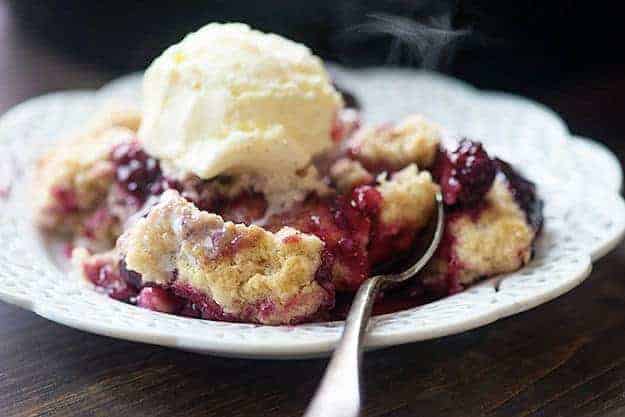 Tools Needed:
This post contains affiliate links. As an Amazon associate and member of other qualifying programs, I earn from qualifying purchases.
We bake this homemade blackberry cobbler recipe in a cast iron skillet to minimize the dishes. The berries cook down just a bit in the skillet before the whole things get popped in the oven.
If you don't have an oven safe skillet, you can cook your berries on the stove and then transfer to a 9×9 baking dish for the oven.

Cast iron skillets are my favorite! They heat so evenly, get piping hot for searing, and nothing is better than bacon fried in a cast iron skillet.
How to Make Easy Blackberry Cobbler: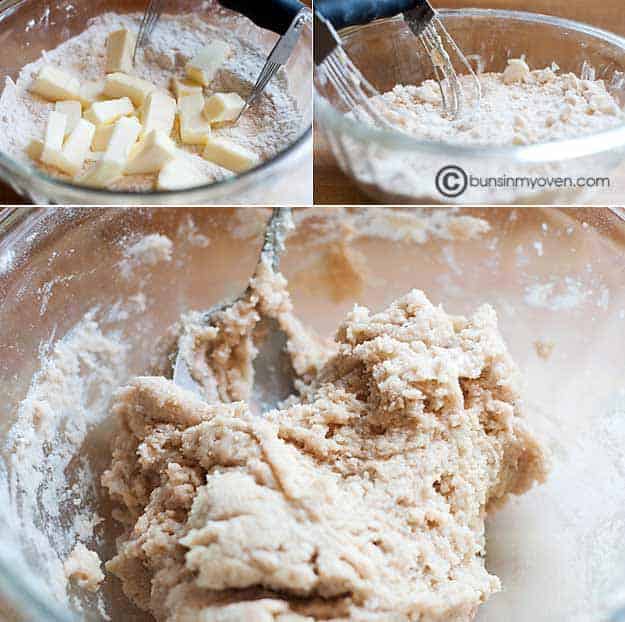 Cobbler Topping: The cobbler topping comes together easily in one bowl. Start by mixing the flour, sugar, baking powder, salt and cinnamon in a mixing bowl. Cut in the butter with a pastry cutter until you have a coarse, crumbly mixture. Pour in the boiling water and stir together well so that all of the dough is wet. Set aside.
Blackberry Filling: Start by dissolving the starch in a bowl with the cold water. Then add blackberries to a large, deep cast iron skillet over medium heat. Pour in the cornstarch slurry, the lemon juice, and the sugar.
Stir frequently while the filling heats up until it begins to boil. At that point, remove the skillet from the heat.
Top: Drop small bits of the dough over the blackberries to form a top crust.
Bake: Pop this in a hot oven for 25-30 minutes. The filling should be sweet, sticky, and bubbly and the cobbler topping should be golden brown.
FAQs:
How to store blackberry cobbler?
We recommend storing this blackberry cobbler in the fridge, covered, for up to 5 days. To reheat, spoon into a bowl and microwave until just warm.
Can you use frozen blackberries in blackberry cobbler?
To make this recipe with frozen blackberries instead of fresh, you'll want to thaw and drain them first and then proceed with the recipe.
MORE FRESH FRUIT RECIPES!
If you love berry cobbler, I hope you'll give this one a try!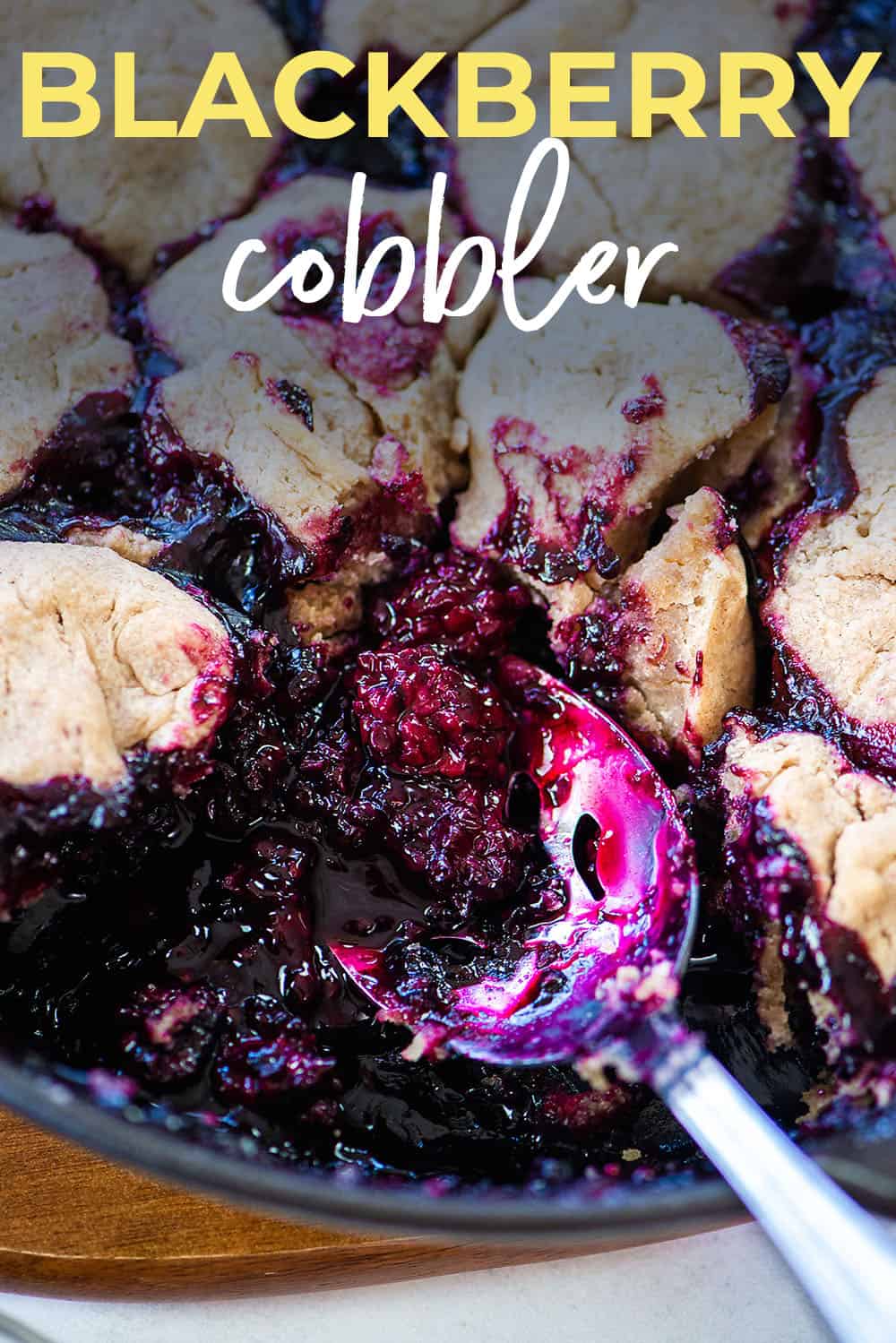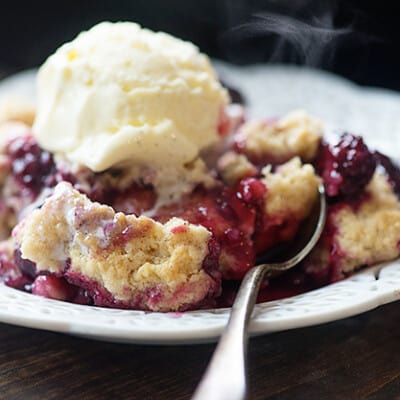 Blackberry Cobbler
Blackberry cobbler bakes up so easily that it will quickly become a family favorite! It turns out gorgeous every time!
Prep15 minutes
Cook25 minutes
Total40 minutes
Ingredients
For the dough:
1 1/2 cups all-purpose flour
1/2 cup sugar
1 1/2 teaspoons baking powder
1/2 teaspoon salt
1 teaspoon cinnamon
9 tablespoons cold butter
1/3 cup boiling water
For the filling:
2 tablespoons corn starch
1/4 cup cold water
1 tablespoon lemon juice
4 cups fresh blackberries
1/2 cup sugar
Instructions
Preheat oven to 400 degrees.

To make the dough, mix the flour, sugar, baking powder, salt, and cinnamon in a large mixing bowl. Cut in the butter using a pastry cutter or two butter knives until you have a coarse, crumbly mixture. Pour in the boiling water and stir to combine. Set aside.

To make the filling, dissolve the cornstarch in the water. Add the berries to a large, deep cast iron skillet over medium heat. Add the cornstarch slurry, lemon juice, and sugar to the pan and stir well.

Heat mixture over medium heat until boiling, stirring frequently. Remove from heat.

Drop small pieces of dough evenly over the berry mixture. Place the cast iron pan on a foil lined cookie sheet and place in the oven. Bake for 20-25 minutes, until the dough is golden brown and the berries are thick and bubbly.

Serve warm with vanilla ice cream, if desired.
Tips & Notes:
If you do not have a cast iron skillet, cook the berry mixture on the stove in a regular skillet or pan and then transfer to a 9×9 baking dish before adding the topping and baking. Drop small spoonfuls of the topping evenly over the berries so that the topping is not too thick. There should be enough topping to mostly cover the entire pan, leaving just little gaps here and there. To use frozen berries, thaw them completely and drain off any excess liquid.
Nutrition Information:
Calories: 335kcal (17%)| Carbohydrates: 52g (17%)| Protein: 3g (6%)| Fat: 13g (20%)| Saturated Fat: 8g (50%)| Cholesterol: 33mg (11%)| Sodium: 261mg (11%)| Potassium: 217mg (6%)| Fiber: 4g (17%)| Sugar: 28g (31%)| Vitamin A: 550IU (11%)| Vitamin C: 15.8mg (19%)| Calcium: 63mg (6%)| Iron: 1.6mg (9%)