This peach cobbler recipe is made with a super simple filling of fresh or frozen peaches, brown sugar, and cinnamon. The cobbler topping is outrageously good and you won't be able to stop nibbling on it!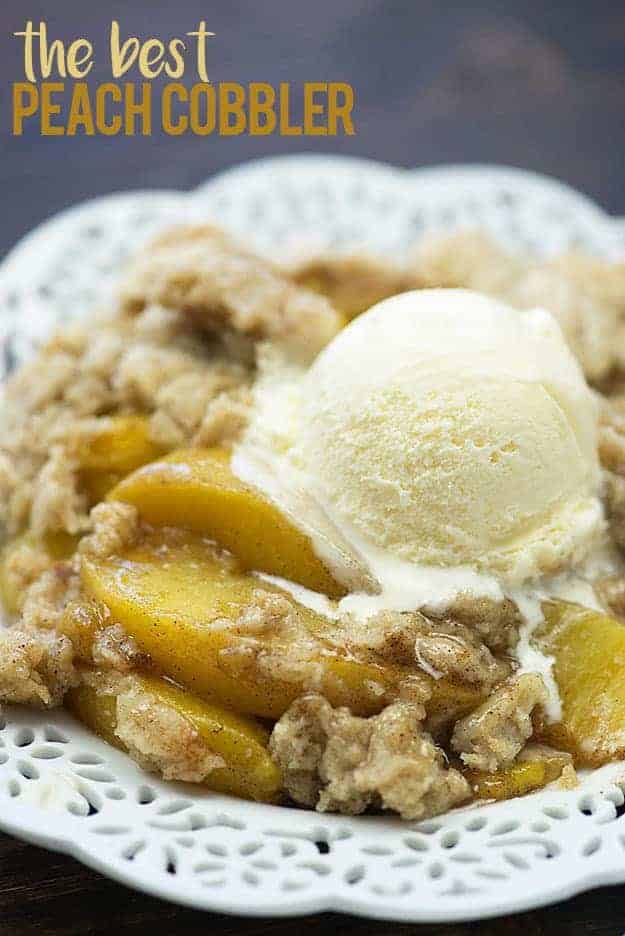 It's about this time of year that I start trying to hurry in summer.
I can't deal with another round of snow. I don't want to see anything lower than 50 degrees on my weather app. If I have to zip up my coat one more time, I will probably go die in a hole.
I'm done, y'all.
I know you're done too.
That's why I'm here with the sunshine!
I mean, okay, fine. It's not actual sunshine, it's just a pile o' peaches, but guys. That's just as good. Trust me.
This peach cobbler recipe is like summer in a cast iron skillet. Or a 9×13. Or whatever it is you want to bake your fresh peach cobbler in. You do you.
So, this easy peach cobbler recipe can start with either fresh or frozen peaches, which I LOVE.
Good fresh peaches can be tricky to find around my area most of the year, so I resort to frozen peaches more often than not. They work just fine.
Fresh peaches are more work anyway – peeling and slicing and trying so hard not to just eat all the sliced pieces from the bowl. 😉
How to make peach cobbler:
Okay, so in my opinion, this is the best peach cobbler recipe for a couple of reasons. Number 1 – it's freaking delicious. Number 2 – it's freaking easy.
You'll start with fresh or frozen sliced peaches and toss them with just a little brown sugar and cinnamon. You could also use honey in place of the brown sugar, if that's the sorta thing you're into.
That's literally all there is to the filling – peaches, brown sugar, and cinnamon. Easy, right?
The cobbler topping comes together fairly quickly too.
You'll start with flour, sugar, cinnamon, salt, and baking powder. Toss that together and then cut in some cold butter.
This is a biscuit-y sort of topping, so we're following a biscuit-y sort of method. Speaking of biscuits, have you tried my homemade biscuits? Heaven.
Next, you'll stir in some very hot water. Just pop the water in a mug and microwave it for a minute or so to get it good and hot.
I like to use my hands to break off little chunks of dough and place it all over the peaches. Easy peasy and don't worry about any little gaps in the dough. It all works out, promise.
Tools needed for this easy peach cobbler recipe:
Pastry cutter: You probably already have one of these in the kitchen, but if not, I recommend this one. It's less than $10 and has over 1,000 5 star reviews.
Pastry cutters make working butter into flour a total breeze. You can also use a fork or a couple of butter knives if you don't want any extra gadgets in your drawers. 😉
Cast iron skillet: This one is not at all necessary and you can easily bake this recipe in a 9×13 baking dish if you don't want to go out and purchase a skillet for this.
However, I LOVE my cast iron. I use it for frying bacon, cooking steak, and just about anything else you could think of. It makes it debut in my blackberry cobbler, too!
That's it as far as special tools! This recipe is super simple.
Give this one a try and let me know what you guys think! And don't forget to top this off with some vanilla ice cream. 😉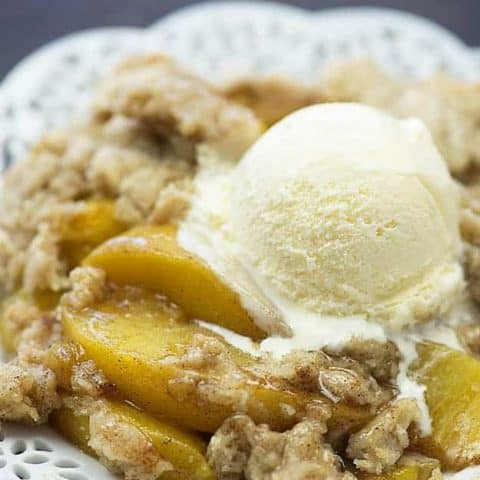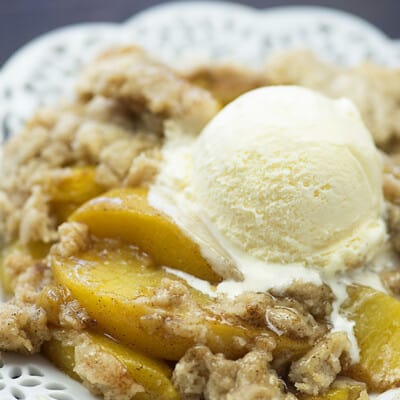 Peach Cobbler
This peach cobbler can be made with fresh or frozen peaches! Wait til you try that biscuit-y cobbler topping. It's the best part!
Prep10 minutes
Cook25 minutes
Total35 minutes
Ingredients
For the peach filling
2 pounds sliced peaches fresh or frozen and thawed
3 tablespoons brown sugar
2 teaspoons cornstarch
1 teaspoon cinnamon
For the cobbler topping
1 1/2 cups all-purpose flour
1/2 cup sugar
1/3 cup very hot water
1 1/2 teaspoons baking powder
1 teaspoon cinnamon
9 tablespoons cold butter
1/2 teaspoon salt
Instructions
To prepare the filling, preheat oven to 400 degrees. Spray a 9x13 baking dish or 12 inch cast iron skillet with nonstick spray.

Add the peaches, brown sugar, cornstarch, and cinnamon to the prepared dish and stir to evenly coat with the peaches. Taste and sprinkle in additional sugar if needed, depending on how sweet your fruit is.

To make the cobbler topping, in a medium bowl, stir together the flour, sugar, baking powder, salt, and cinnamon. Cut in the butter with a pastry cutter to form coarse crumbs.

Add the boiling water and stir to form a dough.

Drop small chunks of the dough on top of the fruit filling.

Bake for 35 minutes or until golden brown and bubbly.

Serve warm.
Tips & Notes:
If starting with frozen peaches, we prefer to thaw them at least partially prior to using. You can use them frozen, but they don't cook quite as nicely as they will when thawed. Serve with vanilla ice cream.
Nutrition Information:
Calories: 415kcal (21%)| Carbohydrates: 62g (21%)| Protein: 4g (8%)| Fat: 17g (26%)| Saturated Fat: 10g (63%)| Cholesterol: 45mg (15%)| Sodium: 347mg (15%)| Potassium: 429mg (12%)| Fiber: 3g (13%)| Sugar: 35g (39%)| Vitamin A: 1020IU (20%)| Vitamin C: 10mg (12%)| Calcium: 74mg (7%)| Iron: 1.9mg (11%)