This will be a short post today. I only have time for a quickie.
Oh, shuddup. I don't have time for immature giggles.
Fine. I do. I always have time for immature giggles.
Quickie. Heh.
The thing is, my mother and grandmother are coming over today and I'm feeling the need to banish some dustbunnies from existence. Also, my bathroom mirror is so coated in toothpaste that you truly can't even see yourself.
Don't even ask me about the floor around the toilet. This is a food blog. Trust me when I say that you don't even want to know.
Fine, I'll give you a hint. I live with boys. 'Nuff said.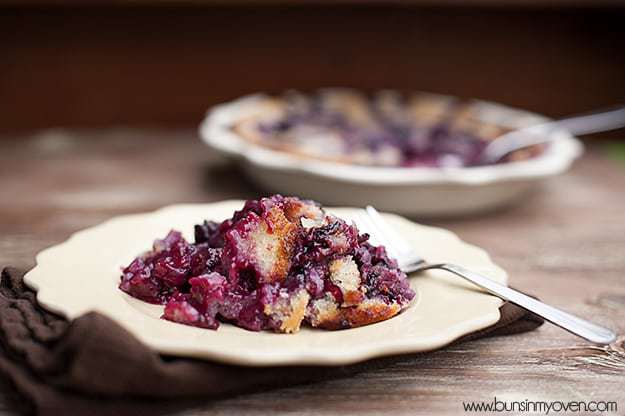 Anyway, today I have a recipe for blackberry buckle. It's a favorite of mine. It's sort of cakey and biscuity at the same time. And, oh my word, is it ever simple. Seriously, you can whip this up in no time.
Not in the mood for blackberry buckle? How about blackberry cobbler?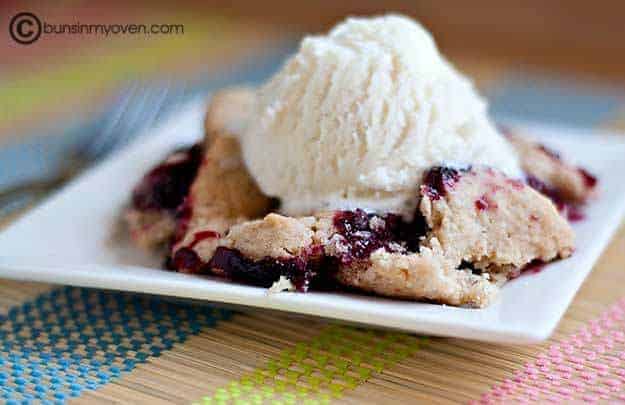 This one won first prize in a cobbler competition once. I won a set of mini pie dishes. I was so excited until I received my prize. I expected my pie dishes to be 3 or 4 inches in diameter…you know, personal sized pie dishes. No. They were 1 inch in diameter and only useful for laughing at.
Ah, well. The buckle and the cobbler taste good regardless of any lame prize received.
Blackberry Buckle
This Blackberry Buckle is a delicious and simple way to use up those blackberries! It's very similar to a cobbler, but called a buckle because the berries are sprinkled on top and the cake "buckles" under the weight.
Prep10 minutes
Cook55 minutes
Total1 hour 5 minutes
Ingredients
1/2 cup butter 1 stick
1 1/4 cup sugar
1 cup flour
1 1/4 teaspoons baking powder
1/4 teaspoon salt
1 cup milk
2 cups blackberries frozen or Fresh, rinsed and dried
2 tablespoons sugar
Instructions
Preheat oven to 350 degrees.

Melt the butter in a microwave safe dish.

Mix together the sugar, flour, baking powder, and salt in a large mixing bowl.

Whisk in the milk and melted butter, stirring until just incorporated.

Butter a pie plate or similar sized baking dish.

Pour the batter into the buttered dish and sprinkle the blackberries over the top evenly.

Sprinkle with 1 tablespoon of the sugar and place in the oven for 40 minutes.

Sprinkle the top with the remaining tablespoon of sugar and continue baking 15-20 minutes or until golden and bubbly.
Nutrition Information:
Calories: 434kcal (22%)| Carbohydrates: 68g (23%)| Protein: 4g (8%)| Fat: 17g (26%)| Saturated Fat: 10g (63%)| Cholesterol: 44mg (15%)| Sodium: 251mg (11%)| Potassium: 237mg (7%)| Fiber: 3g (13%)| Sugar: 50g (56%)| Vitamin A: 640IU (13%)| Vitamin C: 10.1mg (12%)| Calcium: 104mg (10%)| Iron: 1.3mg (7%)
lightly adapted from The Pioneer Woman