This PEACH BLUEBERRY CRISP is packed with juicy peaches and blueberries with the most amazing oat topping. We like to top this off with whipped cream or vanilla ice cream, but it's also pretty perfect on it's own!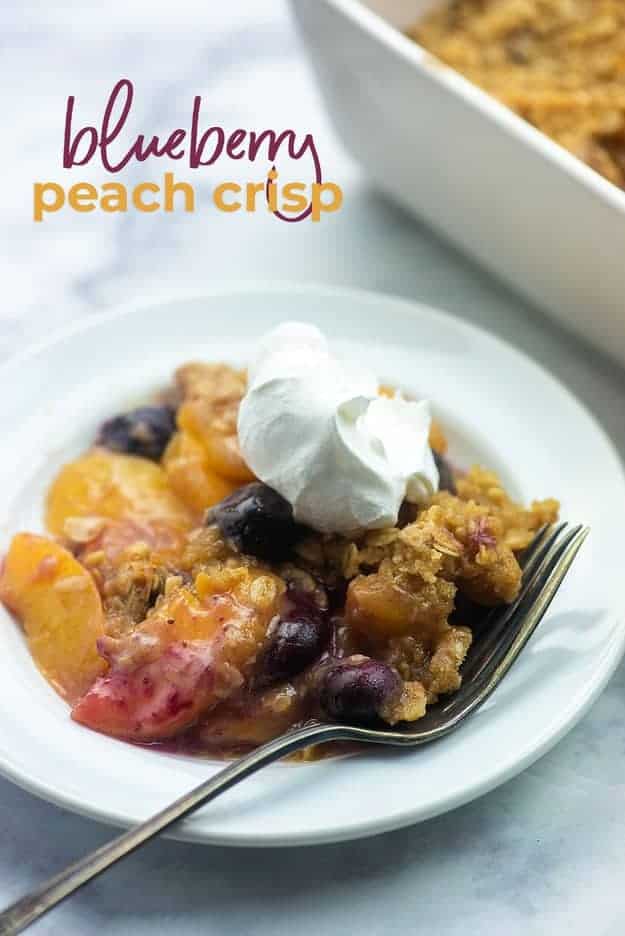 I've never been the biggest fruity dessert person, but as I get older I seem to be craving more and more apple cobbler and blueberry pie bars.
I mean, don't get me wrong. My homemade brownies are still getting made on repeat. It's not like I'm limiting the other desserts, I'm just adding in more fruity desserts.
Seems healthy, right? 😉
Anyway, this peach crisp recipe ranks right up there as one of my favorite ways to bake with peaches. The oat topping is seriously irresistible!
Let me show you how to make this easy peach crisp!
How to:
This post contains affiliate links. As an Amazon Associate, I earn from qualifying purchases.
The filling consists of peaches, blueberries, brown sugar, flour, cinnamon, lemon juice, and cinnamon.
You'll just stir these together to get the fruit coated.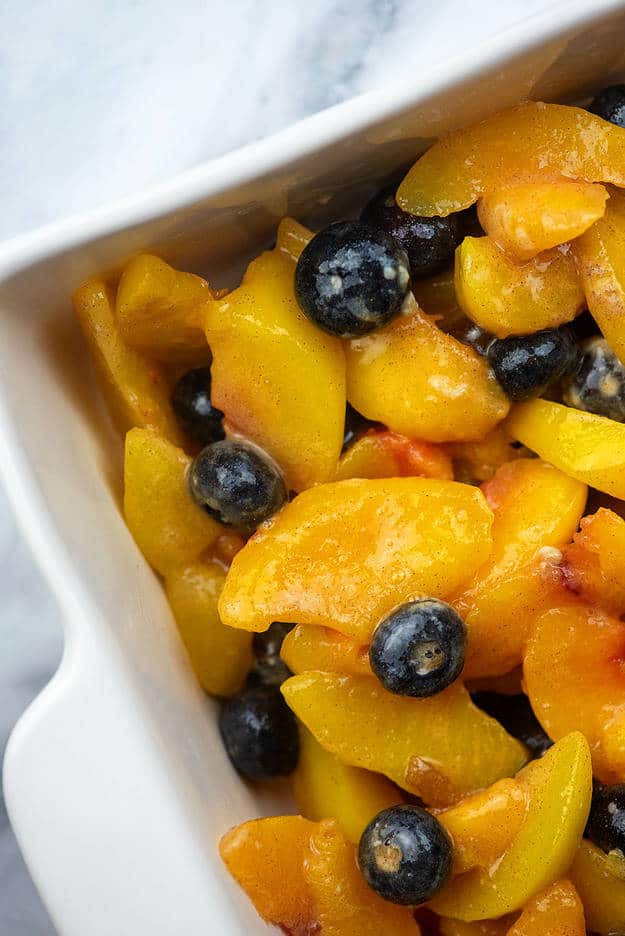 The flour helps soak up some of the fruit juices and the cinnamon adds the perfect touch.
You can use fresh or bottled lemon juice here. Either works fine!
The oat topping consists of flour, oats, brown sugar, butter, cinnamon, and baking powder.
You'll need a pastry cutter to cut the ingredients together. You could also do this in a food processor or with a couple of forks.
The mixture should be nice and crumbly before sprinkling it over the top of your filling.
As the crisp bakes the peaches and blueberries will soften and bubble and be impossible to resist!
Serve warm with ice cream or at room temperature with a dollop of whipped cream.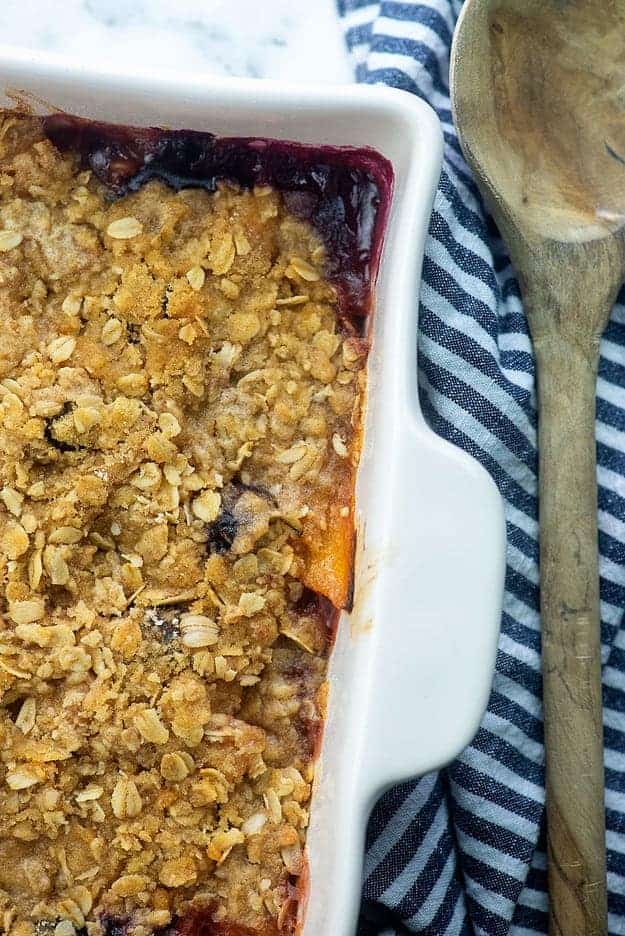 Peach crisp with canned peaches:
You can use canned peaches in this recipe, but be sure to get peaches that are packed in 100% juice and drain them well. The syrup-y peaches will be too sweet for this recipe.
When using canned peaches, I recommend mixing together the filling without the brown sugar and tasting. If you still think it needs brown sugar, go ahead and add it. If not, it's fine to skip it.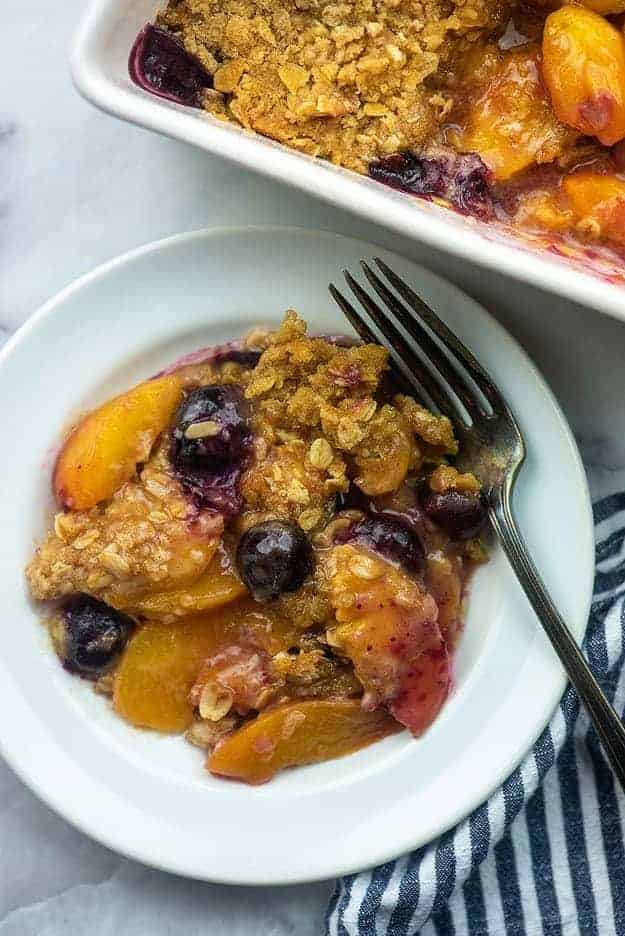 Peach crisp with frozen peaches:
When using frozen peaches for this recipe, you'll want to thaw them first.
I just pop the bag of frozen peaches in the fridge the night before baking, but you could also run the peaches under cool water to thaw them quickly.
Drain off any excess juice/liquid from the peaches before adding them to your filling.
Want more peach recipes?
Give this Bisquick peach cobbler a try – it's so easy!
My peach pancakes are a favorite in our house when we have fresh peaches on hand. The kids just love them.
But of course, we can't resist a fresh peach eaten plain with the juice dripping down your arm. Is there anything better? 🙂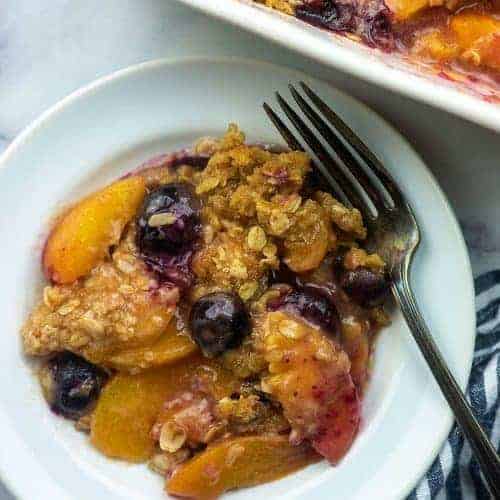 Peach Blueberry Crisp
This peach crisp can be made with fresh, frozen, or canned peaches. Either way, it turns out absolutely delicious!
Prep15 minutes
Cook30 minutes
Total45 minutes
Ingredients
For the filling
4 cups sliced peaches, see note
6 ounces blueberries, fresh or frozen
2 tablespoons brown sugar
3 tablespoons flour
1 teaspoon lemon juice
1/2 teaspoon ground cinnamon
For the topping
½ cup flour
½ cup rolled oats
½ cup brown sugar
½ cup cold butter, cubed
1/2 teaspoon ground cinnamon
¼ teaspoon baking powder
dash salt
Instructions
Preheat oven to 375 degrees.

Add all of the ingredients for the filling to a large mixing bowl and stir well to combine.

Pour filling int an 8x8 baking dish.

Add all of the topping ingredients to a medium bowl and use a pastry cutter or 2 forks to work the dough together until it forms small crumbs.

Sprinkle the topping over the filling.

Bake for 30 minutes.

Let cool for 10 minutes before serving.
Tips & Notes:
Fresh Peaches: Use fresh, ripe peaches if you can find them. Canned Peaches: Be sure to purchases canned peaches packed in 100% juice or they will be too sweet. Drain peaches well before use. Add all of the filling ingredients aside from the brown sugar. Taste and add as much sugar as you think they need. Canned peaches tend to be sweet. Frozen Peaches: Thaw frozen peaches completely before use by storing in the fridge overnight or running the peaches under cool water until thawed. Drain well before use.
Nutrition Information:
Calories: 266kcal (13%)| Carbohydrates: 39g (13%)| Protein: 3g (6%)| Fat: 12g (18%)| Saturated Fat: 7g (44%)| Cholesterol: 31mg (10%)| Sodium: 107mg (5%)| Potassium: 220mg (6%)| Fiber: 3g (13%)| Sugar: 25g (28%)| Vitamin A: 617IU (12%)| Vitamin C: 7mg (8%)| Calcium: 31mg (3%)| Iron: 1mg (6%)