You're going to love this fresh peach pie recipe, because it's got a shot of bourbon and a hit of ginger to spice things up!
We did it! We moved! Again.
This time we had the movers both pack and unpack for us. So, basically I sat on my butt while four hunky guys judged me for having four packages of Oreo cookies, somewhere around 10 bags of mini candy bars, upwards of 15 bags of chocolate chips, more tiny white plates and pretty cloth napkins than anyone could ever need, and a lot of half used boxes of cake mix. So, that was awesome.
I ran into my bathroom after I saw how cute the packing guys were and hid all of my feminine products in my suitcase. Apparently, I'm a 12 year old girl.

Then, they came and unpacked for us and this is how it went: they ripped open boxes, they got rid of the packing paper, they laid the items in the boxes on the counters and tables and beds and eventually even on the floor.
I wanted to be annoyed, but that's actually what we paid them to do. They don't know where we want our stuff, so they don't do any organizing. Just unboxing. It did save a bit of time, but it was certainly overwhelming!
Anyway! Pie! Because pie makes everything better.
The peaches at my local grocery store have been outrageously delicious this summer. So fragrant and juicy and I just can't walk by them without grabbing a few. I ended up with way more than we could eat, so I made some pie.
This is my favorite pie crust recipe too. I have ruined my fair share of pie crusts, but this recipe is just perfection. Turns out every time!
Loaded with peaches and ginger and a hit of bourbon, you probably should just head to the kitchen right this second. This was some good stuff, guys.
Not into pie? I bet you'd love this honey cinnamon peach cobbler!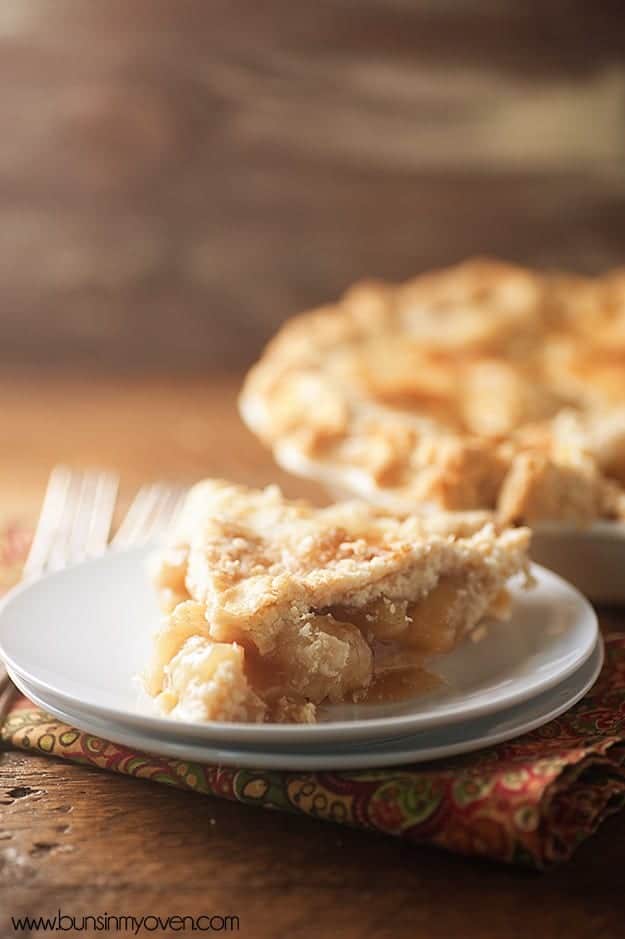 Ginger Bourbon Peach Pie
You're going to love this fresh peach pie recipe, because it's got a shot of bourbon and a hit of ginger to spice things up!

Prep40 minutes
Cook50 minutes
Total1 hour 30 minutes
Ingredients
For the crust:
1-1/2 cup shortening butter works, but not as well
3 cups flour
1 teaspoon salt
Pinch of white sugar
1 large egg beaten
5 tablespoons cold water
1 tablespoon vinegar
For the filling:
8 medium peaches about 6 cups sliced
3 tablespoons bourbon
1/2 cup brown sugar
3 tablespoons corn starch
1 teaspoon freshly grated ginger
1/2 teaspoon cinnamon
For the egg wash:
1 large egg
1 tablespoon water
1 tablespoon sugar
Instructions
To make the crust, dump the shortening, flour, salt, and sugar into a large bowl and work it together with a pastry cutter until you have coarse crumbs.

Pour in the egg, water, and vinegar and stir until just combined.

Separate into 2 balls of dough and place in ziploc bags. Flatten into round discs. Refrigerate for 30 minutes.

To make the filling, bring a pot of water to a boil and add the peaches, one at a time, to the boiling water for 10 seconds. Remove to a bowl filled with icy water for 10 seconds. The skin should easily peel right off the peaches.

Thinly slice the peaches and place in a large bowl. Toss with the bourbon. Gently stir in the brown sugar, corn starch, ginger, and cinnamon and stir to coat the peaches.

Remove one ball of dough from the fridge and roll it out on a floured surface into a 10 inch circle. Carefully transfer to a 9 inch pie plate.

Add the filling to the pie plate.

Roll out the second ball of dough to a 10 inch circle and carefully place it over the pie filling. Tuck the edges under, trimming any excess as needed, crimp with a fork or your fingers, and cut 4 slits in the center to vent.

In a small bowl, combine the egg and water and brush it over the top pie crust. Sprinkle liberally with sugar.

Bake the pie on a cookie sheet in a 400 degree oven for 10 minutes. Reduce heat to 350 and continue baking for 40 minutes or until golden brown and the filling is bubbling.
Nutrition Information:
Calories: 443kcal (22%)| Carbohydrates: 68g (23%)| Protein: 7g (14%)| Fat: 14g (22%)| Saturated Fat: 3g (19%)| Cholesterol: 46mg (15%)| Sodium: 314mg (14%)| Potassium: 370mg (11%)| Fiber: 3g (13%)| Sugar: 27g (30%)| Vitamin A: 555IU (11%)| Vitamin C: 9.9mg (12%)| Calcium: 34mg (3%)| Iron: 2.9mg (16%)