These BLUEBERRY BISCUITS are fluffy, tender, and bursting with fresh berries. The sweet glaze over the top is the icing on the…biscuit! Serve these up at breakfast or brunch or even as an afternoon treat. The recipe starts with my dad's FAMOUS biscuit recipe, so you know they're going to turn out perfect every time!
As someone who blogs for a living (yes, this is my full time job and the only income my family of four lives on!), you can imagine that I cook a lot.
I cook a lot, I taste test a lot, I try new things often, and only my very favorite recipes get made on repeat for family meals, because like I said – always experimenting with new recipes and there are only so many meals a person can eat in a day (sadly).
Hello, I'm bringing you a repeat-worthy recipe today. One that I have repeated every couple of days for the past month.
I just wanted to be super sure that it was perfect. (Okay, that's a total lie, I just wanted to eat these blueberry biscuits over and over again.)

These biscuits start with my dad's famous homemade biscuits and if you haven't made those yet, you are seriously missing out. Check the comments – so many people who have previously struggled with biscuits and have just totally mastered them thanks to all of his helpful hints and tricks!
You're going to love these!!
How to:
I'm going to give you a brief run down of the steps for this recipe, but if you want all of the detailed step by step how to get a perfect biscuit talk, you're going to want to click that link above for the homemade biscuits. It's FULL of tips and tricks.
This is a basic biscuit dough that starts with a combo of Bisquick and flour. You'll stir that together in a bowl with baking powder, sugar, salt, and baking soda. Once it's all combined well, you'll mix in some butter.
We use room temperature butter in this recipe, which basically goes against everything you've probably been taught about biscuit making but just have faith.
Really work the butter into the dough until the consistency is that of damp sand.
Stir in some milk and then start working your dough together. You'll probably need a bit more flour – that's okay. Just use the least amount of flour you can get away with…the dough should be soft but not terribly sticky.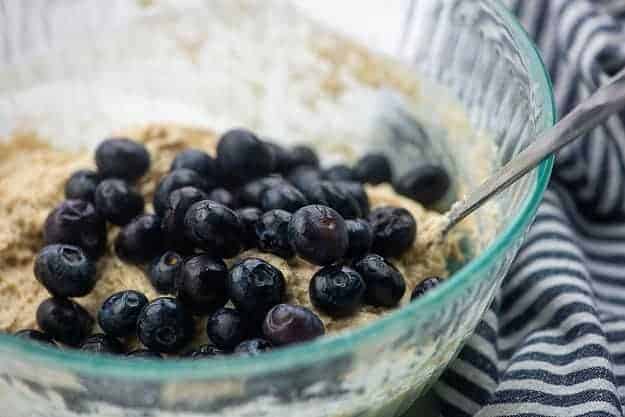 Add in your blueberries and gently stir them into the dough. Try not to break the berries up as best you can, but a few popped berries won't hurt anything.
Pop the dough out onto a floured work surface and pat it out to about 3/4 of inch thick and then cut out your biscuits.
These bake for about 15 minutes.
Once they've cooled for a couple of minutes, drizzle them with a little powdered sugar glaze. It's just a mix of powdered sugar, milk, and vanilla.
Drizzle that glaze over the top and let the glaze firm up a bit before digging in.
We like to serve these up at breakfast, but they make a fabulous afternoon treat as well.
More breakfast recipes: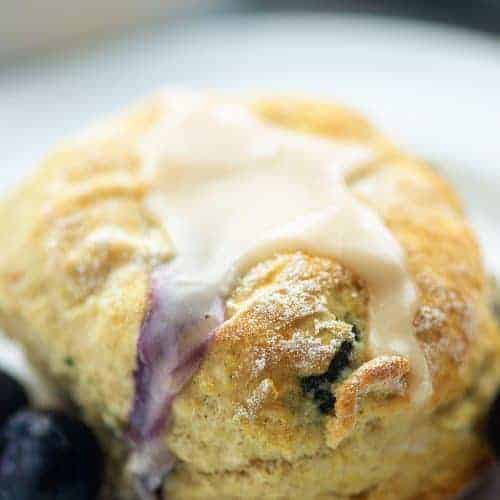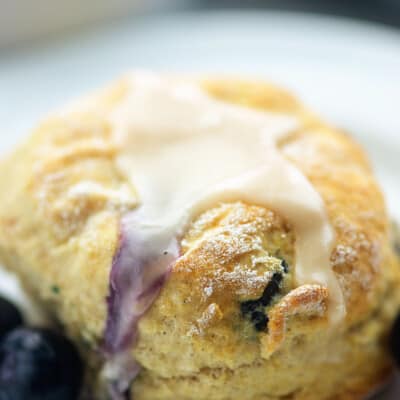 Glazed Blueberry Biscuits
Soft, tender biscuits studded with juicy blueberries! These homemade biscuits are topped off with the simplest little glaze that really takes these over the top. We enjoy these for breakfast or as an afternoon treat.
Prep15 minutes
Cook15 minutes
Total30 minutes
Ingredients
For the biscuits:
1 cup flour, plus more as needed
1 cup Bisquick
4 teaspoons baking powder
1 tablespoon sugar
1/2 teaspoon ground cinnamon
1/2 teaspoon salt
1/4 teaspoon baking soda
4 tablespoons butter, room temperature
1 cup milk
3/4 cup fresh blueberries
Instructions
For the biscuits:
Preheat oven to 450 degrees.

Add the flour, Bisquick, baking powder, sugar, cinnamon, salt, and baking soda to a large mixing bowl. Stir well to combine the dry ingredients thoroughly.

Add two tablespoons of the butter to the dough and use a spoon to press it into the flour mixture. I find it easiest to smear the butter against the sides of the bowl while working it into the flour. Once the first two tablespoons are completely incorporated, add in the last two tablespoons and repeat the process.

Pour in the milk and stir with a spoon until just combined. The dough will likely be too wet. Add in more flour, one tablespoon at a time, until the dough is just dry enough to handle. Dough should come away clean from your fingers when you touch it, but stick to your fingers if you pinch it.

Add the blueberries to the dough and gently fold them in, being careful not to break up the berries too much.

Dump dough onto a well floured work surface. Sprinkle lightly with flour.

Fold dough over on itself three times.

Use your hands to pat the dough to 3/4 of an inch high.

Cut dough out with biscuit cutter and place on baking sheet. Rework the dough as needed to cut out all of the dough, making 10 biscuits. Let sit 5 minutes before baking.

Bake for 15 minutes or until tops are just beginning to turn golden. Do not overbake.
For the glaze:
Whisk together the powdered sugar, milk, and vanilla until smooth.

Drizzle the glaze over the biscuits and let set 5 minutes to firm up.
Tips & Notes:
The glaze is optional! If you'd prefer a less sweet biscuit, skip the glaze and just butter your biscuits before eating. Biscuits are best eaten fresh, but can be stored at room temperature for 2-3 days in an air-tight container.
Nutrition Information:
Serving: 1biscuit| Calories: 189kcal (9%)| Carbohydrates: 28g (9%)| Protein: 3g (6%)| Fat: 7g (11%)| Saturated Fat: 4g (25%)| Cholesterol: 15mg (5%)| Sodium: 350mg (15%)| Potassium: 235mg (7%)| Fiber: 1g (4%)| Sugar: 11g (12%)| Vitamin A: 185IU (4%)| Vitamin C: 1mg (1%)| Calcium: 123mg (12%)| Iron: 1mg (6%)