So, this whole move to Nebraska that I've been going on and on about relentlessly? It's changed me.
I'm like a whole new person. I wake up when my husband gets in the shower every morning (this is because we now have a master bathroom and the shower is the loudest thing to ever happen) and then I go and cook him breakfast. Before the sun is up. In the morning. Like a grown up.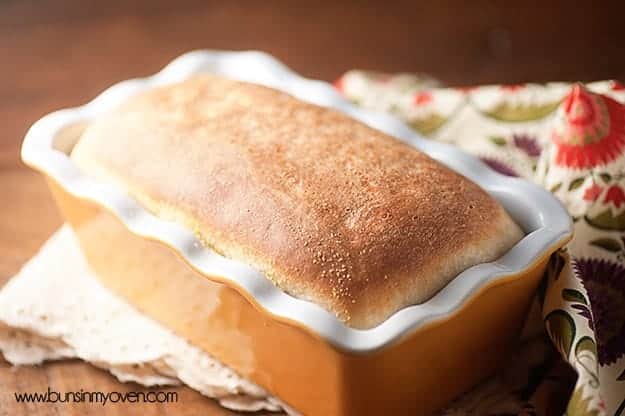 It's so weird, you guys.
Our laundry is now on the main floor too, so I even do laundry on a regular basis! And I fold it and put it away!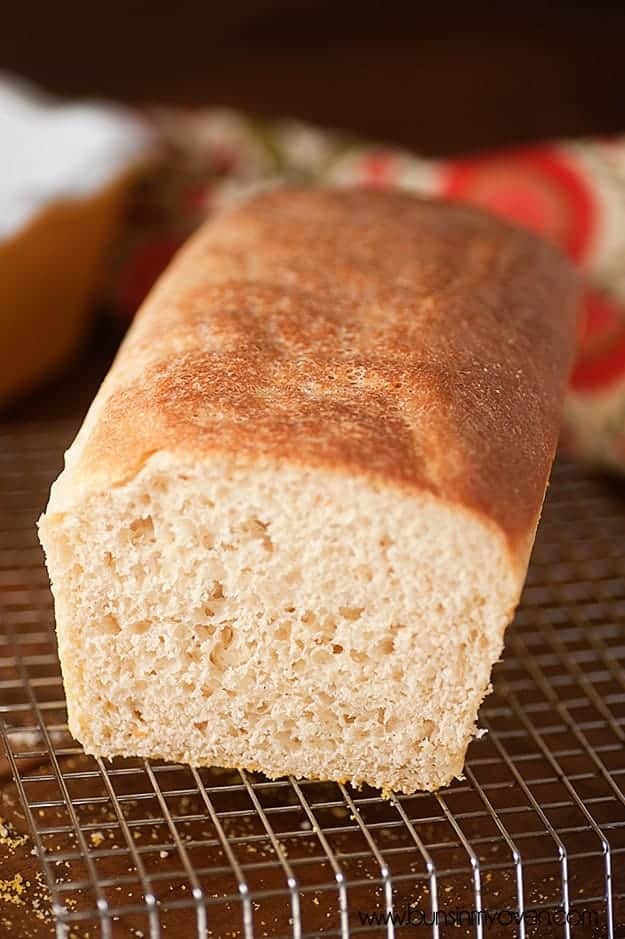 Seriously, who am I? My husband is so confused. And happy. He likes the new me. I guess I don't mind this new burst of domestication, but I will say that as soon as I decide to go back to being less work-y, there better not be any complaints from the spousal department.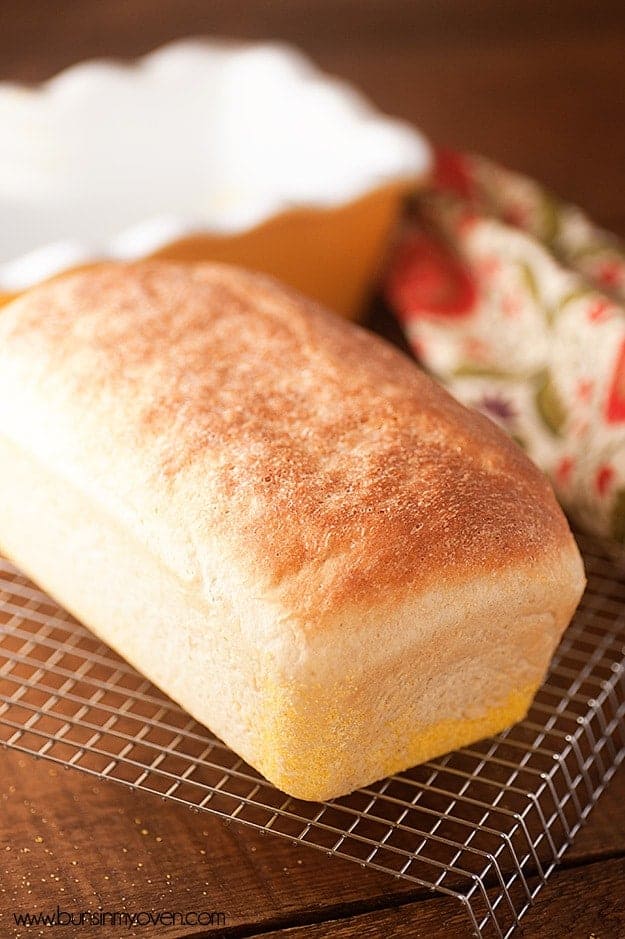 Anyway, I'm kinda bored of making bacon and eggs every morning. So, I made bread. English muffin bread, to be precise.
You guys, this stuff is going to BLOW YOUR MIND. It tastes just like an English muffin! It's super easy too.
I've been toasting this and smearing it with some butter and bunch of raw honey. My word…it's literally the best thing I've put in my face in a very long time. So simple, but so perfect! I'm in love. (Have you tried raw honey? It's nothing like the processed stuff you buy in a squeeze bottle. It's thick and creamy and has such a deep flavor.)
English Muffin Bread
You guys, this stuff is going to BLOW YOUR MIND. It tastes just like an English muffin! It's super easy too.

Prep15 minutes
Cook25 minutes
Total1 hour 25 minutes
Ingredients
1 cup milk
1/4 cup water
2 1/4 teaspoons active dry yeast one small packet
3 cups all-purpose flour
1 1/2 teaspoons sugar
1 teaspoon salt
1/8 teaspoon baking soda
1 tablespoon corn meal
Instructions
Warm the milk and water over low heat until warm, but not hot to the touch, around 120 degrees.

Remove from the heat and add the yeast to the mixture and let bloom, about 5 minutes.

In the bowl of a stand mixer, fitted with the dough hook, add the yeast and milk mixture and stir in the flour, sugar, salt, and baking soda.

Knead on medium speed for 7 minutes. Test dough and add more flour if it's too sticky too handle. It should be slightly sticky, but workable.

Spray an 8x4 loaf pan with nonstick cooking spray and sprinkle in the corn meal. Shake the pan around so that the corn meal coats the inside of the pan evenly.

Place the dough in the pan and let rise until doubled, about 45 minutes.

Bake in a 400 degree oven for 25 minutes or until golden brown.

Cool completely before slicing.
Nutrition Information:
Calories: 138kcal (7%)| Carbohydrates: 26g (9%)| Protein: 4g (8%)| Fat: 1g (2%)| Cholesterol: 2mg (1%)| Sodium: 216mg (9%)| Potassium: 81mg (2%)| Fiber: 1g (4%)| Sugar: 1g (1%)| Vitamin A: 35IU (1%)| Calcium: 28mg (3%)| Iron: 1.5mg (8%)