Our Sheet Pan Pancakes are thick, fluffy, and hands off! Easy to feed a crowd and fun to customize with blueberries, chocolate chips, and more!
Did you guys know that I am a pancake connoisseur? I mean, I even wrote an entire cookbook dedicated just to pancakes!
You have my book, right? Makes a great gift too. 😉 (Find it here on Amazon – affiliate link.)
Anyway, we LOVE pancakes in this house, but I don't always feel like cooking them for a crowd, just because the amount of time spent flipping pancakes could be better spent frying bacon. (Although, air fryer bacon is also a favorite!)
These sheet pan pancakes are thick and fluffy, perfect topped with a pat of butter, and a drizzle of warm maple syrup.
You can add in blueberries or chocolate chips to really make these fun. We went the blueberry route this time around.
Ingredient Notes:
This post contains affiliate links. As an Amazon associate and member of other qualifying programs, I earn from qualifying purchases.
Dry Pancake Mix Ingredients – You'll need standard pancake ingredients here: flour, sugar, baking powder, salt, and cinnamon. You can omit the cinnamon if you don't like it, but we think it gives these a special touch!
Wet Pancake Mix Ingredients – Milk, eggs, and melted butter. Also, some vanilla extract for flavor!
Fresh Blueberries – I'm a big fan of blueberry pancakes, so I'm loading these sheet pan pancakes with lots of them. You're welcome to switch it up and use any other pancake topping or mix in like more fruits or chocolate chips!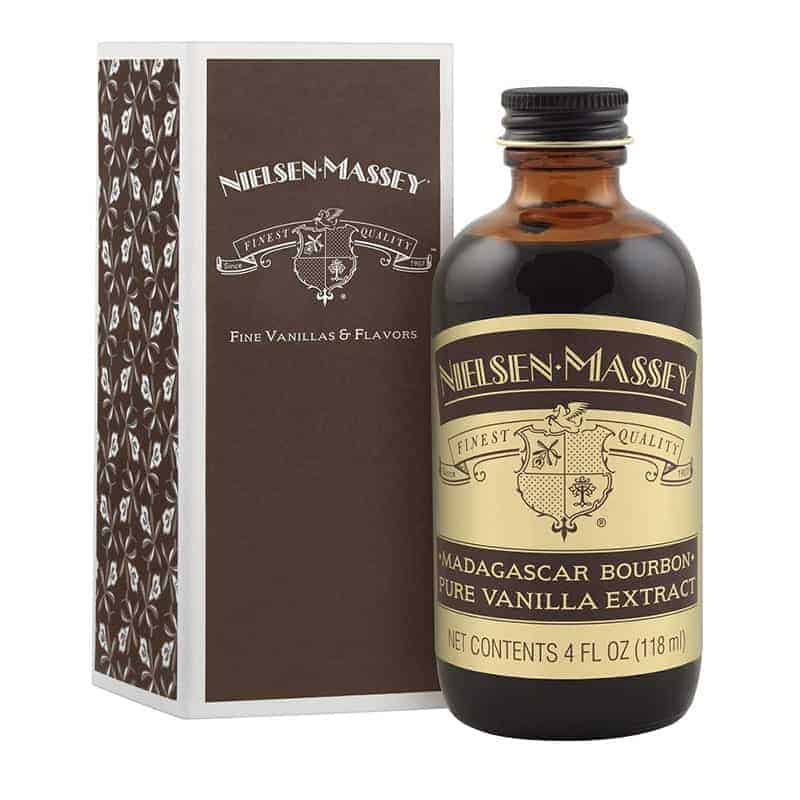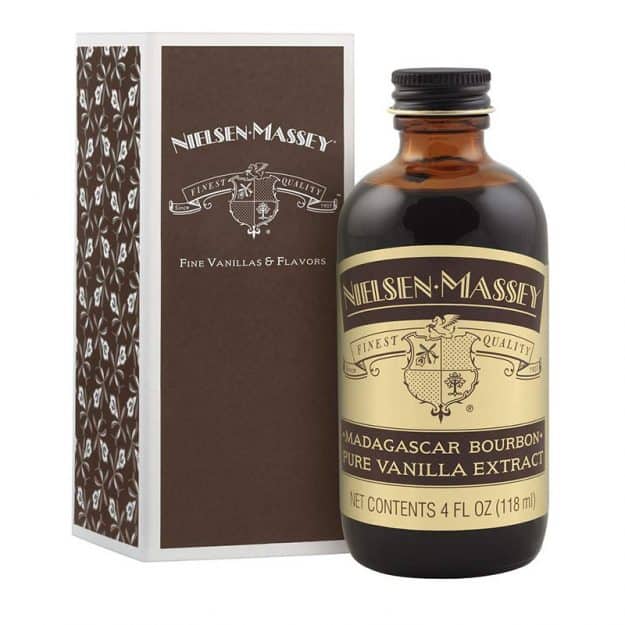 This is my all time favorite brand of vanilla extract! It just seems to have the best flavor of any that I've used and I always recommend it. Try it out!
What We Love About This Recipe:
No flipping! That's where things usually seem to go wrong when trying to make the perfect pancake and it's time consuming.
If you can't decide whether you want a blueberry pancake or chocolate chip pancakes… just do both. This is big enough that you can do half of each.
These bake up thick and fluffy!
How to Make Sheet Pan Pancakes:
Dry Ingredients: While your oven is preheating you can start preparing the pancake batter. Whisk the flour, sugar, baking powder, cinnamon and salt together in a large bowl.
Wet Ingredients: In a separate, small bowl add the milk, eggs, melted butter, and vanilla and whisk together until combined.
Pancake Batter: To turn this into a batter you'll now pour the wet ingredients in with the dry ingredients and stir until they are just combined. Leave a few lumps, just like if you were making stove top pancakes – overmixing makes for tough pancakes.
Assemble: When you've finished preparing the pancake batter you can start pouring it into a greased 18×13 rimmed baking sheet. Smooth the top until the batter is in an even layer. Finally, sprinkle with the blueberries!
Helpful Tip!
This giant sheet pan pancake makes a lot! If everyone in your family enjoys blueberries, then perfect! But maybe the kids prefer chocolate chips instead? Just top with half of each, like you would a pizza.
Bake: When you've finished adding the blueberries or your preferred pancake toppings and mix ins, you can start baking! It'll take about 15 minutes or until the top is lightly golden and a toothpick comes out clean.
We serve these by cutting them into individual squares. Oh, and with lots of butter and maple syrup!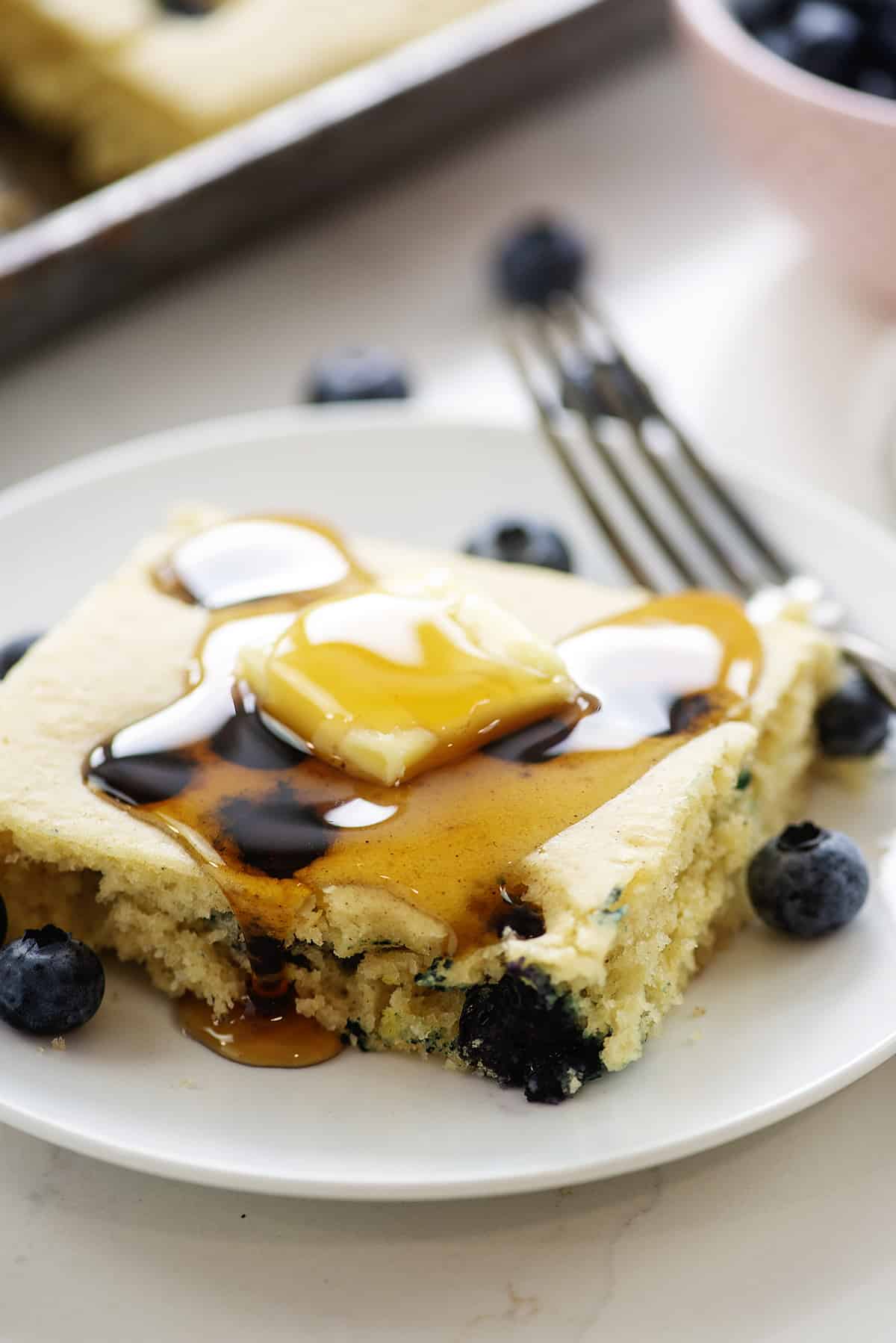 FAQs:
What are sheet pan pancakes?
It's a giant pancake that quickly bakes in the oven and gets cut into squares for serving. They're perfect for loading up with your favorite toppings or fruity mix ins! It's also impossible to say sheet pan pancakes three times fast. Try it.
How to store sheet pan pancakes?
Let it cool completely and cut into squares before placing in an airtight container or wrap in the fridge. They should last up to 3 days.
Mix-ins and Toppings:
It's fun to get creative with your pancakes! There are loads of toppings and mix-ins you can try with these sheet pan pancakes!
Sprinkle on before baking:
Blueberries
Chocolate Chips
Strawberries
Banana Slices
Raspberries
Cinnamon Chips
Cooked and Crumbled Bacon
Toppings for finished pancakes:
Maple Syrup
Nutella
Peanut Butter
Cookie Butter
Fresh Fruit
Whipped Cream
Chocolate Syrup
MORE HOMEMADE PANCAKE RECIPES!
It's no secret that I love pancakes! In, fact I sort of wrote the book on it. Check out Stack Happy which features 70 pancake recipes! Here are a few favorites:
Sheet Pan Pancakes
When you're trying to feed the whole family, making a big batch of pancakes in the oven is so much simpler than standing over a hot stove flipping individual pancakes! These bake up thick and fluffy and are easy to customize with whatever mix-ins or toppings you like.
Prep10 minutes
Cook15 minutes
Total25 minutes
Ingredients
3 cups flour
¼ cup sugar
2 tablespoons baking powder
½ teaspoon cinnamon
½ teaspoon salt
2 ½ cups milk
2 large eggs
½ cup melted butter
2 teaspoons vanilla
1 1/2 cups fresh blueberries
Instructions
Preheat the oven to 425 degrees. Spritz an 18×13 rimmed baking sheet with non-stick spray.

Whisk together the flour, sugar, baking powder, cinnamon, and salt in a large bowl.

Add the milk, eggs, butter, and vanilla to a small bowl and whisk to combine.

Pour the wet ingredients into the dry and stir until just combined.

Pour the batter into the prepared baking dish and smooth the top.

Sprinkle with the blueberries.

Bake for 15 minutes or until lightly golden on top and a toothpick comes out clean

Cut into squares and serve with butter and maple syrup.
Tips & Notes:
The cinnamon is optional, but we like the touch of flavor it adds to the pancakes. You can easily swap the blueberries for other fruits or chocolate chips. The blog post above contains lots of ideas! These are perfect with a pat of butter and warm maple syrup drizzled over the top.
Nutrition Information:
Serving: 1pancake| Calories: 204kcal (10%)| Carbohydrates: 27g (9%)| Protein: 5g (10%)| Fat: 8g (12%)| Saturated Fat: 5g (31%)| Polyunsaturated Fat: 1g| Monounsaturated Fat: 2g| Trans Fat: 0.3g| Cholesterol: 46mg (15%)| Sodium: 153mg (7%)| Potassium: 273mg (8%)| Fiber: 1g (4%)| Sugar: 7g (8%)| Vitamin A: 299IU (6%)| Vitamin C: 1mg (1%)| Calcium: 130mg (13%)| Iron: 1mg (6%)