Pancakes for breakfast are always a treat, but especially if you turn them into s'mores pancakes!

Growing up, we always had a big bottle of Hershey's Chocolate Syrup in the fridge. I think that's a sentence that most of us can relate too, right? I mean, who didn't grow up with Hershey's Chocolate Syrup?
Well, I have many memories of glasses full of chocolate milk. I used to go on milk strikes as a kid. One day, I loved milk and it was all I ever wanted to drink. The next day, I hated the stuff and didn't want anything to do with it. I continued like that through most of my childhood. I'm sure my parents loved it. 😉
Anyway, adding some chocolate syrup to a glass of milk was a surefire way to get me to gulp it down and now my kids are always excited for a glass of chocolate milk, too. Sometimes, just for fun, I coat the rim of the glass in cookie crumbs. How adorable is that?? Just run the rim of the glass in a little chocolate syrup and dip into a plate of crumbled cookies!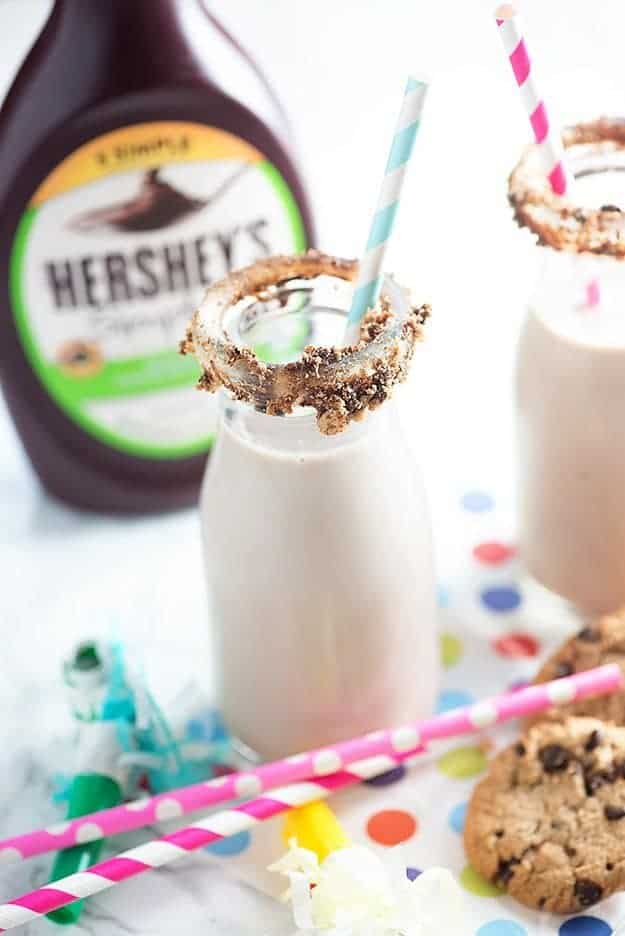 Hershey's has recently come out with a new chocolate syrup called Hershey's Simply 5 Syrup. It's got just 5 simple ingredients that anyone can pronounce! No GMOs, no high fructose corn syrup or artificial flavors! In honor of their sweet new take on chocolate syrup, they've asked me to come up with 5 simple ways to enjoy their chocolate syrup with the kiddos!
I love that I can serve this to my children and feel good about what's inside the bottle.
Besides chocolate milk, we love to use Hershey's Simply 5 syrup for a quick ice cream sundae after dinner. It's such a simple and fun way to dress up a boring bowl of ice cream. Top with some sprinkles and your kids think you've really gone and done something special!
Who doesn't love sprinkles, right? My daughter even says that sprinkles are her favorite flavor!
Of course, I like to experiment in the kitchen, which means that I like to play around with flavors. A simple ice cream sundae is great, but you know what's even better? A roasted strawberry chocolate milk shake! A few squirts of Hershey's Simply 5 Syrup makes this shake extra delish.
I love reliving my own childhood through my kids. It's pretty easy to do when I remember how special and exciting birthdays were as a little one. I'm all about keeping them fun for my kids and making the day feel as special as possible. My favorite way to do that is by starting breakfast off with a bang.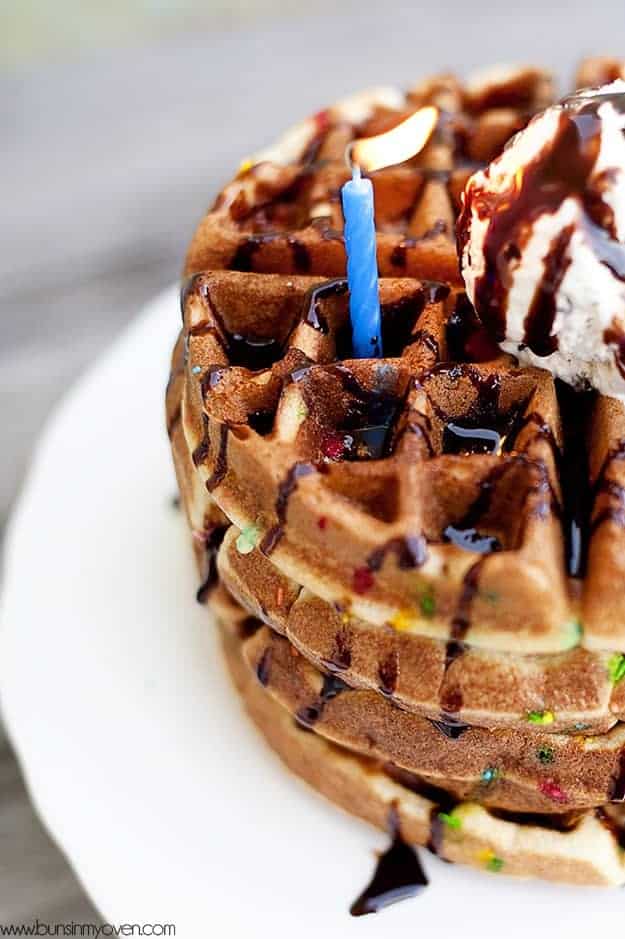 And by bang, I obviously mean a delicious treat. Such as these Birthday Cake Waffles. They're impossible to resist, and if you're feeling extra nice, top them with a scoop of ice cream. Don't forget to drizzle on the Hershey's Simply 5 Syrup and pop a few candles in the stack of waffles!
I'm all about the fun breakfasts. I mean, yes, we definitely try to eat a balanced diet most days. But sometimes you just want something fun and special in the mornings that you know your kids are going to go nuts over. Aaaaand that's when it's time to bust out these s'mores pancakes. I mean, s'mores. For breakfast! How much better could your day get?
I keep these pancakes super simple with a traditional pancake base, some toasty marshmallows, and a sprinkling of crushed graham crackers. Of course, they aren't complete without a squirt or two of chocolate syrup!
Give these a try for breakfast. I bet you'll feel like a kid again, too!
For more Hershey's ideas and recipes, follow them on Facebook, Twitter, and Pinterest!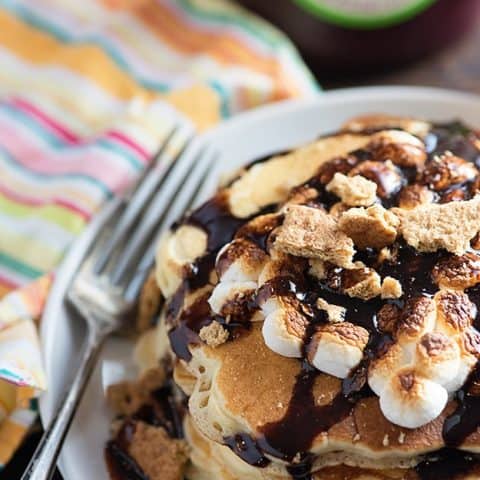 S'mores Pancakes
S'mores pancakes are a decadent breakfast or a sweet treat for after school!
Prep5 minutes
Cook10 minutes
Total15 minutes
Ingredients
1 cup all purpose flour
2 tablespoons sugar
1 teaspoon cinnamon
1/8 teaspoon nutmeg
1 teaspoon baking powder
1/2 teaspoon baking soda
1/2 teaspoon salt
3/4 cup buttermilk or 3/4 cup regular milk plus 1 tablespoon vinegar - let sit for 5 minutes
1 teaspoon vanilla
1 egg
2 tablespoons vegetable oil
1 cup mini marshmallows
Hershey's Simply 5 Syrup for topping
1 graham cracker
Instructions
Combine the flour, sugar, cinnamon, nutmeg, baking powder, baking soda, and salt in a large mixing bowl.

In a small bowl, mix together the buttermilk, vanilla, egg, and oil until well combined.

Pour the wet ingredients into the dry and whisk together until most of the lumps are gone. Do not overmix.

Heat a large skillet over medium heat and spray with cooking spray.

Pour 1/4 cup of batter into the skillet and cook until bubbles form on the surface. Flip the pancake and cook until browned on the bottom and the center is done.

While cooking the pancakes, place marshmallows on a foil lined sheet and place under the broiler for 2-3 minutes or until golden brown on top. Remove from the oven and use a spatula to carefully transfer the marshmallows to the pancake tops.

Drizzle syrup over the pancakes and crumble on the graham cracker.
Nutrition Information:
Calories: 158kcal (8%)| Carbohydrates: 26g (9%)| Protein: 3g (6%)| Fat: 5g (8%)| Saturated Fat: 1g (6%)| Cholesterol: 21mg (7%)| Sodium: 189mg (8%)| Fiber: 1g (4%)| Sugar: 11g (12%)