Our Apple Pancakes start with thick and fluffy homemade pancakes. They get topped off with our simple brown sugar cinnamon apples and then we drizzle everything with caramel sauce for the perfect fall breakfast.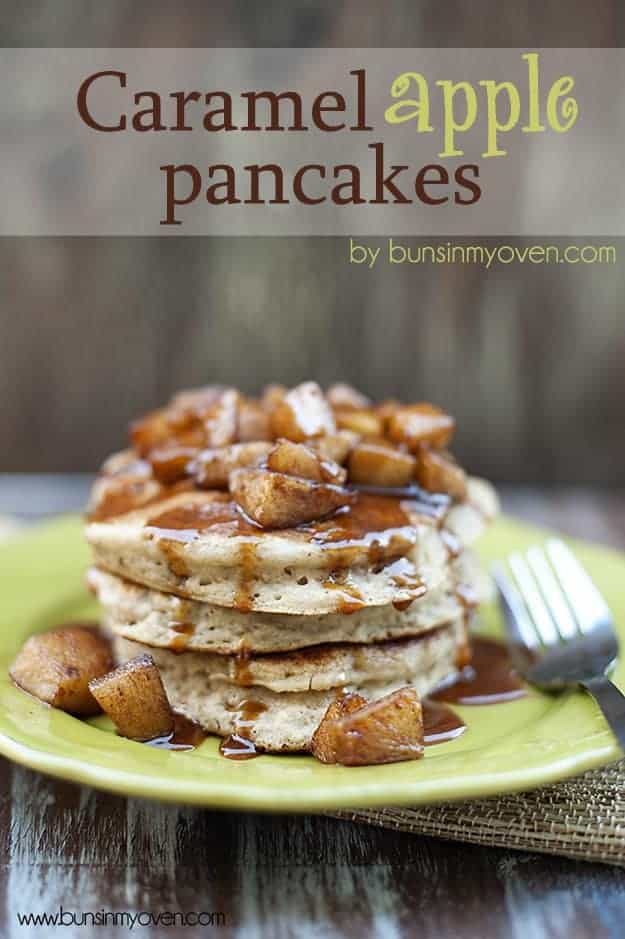 I went to the grocery store the other day, as I do every single day of my life it seems, and they had bags and bags of local apples.
Ah, yes. It's Fall. Bring on the apple onslaught.
We've already done Apple Fritters, which are often served for breakfast, so let's keep with the trend, right?
Caramel Apple Pancakes.
If you tend to resort to making pancakes from a box mix, I feel you. It just seems so much easier, but truthfully pancakes from scratch really aren't hard and they don't take much extra time.
I should know – I wrote an entire book full of pancake recipes. It contains 70 pancake and syrup recipes for breakfast, dinner, and dessert. You can see a few samples by checking out my s'mores pancakes, my peach pecan pancakes, and my cinnamon raisin bread pancakes. Orrrrr, you can just hop over to Amazon and pick up a copy of (affiliate link) Stack Happy.
If you're more of a pumpkin person, give my pumpkin coffee cake a try this fall!
These brown sugar apples would be good over our Belgian waffle recipe too!
Ingredient Notes:
This post contains affiliate links. As an Amazon associate and member of other qualifying programs, I earn from qualifying purchases.
Dry Ingredients – These aren't box mixed pancakes! You'll be making these from scratch, which means you'll need to combine some dry ingredients like flour, sugar, cinnamon, nutmeg, baking powder & baking soda!
Wet Ingredients – Along with the dry ingredients you'll need buttermilk, vanilla, egg, and melted butter. Trust me, this is how you make a good pancake!
Apples – Use a tart apple like Granny Smith for best results. They'll get heated up with some butter, cinnamon, and brown sugar for lots of flavor!
Caramel Sauce – Just grab some caramel ice cream topping from the store and heat it up. Sweet and simple!
What Readers are Saying!
"I made these this morning and wow!! So delicious! I didn't have Caramel sauce so I doubled the butter and brown sugar in the apples to get a little extra sauce. I will be making these again and again!" – Justina
How To Make Caramel Apple Pancakes:
Pancake Batter: As with any good made from scratch pancake recipe, you'll need to do some mixing. Start by adding all of the dry ingredients including the flour, baking powder & soda, sugar, and spices. Mix those up and set it aside for the moment.
Now you'll need to mix the wet ingredients. Add the buttermilk, egg, vanilla, and melted butter to another bowl and stir until well combined.
Finally, you can pour the wet ingredients in with the dry ingredients and stir with a fork until most (but not all) of the lumps are gone. Remember that it is important to not overmix the batter!
Cook: When you've prepared the pancake batter you can go ahead and fire up a skillet or griddle and start cooking the pancakes. Use about a 1/4 cup of the batter for each pancake. The secret to knowing when pancakes are ready is to watch for the bubbles.
Once bubbles have formed on the top you can flip the pancake and brown the other side. While you are cooking the pancakes you can move on to the final step and prepare the caramel sauce and apples!
Caramel Sauce & Apples: These apples are pretty simple to make, and when it's combined with the caramel sauce it is perfect over pancakes! Melt some butter in a small skillet with some brown sugar, cinnamon, and salt.
Mix it up well and stir in the apples! They'll take about 5-7 minutes to cook, or until they are tender. Once they're finished you can top your pancakes with the still warm cinnamon sugary apples, and then drizzle the warmed caramel sauce over the top! Apple pancakes are the perfect choice for a Fall breakfast.
Pro Pancake Tips:
Mixing – Don't overmix your batter! Use a fork to stir it altogether until it's mostly smooth, but a few lumps remain. Overmixing your batter leads to tough pancakes.
Buttermilk – We like the extra fluff that buttermilk adds to pancakes. Plus it makes for a more tender pancake. No buttermilk? It's easy to make your own! Just add a scant 3/4 of a cup of buttermilk to your measuring cup and stir in about a tablespoon of vinegar or lemon juice. (We don't measure the vinegar, we just splash it in.) Let that sit for 5 minutes before stirring and then using as buttermilk.
Portioning – We use a 1/4 cup dry measure to scoop equal sized amounts of pancake batter onto our hot griddle. Every pancake is the same size and they are a perfect size for flipping.
Cooking – Big believer in cooking your pancakes in a bit of melted butter! It's so much tastier than the spray oil. Be sure to cook the pancakes until bubbles form AND pop on the surface. This will ensure your pancake is cooked all the way through.
FAQs:
Can I just use a boxed pancake mix?
Yep, but it's worth it to go the extra step and make these from scratch. Seriously, some things really are worth making from scratch and pancakes are one of them! Trust me, I'm a legit pancake expert.
What other types of apples can I use?
We like tart apples for this recipe, such as Granny Smith, Pink Lady, and Braeburn.
More Breakfast Favorites:
And of course you can find many more pancake recipes in Stack Happy!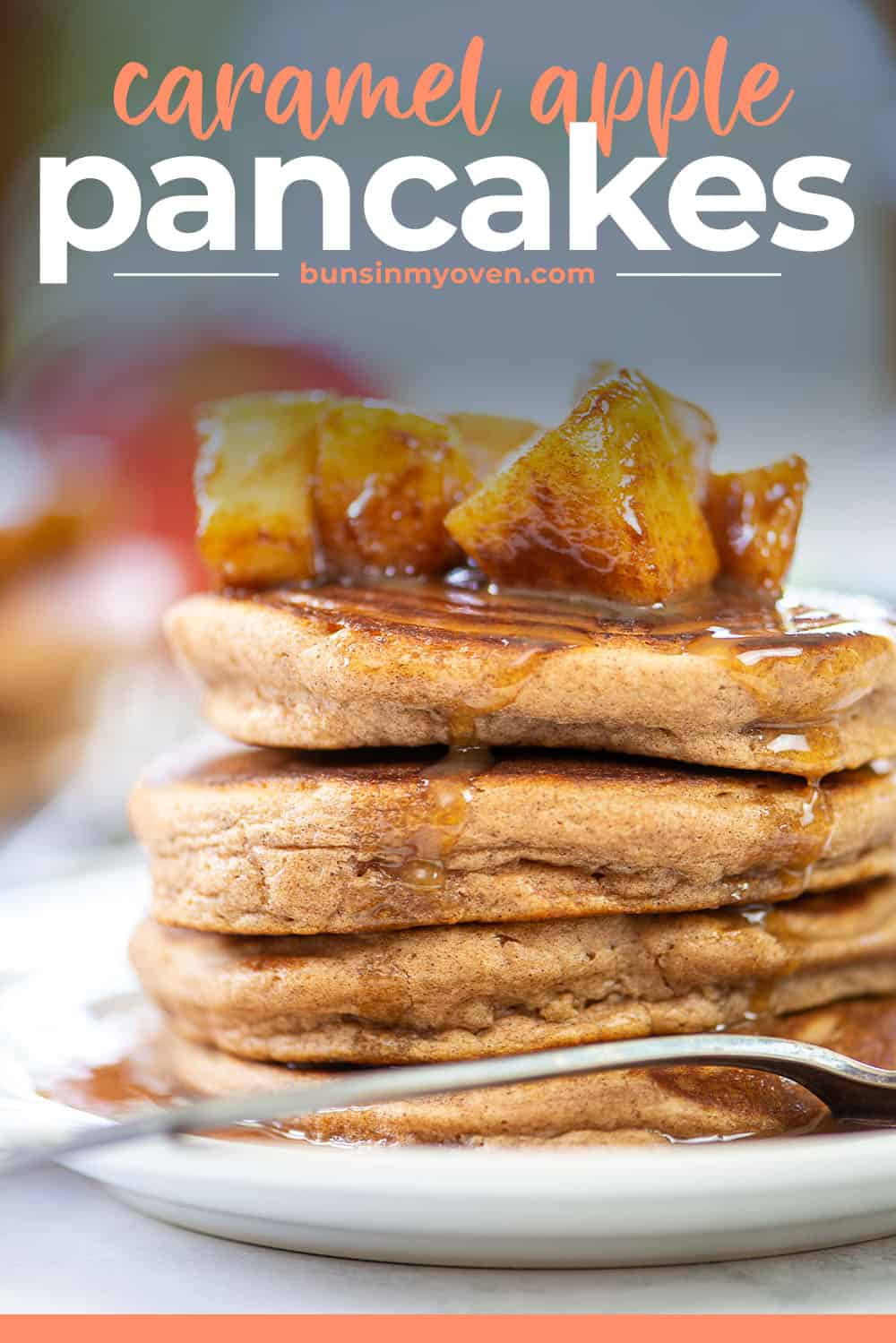 Caramel Apple Pancakes
Ever wondered how to make pancakes from scratch? Let me show you! These apple pancakes are the perfect treat for a fall breakfast!
Prep10 minutes
Cook10 minutes
Total20 minutes
Ingredients
For the pancakes:
1 cup all-purpose flour
2 tablespoons sugar
1 teaspoon cinnamon
1/8 teaspoon nutmeg
1 teaspoon baking powder
1/2 teaspoon baking soda
1/2 teaspoon salt
3/4 cup buttermilk
1 teaspoon vanilla
1 large egg
2 tablespoons butter melted
For the apples:
1 medium tart apple peeled and diced
2 tablespoons butter
1 tablespoon brown sugar
1/2 teaspoon cinnamon
pinch of salt
For the topping:
Caramel ice cream topping warmed
Instructions
To make the pancakes:
Combine the flour, sugar, cinnamon, nutmeg, baking powder, baking soda, and salt in a large mixing bowl.

In a small bowl, mix together the buttermilk, vanilla, egg, and melted butter until well combined.

Pour the wet ingredients into the dry and whisk together until most of the lumps are gone. Do not overmix.

Heat a large skillet over medium heat and spray with cooking spray.

Pour 1/4 cup of batter into the skillet and cook until bubbles form on the surface. Flip the pancake and cook until browned on the bottom and the center is done.

Repeat with remaining batter until all pancakes are cooked.
For the apples:
While the pancakes are cooking, set a small skillet over medium-low heat. Add the butter to the skillet and melt.

Stir in the brown sugar, cinnamon, and salt to combine.

Add the apples and stir to coat.

Cook for 5-7 minutes or until tender, stirring occasionally.
To serve:
Top the pancakes with the warm apples and drizzle the warmed caramel sauce on top.
Tips & Notes:
It's easy to make buttermilk at home! Add 1 tablespoon of vinegar to 3/4 cup of milk and let set for 5 minutes. Stir to combine. Use in place of the buttermilk.
Nutrition Information:
Calories: 162kcal (8%)| Carbohydrates: 21g (7%)| Protein: 3g (6%)| Fat: 7g (11%)| Saturated Fat: 4g (25%)| Cholesterol: 40mg (13%)| Sodium: 297mg (13%)| Potassium: 130mg (4%)| Fiber: 1g (4%)| Sugar: 8g (9%)| Vitamin A: 260IU (5%)| Vitamin C: 1.1mg (1%)| Calcium: 57mg (6%)| Iron: 0.9mg (5%)