Ever wondered how to make pancakes from scratch? Let me show you! These apple pancakes are the perfect treat for a fall breakfast!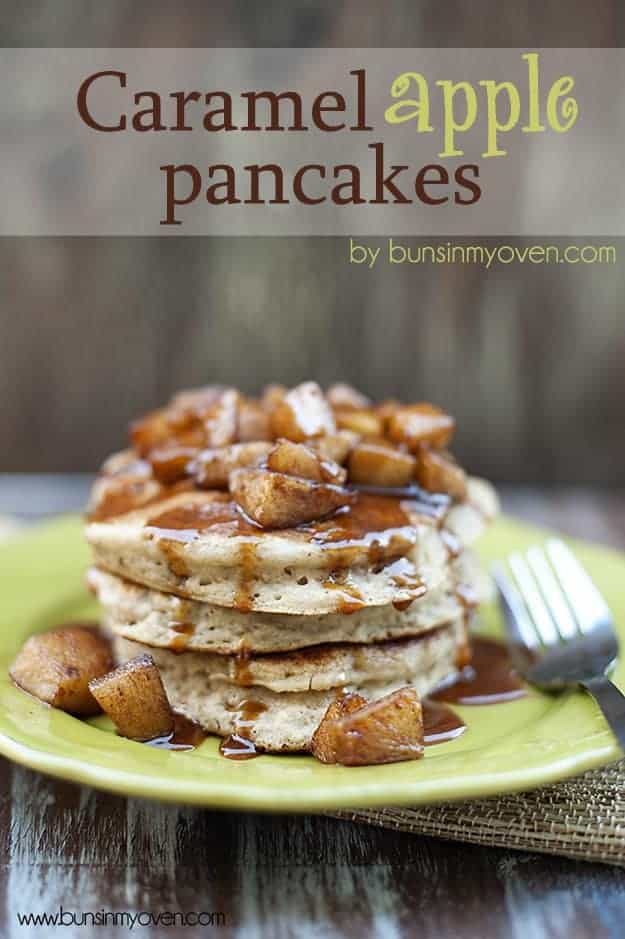 I went to the grocery store the other day, as I do every single day of my life it seems, and they had bags and bags of local apples.
Ah, yes. It's Fall. Bring on the apple onslaught.
We've already done Apple Fritters, which are often served for breakfast, so let's keep with the trend, right?
Caramel Apple Pancakes.
These fluffy pancakes are topped with caramel apples!
Yeah, buddy.
These only take an extra minute to make, too. Peel and dice your apple before mixing up your pancake batter and they can cook while your flipping the pancakes. Easy as pie. Speaking of which…I see an apple pie in all of our futures.
Check out how to make pancakes from scratch in the below video. It's so easy and way better than a box mix!
These apple pancakes are seriously good, you guys. My kiddos devoured them and I had to fight for a few leftover scraps. Not cool, kids.
If you tend to resort to making pancakes from a box mix, I feel you. It just seems so much easier, but truthfully pancakes from scratch really aren't hard and they don't take much extra time. I should know – I wrote an entire book full of pancake recipes. It contains 70 pancake and syrup recipes for breakfast, dinner, and dessert. You can see a few samples by checking out my s'mores pancakes, my peach pecan pancakes, and my cinnamon raisin bread pancakes. Orrrrr, you can just hop over to Amazon and pick up a copy of Stack Happy.
If you're more of a pumpkin person, give my pumpkin coffee cake a try this fall!
Caramel Apple Pancakes
Ever wondered how to make pancakes from scratch? Let me show you! These apple pancakes are the perfect treat for a fall breakfast!
Prep10 minutes
Cook10 minutes
Total20 minutes
Ingredients
For the pancakes:
1 cup all-purpose flour
2 tablespoons sugar
1 teaspoon cinnamon
1/8 teaspoon nutmeg
1 teaspoon baking powder
1/2 teaspoon baking soda
1/2 teaspoon salt
3/4 cup buttermilk or 3/4 cup regular milk plus 2 tablespoons vinegar - let sit for 5 minutes
1 teaspoon vanilla
1 large egg
2 tablespoons butter melted
For the apples:
1 medium tart apple peeled and diced
2 tablespoons butter
1 tablespoon brown sugar
1/2 teaspoon cinnamon
Tiny pinch of salt
For the topping:
Caramel ice cream topping warmed
Instructions
To make the pancakes:
Combine the flour, sugar, cinnamon, nutmeg, baking powder, baking soda, and salt in a large mixing bowl.

In a small bowl, mix together the buttermilk, vanilla, egg, and melted butter until well combined.

Pour the wet ingredients into the dry and whisk together until most of the lumps are gone. Do not overmix.

Heat a large skillet over medium heat and spray with cooking spray.

Pour 1/4 cup of batter into the skillet and cook until bubbles form on the surface. Flip the pancake and cook until browned on the bottom and the center is done.
For the apples:
While the pancakes are cooking, set a small skillet over medium-low heat. Add the butter to the skillet and melt.

Stir in the brown sugar, cinnamon, and salt to combine.

Add the apples and stir to coat.

Cook for 5-7 minutes or until tender, stirring occasionally.
To serve:
Top the pancakes with the warm apples and drizzle the warmed caramel sauce on top.
Nutrition Information:
Calories: 162kcal (8%)| Carbohydrates: 21g (7%)| Protein: 3g (6%)| Fat: 7g (11%)| Saturated Fat: 4g (25%)| Cholesterol: 40mg (13%)| Sodium: 297mg (13%)| Potassium: 130mg (4%)| Fiber: 1g (4%)| Sugar: 8g (9%)| Vitamin A: 260IU (5%)| Vitamin C: 1.1mg (1%)| Calcium: 57mg (6%)| Iron: 0.9mg (5%)