It's October, you guys. My most favorite time of the year. I love Fall. I love Halloween. I love pumpkins and apples and crisp, cool air.
I thought we'd celebrate with these Fall pancakes. I randomly grabbed a jug of apple cider at the store the other day without knowing how I'd put it to use. These apple pancakes happened about 24 hours later.
I still have quite a bit of cider left, so expect more recipes! In the meantime, if you're not up for pancakes, why not fry up some of these apple cider donuts that I made last year?
How do you use apple cider in your kitchen? I could use some more ideas!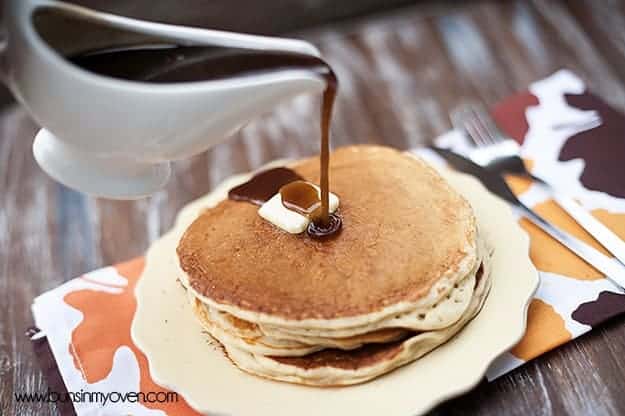 Oh, and about this cinnamon syrup? It's crazy. It's so easy to make with just a handful of ingredients you probably already have. Now, I used and recommend Saigon cinnamon for the syrup, but if you don't have it, that's okay. I just think that Saigon cinnamon works so well with apple flavored foods. It really boosts that apple flavor right up. I have plans to bathe in the leftover syrup it was so good, but then I'll make more and use it to top just about everything this Fall.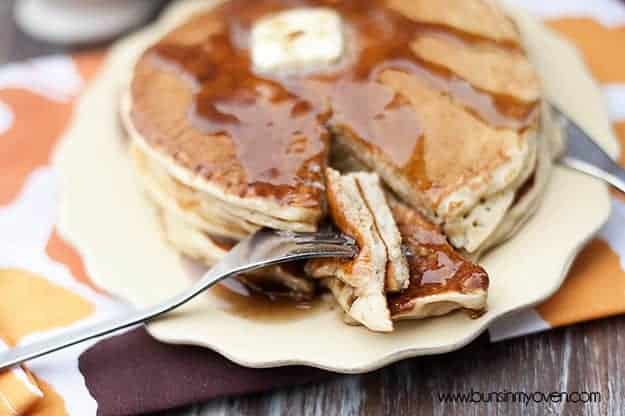 Apple Cider Pancakes
Celebrate fall with these pancakes.
Prep10 minutes
Cook15 minutes
Total25 minutes
Ingredients
2 cups flour
2 teaspoons sugar
1 teaspoon baking powder
1/2 teaspoon baking soda
1/2 teaspoon salt
2 large eggs
1/4 cup butter melted
1/2 cup buttermilk
1/2 cup Greek yogurt
1 cup apple cider
For the syrup:
1/2 cup white sugar
1/2 cup brown sugar
1 tablespoon flour
1 teaspoon Saigon cinnamon
1 cup water
1 tablespoon butter
1 teaspoon vanilla extract
Instructions
Pancakes:
Whisk together the dry ingredients in a medium bowl.

In a small bowl, combine all of the wet ingredients and whisk until well combined.

Add the wet ingredients to the dry ingredients and stir until just combined. Batter should still be somewhat lumpy.

Grease a skillet over medium heat and add small batches of batter to the skillet. Cook over medium heat until bubbles form and pop, then flip the pancakes over and continue cooking until the bottom is browned and the center is cooked through.
For the syrup:
In a small sauce pan, stir together the sugars, flour, and cinnamon until combined. Mix in the water and turn the heat to medium. Bring to a rolling boil and boil, stirring occasionally, for about 10 minutes, or until the sauce thickens up a bit.


Remove from the heat and stir in the butter until melted.


Stir in the vanilla extract.


Serve warm.


Store in the fridge and reheat as needed.

Nutrition Information:
Calories: 217kcal (11%)| Carbohydrates: 29g (10%)| Protein: 6g (12%)| Fat: 7g (11%)| Saturated Fat: 4g (25%)| Cholesterol: 64mg (21%)| Sodium: 304mg (13%)| Potassium: 168mg (5%)| Sugar: 5g (6%)| Vitamin A: 270IU (5%)| Vitamin C: 0.2mg| Calcium: 68mg (7%)| Iron: 1.7mg (9%)