We love the fresh apple cider donuts from the local orchard, so we're sure to bake this easy Apple Cider Donut Cake every fall! Loaded with apple cider, baked in a bundt pan, and coated in cinnamon sugar for all those donut vibes we love!
If there is one thing I look forward to the most when the Fall season arrives it's probably visiting our local orchard! It's so much fun to get to pick your own apples and I love making all my favorite apple recipes!
Our local orchard also sells the best apple cider donuts. My recipe is pretty amazing but they might have me beat. 😉
We always buy a big jug of their apple cider to make our apple cider mimosas and, of course, any leftovers are used in this apple cider donut cake.
This recipe is a riff on our fan favorite apple cider donut bread and apple cider cake.
We married the two ideas to make this apple cider donut cake and oh gosh, it's a winner.
Don't worry, you don't have to go to an orchard to track down the best cider to make this apple cider donut cake! Any kind from the store will do. But if you get the chance, do check out your local orchard this Fall! It's always a good time.
Ingredients Notes:
This post contains affiliate links. As an Amazon associate and member of other qualifying programs, I earn from qualifying purchases.
For the cake:
Dry Ingredients – You will need the standard cake batter ingredients including flour, granulated sugar, salt, and baking powder.
Wet Ingredients – The remaining cake batter ingredients you will need are eggs, vanilla extract, and softened butter.
Apple Pie Spice – This is pretty similar to pumpkin pie spice as both contain some of the same ingredients like cinnamon and allspice. You could use pumpkin pie spice in the donut cake if that's all you have available. The main difference between the two are that pumpkin spice contains cloves and apple pie spice does not.
Apple Cider – If you've got a local orchard for fresh apple cider that's the best! I'd recommend sticking to apple cider and not using apple juice, but either will work. Juice just tends to be a bit sweeter than cider.
What We Love About This Recipe:
I love apple cider donuts and this cake is like one giant donut that you eat with a fork.
The best part about an apple cider donut is, in my opinion, that crackly cinnamon sugar crust and we don't skimp on that with this cake. In fact, we brush the whole cake with melted butter to give it that deep-fried richness and then pack on the cinnamon sugar!
This recipe is fairly simple, but it's a show stopper! Everyone loves this one.
You can serve this as is, or dress it up with some whipped cream and caramel sauce.
For the topping:
Cinnamon & Sugar – This simple topping will add even more warm, sweet flavors to the apple cider donut cake. You'll coat every bit of the cake in it!
Melted Butter – You'll brush the cake with some melted butter after baking. This gives the outside a rich flavor and texture similar to a deep fried donut. Don't skp this step!
It's so easy to whip up dessert with this cute hand mixer. It doesn't take up much space and is a must for any kitchen!
How To Make Apple Cider Donut Cake:
Batter: Prep the cake batter by beating together the butter and sugar, beating in the eggs and vanilla, and then alternating the dry ingredients with the apple cider. T
Bake: Pour the apple cider donut cake batter into a greased 12-cup bundt pan and then bake in a pre-heated oven at 325 degrees for 70 minutes or until a toothpick in the center comes out clean. Be sure to grease that cake pan well so it doesn't stick.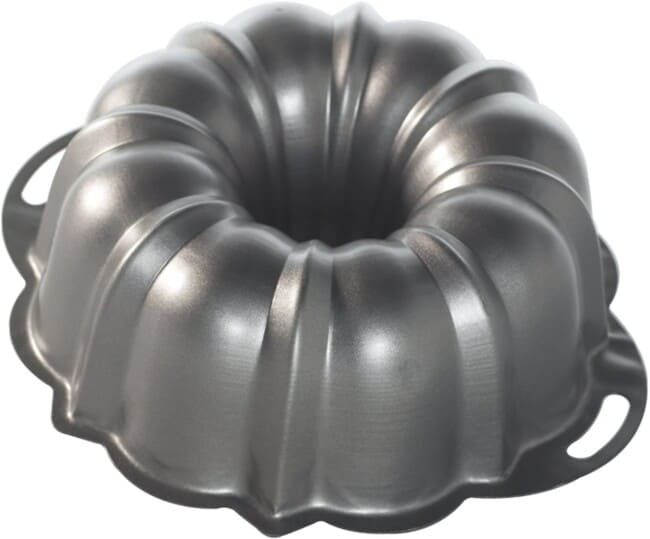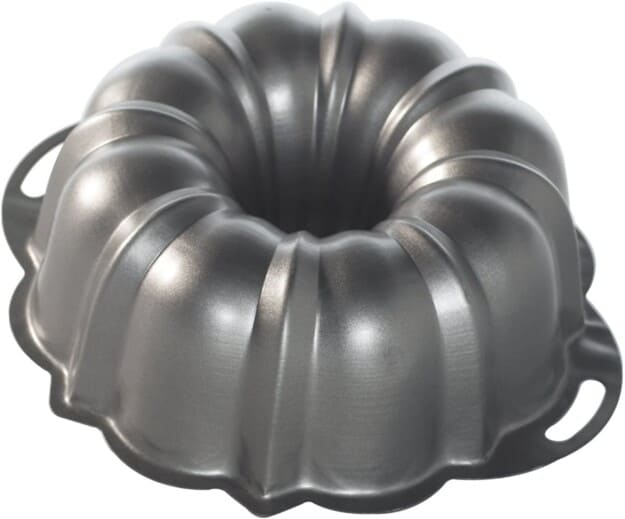 A quality Bundt pan is essential! This one is non-stick, budget friendly, and gets used often in my home.
Butter: Let the cake cool in the pan for about 20 minutes and then dump it out onto your serving platter. Brush melted butter over the outsides of the cake, making sure to really coat the cake.
Cinnamon Sugar: Sprinkle the cinnamon sugar over the cake, patting it in to really coat the cake. This is what gives the cake the donut vibe since it's the crackly crust we all know and love!
Serving Suggestions:
Top It: A big dollop of whipped cream and some caramel sauce sure won't hurt anything. Of course, that does take away from the donut vibes a bit.
Wash it Down: Leftover apple cider? That's perfect for the kids, but the adults might want to get into the Fall spirit with an apple cider mimosa or a caramel apple sangria! Those would go great with a big slice of cake!
Tips & Tricks
Bundt Pan: Make sure you use a good quality bundt pan and you really grease it well to ensure it doesn't stick. We like to smear butter in every nook and cranny and then lightly flour the pan.
Apple Cider: Fresh is best, but you can use store bought cider or even apple juice in this recipe.
Topping: Don't skimp on the butter and cinnamon sugar. It's really what give the cake a deep fried vibe on the exterior. So good!
Baking: This bakes at a lower temp for longer than usual to ensure that the cake bakes through without the edges burning.
FAQ's:
What is apple cider donut cake?
This is a cross between the standard bundt cake and an apple cider donut, thanks to that crackly cinnamon sugar coating around the outside of the cake.
Can I use apple juice in place of apple cider?
You can use apple juice instead of apple cider in this cake recipe, however the end result might be a touch sweeter.
How to store this apple cider donut cake?
You can keep this cake stored at room temperature in a covered container for about 3 to 4 days. It may last longer if you store it in the fridge! It can also be frozen for up to a few months.
MORE FAVORITE FALL RECIPES!
Apple Cider Donut Cake
I love apple cider donuts so why not turn them into a cake? This is an easy Bundt cake recipe that is made with apple cider, apple pie spice, and a cinnamon sugar topping. You'll love this simple Fall dessert recipe.
Prep20 minutes
Cook1 hour 10 minutes
Total1 hour 30 minutes
Ingredients
For the cake:
3 cups sugar
1 ½ cups butter softened
6 large eggs
1 teaspoon vanilla
3 cups flour
2 teaspoons apple pie spice
½ teaspoon salt
½ teaspoon baking powder
1 cup apple cider
For topping:
¼ cup granulated sugar
2 tablespoons ground cinnamon
¼ cup butter melted
Instructions
To make the cake:
Preheat oven to 325 degrees. Liberally grease and flour a 12 cup bundt pan.

In a large bowl, beat together the sugar and butter until light and fluffy. Beat in the eggs, one at a time, until well combined. Stir in the vanilla.

In a medium bowl, combine the dry ingredients.

Add half of the dry ingredients alternately with half of the apple cider and mix until combined, repeating until all is used. Batter should be smooth and pourable.

Pour into the prepared bundt pan and bake for 70 minutes or until a toothpick inserted in the center comes out clean.

Cool for 20 minutes in the pan before removing to a cake stand or plate. Cool completely before adding the topping.
To top the cake:
Combine the sugar and cinnamon in a small dish. Stir well.

Use a pastry brush to brush the outside of the cake with the melted butter.

Sprinkle the cinnamon and sugar mixture over the cake, using your hands to press it into the sides to fully coat the cake.

Slice and serve.
Tips & Notes:
If you're unable to find apple cider, you may use apple juice instead. The butter and cinnamon sugar is what gives this cake that deep-fried richness and crackly crust of an apple cider donut. Don't skip this step!
Nutrition Information:
Serving: 1slice| Calories: 610kcal (31%)| Carbohydrates: 82g (27%)| Protein: 7g (14%)| Fat: 30g (46%)| Saturated Fat: 18g (113%)| Polyunsaturated Fat: 2g| Monounsaturated Fat: 8g| Trans Fat: 1g| Cholesterol: 164mg (55%)| Sodium: 348mg (15%)| Potassium: 122mg (3%)| Fiber: 2g (8%)| Sugar: 56g (62%)| Vitamin A: 967IU (19%)| Vitamin C: 0.3mg| Calcium: 52mg (5%)| Iron: 2mg (11%)