Our Apple Cider Mimosa is the perfect way to celebrate Fall! Sweet and bubbly, rimmed with caramel and gold sugar, and packed with all the cozy Fall vibes we're craving!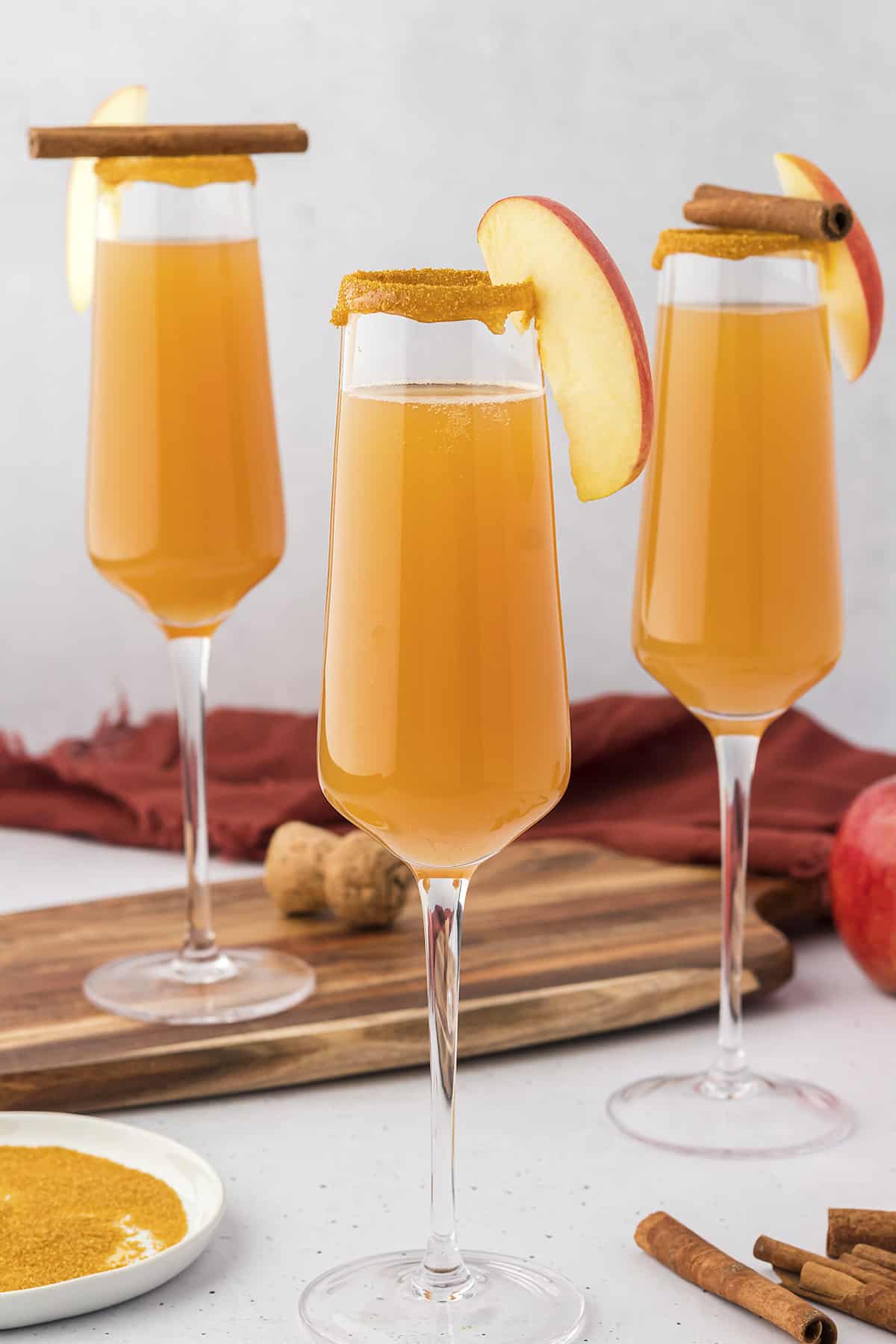 I have a tendency to skip right over apple season and head straight into pumpkin season, but this year I'm taking time to savor all my favorite apple goodies, like our apple cobbler and fresh apple cake.
May as well drink those glorious apples too! 😉
This Apple Cider Mimosa is the perfect way to celebrate fall. Fresh apple cider, preferably from your local orchard, a bottle of bubbly, and a sweet caramel rim really make this cocktail fun.
This is the perfect cocktail to serve up at all your fall parties, and it's especially fun at Thanksgiving!
(But don't worry – pumpkin is coming! If you just can't wait, check out our pumpkin crunch cake and chocolate chip pumpkin bread!)
👩‍🍳 Ingredient Notes:
This post contains affiliate links. As an Amazon associate and member of other qualifying programs, I earn from qualifying purchases.
Apple Cider – If you can find some local apple cider from an orchard, that's the stuff you want! Otherwise, pick some up from the store. You can even use apple juice if that's what you find, but it will be sweeter.
Caramel Sauce – Apples and caramel are just made for each other. So to get that caramel apple flavor you'll dip the rim of the flute in the sauce!
Gold Sanding Sugar – We love the festive vibes of this gold sanding sugar. None on hand? Use cinnamon sugar instead – you'll need about 2 teaspoons of sugar and 1/4 teaspoon of cinnamon.
Prosecco or Champagne – These are both sparkling wines and will work interchangeably here. Use your preferred drink! Make sure it's well chilled.
Garnish – We like to garnish these apple cider mimosas with a cinnamon stick or a slice of apple!
What We Love About This Recipe:
It's a great beverage for Fall. But honestly, this one is good enough to enjoy year round.
It's got that caramel apple flavor with every sip thanks to the caramel sauce rim!
Make it as weak or as strong as you like by adding in the prosecco to your heart's content.
Non-Alcoholic Mimosa:
You can still enjoy this apple cider mimosa without the alcohol!
I know, that doesn't seem possible, but it is. Instead of the champagne or prosecco use some sparkling cider! The bubbles make it fun!
🍎 How to Make Apple Cider Mimosas:
Caramel: Dip the rim of your glass in caramel sauce.
Gold Sugar: Dunk the rim in the sanding sugar. It'll stick nicely thanks to the caramel.
Apple Cider: Pour in the cider.
Champagne: Add your champagne or prosecco.
Helpful Tip!
You can use a ratio of 2:1 or 1:1 for this recipe depending on how much champagne you want.
Garnish: Every good drink needs a garnish, and we love to use cinnamon sticks or apple slices with these apple cider mimosas!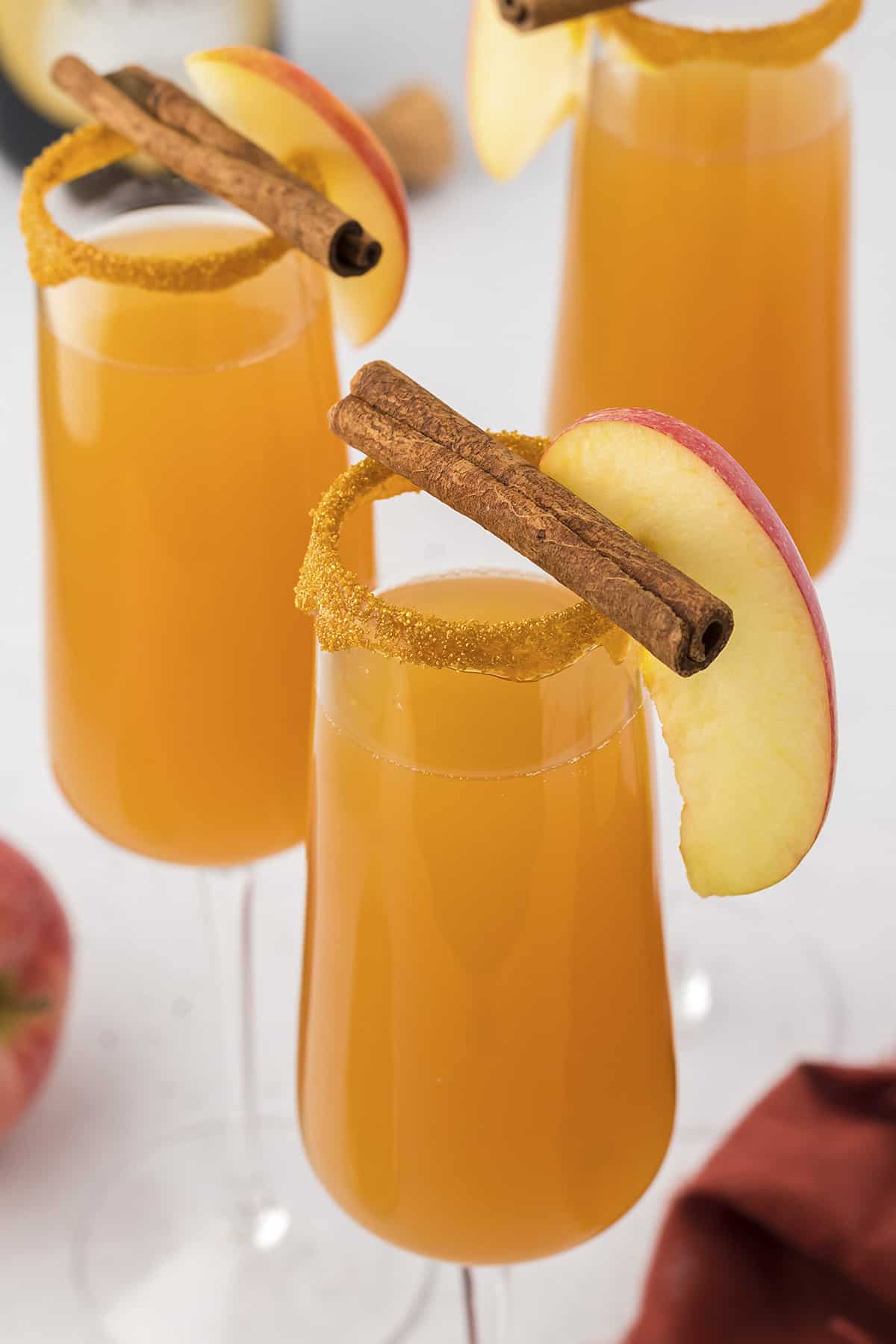 FAQs:
What type of sparkling wine to use?
Use whichever kind you like best! Champagne comes from a specific region of France. Prosecco comes from Italy. They are very similar, and if you have a preferred brand I'd recommend using that.
What's the difference between apple cider and apple juice?
Apple cider is unfiltered and often not pasteurized. It has a stronger taste than apple juice. Apple juice is filtered and pasteurized, which helps it to last longer and mellows out the flavor. Apple juice is more sweet than apple cider.
MORE MIXED DRINK RECIPES!
Apple Cider Mimosa
This simple cocktail is the perfect bubbly drink to usher in Fall! Rimmed with caramel and golden sanding sugar, it's festive and fun!
Prep2 minutes
Cook0 minutes
Total2 minutes
Ingredients
1 tablespoon caramel sauce
1 tablespoon gold sanding sugar
½ cup apple cider chilled
? cup champagne chilled
1 cinnamon stick for garnish
1 apple slice for garnish
Instructions
Pour the caramel sauce onto a small plate and dip the rim of a champagne flute into the caramel to coat the rim.

Add the gold sanding sugar to a second small plate and roll the rim of the champagne flute through the sprinkles to coat the rim.

Pour the apple cider into the rimmed glass and top it off with the champagne.

Garnish with a cinnamon stick and apple slice, if desired.
Tips & Notes:
You can use anywhere from ¼ cup to ½ cup of champagne, depending on how much alcohol you'd like in your drink. You may use prosecco in place of the champagne. Cinnamon sugar is also delicious on the rim, if you don't have gold sprinkles.
Nutrition Information:
Serving: 1mimosa| Calories: 212kcal (11%)| Carbohydrates: 49g (16%)| Protein: 1g (2%)| Fat: 0.3g| Saturated Fat: 0.03g| Polyunsaturated Fat: 0.1g| Monounsaturated Fat: 0.03g| Sodium: 78mg (3%)| Potassium: 264mg (8%)| Fiber: 3g (13%)| Sugar: 43g (48%)| Vitamin A: 58IU (1%)| Vitamin C: 7mg (8%)| Calcium: 68mg (7%)| Iron: 1mg (6%)