This spiked eggnog recipe is the perfect adult beverage for celebrating the holidays! It's an easy mix of eggnog, rum, and warm spices.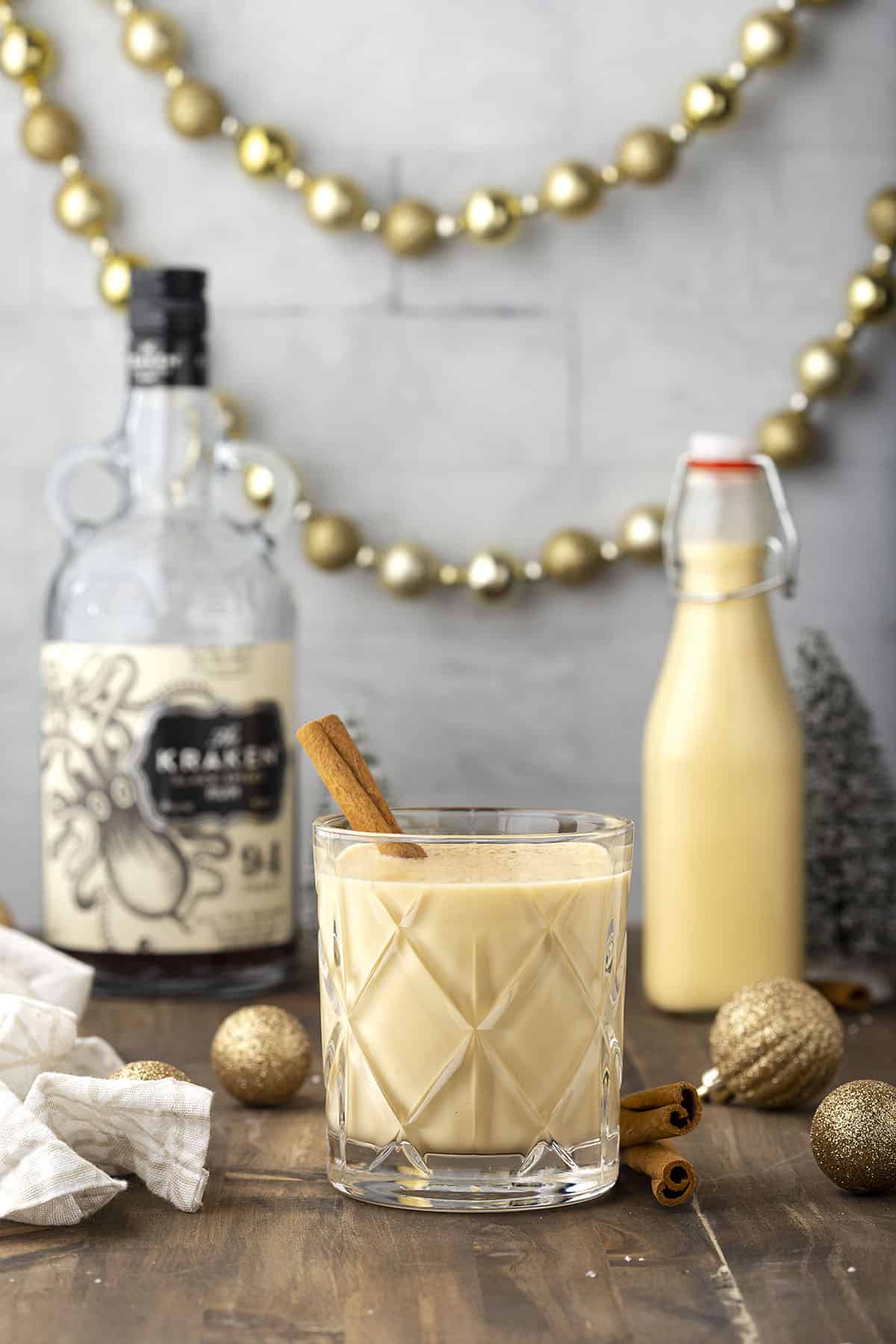 I've discovered that people are either eggnog drinkers or they are very much NOT eggnot drinkers.
It seems to be one of those love it or hate it types of foods/drinks.
My kids fall firmly in the LOVE IT category and I seem to always have a container of eggnog in the fridge.
They don't drink the spiked eggnog, but my husband and I sure do.
This classic cocktail can be made by the glass or by the pitcher – instructions for both are down in the recipe card!
Either way, this is basically a glass full of holiday cheer and who doesn't want that in their lives? 🙂
Ingredient Notes: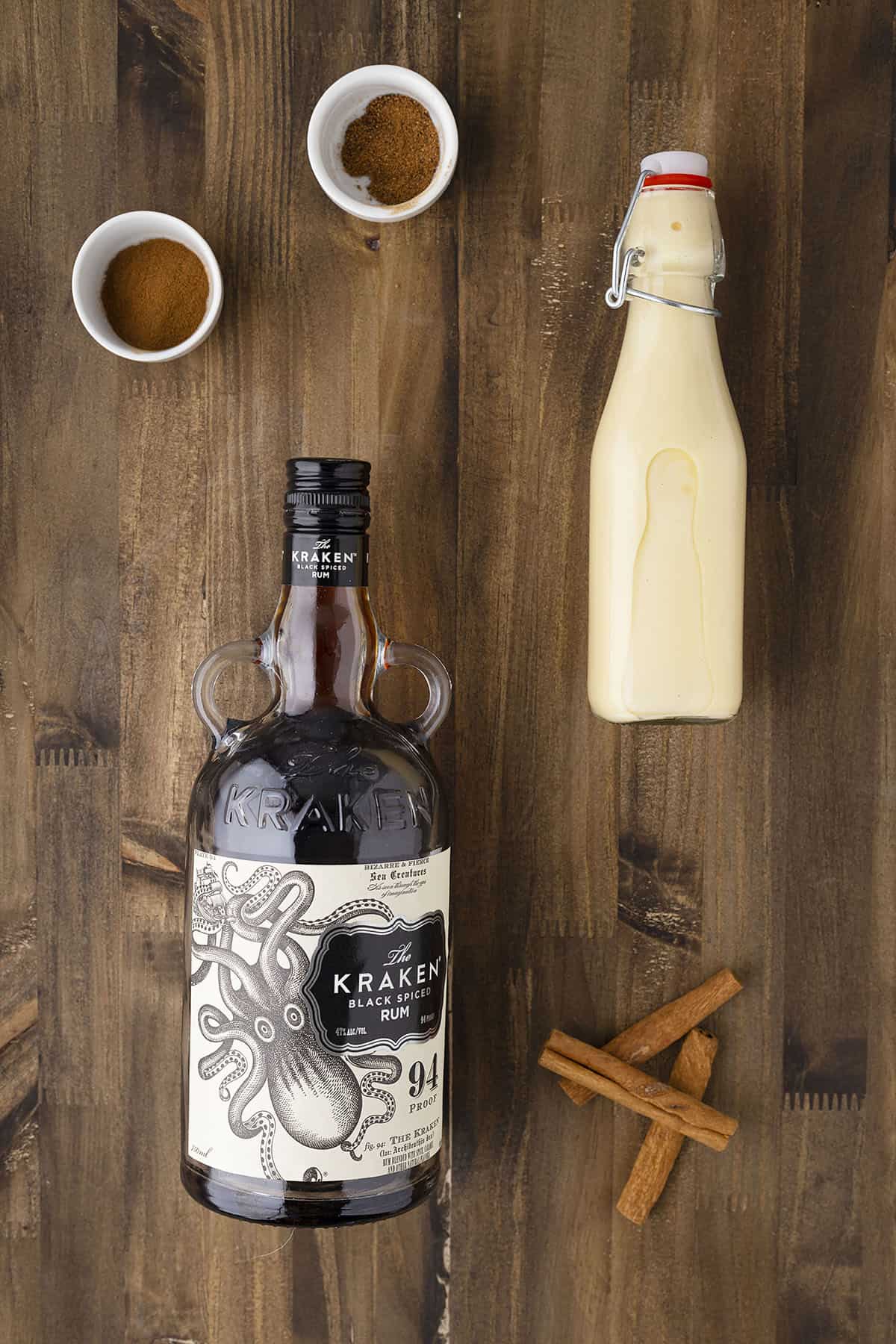 Eggnog – I'm keeping things easy and just using some store bought eggnog, but you could totally make your own. This easy homemade eggnog looks perfect!
Rum – The perfect way to liven up your holiday party. It doesn't take much! Use your favorite brand here. We prefer spiced rum.
Spice – Just some ground cinnamon and nutmeg. We like to also add a whole cinnamon stick.
What We Love About This Recipe!
This drink is about as simple as it gets, but it's a classic for a reason! Warm and cozy, both from the rum and the spices, this drink is perfect for a cold winter night!
How to Make:
This post contains affiliate links. As an Amazon associate and member of other qualifying programs, I earn from qualifying purchases.
Mix: This is a pretty simple mixed drink recipe which will start with some store bought eggnog and your preferred brand of rum. Mix these together in a lowball glass.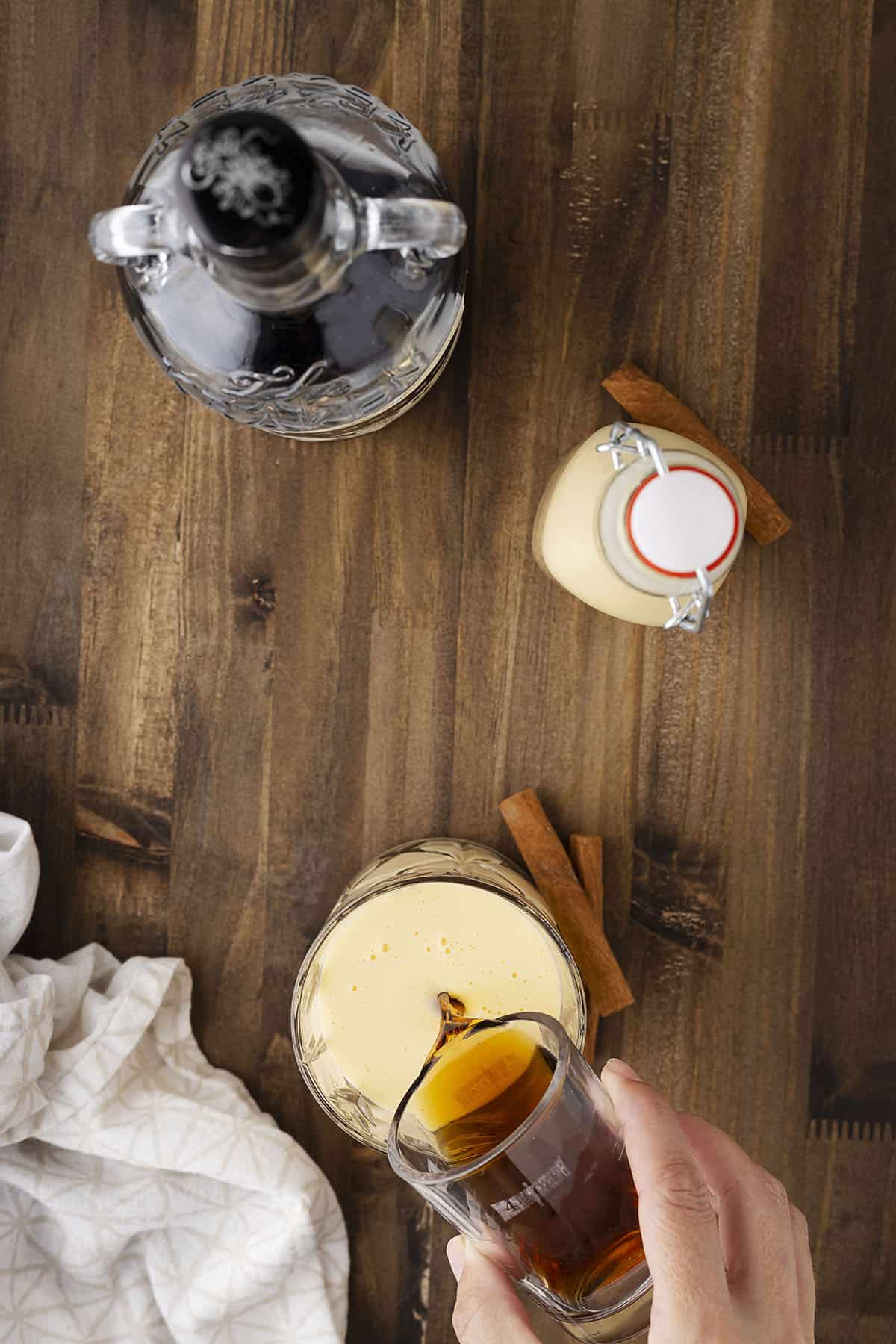 Spice: When you've combined the eggnog and rum you can start adding the spice. Just a little bit of cinnamon and nutmeg will add even more warmth to this alcoholic eggnog cocktail!
Helpful Tip!
If it seems like the rum or other alcohol is floating on top, you need to continue stirring. The eggnog is pretty thick so it takes some time for it all to mix together.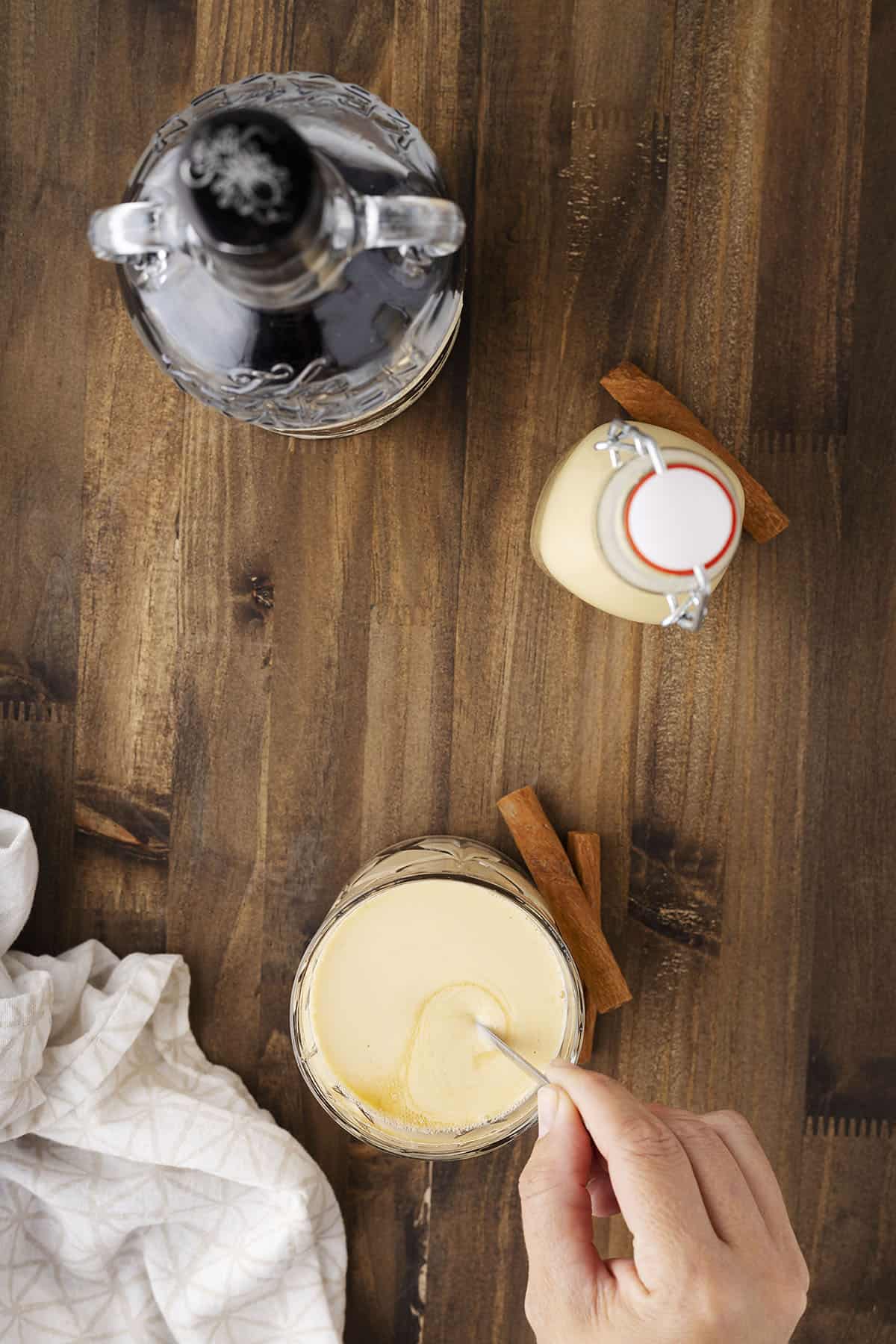 Serve: I also like to add in a cinnamon stick for looks and to a little more flavor. That's it, you can serve up your holiday spiked eggnog!
FAQs:
What type of rum should I use?
We prefer a dark spiced rum, but clear rum will also work. It's up to you!
Can I use other types of alcohol?
Yes! Brandy or bourbon are also good choices for spiked eggnog recipes.
How can I make this for a crowd?
If you've either got a holiday party or you just really like alcoholic eggnog you can make a whole pitcher by using a gallon of eggnog and 3 1/2 cups of rum. Add spices to taste.
MORE HOLIDAY RECIPES!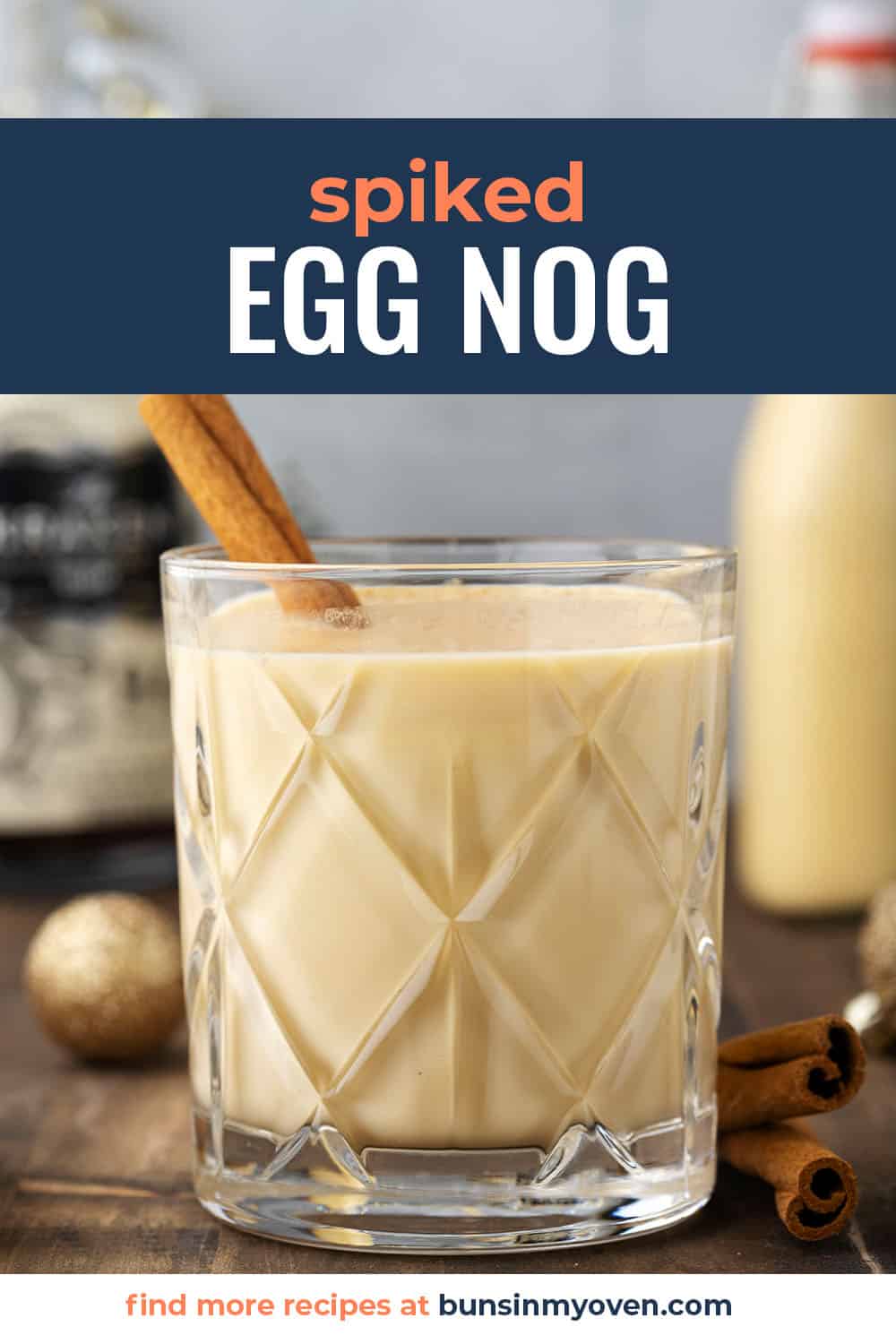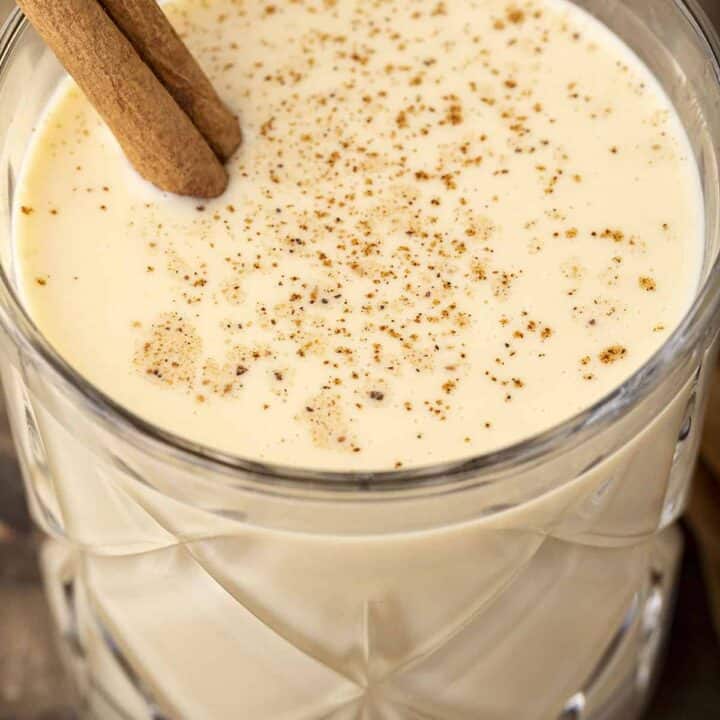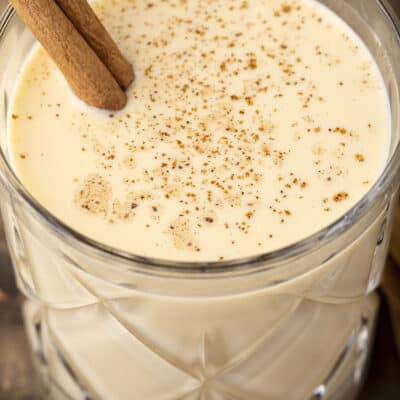 Spiked Eggnog
Our spiked eggnog just has a handful of ingredients and it makes the perfect holiday cocktail. This recipe makes one serving, but check the notes for how to make a full pitcher!
Prep3 minutes
Total3 minutes
Ingredients
7 oz eggnog
1 ½ oz spiced rum
1 dash cinnamon
1 dash nutmeg
1 cinnamon stick optional
Instructions
Stir together the eggnog and rum in a low ball glass.

Sprinkle with the cinnamon and nutmeg on the top of the eggnog.

Add in the cinnamon stick and enjoy.
Tips & Notes:
It takes a bit of stirring to incorporate the rum into the eggnog, as the eggnog is fairly thick. Just keep stirring it together and it will mix in. To make a pitcher of spiked eggnog, use a gallon of eggnog and add 3 1/2 cups of rum. Stir in 1 teaspoon (more to taste) of cinnamon and nutmeg and serve with cinnamon sticks in individual glasses.
Nutrition Information:
Serving: 1| Calories: 282kcal (14%)| Carbohydrates: 19g (6%)| Protein: 9g (18%)| Fat: 8g (12%)| Saturated Fat: 5g (31%)| Polyunsaturated Fat: 1g| Monounsaturated Fat: 3g| Cholesterol: 117mg (39%)| Sodium: 108mg (5%)| Potassium: 343mg (10%)| Fiber: 2g (8%)| Sugar: 16g (18%)| Vitamin A: 419IU (8%)| Vitamin C: 3mg (4%)| Calcium: 293mg (29%)| Iron: 1mg (6%)