CHRISTMAS CRACK starts out with saltine crackers and an easy homemade toffee that gets topped off with colorful m&m candies! This one is perfect for adding to your cookie trays during the holiday season.
There are some recipes that we make every. single. Christmas. No matter what.
I'm sure your family is the same way! We all have our favorites and it's just not the holidays until you've made everything on that list, you know?
This Christmas crack candy is one of those recipes for us. I first started making this when my kiddos were little and it's been a staple on every holiday cookie tray I've put together since then.
If you're not a fan of the name 'Christmas Crack' you can definitely just call this saltine cracker toffee. Not everyone likes to refer to their desserts as crack, but I feel like this one really is addicting. 😉
Ingredient Notes:
This post contains affiliate links. As an Amazon associate and member of other qualifying programs, I earn from qualifying purchases.
Crackers – This simple recipe starts with saltine crackers! They make for an easy bottom layer that'll hold the toffee and chocolate well. The salt will also help cut some of the sweetness and it's a perfect combination!
Peanut Butter Toffee Layer – You'll prepare an easy homemade toffee for these Christmas Crack treats. You will need: butter, brown sugar, and peanut butter! I feel like most things can be improved with peanut butter and that includes toffee!
Chocolate Layer – We like to use semi-sweet chocolate chips to help keep things from getting too sweet, but you can use milk chocolate or dark chocolate if those are your preference.
Candies – We love to top these Christmas Crack treats with lots of chopped up m&m candies! Chopped pecans are also a good option.
What Readers are Saying!
"I love this! You've covered all the bases here – sweet, salty, crunchy, smooth! Sounds like heaven! Pinning!" -Laura
How to Make Christmas Crack:
This is one of those super easy recipes that takes no time at all to make! The hardest part is waiting for the toffee to cool and harden. Promise.
Line a baking sheet with parchment paper and then fill it with a single layer of saltine crackers. This should be just about a sleeve of crackers, but you may need a couple of extras.
Melt butter in a saucepan.
After the butter is melted, stir in some brown sugar and peanut butter and bring that a full boil. You can stir up until it's boiling, but once it starts boiling, let it go for 3 minutes without touching it.
Very carefully pour that toffee mixture over the crackers. Boiling sugar can really burn you, so be careful here.
Once your toffee is evenly poured over your crackers, carefully place this in a hot oven for 5 minutes.
Remove from the oven and cover with a layer of chocolate chips.
Pop it back in the oven for one more minute to melt the chocolate chips.
Helpful Tip!
Don't Burn the Chocolate!
Did you know that chocolate chips hold their shape as they melt? You won't know they're melted until you use an off-set spatula or butter knife to spread the chocolate chips over the cracker toffee. Leave them in the oven for just 1 minute – don't wait for them to change shape!
Next comes the red and green m&m's. I like to pop mine in a baggie and then go at them with a mallet to break them up a bit. I like the way it looks with broken pieces of m&m's and I prefer smaller pieces on my toffee to whole pieces. You do you, though.
Just sprinkle the candy over the Christmas crack and let it cool on the counter to room temperature and then pop it all in the fridge or freezer to harden up.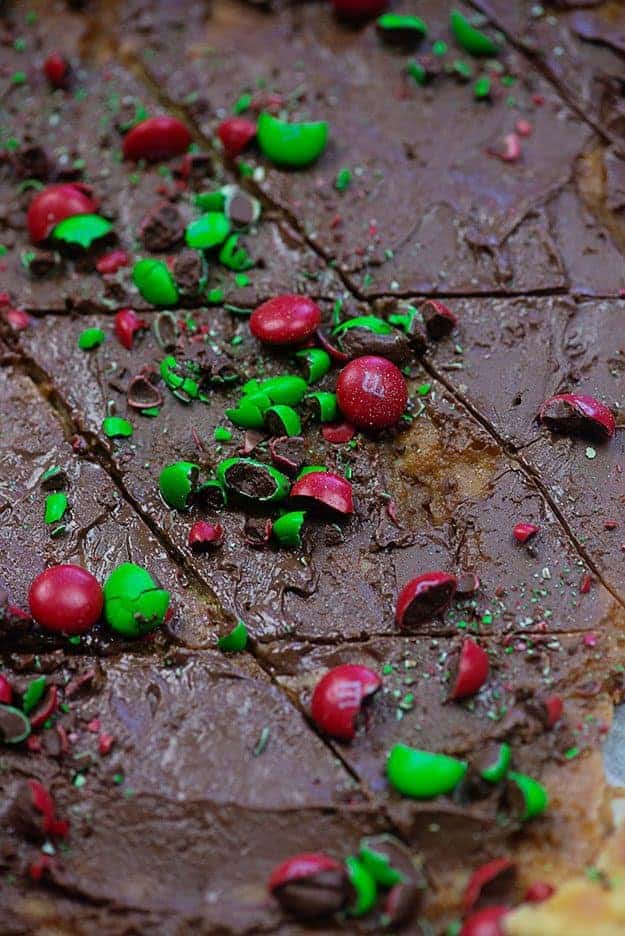 Helpful Tip!
Personalize this recipe with your own subsitutions!
You can swap Ritz for the saltines
Replace the red and green M&M's with the holiday candy of your choice or use pecans instead!
You can also use any variety of chocolate chips.
FAQs:
Can I store Christmas Crack?
The nice thing about all the ingredients in this recipe is that they are simple and they store well. You can keep these in an airtight container at room temperature for at least a week if they somehow last that long.
Why is it called Christmas Crack?
Because it's addictive! Once you start eating it, you can't stop. You can switch the name to Cracker Toffee, if that makes you more comfortable.
MORE CHRISTMAS DESSERT RECIPES!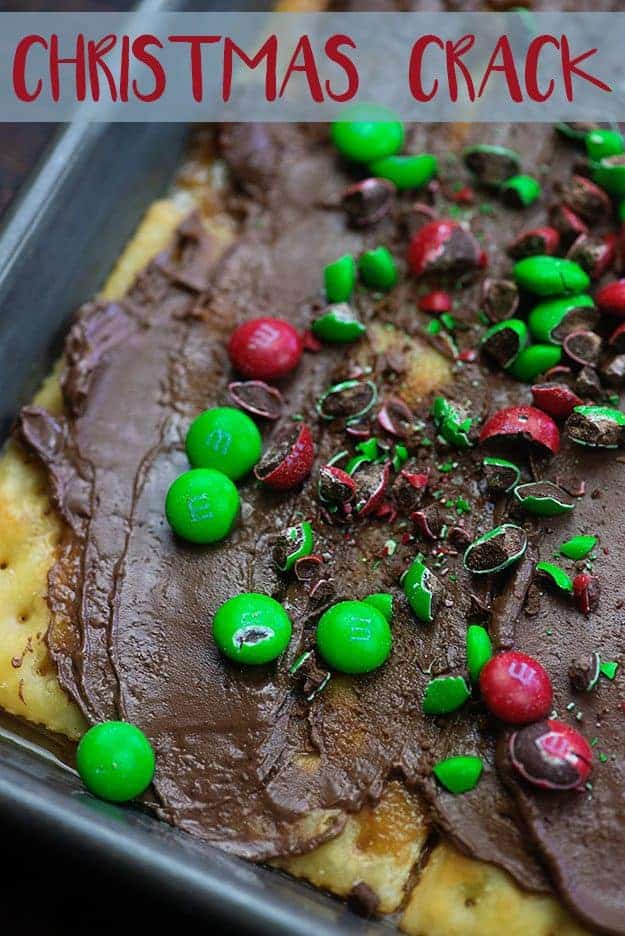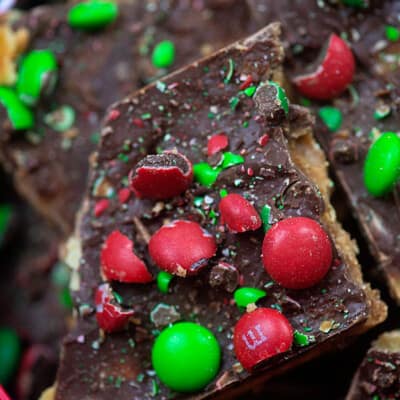 Christmas Crack
A holiday classic made with saltine crackers, peanut butter, and an easy homemade toffee.
Prep10 minutes
Cook15 minutes
Chill Time1 hour
Total25 minutes
Ingredients
1/4 pound salted saltine crackers (about one sleeve)
1 cup brown sugar
1 cup butter
1/3 cup peanut butter
1 1/2 cups semi-sweet chocolate chips
1/2 cup m&m candies chopped
Instructions
Preheat the oven to 400 degrees. Line a 18×13 baking sheet with parchment paper. Place all of the saltines salt side up on the baking sheet in an even layer.

Add the sugar, butter, and peanut butter to a medium sauce pan and bring to a boil over medium heat, stirring occasionally. When the mixture is fully boiling, stop stirring and allow to boil for three minutes.

Carefully pour the boiling mixture over the crackers and put in the oven for five minutes.

Remove from the oven and sprinkle with the chocolate chips. Return to the oven for 1 minute.

Spread the chocolate chips out into an even layer and sprinkle the m&ms over the chocolate.

Let cool on the counter for about 20 minutes. Place in the freezer for an hour and then break apart into small pieces.
Tips & Notes:
You can leave out the peanut butter entirely, if preferred. We like the flavor it adds, but it's not necessary to the recipe. Swap the candy for pecans, if desired.
Nutrition Information:
Serving: 1piece| Calories: 313kcal (16%)| Carbohydrates: 28g (9%)| Protein: 3g (6%)| Fat: 21g (32%)| Saturated Fat: 11g (69%)| Cholesterol: 31mg (10%)| Sodium: 203mg (9%)| Potassium: 163mg (5%)| Fiber: 1g (4%)| Sugar: 20g (22%)| Vitamin A: 365IU (7%)| Calcium: 29mg (3%)| Iron: 1.6mg (9%)