August 28, 2018
Chocolate Chip Shortbread Cookies
I have something both sad and hilarious to share with you about my husband today. And adorable. And ridiculous. Basically, it's one of my favorite husband stories to date.
The other night I made pork chops with a pan sauce (remind me to share that recipe with you guys because oh my word) and the husband worked late. When he got home the sauce had congealed a bit, as sauces likes to do. It was pretty thick and he was staring at it a bit worriedly as I told him what I had made for dinner.
"Is that a wasabi sauce?" he questioned me, pointing to the brown pan sauce I had next to the pork chops.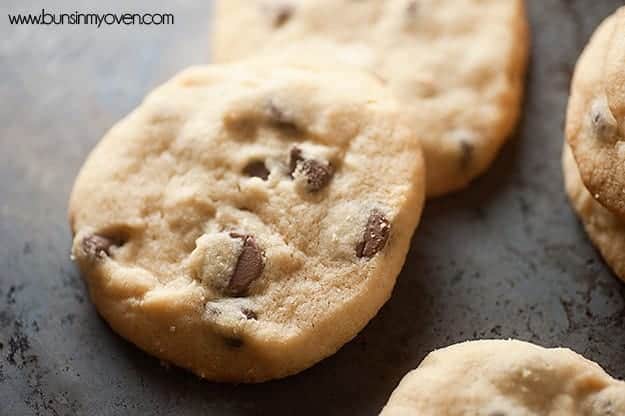 Um, no. I did not make a wasabi sauce for our pork chops for two reasons. 1) No one here likes wasabi and 2) just no.
So I replied to him that no, it wasn't wasabi, and besides, isn't wasabi usually green?
At which my point, my dear, sweet color blind (for real) husband replied, "Oh. I thought it was green. Well, does it have peanut butter in it? It looks like peanut butter."
I told him what the sauce was made of and went on about my business when all of a sudden I was struck by what he had said. He thought the sauce was green. He thought the sauce looked like peanut butter.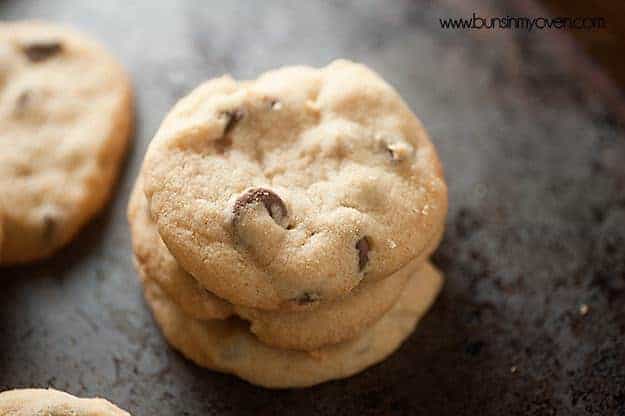 "Husband," I asked, "what color do you think peanut butter is?"
You guys. That man has spent 33 years thinking that peanut butter was green. Just imagine what his PB&Js look like to him.
I'm used to him mistaking colors or asking me if his clothes match (they usually do not), but he's always known that he was wrong about the colors.  Grass looks brown to him, but he knows it's actually green.
He just really, truly believed that peanut butter was green. Naturally, I will never stop teasing him about this. I mean, it's so sweet and pitiful all at once. The poor guy. I just want to hug him sometimes. Usually when he comes out of the bedroom dressed in mismatched clothes for work.
Anyway, this discovery led to another discovery…he also thought that chocolate chip cookies were green. Green cookies! My husband is such a goof.
And, so I would just like to tell you that these rich, buttery shortbread cookies are not green, ok? We love these cookies. Unlike a traditional chewy chocolate chip cookie, these aren't overly sweet and have a bit more of a crunch to them. They're just a really nice change from the standard chocolate chip cookie and the recipe is only 4 ingredients, all of which you most likely have on hand right this minute.
I make these and pretty much all of my cookies in my fabulous KitchenAid stand mixer! I've teamed up with a lovely group of bloggers to bring you a giveaway for one of these mixers! It's easy to enter using the widget below! Good luck!
Kitchenaid Stand Mixer

While you're waiting to find out the winner of one of those gorgeous mixers pictured up there, why not whip up some of these cookies? They're delish!
Chocolate Chip Shortbread Cookies
Servings: 24 cookies
Course: Dessert
Cuisine: American
Keyword: back to school, easy cookie recipes, kid-friendly recipes
Calories: 155 kcal
We love these cookies. Unlike a traditional chewy chocolate chip cookie, these aren't overly sweet and have a bit more of a crunch to them.

Ingredients
1 cup butter room temperature
1/2 cup brown sugar
2 cups flour
3/4 cup semi-sweet chocolate chips
Instructions
In the bowl of a stand mixer, cream together the butter and sugar until light and fluffy. Beat in the flour. Stir in the chocolate chips.

Scoop the dough out onto a large sheet of plastic wrap. Use the wrap to shape into a log about 10 inches long and 2-3 inches thick. Seal the ends and place in the refrigerator for at least 30 minutes.

Preheat the oven to 325 degrees. Line a baking sheet with parchment paper.

Remove the log of dough from the fridge and unwrap the plastic wrap. Use a sharp knife to slice the dough into rounds about 1/4 inch thick.

Bake for 13 minutes or until the edges are lightly browned. Cool completely before serving.
Nutrition Facts
Chocolate Chip Shortbread Cookies
Amount Per Serving
Calories 155 Calories from Fat 81
% Daily Value*
Fat 9g14%
Saturated Fat 6g38%
Cholesterol 20mg7%
Sodium 69mg3%
Potassium 51mg1%
Carbohydrates 15g5%
Sugar 6g7%
Protein 1g2%
Vitamin A 240IU5%
Calcium 11mg1%
Iron 0.9mg5%
* Percent Daily Values are based on a 2000 calorie diet.
Nutrition Disclaimer: All information presented on this site is intended for informational purposes only. I am not a certified nutritionist and any nutritional information shared on bunsinmyoven.com should only be used as a general guideline.
Lots more cookies where those come from!!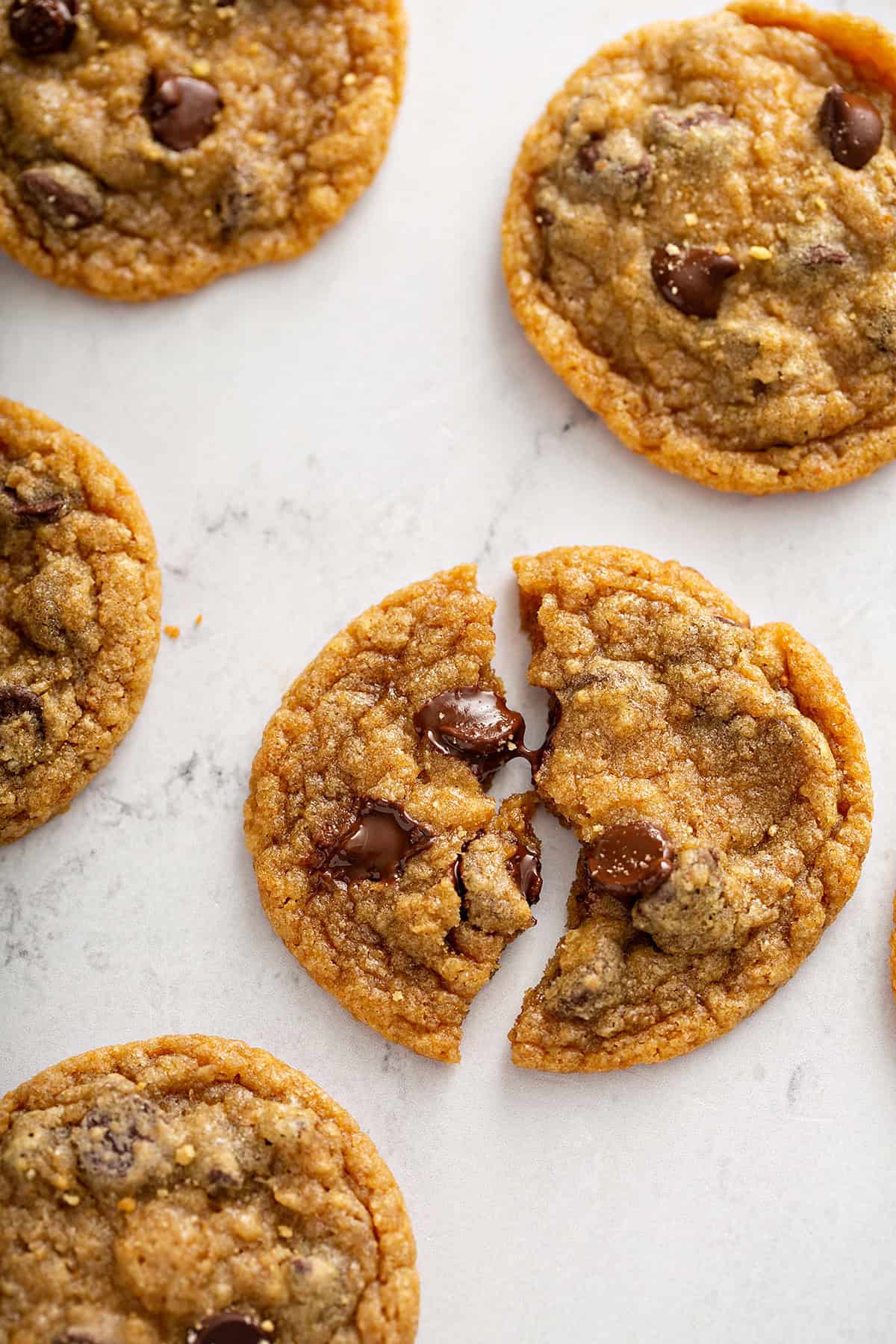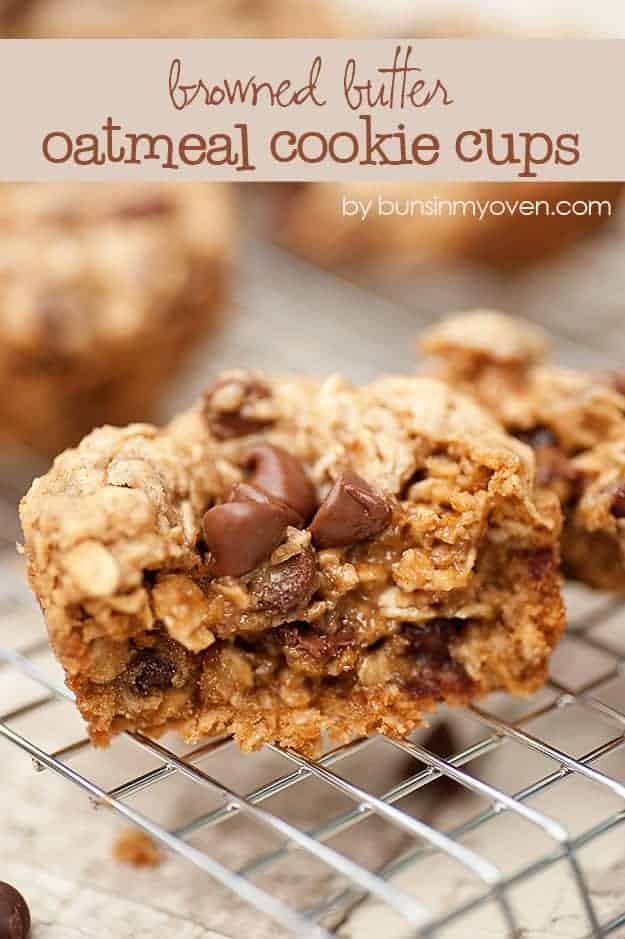 Browned Butter Oatmeal Cookie Cups