Our homemade margaritas on the rocks is a favorite drink all year long! This is my favorite cocktail all year long! I make a big pitcher anytime we have friends over and it always gets drank – but be warned! My homemade margarita recipe might not taste terribly strong, but it will knock your socks off. You'll want to print this recipe out to use for every party from now until forever.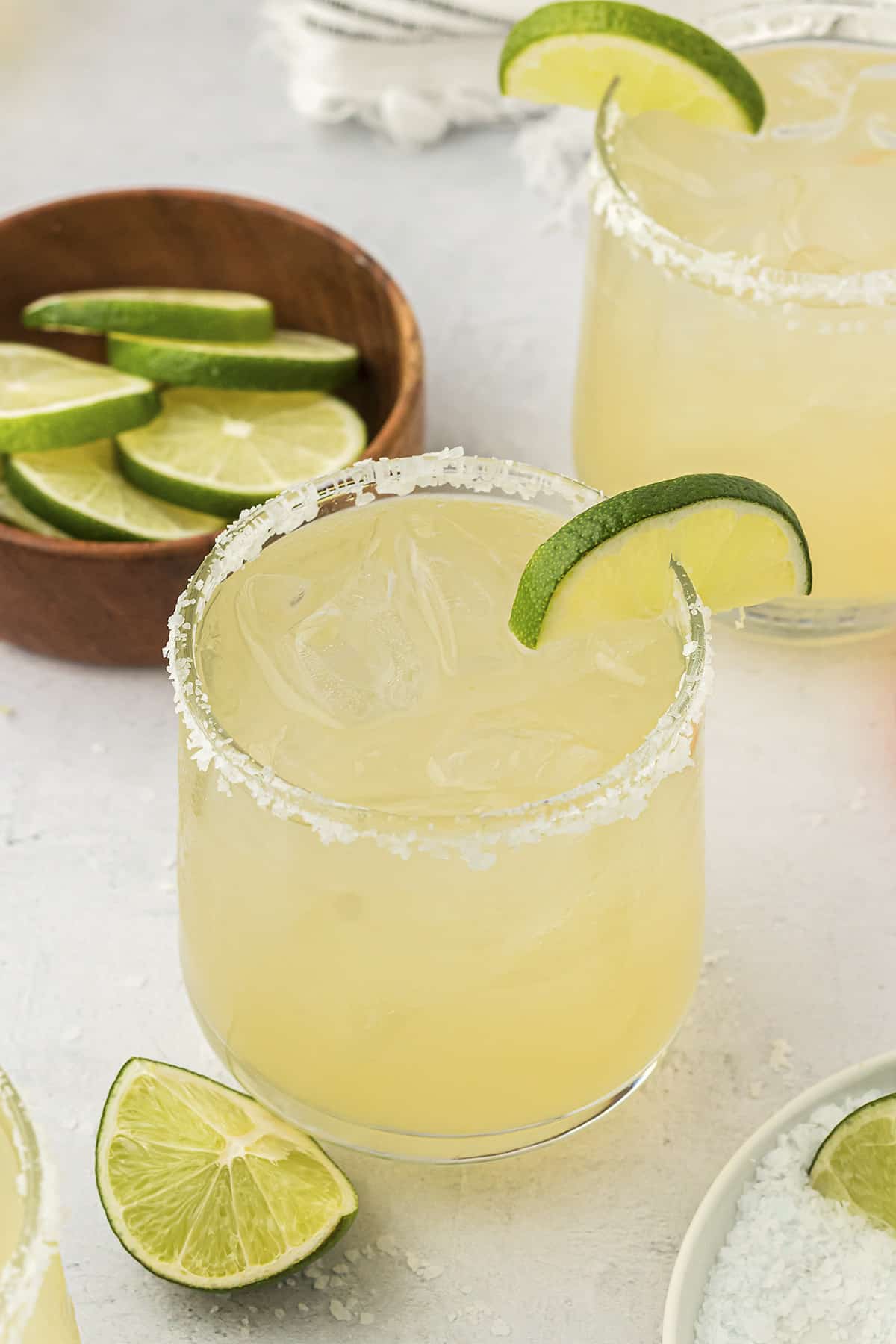 My dad accused me of trying to kill him last summer.
Obviously, I have no idea where I get my flair for the dramatic from. Definitely doesn't come from him. 😉
You see, we had a big party around the pool. We grilled up some chicken (seasoned with our lemon pepper chicken marinade, of course), we swam, and then…well. We drank margaritas.
My margarita recipe is pretty famous around these parts, no joke.
Everyone knows that 1) they're DELICIOUS and 2) they're STRONG.
I like a good drink that sneak attacks you like that. Personally, I think drinks that are weak are not worth drinking and that drinks that taste like they're full of alcohol are, well, gross.
So, I like my drinks to be a little sneaky. My margarita on the rocks recipe? Oh, it's sneaky. In the best way.
Just, maybe don't overdo it or the next morning you'll be accusing me of attempted murder like my dad did. #worthit
Another one to try (that doesn't pack quite as much of a punch, if you're concerned about that) is my vodka collins! Perfect for summer.
Ingredient Notes:
Alcohol – This recipe calls for tequila (I use silver tequila, but gold works if that's what you've got), orange liqueur such as Grand Marnier, and triple sec. See below for more suggestions on the tequila.
Sweet and Sour Mix – If you use my homemade sweet and sour mix your margaritas will taste 1 million times better than if you use the store bought neon yellow mix. Store bought will be FINE, but if you have time, try the homemade mix!
Fresh Citrus – You'll need a couple of limes and an orange for slicing. The fresh citrus will add lots of good flavor to this margarita mix. You'll also want a lime wedge for running along the rim of the glass before dipping in salt.
Salt – Tequila, lime, and salt were pretty much made for each other. You'll run a wedge of lime around the rim of your glass and dip it in salt so you get all that flavor while you sip your homemade margarita.
What We Love About This Recipe:
These homemade margaritas are perfect for serving up with some favorites like our easy Mexican rice or chips and restaurant style salsa.
This margarita pitcher recipe is great for parties! You'll find even a whole pitcher will go quickly.
These don't taste strong, but they do pack a punch!
How To Make Margaritas At Home:
Combine: Pour the sweet and sour mix into a pitcher and then pour in your tequila, triple sec, and orange liqueur.
Fruit: Add slices of oranges and limes to the pitcher and give everything a quick stir.
That's it! My homemade margaritas are that simple to prepare. Now you just need to assemble your margaritas on the rocks!
This recipe doubles easily, and they do go quick, so we usually do double this recipe.
How to rim a glass: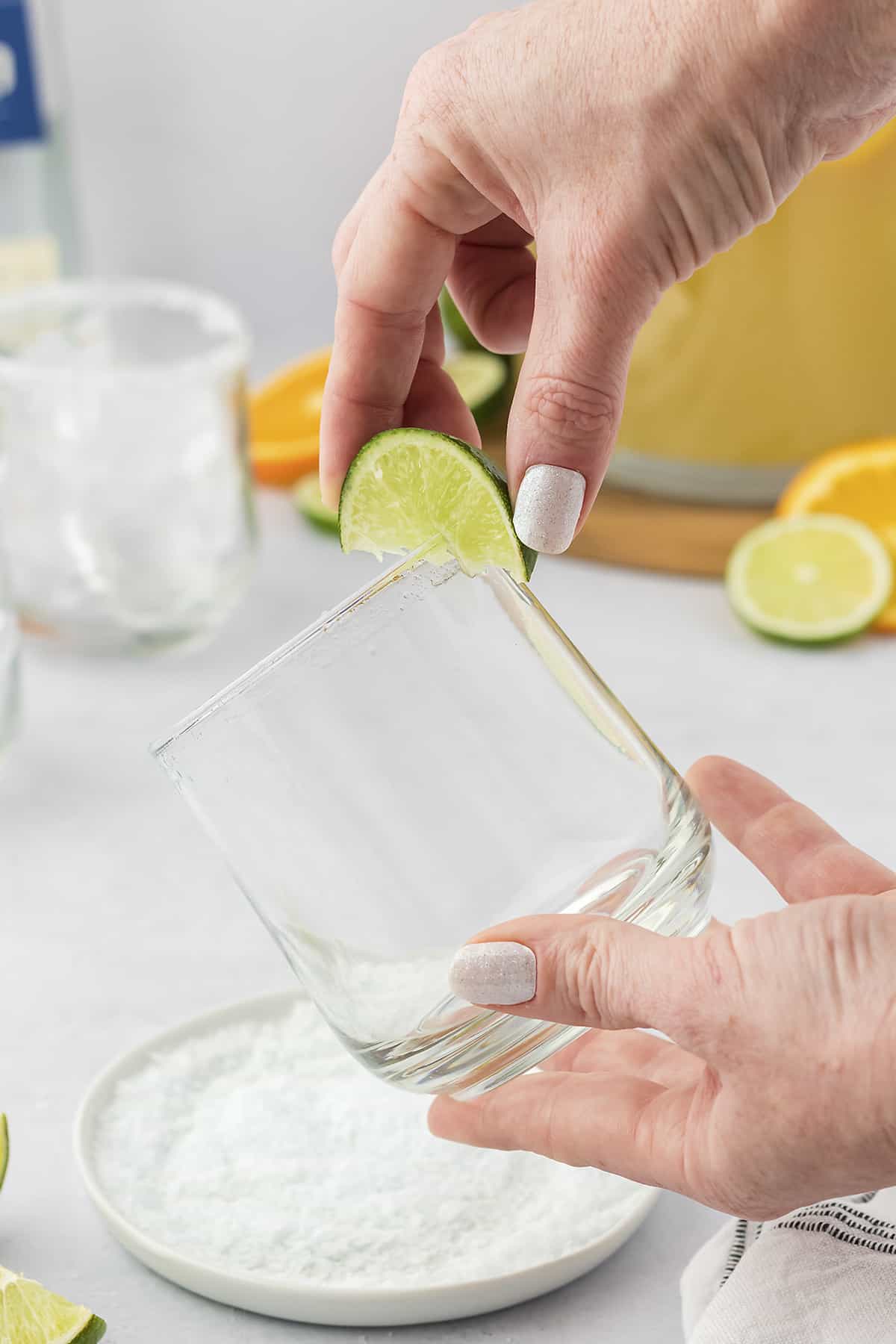 We love a good margarita with a salty rim!
First, run a lime wedge around the rim of your glass and then dip it in some chunky salt. You can purchase margarita salt if you like, but I just use kosher salt.
Fill your glass with ice and pour in the margarita mix!
You're about to get a taste of the best margarita recipe!
My Personal Favorite Margarita!
I'm sure I'm going to hear from some of you that triple sec doesn't belong in a margarita and probably some of you will even tell me no on the sweet and sour.
It's cool. If you have a good margarita recipe, keep at it. But, if you want to try the margarita recipe that I (and all my friends) think is the best, it's this one. 😉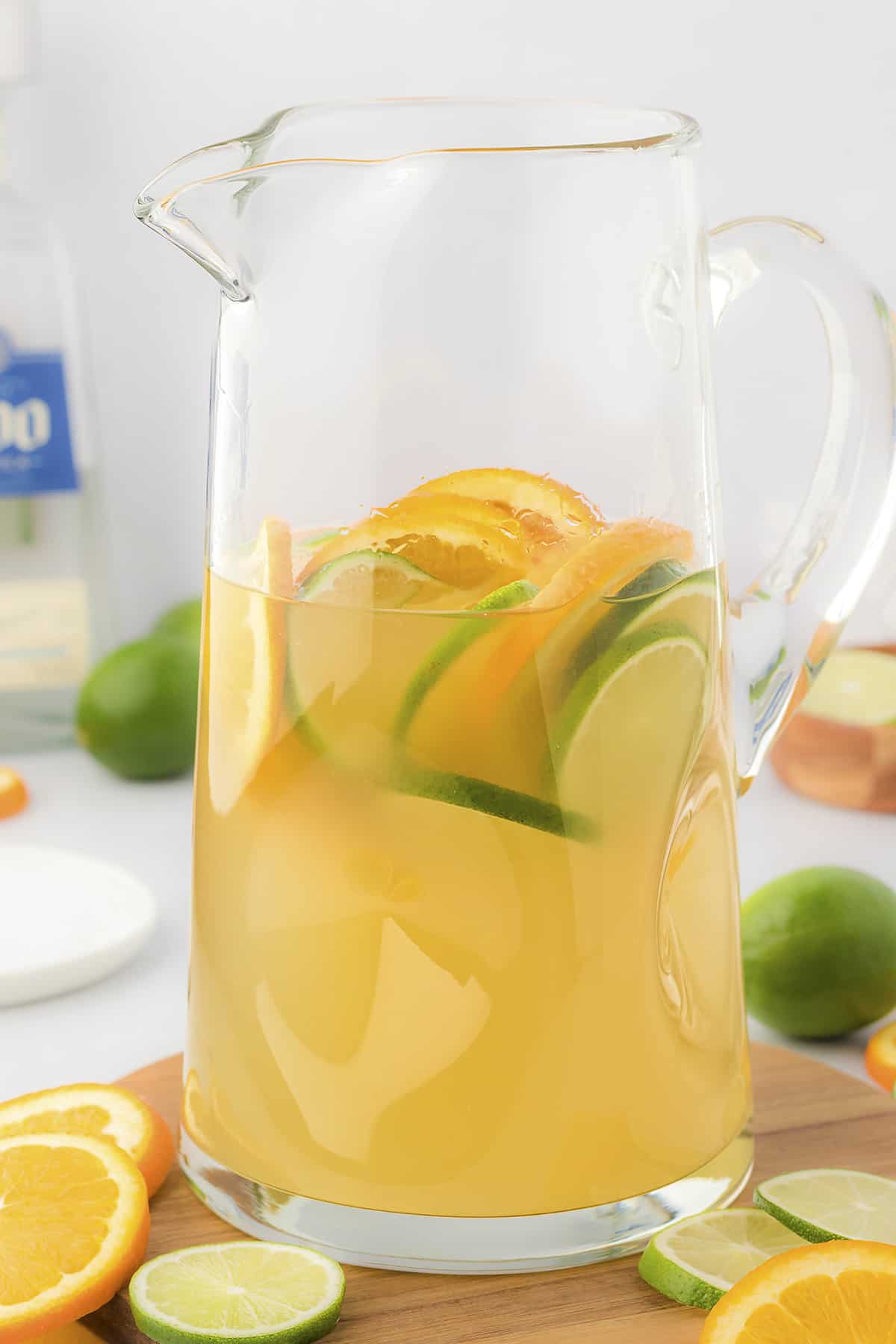 What Tequila For Margaritas?
I personally prefer silver tequila over gold, but I do believe that gold is more traditionally used.
Silver tequila can be a bit harsher with a clean taste. Gold tequila is more smooth and has a more pronounced flavor.
While I'm not particularly picky about brands of alcohol, I do always buy the best I can afford. A quality tequila will be made with 100% agave and won't be nearly as likely to cause as a hangover as one made with fillers.
What To Serve With My Homemade Margarita Recipe: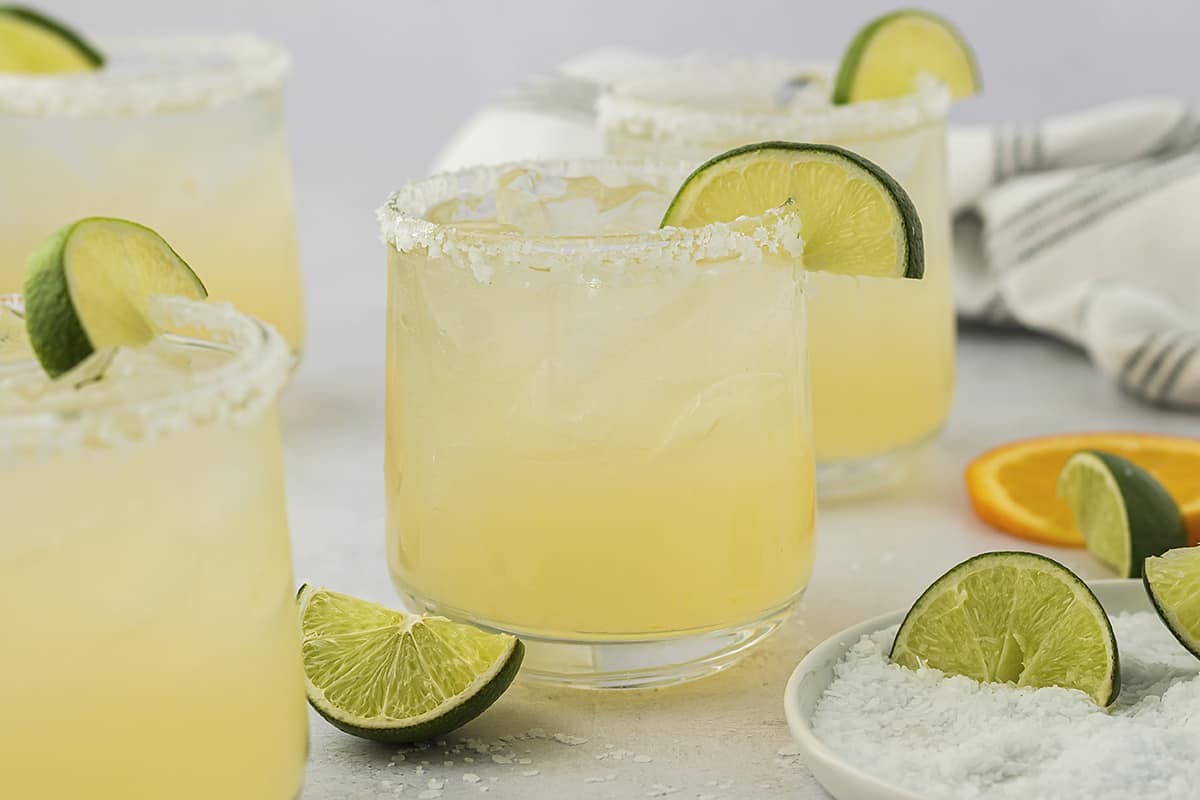 FAQs:
What is a margarita?
A margarita is a cocktail that is traditionally made using tequila, triple sec, and lime juice. But there are lots of variations, and this recipe is one of them. I'm adding orange slices, Grand Marnier, and my own sweet and sour mix!
Are these margaritas very strong?
My homemade margaritas don't really taste terribly strong, but be careful because they will knock your socks off! There is more than enough alcohol in there to do the job. 🙂
MORE MIXED DRINK RECIPES!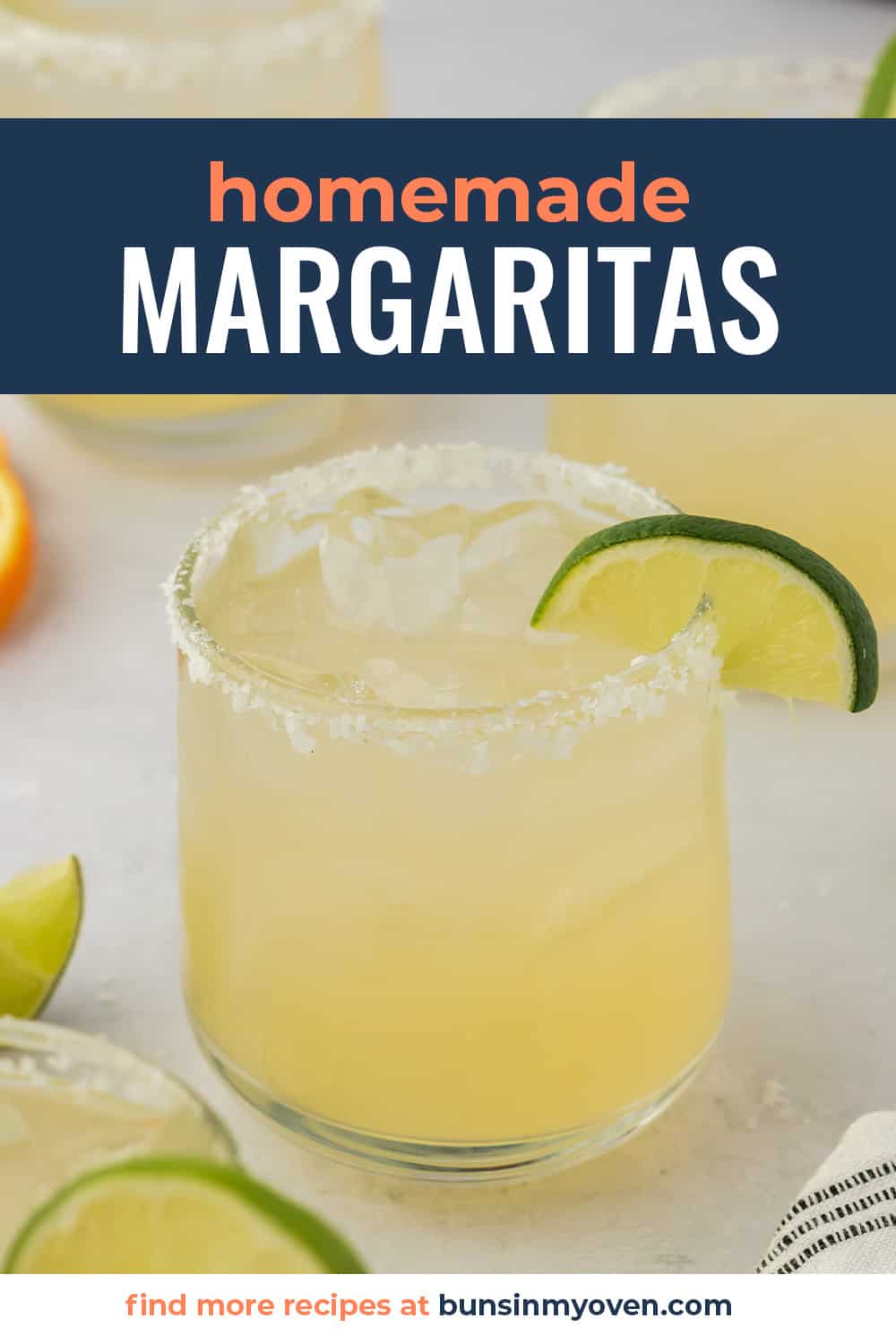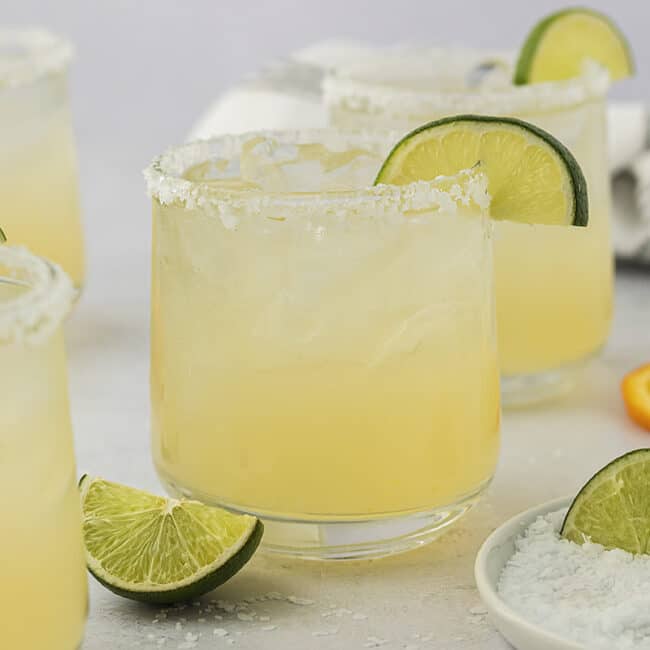 Homemade Margarita On The Rocks
Margaritas are my favorite drink and I've been told that my recipe is the best – just be careful, this one is a lot stronger than it tastes!
Prep5 minutes
Total5 minutes
Ingredients
2 cups sweet and sour mix preferably homemade
1 1/2 cups silver tequila
1 cup triple sec
1/3 cup Grand Marnier
2 limes sliced
1 orange sliced
1 lime wedge
1/4 cup salt
Instructions
Add the sweet and sour, tequila, triple, sec, Grand Marnier, lime slices, and orange slices to a pitcher and stir well.

Run the lime wedge around the rim of 4 glasses.

Roll the rims of the glasses in salt.

Add ice to the glasses, fill with the margarita mixture, and enjoy!
Tips & Notes:
This recipe makes 4 margaritas, but doubles easily. We highly recommend our homemade sweet and sour mix for the best flavor! We prefer silver tequila, but gold will work as well. Use the best quality you can afford.
Nutrition Information:
Serving: 1glass| Calories: 484kcal (24%)| Carbohydrates: 44g (15%)| Sodium: 90mg (4%)| Potassium: 17mg| Sugar: 50g (56%)
This recipe was originally published in June 2018. It was photographed using store bought sour mix and you can see the neon orange color in the original photos. Highly recommend using our homemade sour mix for the best taste – the margaritas won't be neon either.