Our Vodka Collins is a popular cocktail made with vodka, homemade sweet and sour mix, and club soda! It's a light, refreshing cocktail that's easy to make at home!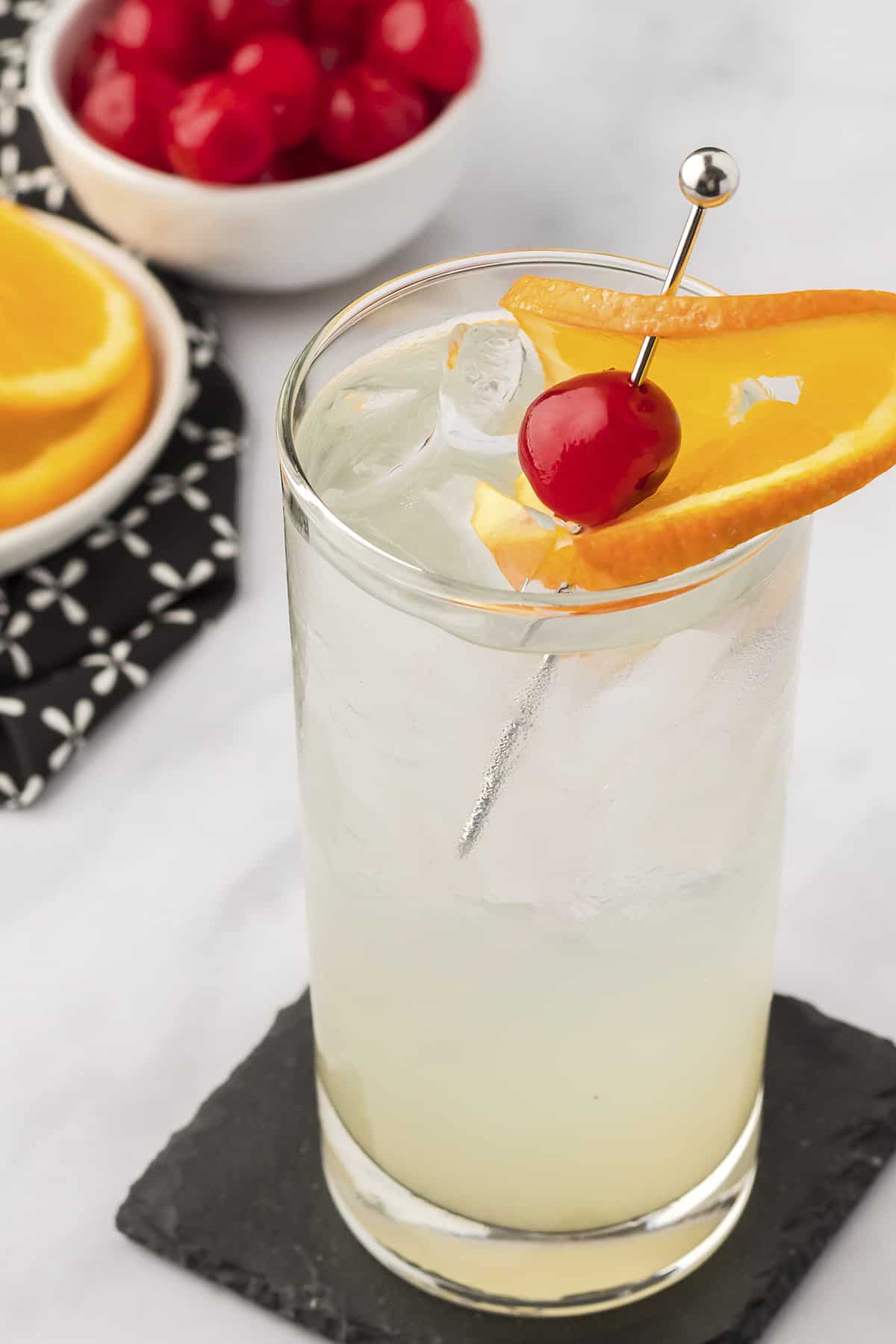 I'm a sucker for a quick and easy cocktail and a classic Vodka Collins is my go to drink!
It's light and refreshing, perfect for a summer day, and when you take the extra ten minutes to whip up our sour mix, you'll end up with a delicious drink that everyone raves about.
The Vodka Collins is my go to cocktail – especially during the hot summer months.
Garnish with a orange slice, pop a maraschino cherry on top, and drink up.
Ingredient Notes:
This post contains affiliate links. As an Amazon associate and member of other qualifying programs, I earn from qualifying purchases.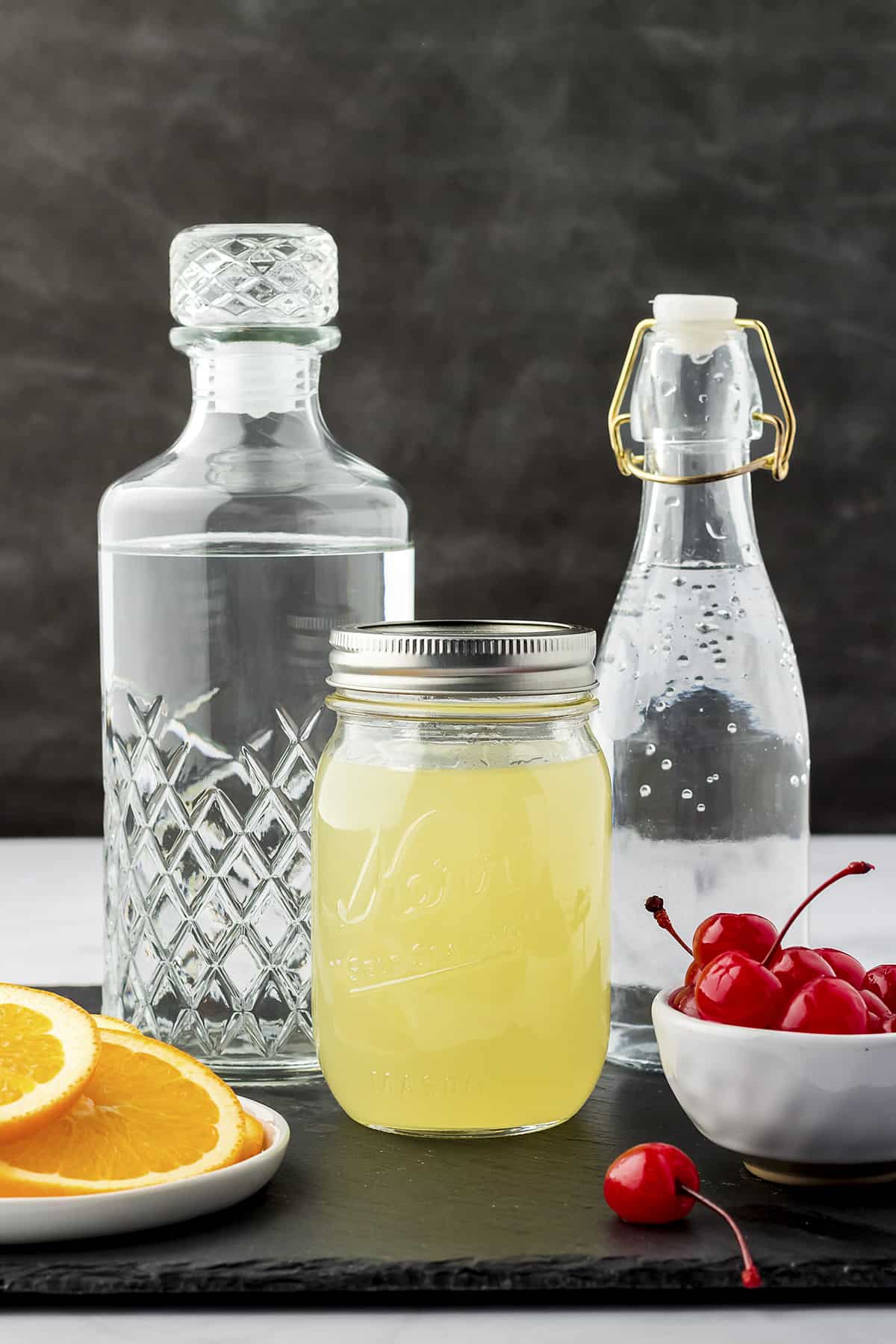 Vodka – We're partial to Tito's (or Kirkland's), but whatever vodka you like will work well here.
Sweet and Sour Mix – You could use a mix from the store, but I love my homemade version, made with lemon and lime juice and sugar. No funky ingredients and no neon yellow coloring.
Club Soda – It can't all be vodka, can it? No, you should probably include some club soda too. 😉
What We Love About This Recipe:
Light, refreshing, and perfect for summer!
So versatile – feel free to add in pops of other flavors, like raspberry or strawberry!
Easy – just shake your vodka, sour mix, and club soda in a glass and stir.
Equipment Needed:
Highball Glasses: A highball glass holds 8-12 ounces of liquid and is used for many cocktails.
Cocktail Picks: These are perfect for holding your garnish in place in your cocktails.
How To Make Vodka Collins: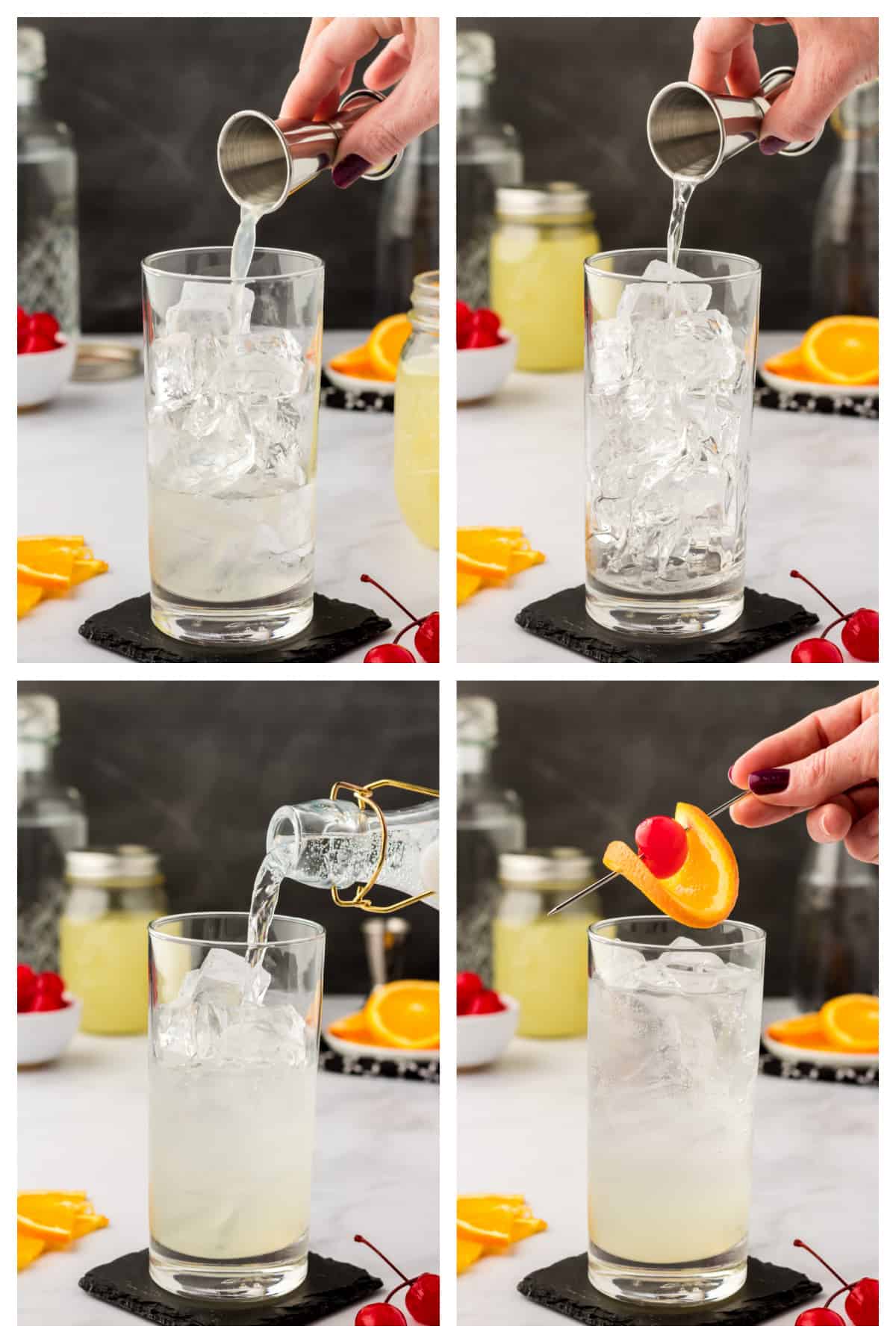 Vodka: Start by pouring your choice of vodka into a glass with some ice cubes.
Mix: Now you can add in the sweet and sour mix along with club soda to your taste, about 5 ounces.
Stir & Serve: That's pretty much all there is to it. Stir the drink up and serve it, or even better, drink it yourself!
Mix It Up!
The vodka collins is a very versatile cocktail!
Add a splash of grenadine to your Vodka Collins for a gorgeous pink drink with a pop of sweet pomegranate flavor.
Add a few fresh raspberries or blackberries to your vodka collins to give it some fruity flair.
No club soda? Try your favorite lemon lime soda. Your drink will be sweeter than usual, but still tasty!
FAQs:
What type of vodka to use?
We prefer a high quality vodka in our cocktails, such as Tito's. Any brand of vodka that you like should work well though.
What is sour mix?
Sour mix is a sweet and sour concoction made of lemon and lime juice and simple syrup. It's like a concentrated lemonade.
What is the difference between a Vodka Collins and a Tom Collins?
A vodka collins is essentially the same as a Tom Collins, with the exception of the liquor used. A Tom Collins uses gin and a vodka collins is made with vodka.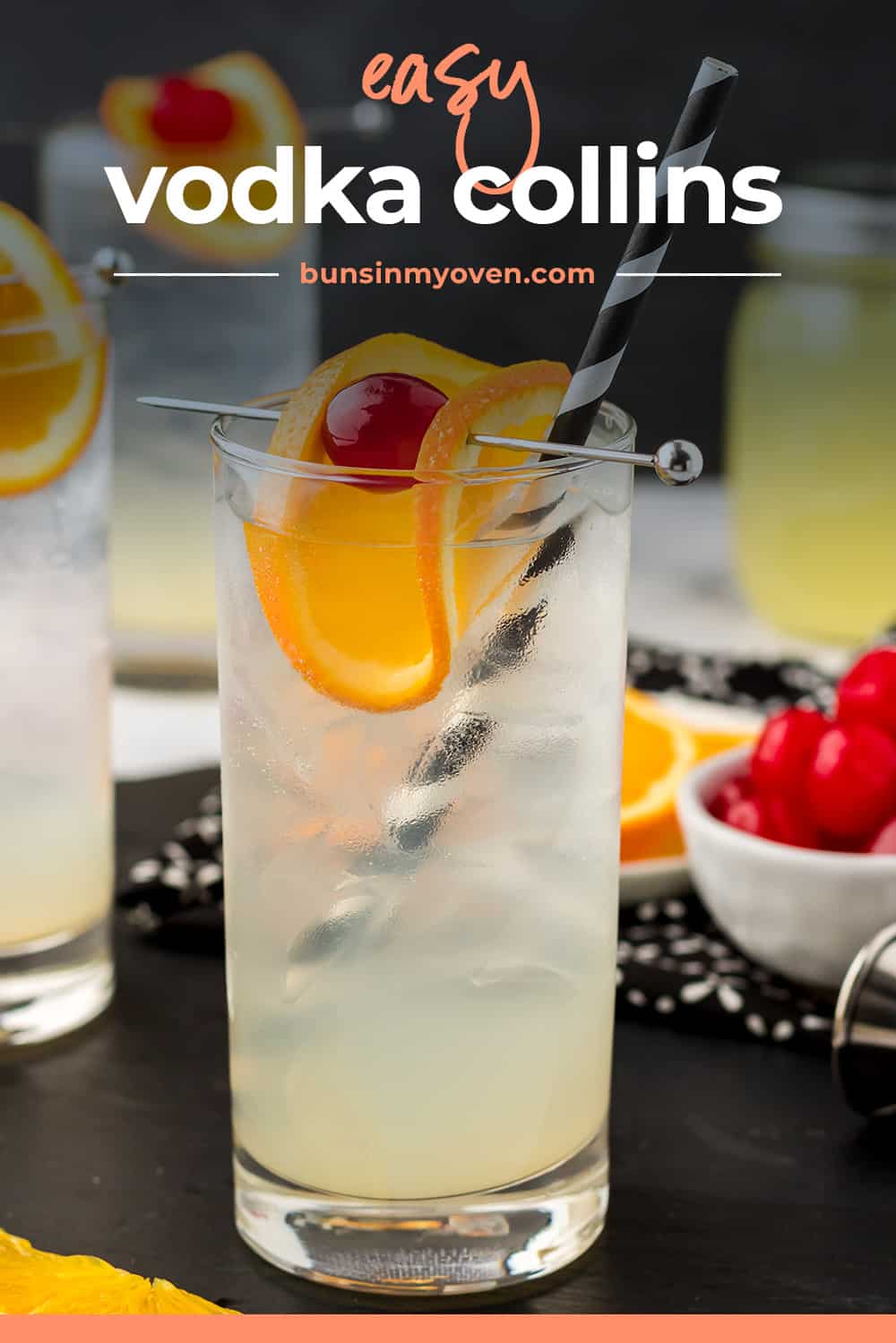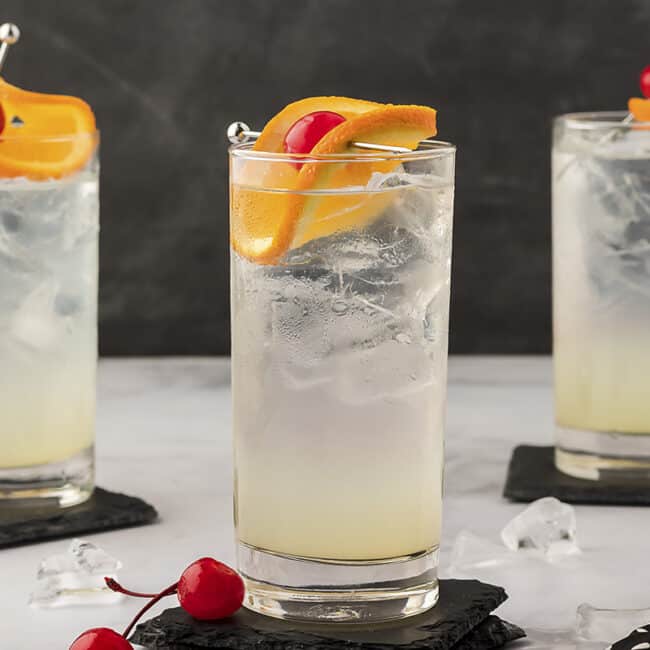 Vodka Collins
This Vodka Collins recipe is light and refreshing, perfect for a hot summer day, and made extra special when you use our homemade sour mix in the recipe.
Prep2 minutes
Cook2 minutes
Total4 minutes
Ingredients
1.5 ounces vodka
1.5 ounces sour mix more to taste
5 ounces Club soda more to taste
Ice cubes
Instructions
Pour the vodka, sour mix, and club soda into a highball glass with ice cubes.

Stir and taste. Add more sour mix or club soda to suit your tastes.
Tips & Notes:
We garnished our Vodka Collins with a slice of orange and a maraschino cherry.
Nutrition Information:
Serving: 1| Calories: 120kcal (6%)| Carbohydrates: 5g (2%)| Sodium: 33mg (1%)| Potassium: 3mg| Sugar: 5g (6%)| Calcium: 7mg (1%)| Iron: 0.01mg