Our Homemade Sour Mix is the perfect thing to take your cocktails to the next level! Made with just 3 ingredients in about 15 minutes! Making sour mix from scratch is our favorite way to elevate our drinks and you'll love it too.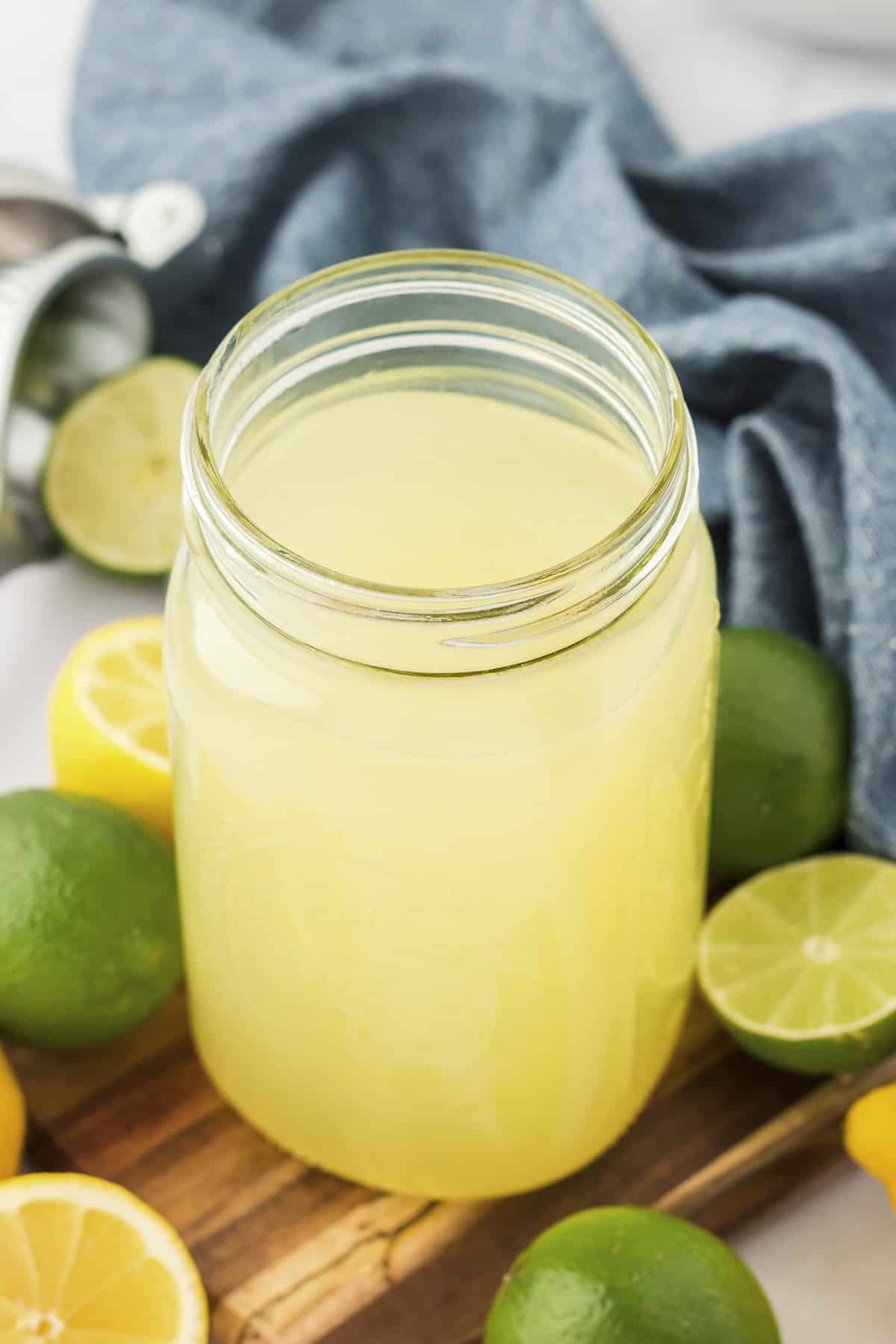 Mm hmm. You could totally buy a bottle of the neon yellow sweet and sour mix from the store. You probably have. You probably still do. You should totally stop.
Our homemade sour mix is so simple to make and let me tell you, it's way better than the weird gloopy stuff you buy in the bottle at the store. Have you ever looked at the ingredients in that stuff? Barf.
We use our homemade sour mix to make my favorite Vodka Collins and to take our famous margaritas on the rocks to the next level.
🍋Ingredients Notes
This post contains affiliate links. As an Amazon associate and member of other qualifying programs, I earn from qualifying purchases.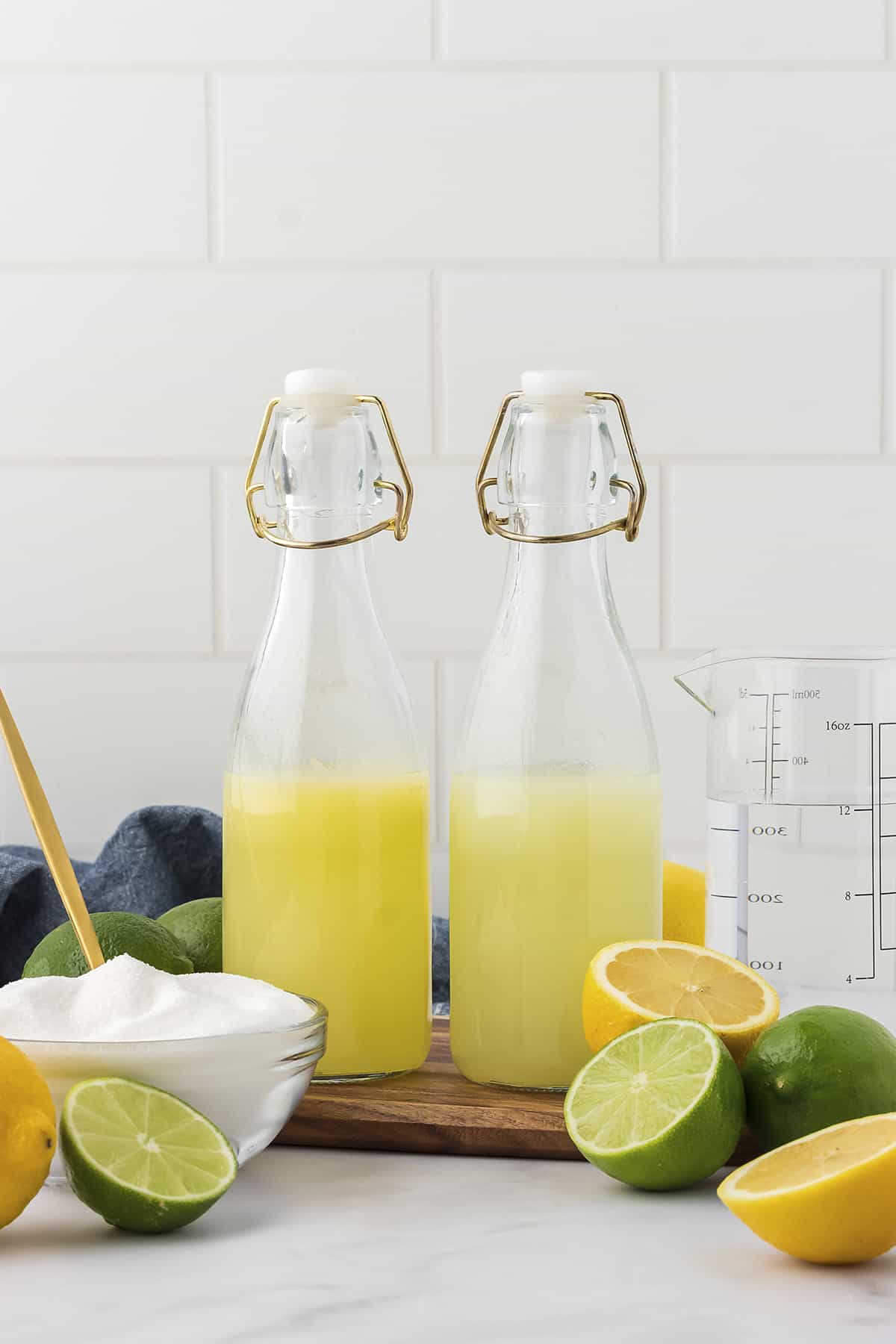 Lemon Juice: We juice fresh lemons for this recipe. You'll need around 5-6 lemons to make 1 cup of lemon juice.
Lime Juice: You'll want fresh here too! It'll take around 8 limes to make 1 cup of juice.
Simple Syrup: We'll make a simple syrup by boiling water and dissolving sugar in it. Easy peasy!
What We Love About This Recipe:
Sour mix is often the start of a good cocktail, so starting with a quality homemade sour mix really starts your drink off on the right foot!
This recipe takes about 15 minutes – juice the fruit, boil some water and sugar, and combine!
You can customize this to be more sweet or sour, depending on your preferences.
Buying pre-made sour mix can be expensive, especially if you drink it often. Making your own sour mix can be a cost-effective alternative, as you can use simple ingredients like sugar, citrus juice, and water, which are readily available and fairly inexpensive.
🍹 How to Make Homemade Sweet and Sour Mix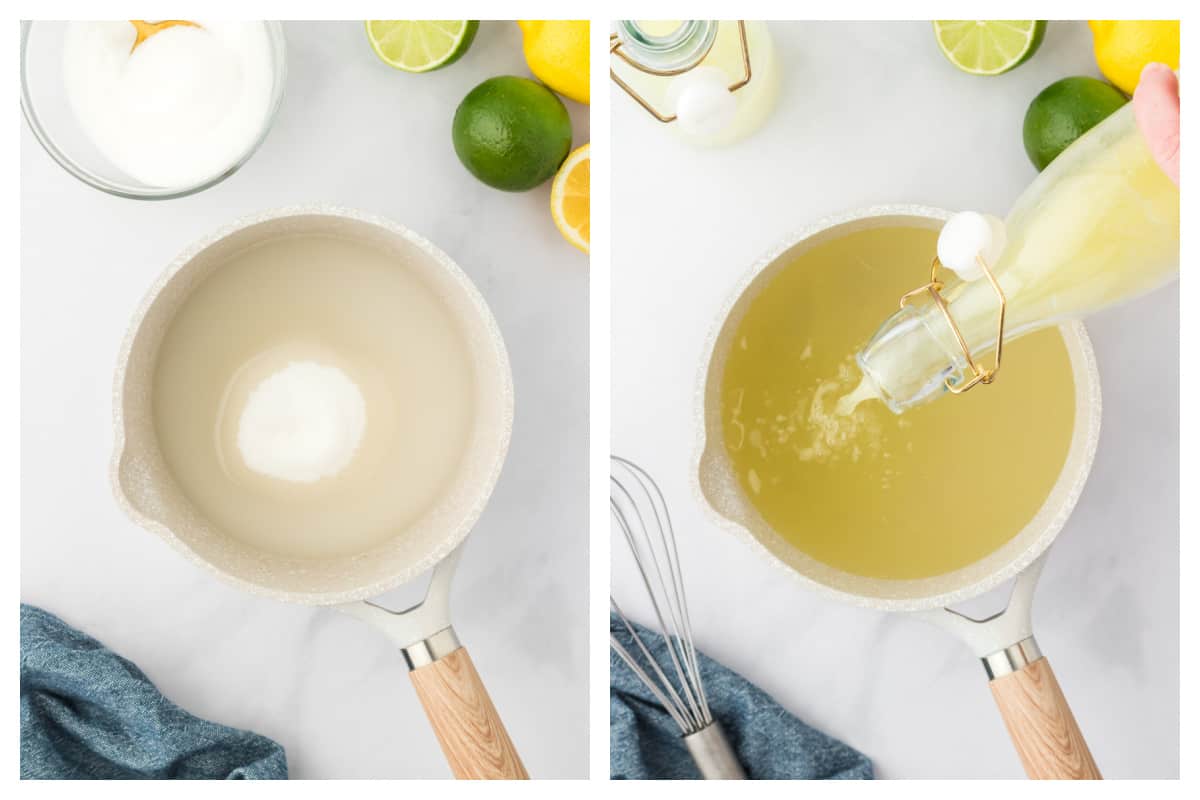 Boil: Bring your water to a boil in a small saucepan. Once boiling, stir in the sugar and cook until the sugar has dissolved.
Juice: Use your favorite tool for juicing your lemons and limes to create 1 cup of juice each. Stir that into your simple syrup.
Cool: You'll want to let this cool before using it to make your favorite cocktails. We store this in a mason jar in the fridge. It lasts 2-3 weeks in the fridge.
Equipment Needed
Sauce Pan: You'll need a sauce pan for boiling the water.
Citrus Juicer: Easy to use and easy to clean! It makes juicing a breeze.
Manual Juicer: This is a more economical version of a citrus juicer. You'll need a little elbow grease, but we use this tool often in our house!
Mason Jars: These make storing your homemade sour mix a breeze. Plus, the ones I linked are pink and who doesn't love a pretty jar?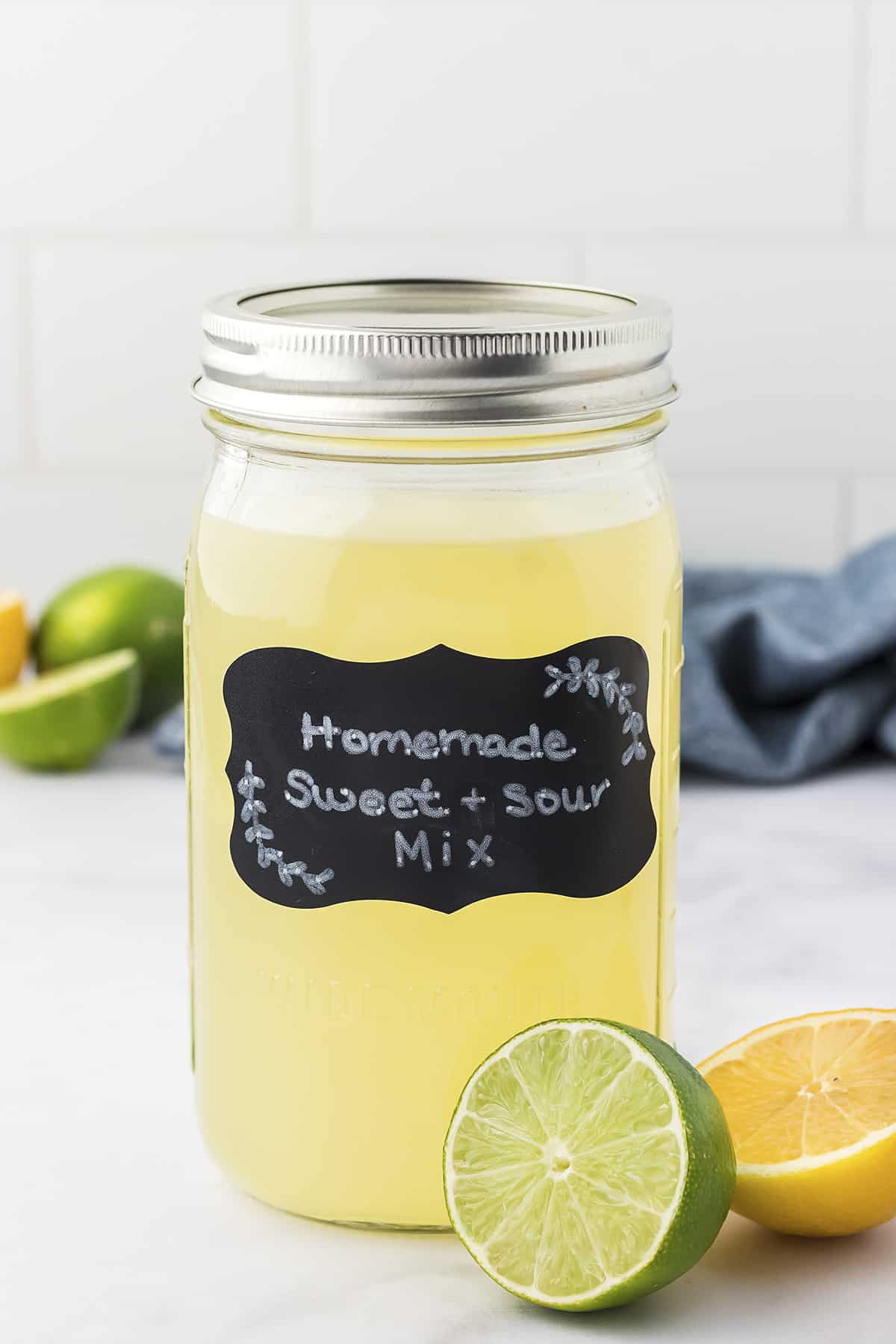 FAQ:
What is sour mix made of?
Homemade sour mix is made of fresh lemon and lime juice along with a mixture of sugar and water. Store bought mixes have a lot of preservatives and artificial flavors added.
Is sour mix the same as margarita mix?
The two are very similar, but margarita mix typically consists of just lime juice while sour mix contains lemon juice as well. We use sour mix in our homemade margaritas.
How long will homemade sour mix last?
We store our sour mix in the fridge, tightly sealed, for 2-3 weeks.
More Cocktail Favorites
We love cocktails in this house! Here are a few other favorites that we enjoy sharing with friends: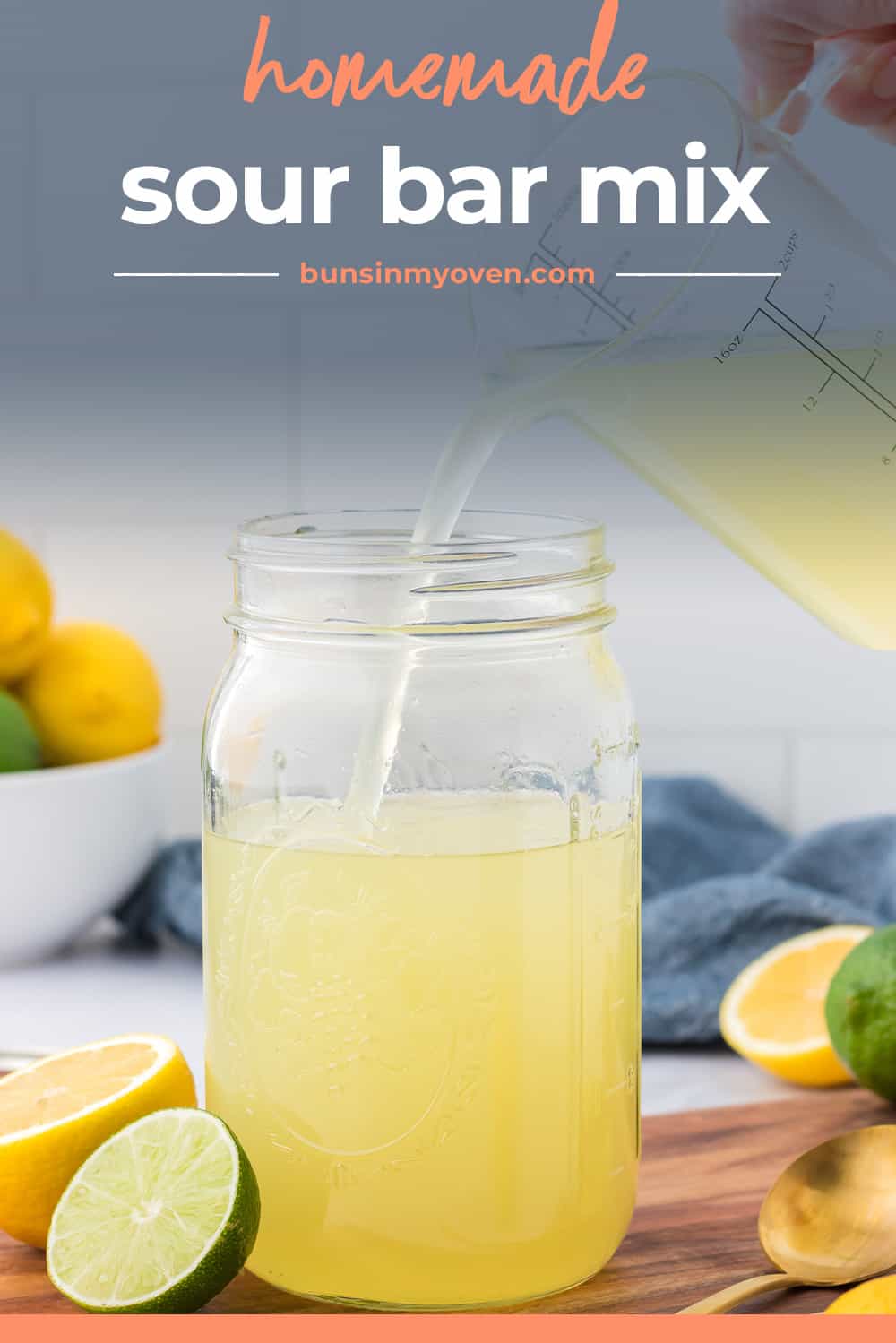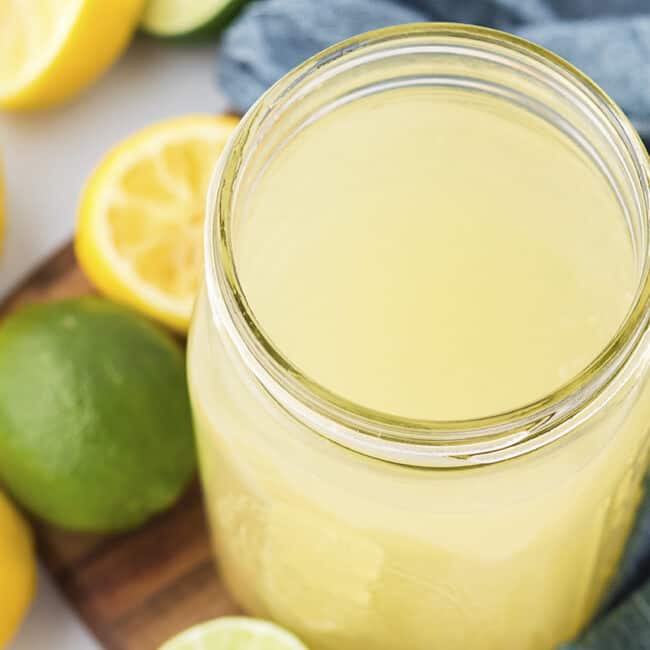 Homemade Sour Mix
Fresher, tastier, and just as easy as the store bought neon yellow sour mix! We store this in mason jars in the fridge and use it anytime we want a cocktail.
Prep5 minutes
Cook10 minutes
Total15 minutes
Ingredients
1 1/2 cups water
1 1/2 cups sugar
1 cup fresh lemon juice
1 cup fresh lime juice
Instructions
Bring the water to a boil in a small pot. Stir in the sugar until dissolved and remove from the heat. Stir in the lemon and lime juice.

Store covered in the fridge for 2-3 weeks.
Tips & Notes:
We highly recommend using freshly juiced lemons and limes in this recipe. It will make the sour mix taste so fresh and flavorful! You can adjust the sweetness or sourness to your taste by adding more or less sugar or lemon juice.
Nutrition Information:
Calories: 106kcal (5%)| Carbohydrates: 28g (9%)| Sodium: 2mg| Potassium: 44mg (1%)| Sugar: 25g (28%)| Vitamin A: 10IU| Vitamin C: 13.9mg (17%)| Calcium: 5mg (1%)
This recipe was originally published in November 2012. It was updated with new photos and text in March 2023. Original photo below.