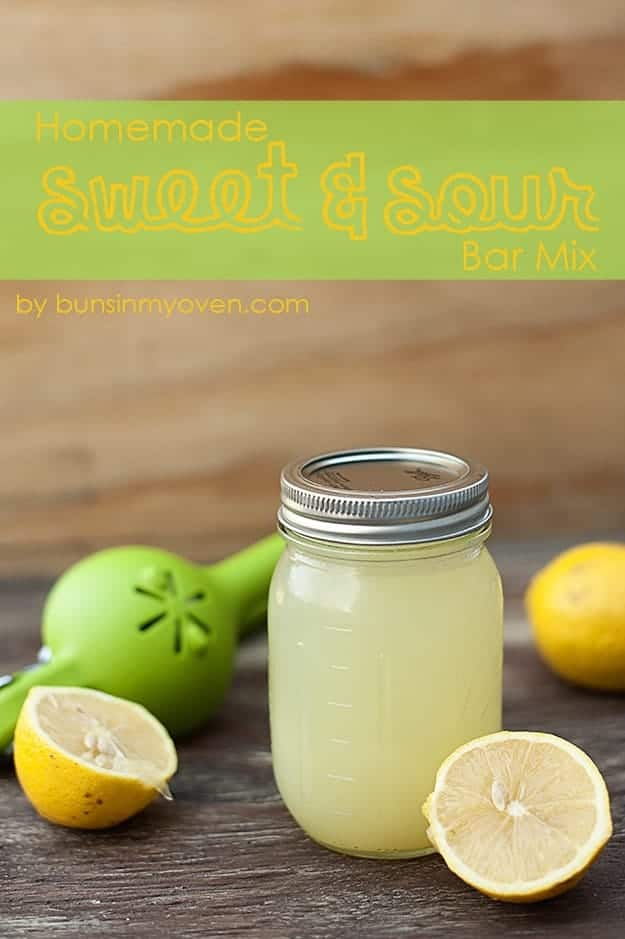 Yep. It's another one of those recipes that make you think "hmm, I could totally just go buy this at the store, right?"
Mm hmm. You could. You probably do. You should totally stop.
Sweet and Sour mix is so simple to make and holy cow, you guys. It's way better than the weird gloopy stuff you buy in the bottle at the store. Have you ever looked at the ingredients in that stuff? Barf.
Lemme help you out.
You boil some water, stir in some sugar, let it dissolve, and then stir in some fresh lemon and lime juice. Aaaaaaand, you're done.
Tomorrow? Tomorrow you find out my favorite drink to make with this mix.
Homemade Sweet and Sour Bar Mix
I store this in a couple of mason jars in the fridge for up to one week. It's so much fresher and tastier than the store bought version, without all the preservatives and other crazy ingredients.
Prep5 minutes
Cook10 minutes
Total15 minutes
Ingredients
1 1/2 cups water
1 1/2 cups sugar
1 cup fresh lemon juice
1 cup fresh lime juice
Instructions
Bring the water to a boil in a small pot. Stir in the sugar until dissolved and remove from the heat. Stir in the lemon and lime juice.

Store covered in the fridge for up to one week.
Nutrition Information:
Calories: 106kcal (5%)| Carbohydrates: 28g (9%)| Sodium: 2mg| Potassium: 44mg (1%)| Sugar: 25g (28%)| Vitamin A: 10IU| Vitamin C: 13.9mg (17%)| Calcium: 5mg (1%)