I doctored up my classic Vodka Collins recipe with a raspberry and lemon twist! This is one of my favorite cocktail recipes for summer – perfect for sipping by the pool since it's so refreshing and vibrant!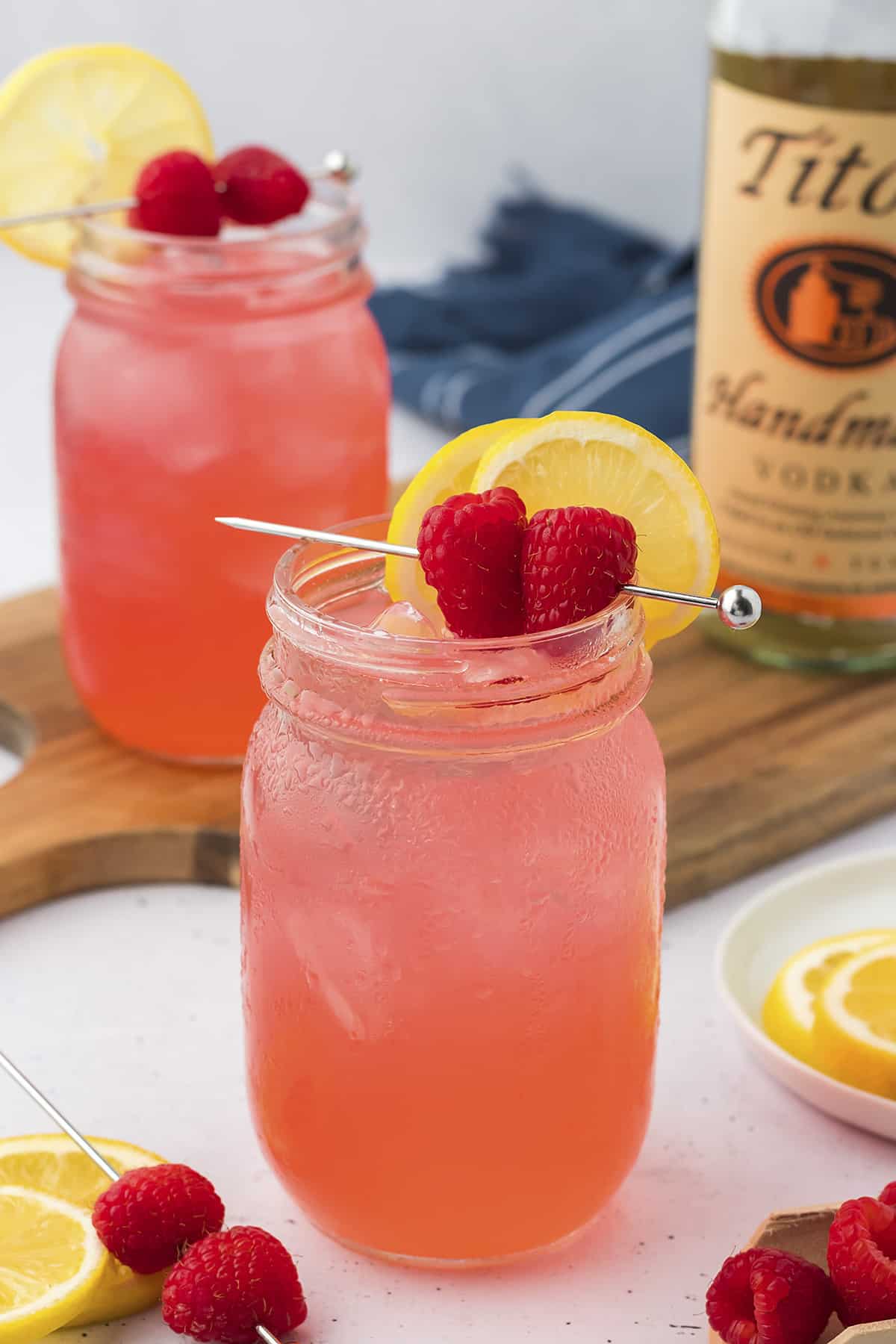 We take summer very seriously around here and I basically want the whole season to feel like one big vacation.
Which means that all I do is alternate between laying by the backyard pool, floating around the pool, and drinking fruity cocktails by the pool.
Now, I love a big glass of iced tea out on the front porch as much as the next girl, but for a lazy floaty pool day? You need our Raspberry Vodka Collins, made with fresh fruit, plenty of lemon wedges, and our homemade sweet and sour mix.
I'm declaring this the official drink of summer. Although, I think I did the same with our mango mojito and frozen strawberry margarita. 😉
Cutting out sugar this summer? You'll want to try this skinny margarita instead.
Ingredient Notes:
This post contains affiliate links. As an Amazon associate and member of other qualifying programs, I earn from qualifying purchases.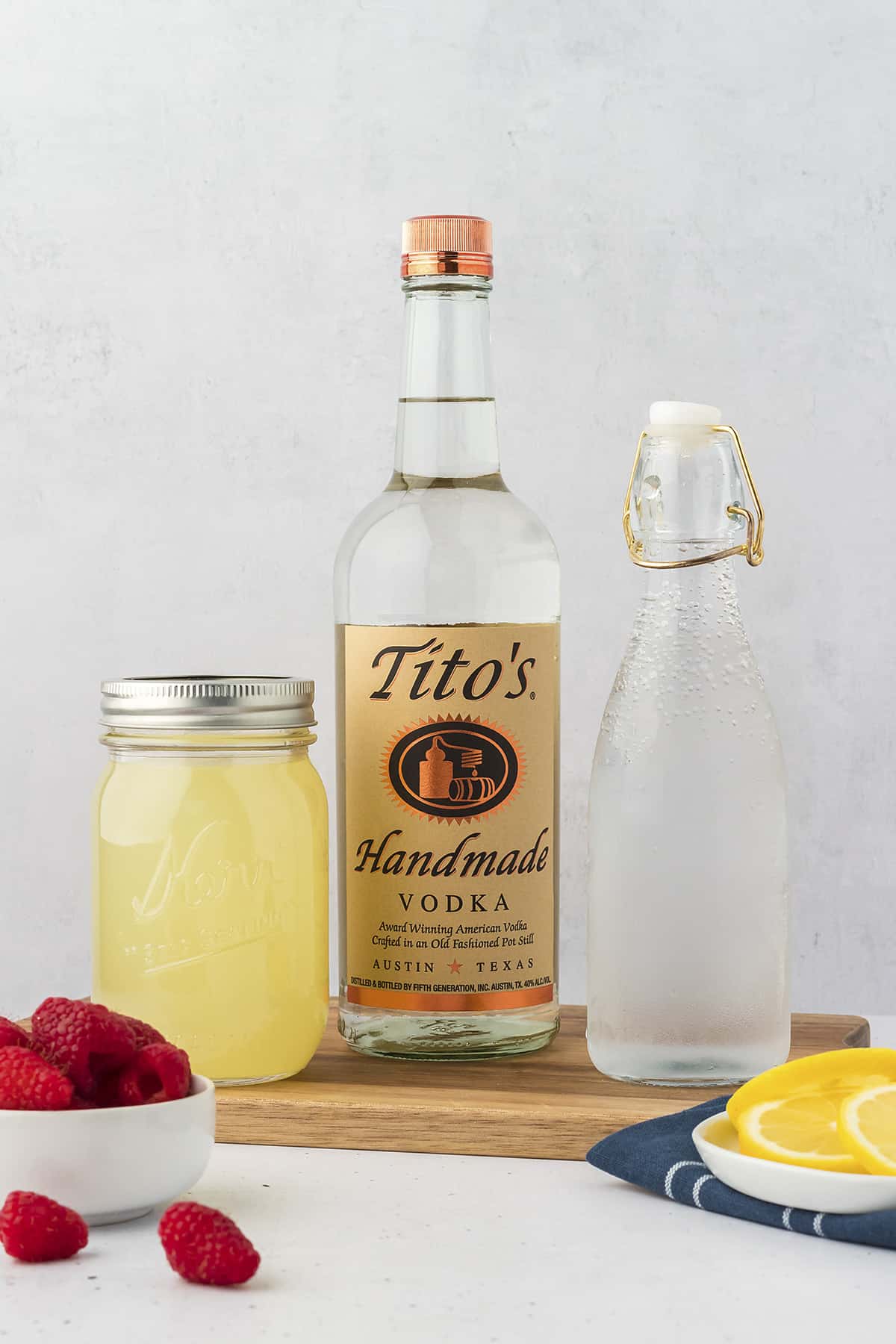 Sweet and Sour Mix – You could buy a bottle of this from the store, or you could try my homemade recipe and I promise it'll be a whole lot better! The store bought stuff tends to be neon colored and little gloppy. Homemade is amazing and it's super simple.
Vodka – We like Tito's, but the Costco vodka is quite good and I'll bet some Deep Eddy lemon would be amazing!
Club Soda – We love a bit of fizz in this drink!
Raspberries – Raspberries have always been my favorite berry, but you could easily swap in strawberries, blueberries, or blackberries to put a twist on this raspberry vodka collins.
Lemon Slices – A few slices of lemon just brighten up the drink.
What We Love About This Recipe:
This drink is perfect for hot summer days! We love to relax and beat the heat with this refreshing beverage.
This one is easy to customize by using your choice of berry.
If you have an extra 20 minutes, our homemade sweet and sour really makes this drink special. If not, go ahead and use store bought. It'll turn out tasty either way.
Helpful Tools:
Cocktail Shaker – It's just what you need to make all your favorite mixed drink recipes!
Mason Jars – They're perfect for serving up mixed drinks!
Highball Glasses – If you want a traditional Collins serve it up in a highball glass!
Cocktail Picks – Adding a little garnish to your drinks just makes them look and taste nicer.
How To Make Raspberry Vodka Collins: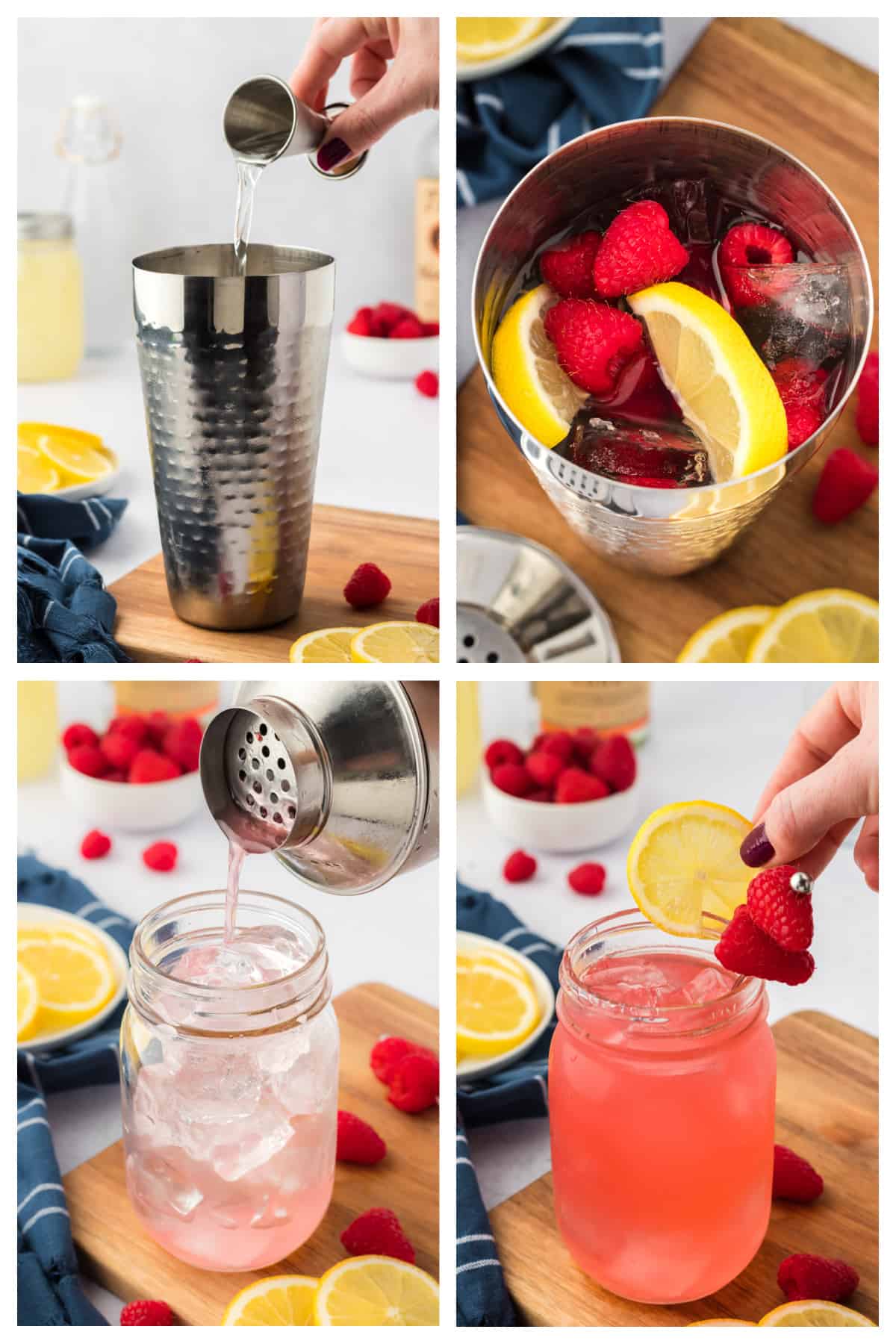 Shake: This is a super simple mixed drink recipe! Start by adding the vodka, sweet and sour mix, raspberries, and a couple of lemon slices to a cocktail shaker. Shake it vigorously until it is well combined.
Strain & Serve: To finish preparing the drink pour it through a strainer into a glass with ice cubes. Top it off with club soda and garnish with some extra raspberries and slices of lemon!
FAQ's:
What is a Vodka Collins?
A Collins is a type of mixed drink that is generally sour and can be made with varying types of alcohol with carbonated water and sugar.
How do I make the homemade sweet and sour mix?
Homemade sweet and sour mix is so simple to make. You'll just boil together equal parts sugar and water until the sugar dissolves. Stir in fresh lemon and lime juice and you've got sweet and sour mix.
Can I use frozen raspberries instead of fresh raspberries?
While we think the flavor of fresh raspberries is better, frozen can easily be substituted in this recipe.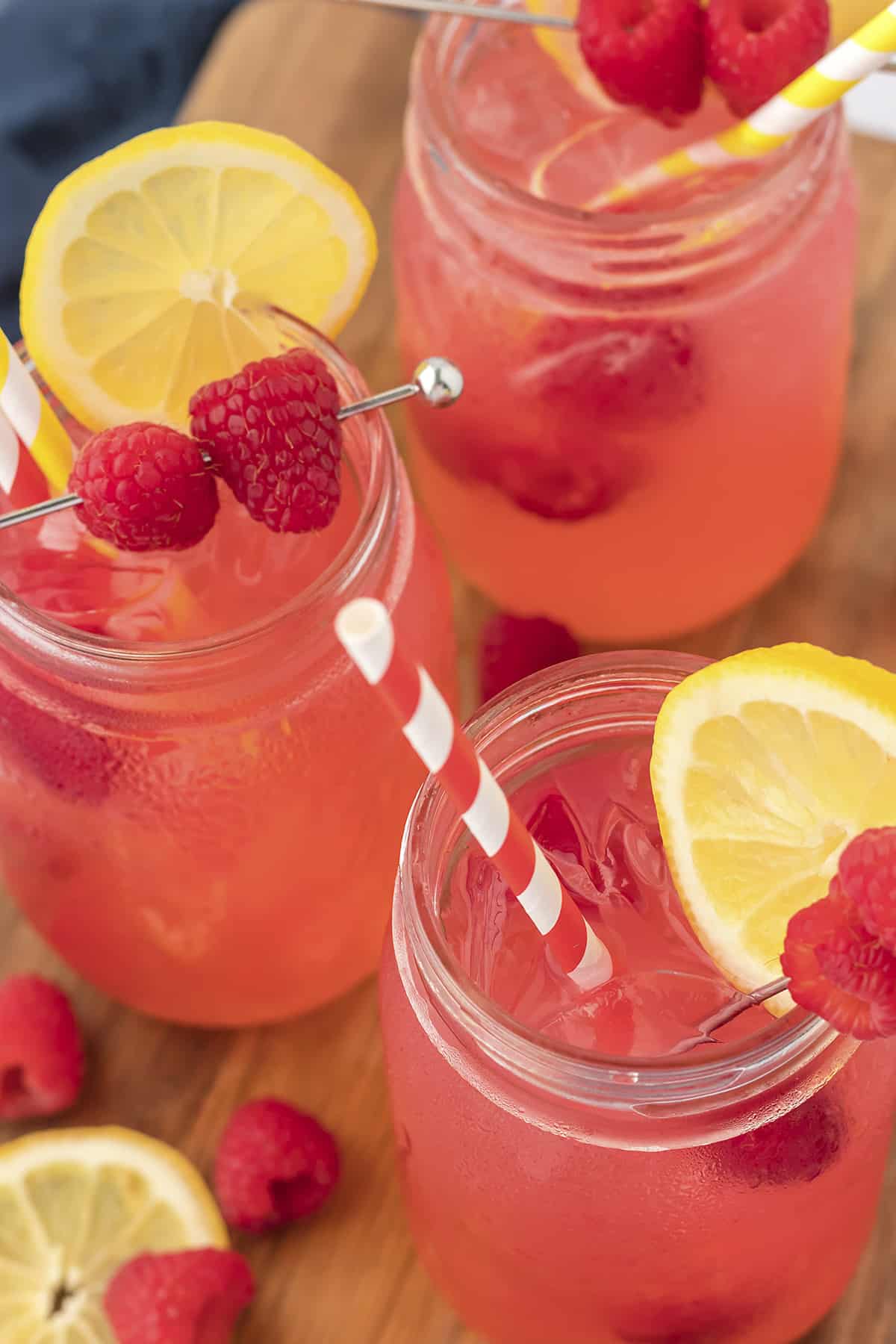 Large Batch Cocktail:
Want to make a pitcher of our Raspberry Vodka Collins to serve at your next party? It's easy!
Use the slider bar down on the recipe (just under the prep time) to scale the recipe up to suit your needs. Add all of the ingredients to your pitcher and stir vigorously to combine. Serve over ice.
MORE MIXED DRINK RECIPES!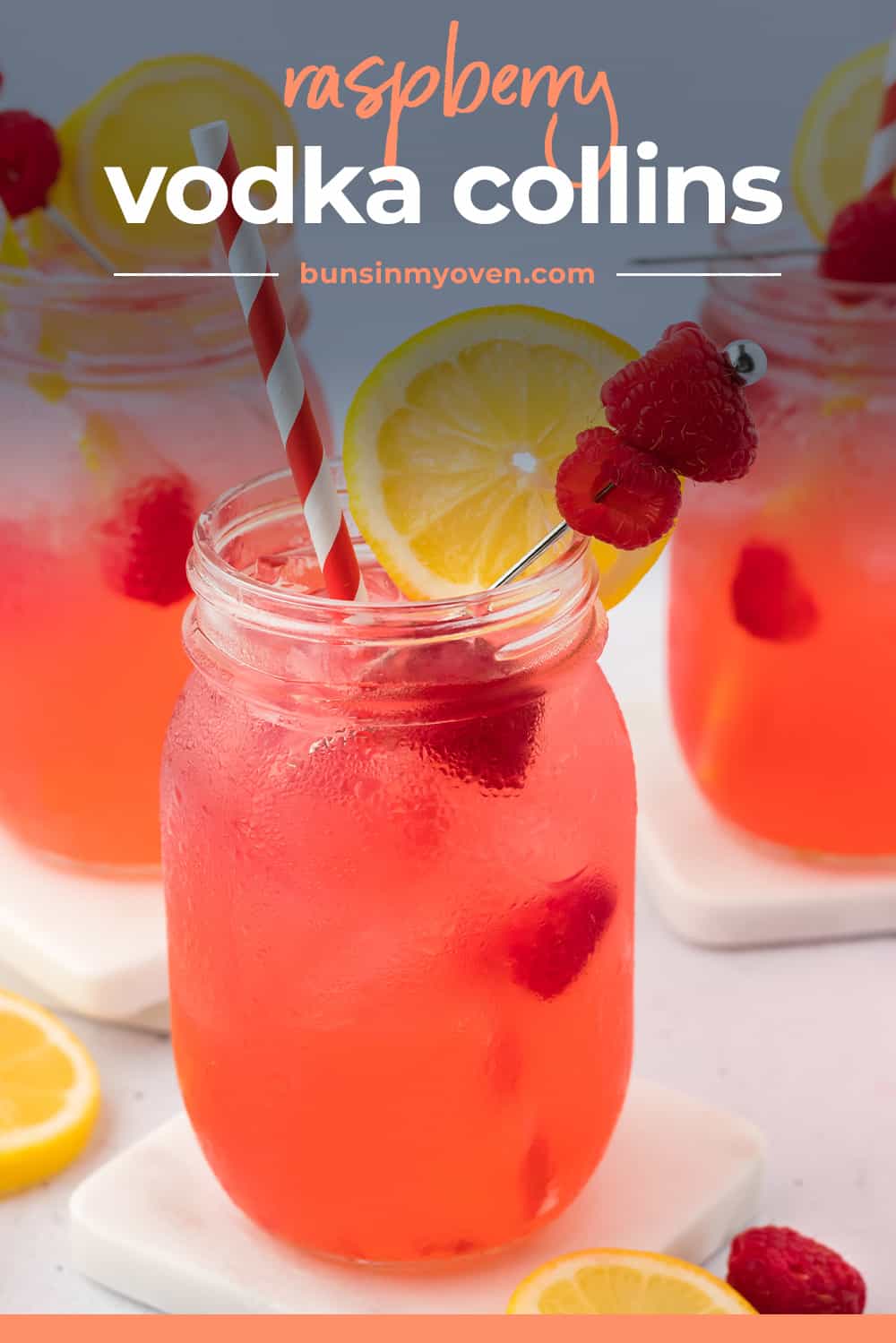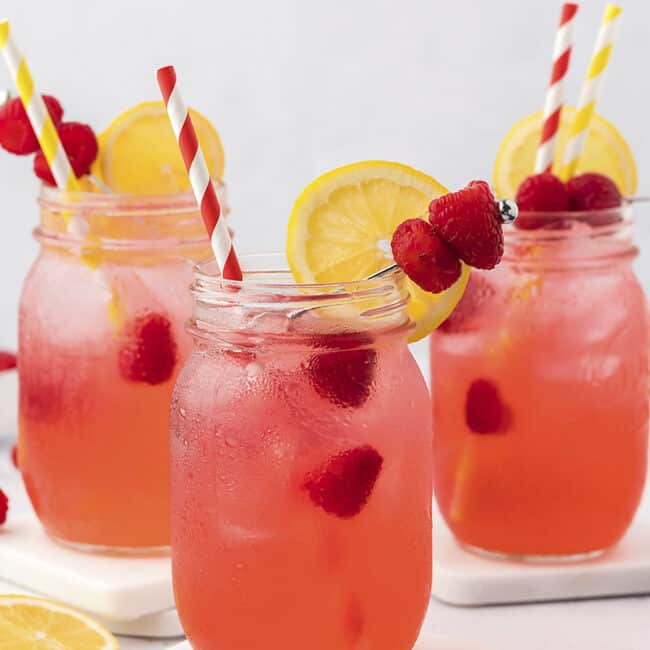 Raspberry Vodka Lemonade
Loaded with fresh raspberries, this cocktail delivers a delightful fruity twist that perfectly complements the smoothness of vodka.
Prep5 minutes
Total5 minutes
Ingredients
4 ounces sweet and sour mix
2 ounces vodka
1/4 cup raspberries plus more for garnish
2 slices lemon plus more for garnish
2 ounces club soda
Instructions
Add the sweet and sour mix, vodka, raspberries, and lemon slices to a cocktail shaker full of ice. Shake vigorously.

Strain into a glass with ice and top with the club soda.

Garnish with extra raspberries and lemon slices.
Tips & Notes:
You may use frozen raspberries in place of fresh, if that's all you have on hand. This recipe is also tasty with any variety of berry. Strawberries, blueberries, and blackberries all work great. You can certainly use store bought sweet and sour mix, but I highly recommend our homemade version, linked above.
Nutrition Information:
Calories: 230kcal (12%)| Carbohydrates: 24g (8%)| Sodium: 128mg (6%)| Sugar: 24g (27%)