Our refreshing Frozen Strawberry Margarita recipe is bursting with vibrant color and flavor, all made with just 4 ingredients and a blender! This is the perfect summer cocktail to share with friends.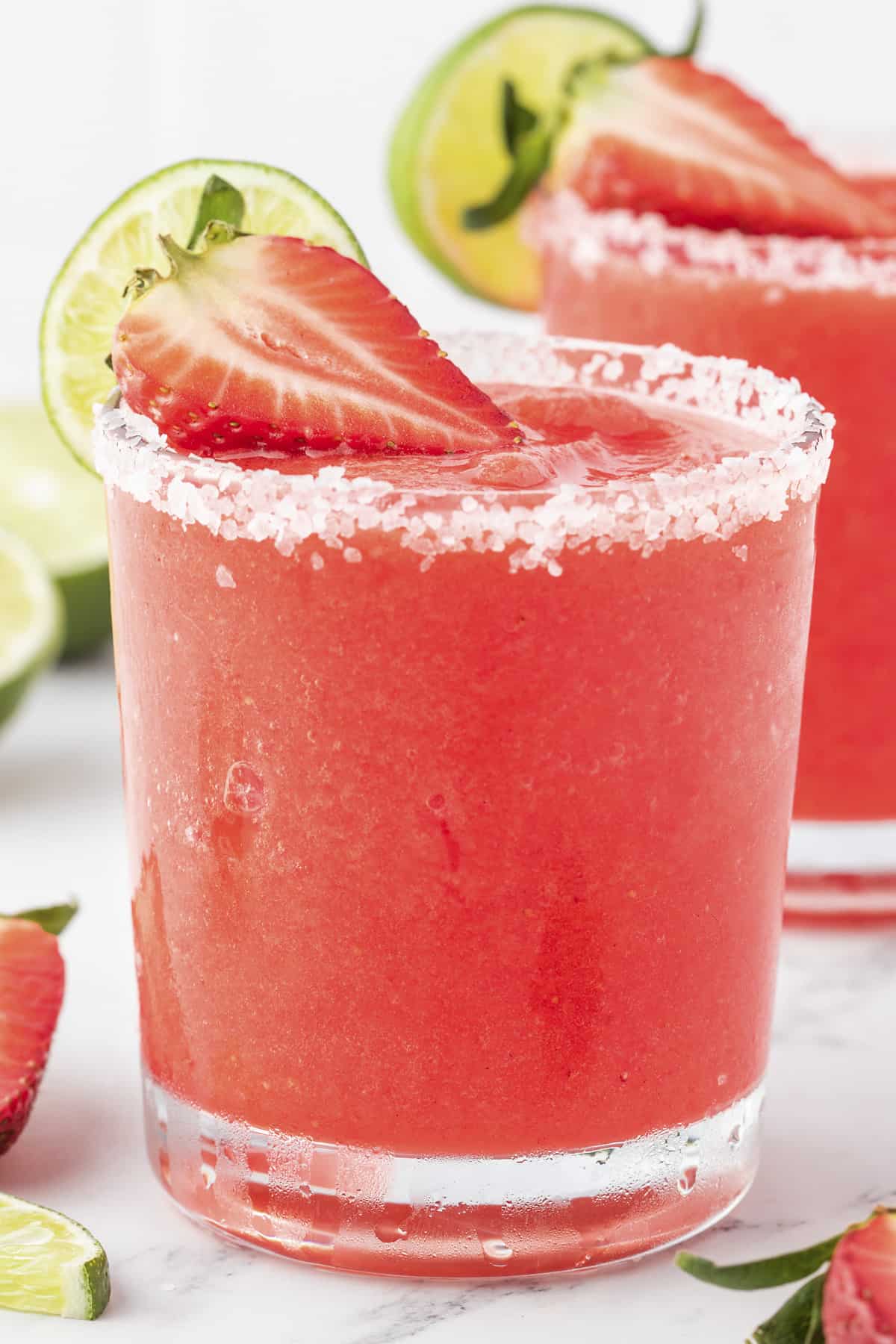 We've been on a bit of a cocktail kick around here and I'm loving it!
We shared our recipe for the ultimate margarita on the rocks not too long ago (it's made with our homemade sour mix!), and someone asked for a frozen version.
Well, here we are with this frozen strawberry margarita that rivals any frozen marg you'd get at your local bar!
The secret to making the best frozen strawberry margarita is two-fold: 1) We don't start with margarita mix. Gross. No. Let's just not. 2) We use a mix of frozen berries (for that cold, slushy vibe) and fresh berries (for the ultimate fresh flavor).
This frozen marg is loaded with berries, made easy by using frozen limeade, and a total treat on a hot summer day!
Can't you just imagine sitting around the pool sipping on this right now? Heaven.
Ingredient Notes:
This post contains affiliate links. As an Amazon associate and member of other qualifying programs, I earn from qualifying purchases.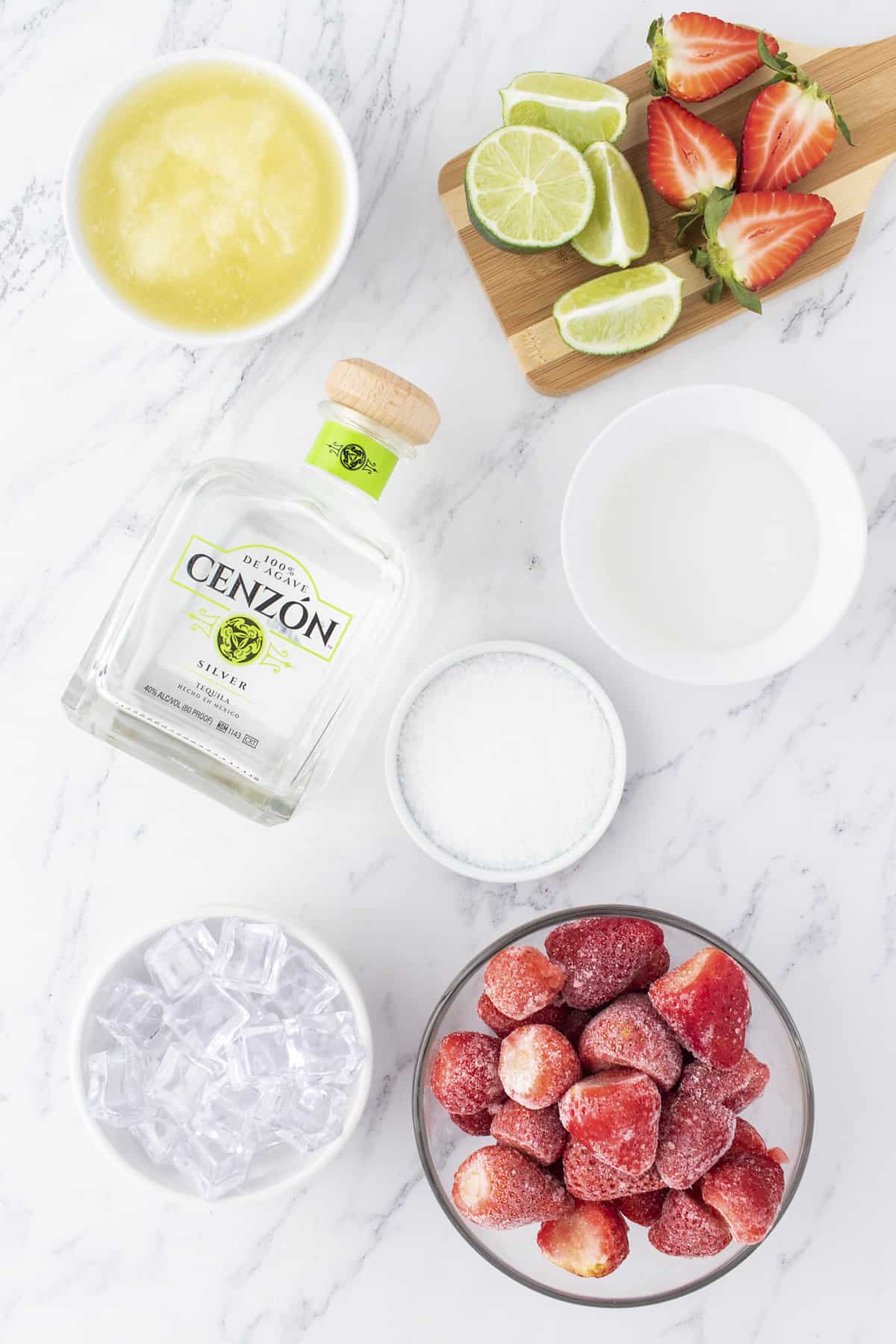 For the margaritas:
Silver Tequila – You can use any silver tequila brand you want, but obviously the better the quality the better these strawberry margaritas will turn out!
Strawberries – Starting with frozen berries will give you the best results – we can use less ice when we use frozen berries so we have maximum berry flavor. We also throw in a handful of fresh berries for max fresh vibes.
Frozen Limeade – This is just concentrated limeade which you can find at pretty much any grocery store where you'd find other frozen concentrates.
Simple Syrup – You could make your own by boiling equal parts water and sugar until the sugar dissolves or find it bottled at pretty much any liquor store or grocery store in the cocktail mixer section.
For the rim/garnish:
Margarita Salt – You can't make a margarita without preparing the glass with lime and margarita salt! The salty, citrusy flavors are perfect with tequila. Kosher salt will work here too.
Lime Wedges – Run these along the rim of the glass before dipping it in the margarita salt! Plus they're good for garnish.
Fresh Strawberries – Garnishing the glass with fresh strawberries just adds a special touch – totally optional.
Use Sugar in Place of Salt!
Think a sweet rim sounds better than a salty rim? No problem! Run your lime wedge around the rim of your glass and then roll the rim through sugar instead of salt. Delicious!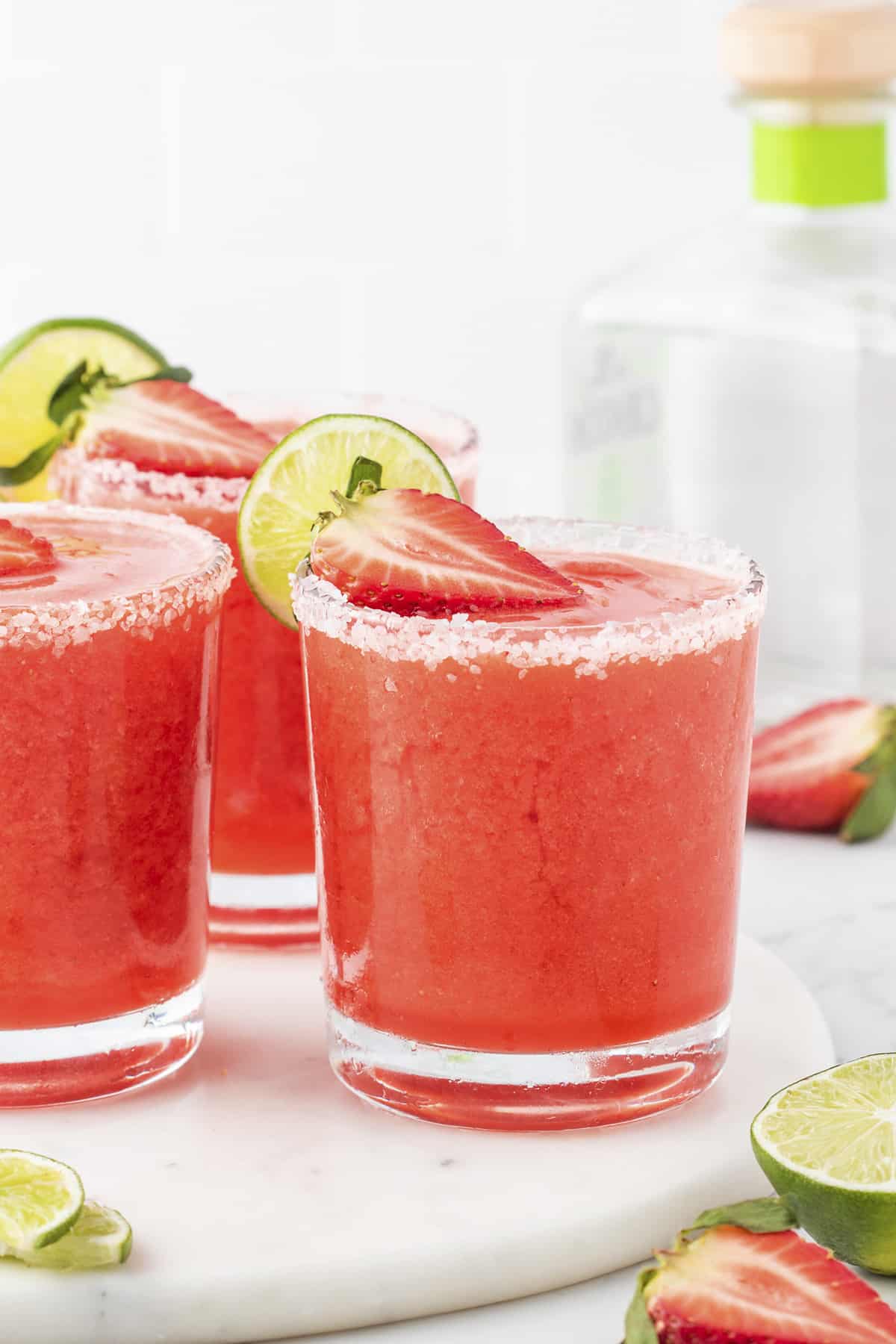 High Powered Blender
We use our Blendtec blender to make smoothies, frozen margaritas, soups, and more! This blender is high powdered, easy to use, and has an array of settings.
What We Love About This Recipe:
Refreshing: Frozen strawberry margaritas are the perfect drink for a hot summer day, just imagine them by the pool!
Fresh Flavor: We're using a combo of frozen berries and frozen limeade, but these margaritas burst with vibrant, fresh flavor.
Easy: This recipe is incredibly easy to make, requiring just a few simple ingredients and a blender.
Crowd Pleaser: These are a classic favorite among friends.
Insta-worthy: The vibrant color and fun garnishes make these frozen strawberry margaritas the perfect cocktail to share on the gram.
How To Make A Strawberry Margarita: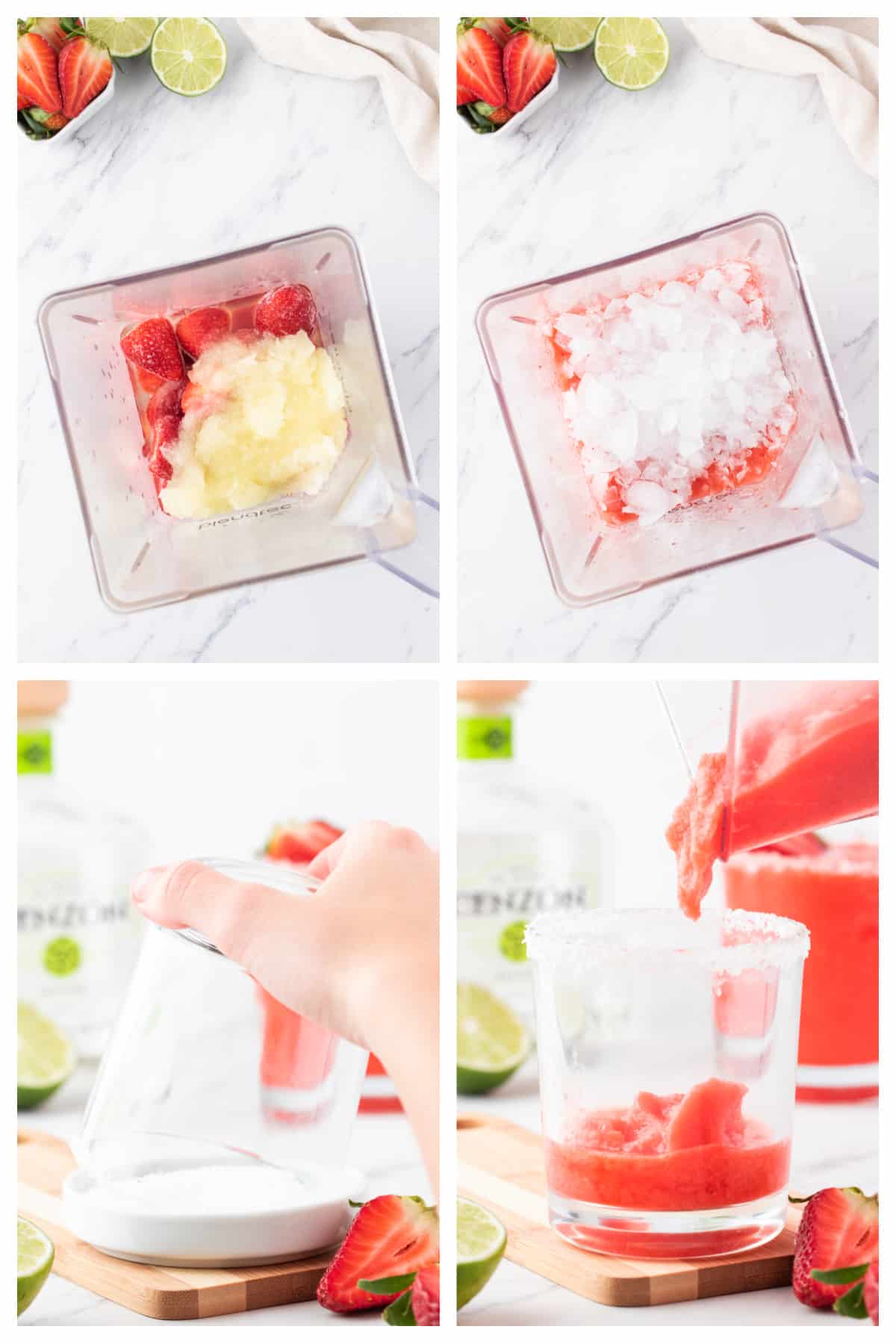 Blend: To prepare the frozen margarita mixture add the tequila, strawberries, limeade concentrate, and simple syrup to a blender or food processor. Blend for about 30 seconds or until the mix is smooth!
Ice: Toss in a bit of crushed ice and give it another blend – we want these nice and smooth!
Helpful Tip!
It'll be easier to blend if you start with already crushed ice or at least smaller chunks of ice! If the margarita mix is too thin add more ice to bulk it up. If it's too thick, you can add more tequila or limeade.
Prepare: To get started you'll first prepare the rims of your margarita glasses with some lime and salt. Run a lime wedge along the rim and then dip the it into the margarita salt and set those aside for now!
If necessary add more ice and blend until there are no ice chunks left.
Finish: When the margarita mix is ready pour it into each of the prepared glasses and garnish with a slice of strawberry and a lime wedge! Serve them immediately while they are still ice cold and perfectly refreshing!
What To Serve With Strawberry Margaritas:
Margaritas always pair well with Mexican food and this strawberry margarita recipe is no exception. Here are some great foods to enjoy these drinks with:
FAQ's:
What is a frozen margarita?
A frozen margarita is a popular cocktail made with tequila ice, and often lime juice or margarita mix, blended together to create a slushy, frozen cocktail.
Do I need a blender?
You'll need either a blender or food processor to properly blend the frozen fruit and ice together into a slushy consistency.
What type of tequila should I use?
We prefer silver tequila in our strawberry margarita recipe. Use the best quality you can afford for the best results.
Are these strawberry margaritas sweet?
These are sweet, due to the frozen berries, and simple syrup. You can use less simple syrup for a less sweet drink, if preferred but we think the sugar helps balance out the tartness of the limeade.
MORE MIXED DRINK RECIPES!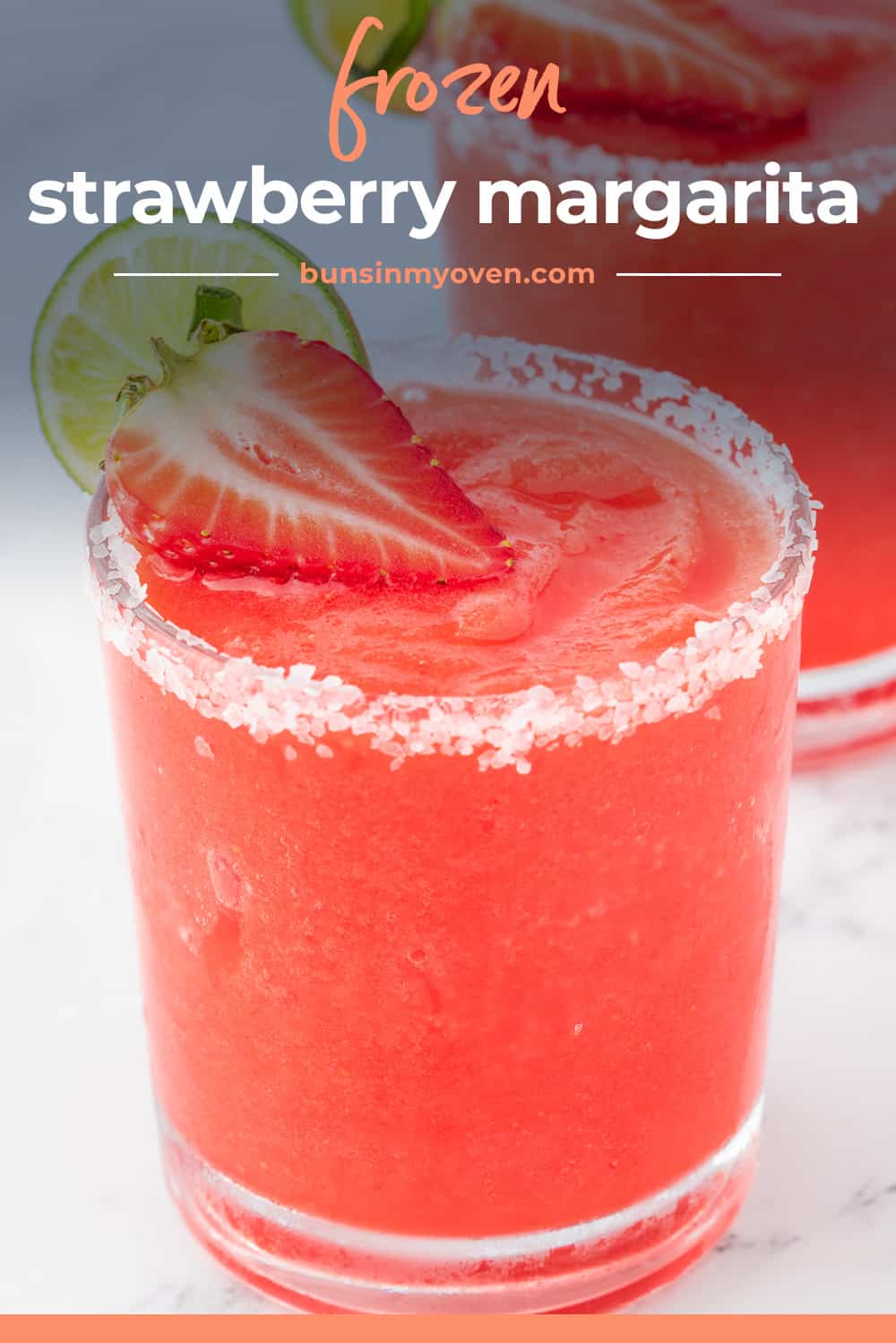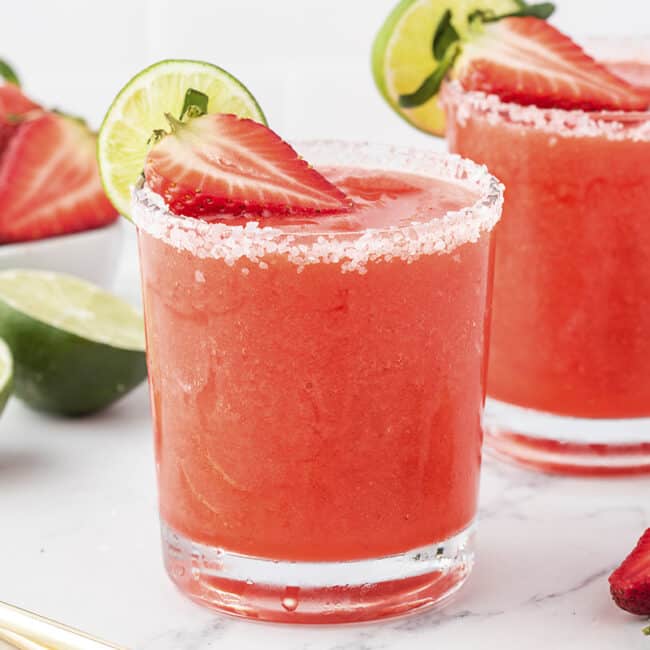 Frozen Strawberry Margarita
All you'll need are 4 ingredients and a blender to make the perfect summer cocktail! These are fresh, fruity, and perfect on a scorching hot day!
Prep10 minutes
Total10 minutes
Ingredients
For the margaritas:
8 ounces silver tequila
2 cups frozen strawberries
1 cup frozen limeade concentrate
1/2 cup fresh strawberries
1/4 cup simple syrup more to taste
1 cup ice
To rim the glass:
lime wedges
margarita salt
fresh berries
Instructions
To make the margaritas:
Add everything to a blender and blend until completely smooth.

Taste the mixture and add additional tequila or simple syrup and blend again, if desired, to suit your tastes. We think these are usually perfect as they are, but strawberries are sometimes less sweet than other times and we'll add a bit more simple syrup.
To rim the glasses:
Run a lime wedge around the rims of 4 glasses.

Dip each glass into the salt and roll to coat the rim.

Pour the margarita mix into each glass and garnish with a lime wedge and fresh strawberry. Serve immediately.
Tips & Notes:
The fresh strawberries add a more fresh flavor while the frozen berries help the frozen consistency. You can skip the fresh berries if you don't have them, but the flavor won't be as fresh and vibrant. For an extra thick margarita, add more ice. For a thinner consistency, use less ice. Swap the margarita salt for sugar if you prefer a sweet rim.
Nutrition Information:
Serving: 1cocktail| Calories: 243kcal (12%)| Carbohydrates: 29g (10%)| Protein: 0.5g (1%)| Fat: 0.2g| Saturated Fat: 0.01g| Polyunsaturated Fat: 0.1g| Monounsaturated Fat: 0.03g| Sodium: 18mg (1%)| Potassium: 131mg (4%)| Fiber: 1g (4%)| Sugar: 27g (30%)| Vitamin A: 9IU| Vitamin C: 44mg (53%)| Calcium: 17mg (2%)| Iron: 1mg (6%)