These Crockpot Chicken Fajitas are just about as easy as it gets when it comes to dinner! Made with chicken breasts, fajita veggies, salsa, and a few seasonings, this crockpot fajitas recipe couldn't be easier!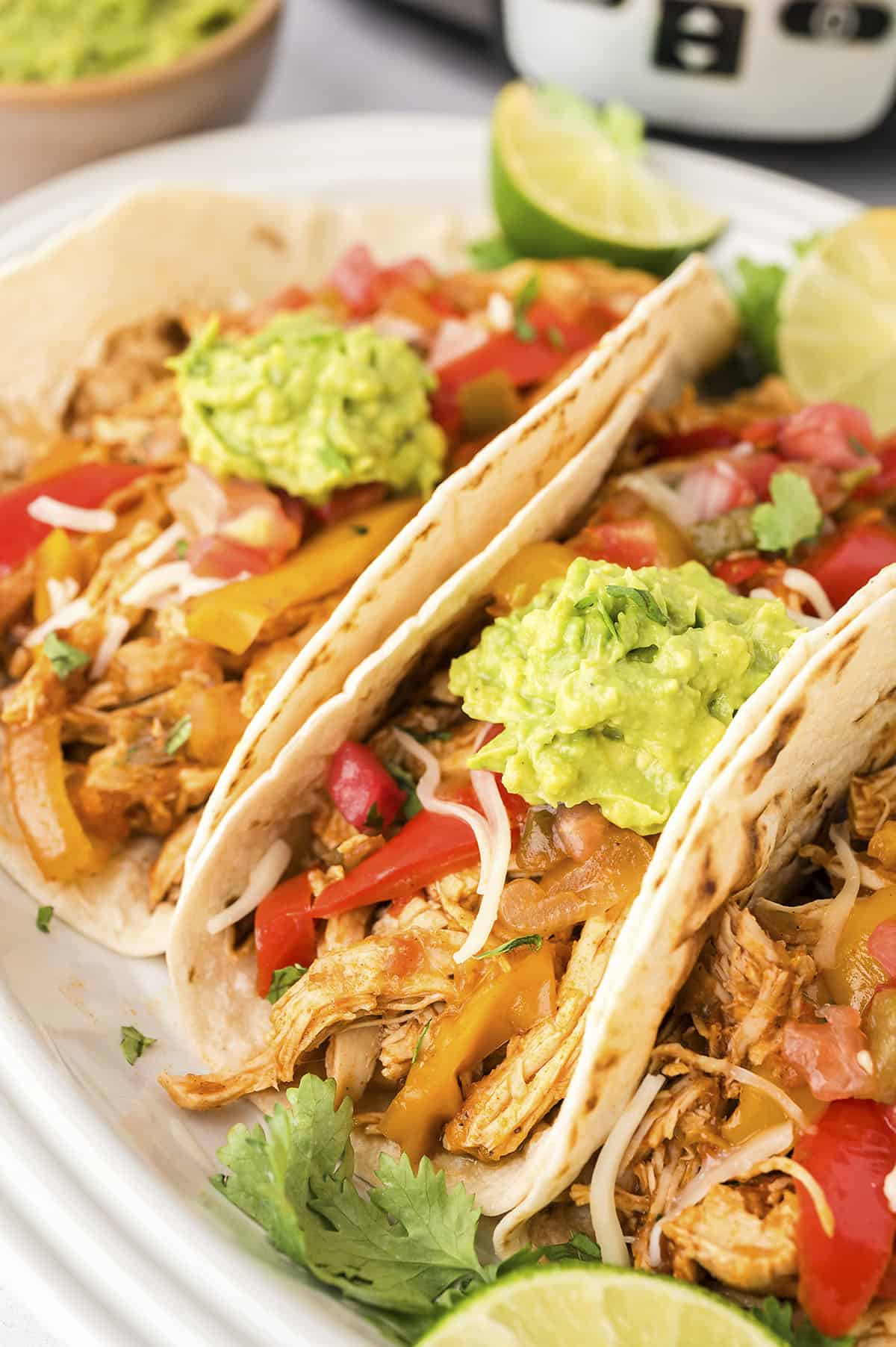 As you all have possibly noticed, I'm a bit obsessed with Mexican flavors.
It's true that we eat some sort of Mexican food at least once a week, but it's usually quite a bit more often than that.
My fried tacos are a serious favorite among everyone who's tried them. Have you made them yet??
We also love enchiladas (like this chicken enchilada casserole or these ground beef enchiladas!), burritos, and fajitas!
This easy crockpot chicken fajitas recipe is one we've been making for years. I love that you just toss everything in the slow cooker and then walk away. Your house starts smelling divine and you come home to this amazing dinner.
Made with just a few ingredients and totally family friendly, we love these for taco night.
Plus, these are the perfect excuse to make our homemade pico de gallo and homemade guacamole. The best topping for fajitas!
Crockpot Chicken Fajita Ingredients:
This post contains affiliate links. As an Amazon associate and member of other qualifying programs, I earn from qualifying purchases.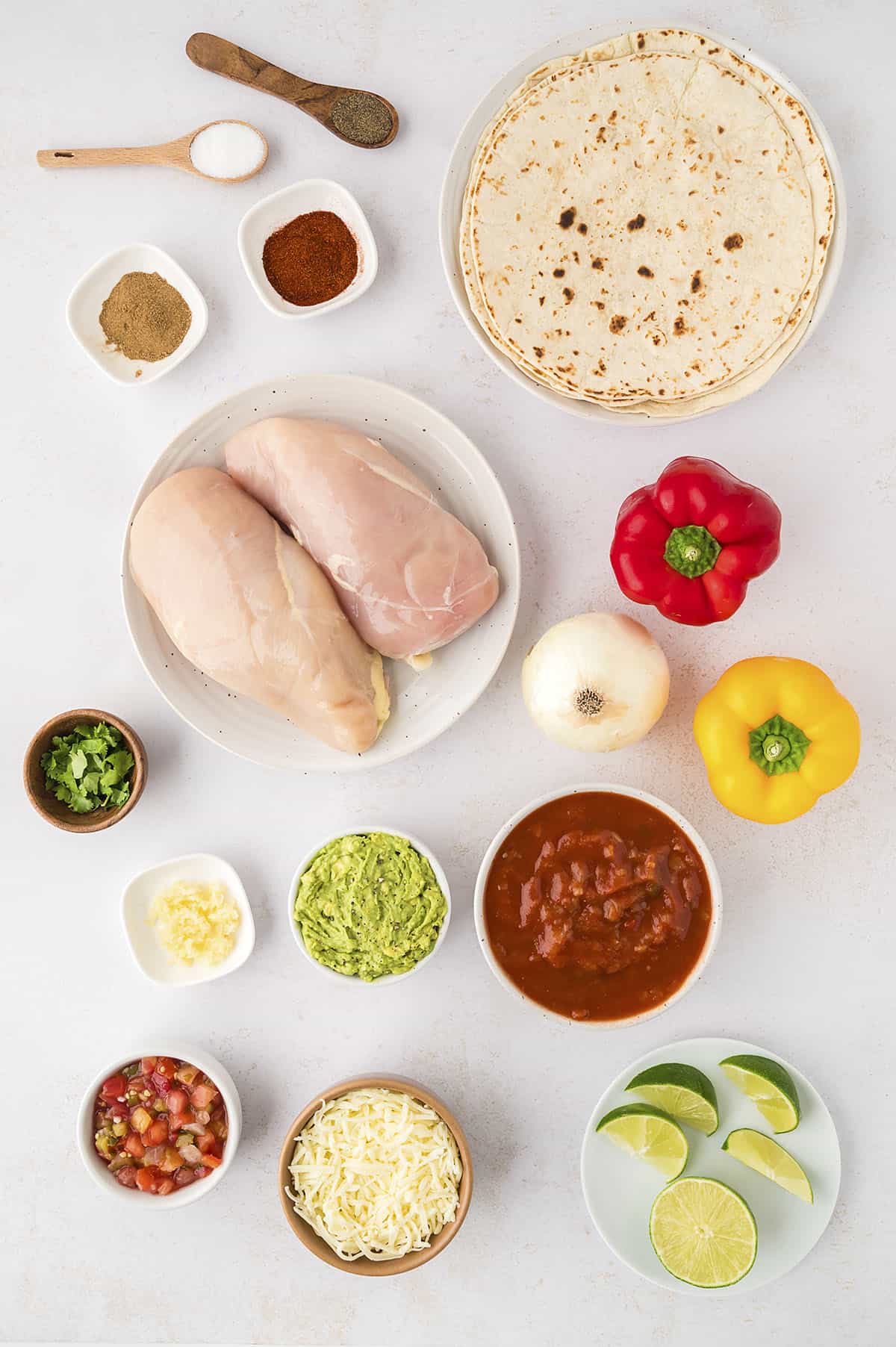 Chicken – Our family prefers chicken breasts, but you could also use chicken thighs.
Salsa – Jarred salsa is fine, of course, but we absolutely love our restaurant style salsa and make it every chance we get!
Seasoning – Garlic, paprika, cumin, salt, pepper, and lime make for some flavorful fajitas.
Veggies – You'll add bell peppers and onions right to the crockpot. They'll soften up perfectly along with the chicken.
For Serving – We like to serve these crockpot fajitas with soft flour tortillas, homemade guacamole, cilantro, pico de gallo, and cheese.
Helpful TipS FOR CROCKPOT FAJITAS!
Time: Please keep in mind that every slow cooker cooks differently, so if yours runs hotter or colder than mine you will need to adjust your cooking time. The good news is it's hard to overcook chicken in a slow cooker!
Chicken: Use fresh chicken if possible. You can use frozen and thawed chicken, just make sure it has completely thawed first. You could also sear the chicken first before slow cooking, but we generally do not take the time for this.
Customize: There are tons of different toppings you can use and I've put together a helpful list of some of them below. This recipe is easy to customize with all your preferred veggies, seasonings, and toppings!
How To Make Slow Cooker Chicken Fajitas:
Chicken & Veggies: For my crockpot chicken fajitas recipe, you'll start with some boneless, skinless chicken breasts and slices of bell peppers, onions, and minced garlic!
This is supposed to be an easy chicken fajitas recipe so that's why we are using the crockpot instead of grilling or baking the chicken and veggies! It'll make for tender and juicy fajitas!
You can use any color of pepper that you have on hand – this time around, I went with red and orange. We prefer them over green, but you can do whatever you like.
Add all of those goodies, along with your favorite salsa, to your slow cooker and then move on to making the easy chicken fajita seasoning!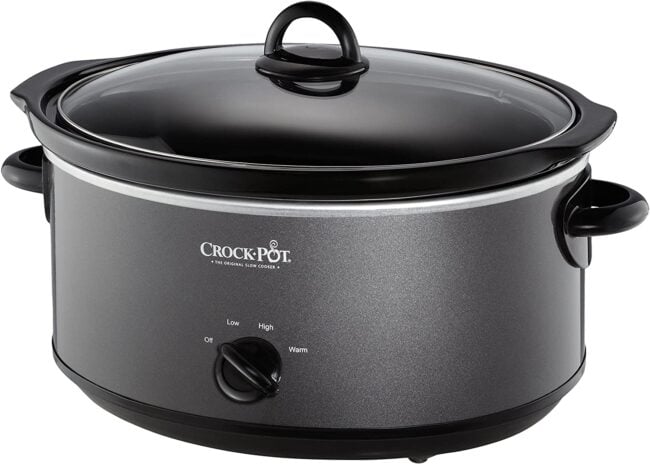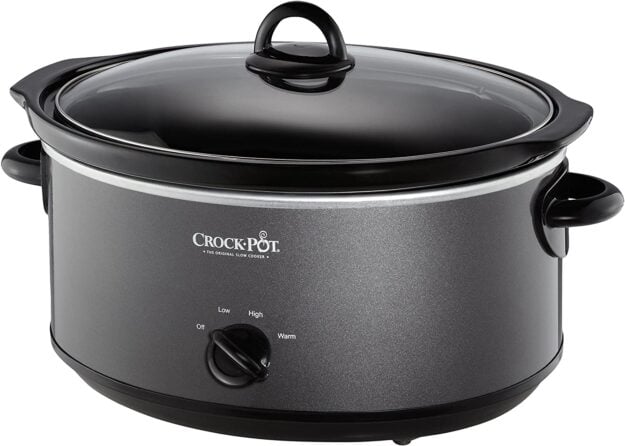 In the market for a new slow cooker? We love this 7 quart Crockpot. It's simple to use, cooks evenly, and is very budget friendly. Plus, it has a 4 1/2 star rating with over 5,000 reviews on Amazon!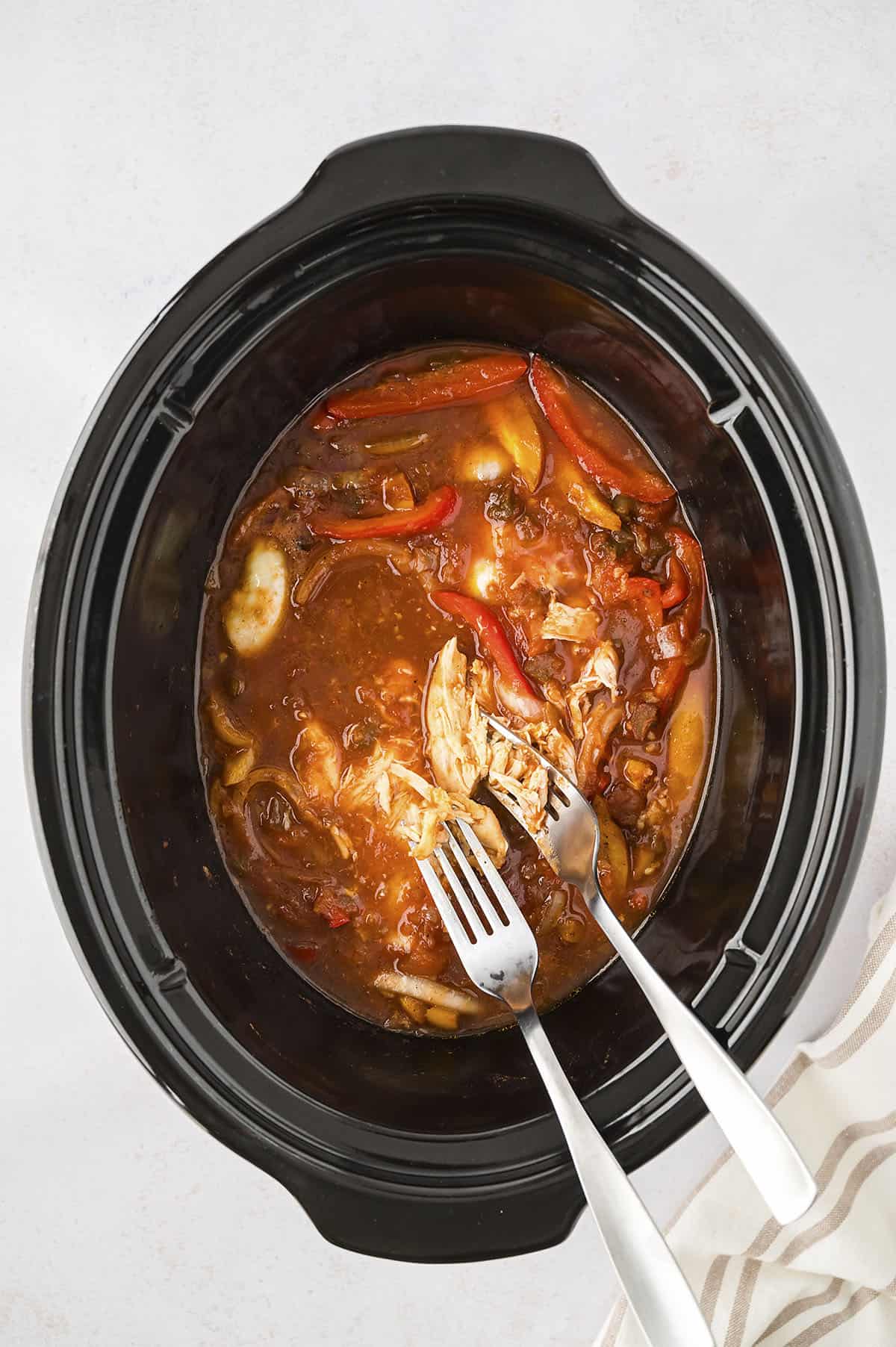 Chicken Fajita Seasoning: Okay, this is just as easy as a packet of seasoning and it works perfectly in this recipe for crockpot chicken fajitas!
You'll just combine paprika, cumin, salt, and pepper in a little bowl and then sprinkle it in the slow cooker.
Because we're also seasoning our fajitas with salsa, we don't need a ton of spices. I like easy, don't you?
Slow cooker chicken fajitas are ready sooner than you'd think for a crock pot meal! You can do these on high for 3-4 hours or on low for 6-7 hours.
Top & Serve: When the slow cooker chicken fajitas have finished cooking, shred apart all that tasty chicken and squirt some lime juice over the mix and stir to combine. Finally, turn these into some amazing fajitas topped with cheese, guacamole, cilantro, or whatever you like!
Why We Love Crockpot Chicken Fajitas!
We love to eat fajitas, but sometimes we're too busy or too tired to break out the grill. This recipe for crockpot chicken fajitas is so easy because you can toss everything in the slow cooker and go about your day until they are done. Plus the chicken gets extra tender and full of flavor as it slow cooks in the seasoning!
Crockpot Chicken Fajita Toppings:
There are lots of different toppings that you could use to customize these chicken fajitas! You can use flour or corn tortillas and you can serve it up with a variety of different sides like easy Mexican rice.
Here are some other great toppings:
Sour Cream
Cilantro
Lettuce
Cheese
Diced Jalapenos
Diced Tomatoes
FAQ's:
Do you cut chicken before or after cooking for fajitas?
Traditionally, chicken should be sliced into strips before cooking. However, this is a crockpot recipe, so we're just placing whole chicken breasts into the slow cooker (easy!) and then shredding it up with a fork after cooking.
Is it safe to slow cook chicken on low?
Yes! Slow cookers set to low will cook at at least 190 degrees, which is a safe temperature for cooking chicken.
How to store leftover chicken fajitas?
You can keep any leftovers stored in an airtight container in your fridge for about 4 days. It can be reheated in the microwave or the oven.
Crockpot Chicken Fajitas
These crockpot chicken fajitas are one of the easiest recipes to make! Just toss everything into your slow cooker and walk away!

Prep5 minutes
Cook4 hours
Total4 hours 5 minutes
Ingredients
1 1/2 pounds boneless, skinless chicken breasts
2 cups salsa jarred or homemade
3 cloves garlic minced
1 teaspoon paprika
1 teaspoon cumin
1 teaspoon salt
1/2 teaspoon ground black pepper
2 bell peppers any color
1 sweet onion
1 lime cut into wedges
Tortillas, guacamole, cilantro, pico de gallo, cheese – for serving
Instructions
Add the chicken to a slow cooker set to high.

Slice the pepper and onion into strips and add to the slow cooker.

Add the salsa, garlic, paprika, cumin, salt, and pepper to to the slow cooker.

Stir the mixture to combine.

Cover and cook on high for 3-4 hours or low for 6-7 hours, or until chicken easily shreds with a fork.

Squirt lime juice over the fajitas and stir to combine.

Serve with your favorite toppings.
Tips & Notes:
You may swap chicken thighs for breasts, if preferred. All slow cookers cook differently and some run hotter than others. It may take a bit more or less time depending on your slow cooker. When the chicken shreds easily with a fork, it's ready.
Nutrition Information:
Calories: 319kcal (16%)| Carbohydrates: 21g (7%)| Protein: 41g (82%)| Fat: 7g (11%)| Saturated Fat: 2g (13%)| Cholesterol: 107mg (36%)| Sodium: 1592mg (69%)| Potassium: 1277mg (36%)| Fiber: 5g (21%)| Sugar: 12g (13%)| Vitamin A: 2735IU (55%)| Vitamin C: 88mg (107%)| Calcium: 82mg (8%)| Iron: 2.4mg (13%)