Chili's Salsa has always been a favorite, and this copycat recipe tastes just like it! Easy restaurant style salsa recipe made at home in just minutes!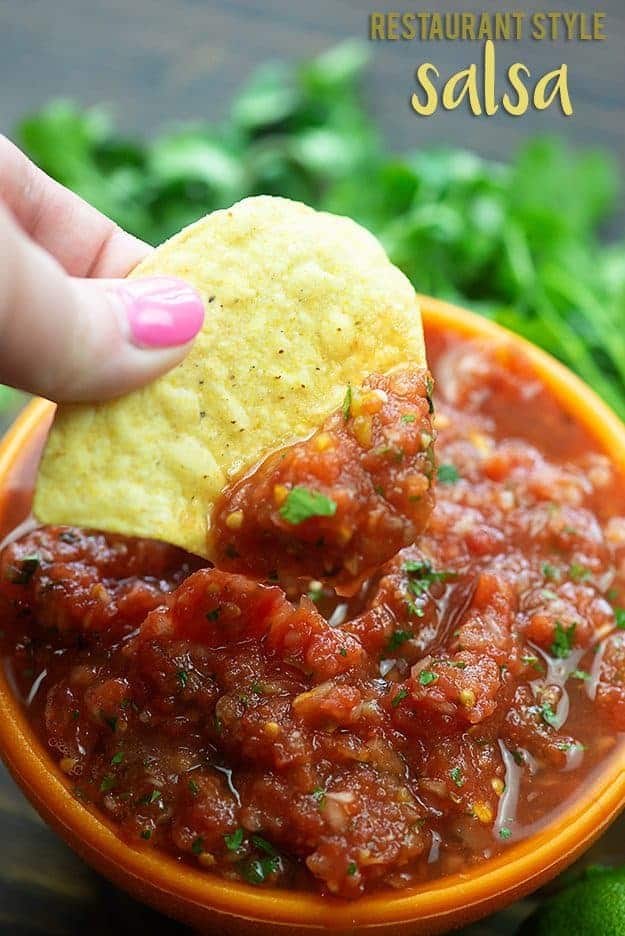 Not gonna lie, even though it's probably not cool to admit…I love Chili's chips and salsa! The chips are so thin and salty, the salsa is the perfect texture with exactly the right amount of spice.
Honestly, Chili's salsa is just irresistible, so it was only a matter of time before we shared a homemade version!
Not a fan of the smooth restaurant style salsa? Try our pico de gallo instead!
what we love about this recipe:
Not only does this salsa taste just like it came from Chili's, we always have the ingredients on hand since nearly everything comes from a can!
The result is a surprisingly fresh and flavor salsa that takes minutes to whip up and doesn't require a trip to the store!
And don't freak out about the can situation! I know a lot of people hear 'salsa recipe' and instantly think of a ton of fresh produce. I am here to tell you that, in this instance (and possibly ONLY in this instance) homemade salsa from canned tomatoes just tastes better!
Ingredient Notes:
Tomato – We buy whole peeled canned tomatoes.
Jalapeno – We always have a jar of 'tamed' jalapeno slices in our pantry. Use fresh jalapenos for more of a spicy kick.
Cilantro – This one is optional! Chili's doesn't actually use cilantro, but it's a must for me when I make it at home.
What Readers are Saying!
"My favorite salsa to date! Will never buy store bought ever again. I make it extremely mild as I can not tolerate any heat, but even at that its still phenomenal! For anyone who wants to skip the cilantro, don't do it! It pulls all of the flavors together and makes this salsa perfect! Thank you for another great recipe." – Brandy H.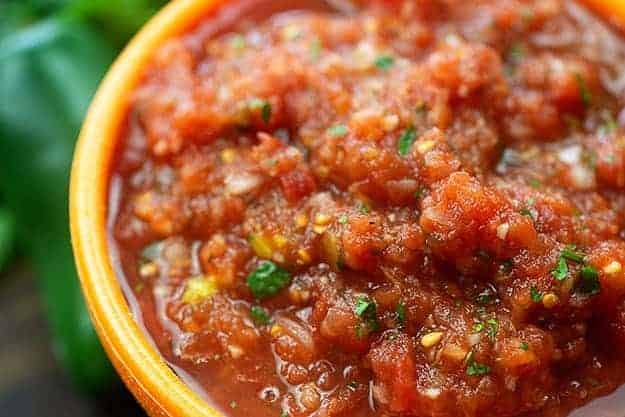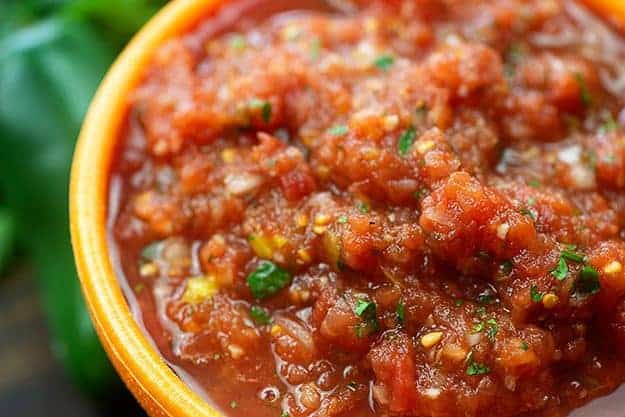 How To Make Salsa Recipe:
Blend: You'll need a can of whole, peeled tomatoes, an onion, some jalapeno, garlic, cumin, lime, salt, and cilantro.
Add everything to a blender or food processor and process until the mixture is mostly smooth. And if you are feeling bad about using canned ingredients, try balancing it out by using a fresh squeezed lime for the juice! It makes a big difference!
I love how quick this homemade Mexican salsa comes together, with just a few whirs in the blender to get the perfect consistency.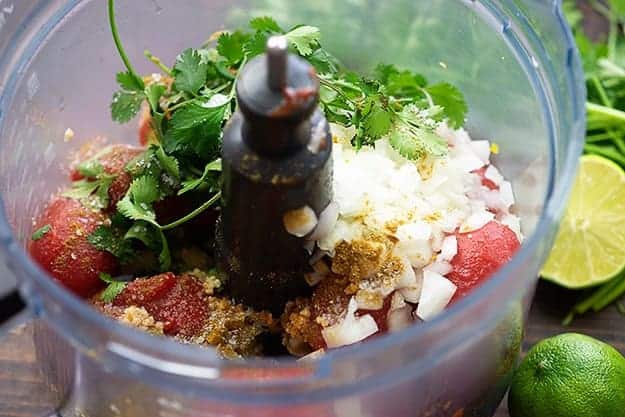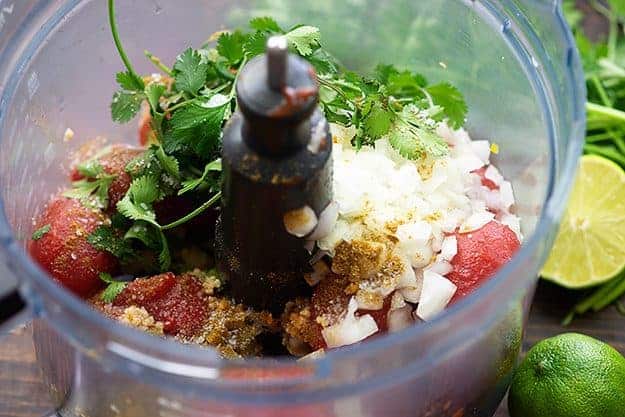 Serve: Once it's blended to your preferred consistency, feel free to adjust the spiciness by adding more or less jalapenos, but keep in mind that this gets spicier after it's sat for awhile.
For the best flavor, pop this in the fridge for a couple of hours. As I mentioned, it does get spicier the longer it sits.
That's about it! This is a super simple salsa recipe.
Use this recipe to top my Fried Tacos or as a dip for these easy Homemade Air Fryer Tortilla Chips.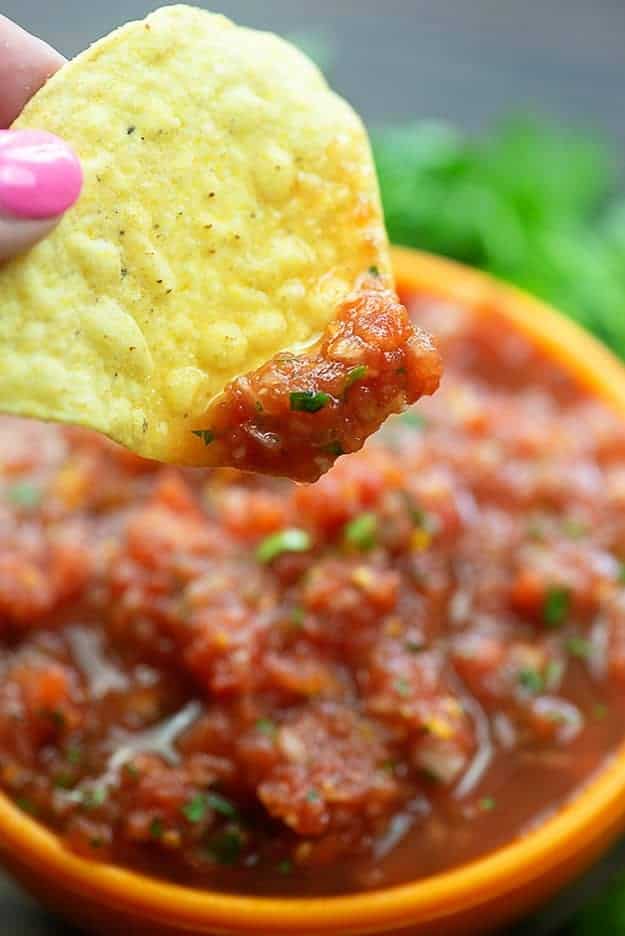 FAQ's:
What is the difference between restaurant style salsa and chunky salsa?
The texture is the main difference between the two salsas. Restaurant style salsa is much smoother and the ingredients are more finely chopped, thanks to a whirl in the blender or food processor. Chunky Salsa just has a chunkier texture.
What can I use in place of cilantro in salsa?
You can absolutely skip the cilantro in this salsa recipe if it's not a flavor you enjoy. You could also add in a small handful of parsley in place of the cilantro, if you still want some fresh herbs in your salsa.
How long will this Chili's salsa last in the fridge?
Store your Chili's salsa in the fridge, tightly covered, for up 5 days.
MORE RECIPES YOU MIGHT LIKE:
Roasted Tomatilla Salsa – If you're looking for a way to use up some of your garden veggies, this is the best option! Everything gets roasted in the oven and then blended together for a super flavorful salsa verde.
Mexican Cornbread Skillet – Cornbread and taco ingredients get combined into a tasty skillet dish!
Mexican Cauliflower Rice – Low carb, healthy, and so flavorful!
Cream Cheese Salsa Dip – If you've never tried adding cream cheese to salsa, you should stop what you're doing now and make it happen.
Taco Casserole – Getting tired of traditional tacos? You might like my taco lasagna!
Slow Cooker Chicken Tacos – one of our favorite recipes around here!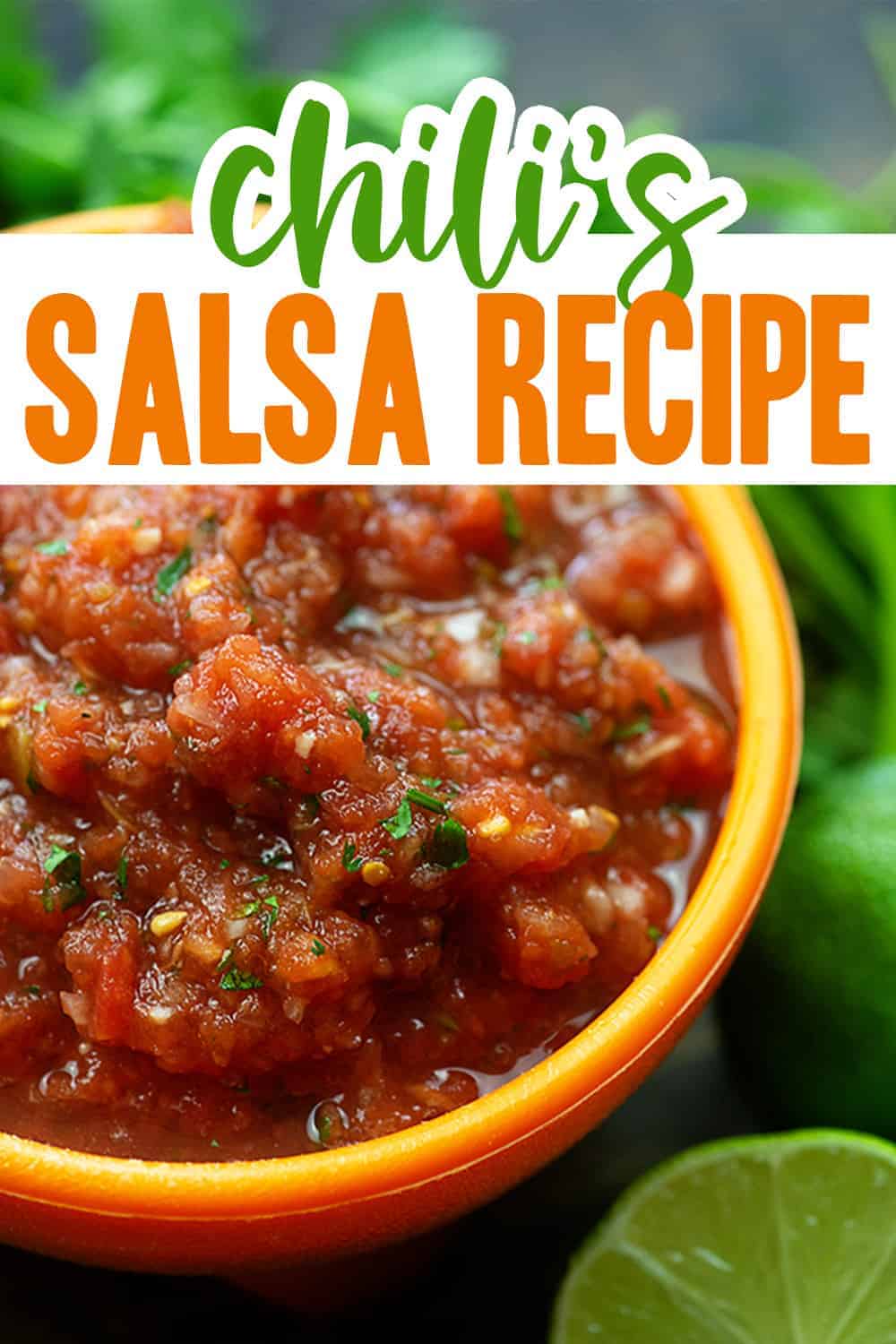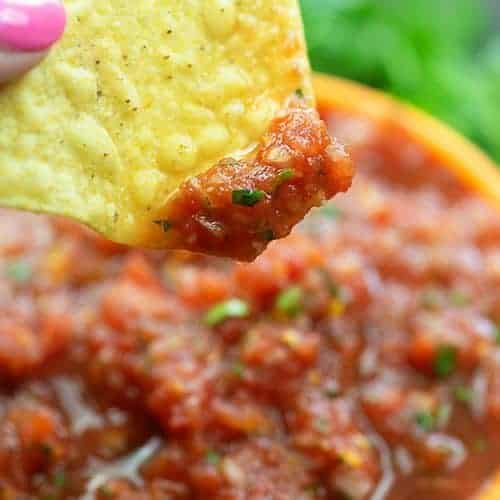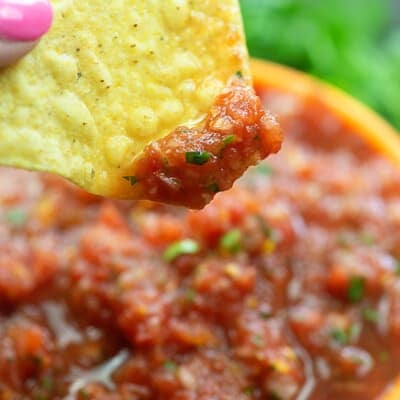 Restaurant Style Salsa
This restaurant style salsa comes together in about 5 minutes and it makes the best salsa I've ever had!
Prep2 minutes
Cook3 minutes
Total5 minutes
Ingredients
15 ounces canned whole peeled tomatoes
2 teaspoons diced canned jalapeno
1/2 large onion chopped
1 clove garlic
2 teaspoons lime juice
1 teaspoon cumin
1/2 teaspoon salt
1/2 cup cilantro optional
Instructions
Add everything to a blender or food processor and process until mostly smooth.

Taste and add additional salt or lime juice as desired. Add additional jalapeno as desired, keeping in mind that the salsa will get spicier the longer it sits.

Store in the refrigerator for up to 5 days.
Tips & Notes:
Fresh or bottled lime juice will work here, but we do prefer fresh. The salsa will get spicier the longer it sits in the fridge.
Nutrition Information:
Calories: 10kcal (1%)| Carbohydrates: 2g (1%)| Sodium: 148mg (6%)| Potassium: 82mg (2%)| Sugar: 1g (1%)| Vitamin A: 95IU (2%)| Vitamin C: 5.3mg (6%)| Calcium: 14mg (1%)| Iron: 0.5mg (3%)