This roasted tomatillo salsa has just a handful of ingredients and the veggies roast quickly in the oven bring a delicious flavor this salsa verde. Perfect for dipping chips or topping enchiladas.
Well, surprise surprise.
I'm back with more cilantro and lime, because cilantro and lime is my jam. And by jam I mean I would totally spread it on my toast if it were socially acceptable.
Safe to say I do NOT have the gene that makes cilantro taste like soap. 😉
Other ways you'll see me eating cilantro and lime? In pico de gallo, with my refried bean dip, and in our Mexican potato salad.
We love salsa verde in our house and I'm a huge believer that roasting veggies just makes the flavors pop. Soooo, here's our version of roasted tomatilla salsa (or roasted salsa verde).
Whatever you call it, it's bright, zippy, and absolutely delicious!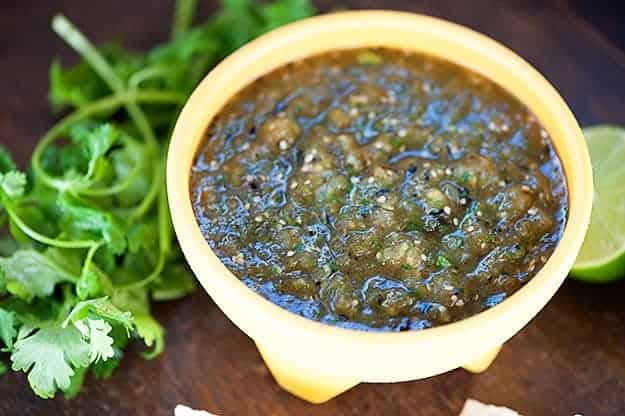 How to Use Salsa Verde:
Our roasted salsa verde is just begging to be scooped up on a tortilla chip and devoured.
Other, more creative options, include dumping a cup or two of this in the crockpot with a pound or two of chicken breasts for a few hours. Shred the chicken up and turn it into tacos.
Pour this salsa verde over a pork roast, cook low and slow, and then shred and make burrito bowls!
Use this as a topping for our fried tacos and never go back to boring tacos.
What Readers are Saying!
"I love this dip! Perfect for a night with friends playing bananagrams. Was going to hit up Chipotle…….again…..tonight. Making this with chips instead!!"
– Laura
Roasted Salsa Verde Ingredients:
This post contains affiliate links. As an Amazon associate and member of other qualifying programs, I earn from qualifying purchases.
Tomatillos – These look like small green tomatoes with a papery husk. They're native to Mexico, and more dense than a tomato. They're bright and acidic and make the perfect salsa.
Jalapeno & Poblano – The jalapeno adds spice and the poblano adds flavor.
Sweet Onion – A must in any salsa, if you ask me.
Cilantro & Lime – Fresh cilantro and limes adds zippy, bright flavor to this roasted salsa verde.
How to Make Roasted Salsa Verde:
Chop: Remove the husks from the tomatillos and cut in half. Slice the jalapenos in half – leave the seeds and membranes for spice or remove them for a more mild salsa. Rough chop the onion. Leave the poblano whole and place everything onto a baking sheet.
Broil: Turn your broiler up to high and broil the vegetables for 10 to 15 minutes or until they are nice and charred. Keep an eye on things and don't walk away for too long.

Steam: Remove the poblano pepper and place it into a zip lock bag and seal it closed. It will steam in the bag and loosen the skin, which should take about 10 minutes. Carefully remove from the bag and peel the skin from the poblano. It'll slip right off.
Process/Blend: Add all those tasty charred peppers, tomatillos, and onions to the processor along with the cilantro, lime juice, and salt. Process the veggies to reach your preferred consistency, making it as smooth or as chunky as you like.
Cool: Because we roasted the veggies, they'll still be warm. If you're using this as a dip for chips, you'll want to cover the salsa and chill in the fridge before serving. If you're using this as an enchilada sauce, go ahead and use it hot.
Make It a Meal!
Pair this with…
Roasted Salsa Verde
This recipe produces a medium salsa. Add more or less peppers to suit your tastes.
Prep10 minutes
Cook15 minutes
Total25 minutes
Ingredients
1 1/2 pounds tomatillos
1/2 – 1 jalapeno
1 poblano pepper
1/2 sweet onion
1/4 cup cilantro
Juice of 1/2 lime
1/2 teaspoon salt
Instructions
Turn the broiler to high.

Remove the husks from the tomatillos and rinse the sticky residue off the skins. Slice the tomatillos in half from top to bottom, removing stems as necessary. Place on large baking sheet, cut side up.

Slice jalapeno pepper in half. Remove the seeds and membranes from the inside of the pepper for a milder salsa. Leave seeds and membrane intact for a hotter salsa. Place 1 or both halves of the pepper on the baking sheet with the tomatillos, depending on how spicy you want it.

Place the whole poblano on the baking sheet.

Cut the onion to large chunks and scatter over the baking sheet.

Broil for 10-15 minutes or until charred. Place the poblano pepper in a ziploc or paper bag and seal. Let sit for 10 minutes to steam. Remove from the bag carefully and peel the skin from the pepper.

Add the tomatillos, jalapeno, poblano, onion, cilantro, lime juice, and salt to a food processor or blender and process until smooth.

Cool before serving.

Store covered in the fridge for up to 1 week.
Nutrition Information:
Calories: 36kcal (2%)| Carbohydrates: 7g (2%)| Protein: 1g (2%)| Sodium: 148mg (6%)| Potassium: 278mg (8%)| Fiber: 2g (8%)| Sugar: 4g (4%)| Vitamin A: 185IU (4%)| Vitamin C: 23mg (28%)| Calcium: 12mg (1%)| Iron: 0.6mg (3%)