This roasted tomatillo salsa has just a handful of ingredients and roasts quickly in the oven. Salsa verde is perfect for chips and works great in enchiladas, too!
Well, surprise surprise.
I'm back with more cilantro and lime, because cilantro and lime is my jam. And by jam I mean I would totally spread it on my toast if you people wouldn't judge me.
Other things I like to spread on my toast? Avocados. I'm sorry, I don't care if it's over done, Avocado Toast is the best.
Okay, I don't even know how we started talking about toast. That's just weird.

Let's talk about this roasted tomatillo salsa, known as salsa verde by all you cool kids. Have you ever made your own salsa verde?
My word.
I love the stuff in the jar, don't get me wrong. But, if the tomatillos are screamin' your name at the grocery store, this is the way to use them up. And even if they aren't, this is still the way. It's obviously much fresher tasting than the jarred version and holy smokes, roasting the ingredients brings out so much flavor! Also, it takes about 5 minutes to toss everything on a baking sheet, 10 minutes to roast, and another 2 minutes to blend it up.
This is spicy and tangy and zippy and divine.
This salsa verde recipe is packed with flavor and perfect for dipping!
You can dip your chips in this stuff all day err day. You can dump it in the crockpot with a pound or two of chicken breasts, slow cook it, and then shred it up to make salsa verde chicken tacos. You can add it to a pork roast, cook slow and low, and then shred it for burrito bowls. You can spoon it on your fried tacos, because you're smart and you fry your tacos. You can smear it on your face and exfoliate your toes with it. Everything I just said is true except for that last sentence. Who exfoliates their toes anyway?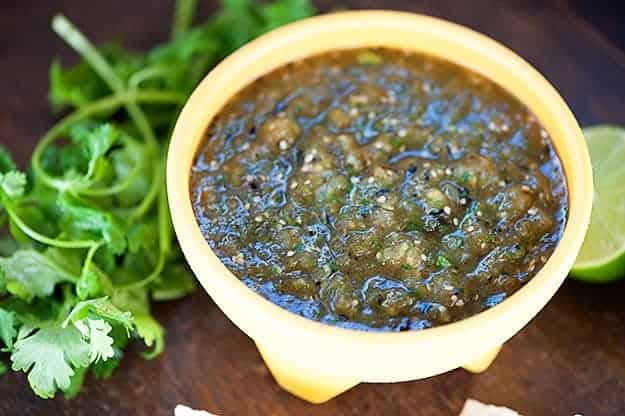 I made this nice and smooth by blitzing it in my food processor. If you're on the fence about getting a food processor, may I just highly recommend that you go for it. I use mine almost every day. Such a lifesaver in the kitchen! If you don't have/want a food processor, just pop this in your blender.
I'm sharing a quinoa recipe using this stuff next week, so be sure to pop back by. You don't want to miss out!
Roasted Salsa Verde
This recipe produces a medium salsa. Add more or less peppers to suit your tastes.
Prep10 minutes
Cook15 minutes
Total25 minutes
Ingredients
1 1/2 pounds tomatillos
1/2 - 1 jalapeno
1 poblano pepper
1/2 sweet onion
1/4 cup cilantro
Juice of 1/2 lime
1/2 teaspoon salt
Instructions
Turn the broiler to high.

Remove the husks from the tomatillos and rinse the sticky residue off the skins. Slice the tomatillos in half from top to bottom, removing stems as necessary. Place on large baking sheet, cut side up.

Slice jalapeno pepper in half. Remove the seeds and membranes from the inside of the pepper for a milder salsa. Leave seeds and membrane intact for a hotter salsa. Place 1 or both halves of the pepper on the baking sheet with the tomatillos, depending on how spicy you want it.

Place the whole poblano on the baking sheet.

Cut the onion to large chunks and scatter over the baking sheet.

Broil for 10-15 minutes or until charred. Place the poblano pepper in a ziploc or paper bag and seal. Let sit for 10 minutes to steam. Remove from the bag carefully and peel the skin from the pepper.

Add the tomatillos, jalapeno, poblano, onion, cilantro, lime juice, and salt to a food processor or blender and process until smooth.

Cool before serving.

Store covered in the fridge for up to 1 week.
Nutrition Information:
Calories: 36kcal (2%)| Carbohydrates: 7g (2%)| Protein: 1g (2%)| Sodium: 148mg (6%)| Potassium: 278mg (8%)| Fiber: 2g (8%)| Sugar: 4g (4%)| Vitamin A: 185IU (4%)| Vitamin C: 23mg (28%)| Calcium: 12mg (1%)| Iron: 0.6mg (3%)