You're going to love this chicken chimichanga recipe – loaded with flavor and surprisingly easy to make at home, especially when you 'fry' them in the oven instead of on the stove!
My husband has learned that if he asks me what I want for dinner, the answer is going to be "Mexican" about 95% of the time. I will never grow tired of it and my favorite holiday of the year is coming up…
Cinco de Mayo!
It's the perfect excuse to spam you guys with loads of Mexican and Tex-Mex recipes! Get excited. 😉
I believe that this chimichanga recipe is more of a Tex-Mex recipe than a traditional Mexican recipe, but either way – it's so good!
I'm all about deep fried goodness, but at home it's definitely easier to bake things, so I'll show you my trick for getting that fried flavor and texture in the oven.
I found this recipe at Food Network and tweaked it just a bit. I believe it's supposed to a copycat of Chi Chi's chimichanga recipe. So good!
Serve this up with some restaurant style salsa, easy refried beans, and our easy Mexican rice for the ultimate meal!
What is a Chimichanga?
A chimichanga is basically a deep-fried burrito, however we're making our version in the oven to make them a little easier and a lot healthier.
Chimichangas are often referred to as Mexican food (even by me!), but the truth is that they likely originated in the United States.
Ingredient Notes:
Chicken – We start with cooked, shredded chicken. This is a great use for leftover rotisserie chicken.
Veggies – We'll add tomatoes, onions, garlic, and jalapeno to our filling.
Seasonings – We're using a combination of chili powder, cumin, cinnamon, and salt. Cinnamon may seem like a strange addition, but it adds a delicious warmth to the filling.
Salsa Verde – You can use store bought or homemade! Our roasted salsa verde is a great option.
Pico de Gallo – Our homemade pico de gallo is exactly what you want here!
Refried Beans – We spread a thin layer of beans on the flour tortillas before topping them with our chicken mixture. Extra flavor and protein!
What We Love About This Recipe!
It's got all the great flavors of our favorite restaurant style chimichangas, but made at home! It's also nice to not have to worry about the mess of a deep fryer. Baking is just simpler and healthier!
How to Make Chimichangas:
Filling: Saute your onions, garlic, and jalapeno until softened and then season them with chili powder, cumin, cinnamon, and salt. The cinnamon adds this amazing warmth to the dish. I really love it!
Next you'll toss in some tomato and cilantro and cook for a couple more minutes before stirring in your cooked, shredded chicken and sour cream.
Your filling is done!
Assemble & Bake: Grab some refried beans and spread a thin layer on the bottom of a 10 inch tortilla. Spoon on the chicken mixture and then fold it all up.
Watch my video above to see how easy these are to fold!
Pop them all on a baking sheet and then here's the trick for making them more crispy and fried tasting: Brush the outsides with melted butter!
The butter helps crisp them up and, while the butter definitely doesn't make them greasy, it gives that vibe of something that was fried.
Bake these in a 450 degree oven for 20 minutes to crisp up the outsides.
If you'd prefer, you can heat some oil in a skillet and fry these until crisp.
Serve: Top it off with some of my roasted tomatillo salsa or a jar of salsa verde – both work well. A little Pico de Gallo on top and you're done!
I like to serve these with a side of my refried beans (which works great, since you can use them in the chimichangas and then just serve the rest on the side!) and some Mexican rice.
Baked Vs. Fried Chicken Chimichangas:
We chose to bake this chicken chimichanga recipe for a couple of reasons:
It's just easier! Pop these in a hot oven for 10 minutes, flip, and bake for 10 more minutes. Easy peasy.
It's more hands off! While it does take 20 minutes in the oven, it's way less hands on time than frying each chimichanga individually in oil.
It's healthier! We do brush these in a bit of melted butter to get that deep fried flavor, but that's still less fat than frying.
If you'd prefer to fry your chimichanga, feel free! Just add a layer of oil to the bottom of a skillet and let it get nice and hot. Add the chimichanga and fry until golden and crisp on all sides.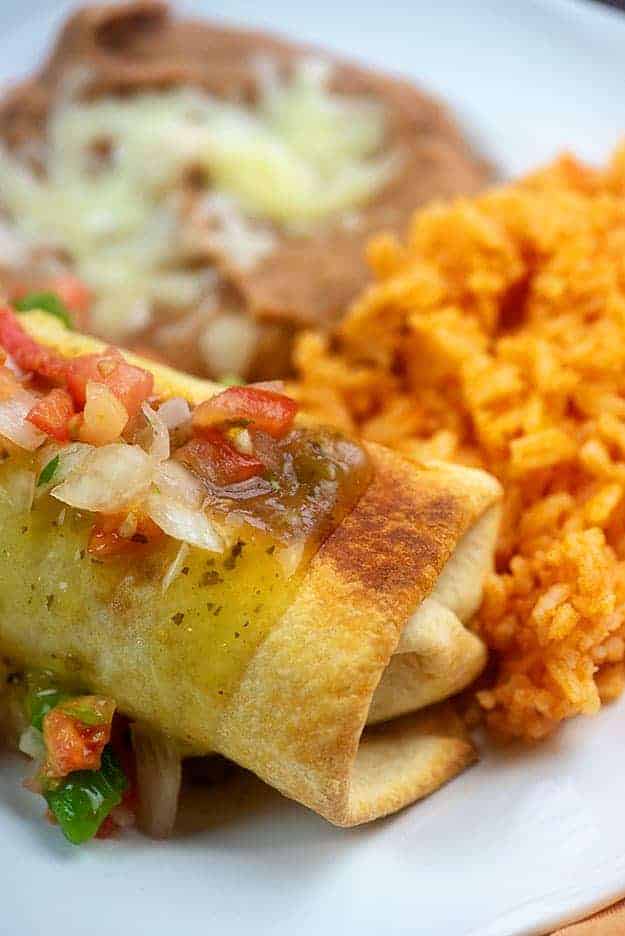 Chimichanga Recipe Substitutions & Variations:
Make these chimichangas your own! You can modify this recipe in lots of ways. Here are some good suggestions:
Protein: You don't have to use chicken! Shredded beef, ground turkey, or ground pork are good too. Tofu or black beans would work well for vegetarian diets!
Beans: My kids are pretty on the fence about beans, so we usually make a couple without the layer of refried beans. They're just as tasty.
Tortillas: Chimichangas are traditionally made with flour tortillas. If you'd like to use corn, you'll be turning these into something like a taquito – also tasty! Low carb flour tortillas also work here, if you'd like a low carb option.
Cheese: I use shredded Monterey Jack here but you can use any variety of cheese that you like. Pepper jack will add a little kick.
Sauce: I like to top my chimichangas with roasted salsa verde and Pico de Gallo, but a red or green enchilada sauce or melty queso cheese are good choices too.
FAQs:
Could I air fry these instead of baking?
Absolutely! Spritz the outside of the tortillas with oil spray and then air fry at 350 degrees for about 10 minutes, or until as golden brown as you'd like on the outside.
Can I add/remove/substitute ingredients?
Of course! This is an easy recipe to modify if you have preferred ingredients in your chimichanga that aren't in this recipe. You could add bell peppers, or try using black beans instead of refried.
More Tex-Mex recipes to try: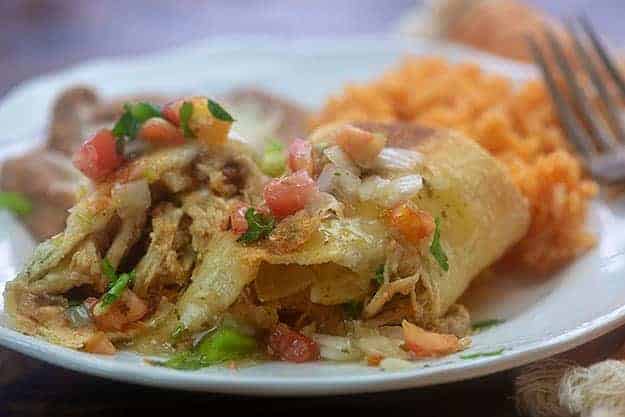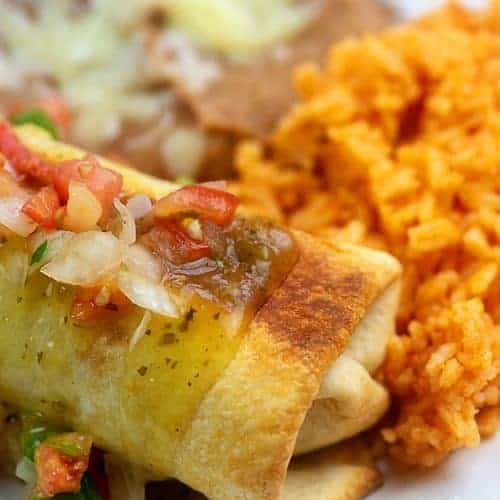 Chicken Chimichangas
These chicken chimichangas are baked instead of fried, so they're extra easy!
Prep30 minutes
Cook30 minutes
Total1 hour
Ingredients
2 tablespoons vegetable oil
1 small white onion chopped
3 cloves garlic minced
1 jalapeno pepper minced
2 teaspoons chili powder
1 teaspoon cumin
1/2 teaspoon salt
1/8 teaspoon cinnamon
1 small roma tomato chopped
2 tablespoons chopped cilantro
2 1/2 cups shredded chicken
1/4 cup sour cream
1/2 cup refried beans
4 10-inch flour tortillas
1 cup shredded monterey jack cheese
2 tablespoons melted butter
1/2 cup salsa verde
1/2 cup pico de gallo
Instructions
Preheat oven to 450 degrees.

Heat the oil in a large, heavy bottomed skillet. Add the onions, garlic, and jalapeno and cook until onions are soft, about 5 minutes.

Add the chili powder, cumin, salt, and cinnamon and stir to combine. Cook 30 seconds.

Add the tomato and cilantro and cook for 2 minutes.

Stir in the chicken and sour cream. Remove from heat.

Lay one tortilla on a flat surface and spread with a thin layer of refried beans. Top with 1/4 of the chicken mixture and 1/4 of the cheese.

Fold in the edges of the tortilla and roll up tightly. Repeat with remaining tortillas.

Place tortillas on a rimmed baking sheet and brush with the melted butter.

Bake for 10 minutes, flip, and bake for 10 more minutes.

Top each chimichanga with salsa verde and pico de gallo before serving.
Tips & Notes:
recipe lightly adapted from Food Network
Nutrition Information:
Serving: 1chimichanga| Calories: 649kcal (32%)| Carbohydrates: 49g (16%)| Protein: 34g (68%)| Fat: 35g (54%)| Saturated Fat: 19g (119%)| Cholesterol: 115mg (38%)| Sodium: 1823mg (79%)| Potassium: 511mg (15%)| Fiber: 3g (13%)| Sugar: 10g (11%)| Vitamin A: 1320IU (26%)| Vitamin C: 11mg (13%)| Calcium: 337mg (34%)| Iron: 3.7mg (21%)