This refried beans recipe is made from scratch with just about ten minutes of hands on time! These beans are so much better than anything you'd find in a can!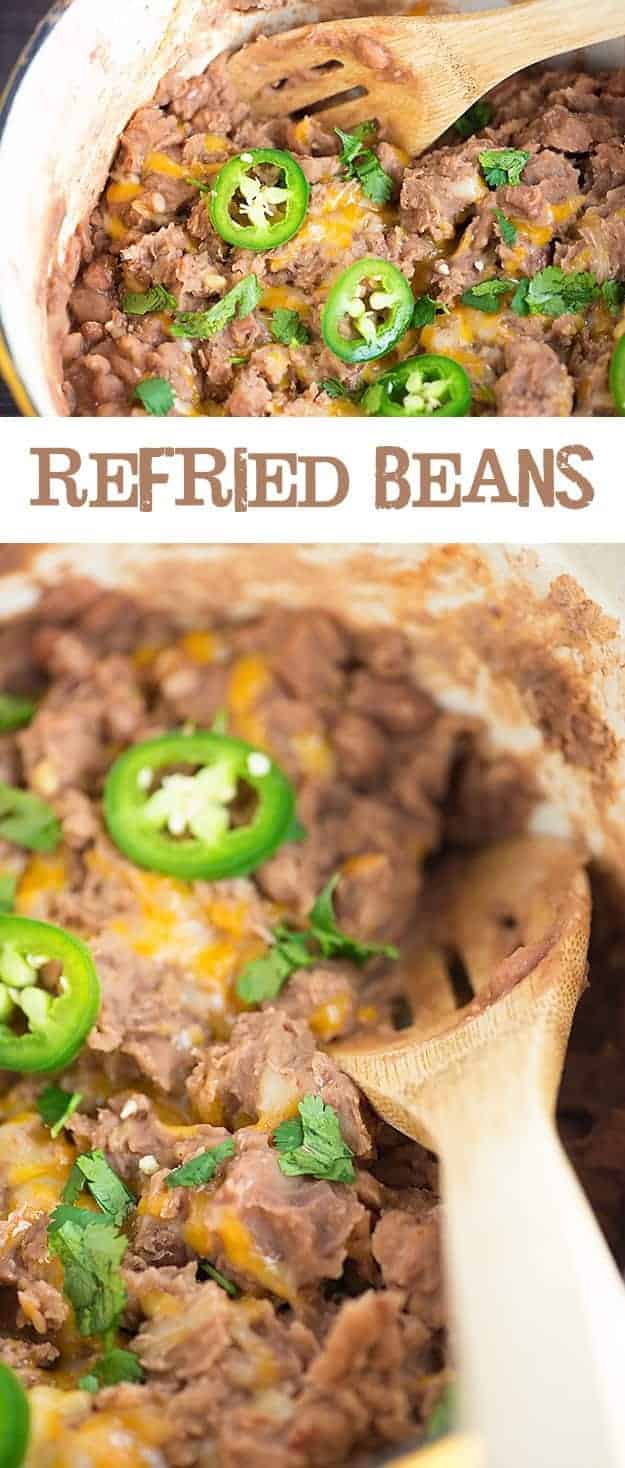 So, y'all know that I eat tacos all the live long day, right? (I mean, have you seen my Instagram? I just shared some stir-fry tacos there. True story.)
Anyway, what's a girl to serve with tacos?
My refried beans from scratch, of course! I mean, I don't know about you, but I find the beans in those cans a little suspicious. They're pasty and weird. They have no flavor. They just don't look right and they sure don't taste right.
If you've never tried a homemade refried bean recipe, I hope you'll give this one a shot. It's packed with smoky flavors from chipotle peppers and has just enough of a kick to make you take notice.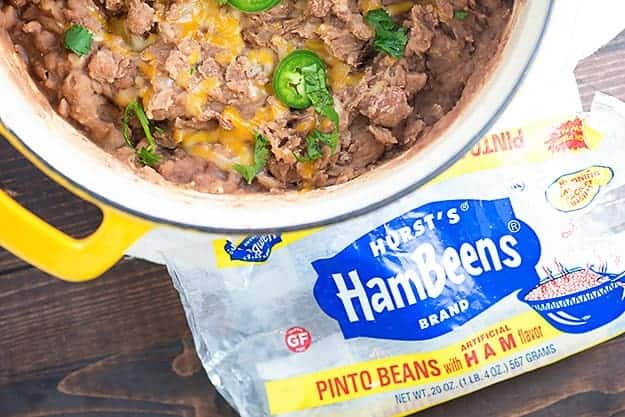 I made these beans using a package of Hurst's Pinto Beans with Ham. I've been working with Hurst's for the past few months to bring you delicious new ways to use their dried beans and I'm so glad for this partnership. It brought me this Green Chile Pulled Pork and Pintos recipe for which I will be forever grateful. It's a favorite, like woah.
Anyway, these beans skip the soak. It's just not needed. Forget what you've heard about soaking beans overnight, k? You'll just dump the beans and some water right into a large pot and start boiling them up. I use my dutch oven to make these. It's 5 1/2 quarts and the perfect size!
You'll cook the beans, along with some diced onions and garlic, for about an hour and a half to two hours. Did you know the older your beans are, the longer they'll need to cook? True story. So, you'll just want to test these after the one and a half hour mark to check for tenderness and keep cooking until they are tender perfection.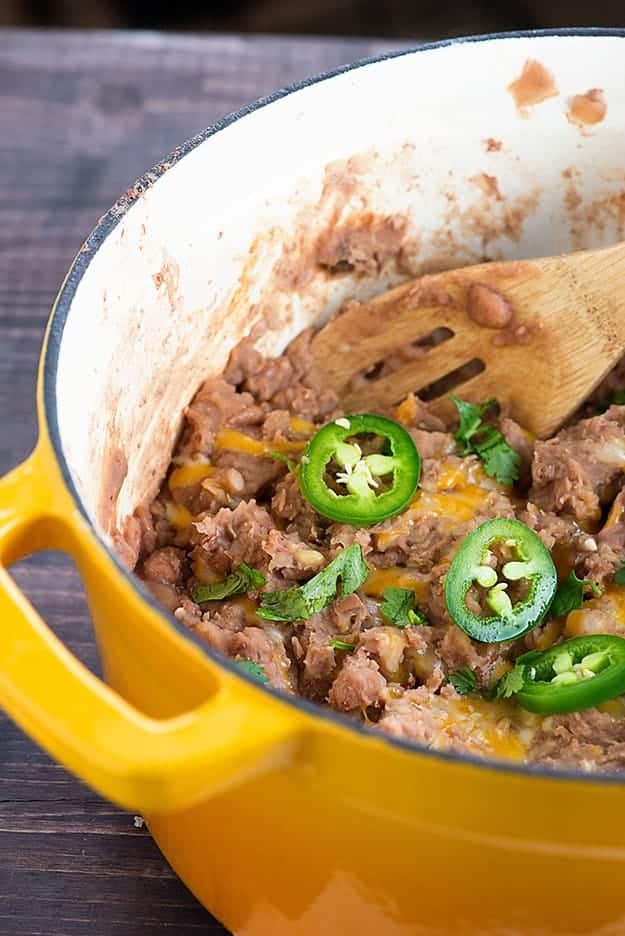 I drain out all of the extra liquid, reserving a bit to add back in as needed, and then stir in the packet of seasoning that comes with the beans. It's got a nice little kick of smoky saltiness that's perfect in this recipe. You'll also stir in some chipotle peppers in adobo sauce.
I like to use my immersion blender to mash the beans, but a handheld potato masher would work as well.
These are super healthy as is and you can totally serve them up like this. Seriously, if you're not eating beans, you're missing out on a low calorie, low fat food that is way filling. Perfect for January, right? 😉
Of course, I like to add in a little fat in the way of cheese. It makes the beans even more creamy and full flavored. I think you're going to love this recipe! Serve 'em up with my fried tacos and you'll be in heaven!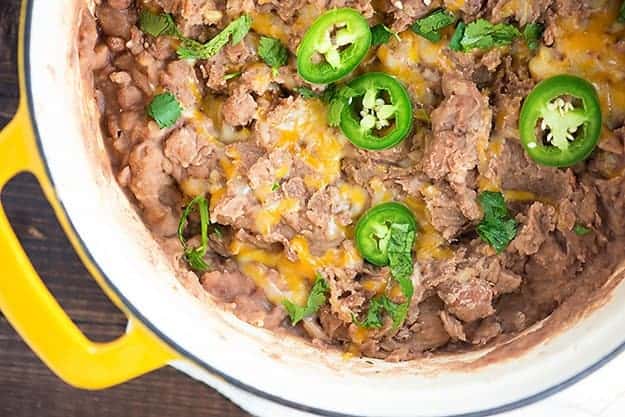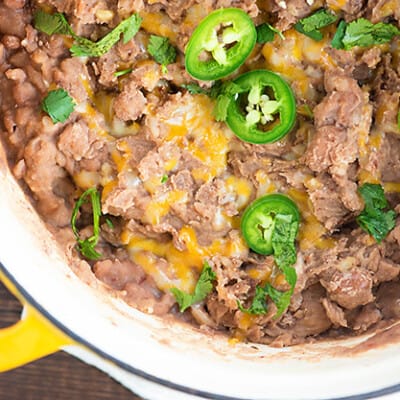 Refried Beans from Scratch
This refried beans recipe is made from scratch with just about ten minutes of hands on time! These beans are so much better than anything you'd find in a can!

Prep15 minutes
Cook1 hour 45 minutes
Total2 hours
Ingredients
20 ounces Hurst's Pinto Beans with Ham Seasoning 1 package
1 medium onion
3 cloves garlic
2 chipotle peppers in adobo more if you like it spicier, diced
1 cup grated cheddar
Salt to taste
Cilantro, fresh jalapeno for serving
Instructions
Rinse and sort through the dried beans, discarding any debris. Add to a large, heavy pot.

Cover beans with 10 cups of water.

Dice the onion and garlic and add to the pot of beans.

Bring to a full boil, cover, and reduce heat to a slow boil.

Cook, stirring occasionally, for 1 hour and 45 minutes or until beans are very tender.

Drain the liquid from the pot, reserving 1 cup.

Stir in the seasoning mix from the package of beans along with the chipotle peppers.

Mash the beans by hand or use an immersion blender. Add the reserved liquid as needed to reach desired consistency.

Stir in the cheese and cover for 5 minute to melt.

Taste and add salt as needed.

Serve topped with cilantro and fresh jalapeno slices, if desired.
Nutrition Information:
Calories: 221kcal (11%)| Carbohydrates: 27g (9%)| Protein: 13g (26%)| Fat: 6g (9%)| Saturated Fat: 4g (25%)| Cholesterol: 19mg (6%)| Sodium: 202mg (9%)| Potassium: 472mg (13%)| Fiber: 8g (33%)| Sugar: 1g (1%)| Vitamin A: 275IU (6%)| Vitamin C: 3.1mg (4%)| Calcium: 186mg (19%)| Iron: 2.2mg (12%)