These TACO STUFFED SHELLS are the perfect blend of my two favorite cuisines: Mexican and Italian! Everyone loves tacos and pasta and marrying them is sure to be a hit! We love the flavors in this pasta dish and it's pretty simple with about 20 minutes of prep time.
My daughter and I love Mexican food. My son and my husband love pasta.
What better way to bring us together than a taco pasta?!
Finally…no more arguing over what's for dinner. 😉

These taco stuffed shells are absolutely loaded with taco filling, so you get tasty taco flavor in every bite of pasta!
How To:
Start by boiling up some pasta shells while you brown a pound of ground beef.
The ground beef will get seasoned with taco seasoning, of course, but we're also adding in some cream cheese for creaminess, chiles for flavor, and corn for a sweet crunch.
Pour your favorite salsa into a 9×13 baking dish. I highly recommend my restaurant style salsa. It's the best!
Once your taco filling is done and your pasta has cooked, drain the water from the pasta and place the shells in the baking dish.
Spoon the meat mixture into each shell and then pile on the cheese.
This bakes in about 20 minutes.
Serving:
We serve this up with a sprinkle of fresh cilantro, but there are so many ways to make this dish really stand out!
Top it off with some fresh pico de gallo, a dollop of sour cream, or a pile of homemade guacamole.
I haven't tried this yet, but the next time I make these taco stuffed shells, I'm drizzling some of my homemade queso over the top before serving. More cheese can't hurt anything, right?!
Tips & Tricks:
When you're cooking your ground beef, feel free to add in extras like onions or even refried beans to the mix. These are YOUR tacos and let's be honest…it'd be hard to mess them up. 😉
I add in green chiles and corn, because we love the mild flavor of the chiles and the crunchy sweetness of the corn.
When cooking the pasta, be sure to cook it for one minute less than the package states. We'll be finishing it off in the oven and no one wants overcooked, mushy pasta.
More casserole favorites:
For more easy recipes loaded with flavor, be sure to follow my Facebook page! I post all kinds of tasty food videos!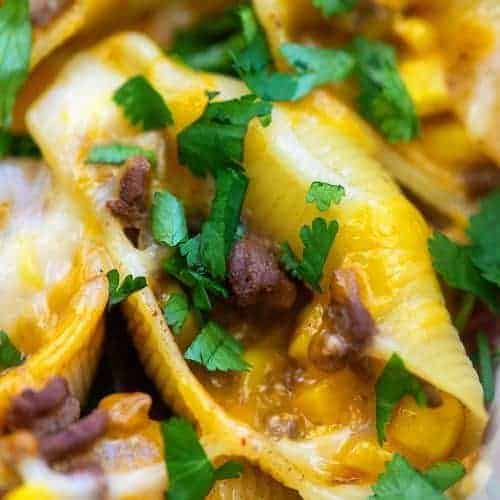 Taco Stuffed Shells
Cheesy stuffed shells filled with taco flavors!
Prep20 minutes
Cook20 minutes
Total40 minutes
Ingredients
1 pound jumbo shells
1 pound ground beef
1 packet taco seasoning
1/4 cup water
4 oz cream cheese
15 oz canned corn
4 oz diced green chiles
1/2 cup shredded cheddar
1/2 cup shredded monterey jack
1 1/2 cups salsa
cilantro for garnish
Instructions
Preheat oven to 350 degrees.

Bring a large pot of water to boil and add the pasta shells. Cook one minute less than pacakge directions state. Drain and set aside.

While the pasta is cooking, brown the ground beef in a large skillet over medium heat. Drain fat.

Return the ground beef to the skillet and turn the heat to low. Stir in the taco seasoning and water. Simmer for 2 minutes.

Stir in the cream cheese until completely melted.

Stir in the corn and green chiles and remove the pan from the heat.

Pour the salsa into a 9x13 baking dish and spread to cover the pan evenly.

Fill each pasta shell with the ground beef mixture and place in the baking dish.

Top each pasta shell with a mixture of the shredded cheddar and monterey jack cheese.

Cover the pan with foil and bake for 20 minutes.

Remove from the oven and sprinkle with the chopped cilantro before serving.
Tips & Notes:
Serve with pico de gallo, guacamale, and sour cream to complete your meal!
Nutrition Information:
Calories: 689kcal (34%)| Carbohydrates: 73g (24%)| Protein: 30g (60%)| Fat: 29g (45%)| Saturated Fat: 13g (81%)| Cholesterol: 92mg (31%)| Sodium: 1121mg (49%)| Potassium: 656mg (19%)| Fiber: 4g (17%)| Sugar: 5g (6%)| Vitamin A: 1245IU (25%)| Vitamin C: 6.4mg (8%)| Calcium: 205mg (21%)| Iron: 3.6mg (20%)
This post was originally published in April 2012. Original photo below.