These TACO STUFFED MINI PEPPERS are the perfect snack to munch on while watching the game. They're loaded with seasoned ground beef, melty cheese, and plenty of spicy Red Gold® Original Tex-Mex Diced Tomatoes & Green Chiles! Big thanks to Red Gold for sponsoring this post.
Give me a T! Give me an A! Give me a C! Give me an O!
Okay, sorry.
I went full on cheerleader there for a second, but it's just because I'm such a fan girl for tacos. I could literally eat some form of taco every day of my life and now that football season is here, I feel like it's my time to shine. Tacos and football go together like woah.

I can taco-fy just about anything. Taco mac and cheese, chicken taco soup, taco chili…and now, today, taco stuffed mini peppers! Are you excited? I'm excited.
These taco stuffed mini peppers are filled with Red Gold® Original Tex-Mex Diced Tomatoes & Green Chiles, which is a product that I absolutely love. I always have a can or two of these in my pantry because it adds so much flavor to any kind of tex-mex dish!
Red Gold's mission is to provide the highest quality, freshest, best-tasting tomato products. Plus, Red Gold's tomatoes aren't just family-owned, they're family grown and made on Midwest family farms.
Ready to make these taco stuffed peppers?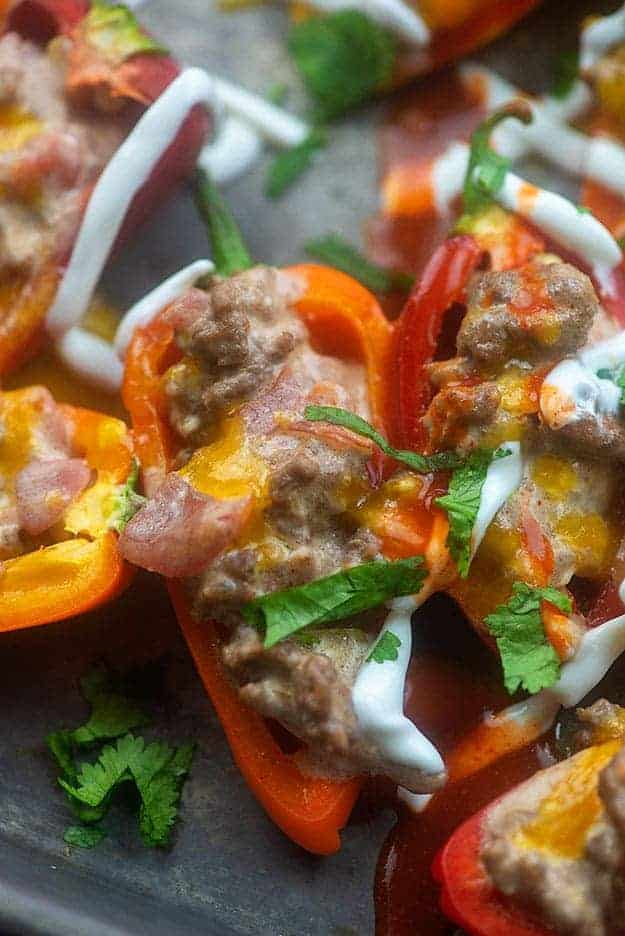 How to make taco stuffed mini peppers:
To start, you'll want to brown up a pound of ground beef with a few spices like cumin, garlic, and onion powder.
Once the meat is cooked through, add in some cream cheese, cheddar, and your Red Gold® Original Tex-Mex Diced Tomatoes & Green Chiles. Stir that all up to make a delicious cheesy taco filling for your peppers.
Did you know Red Gold's tomatoes are picked when they're perfectly ripe, eliminating the need to add any artificial colors or flavors to their products? You can really see and taste the difference!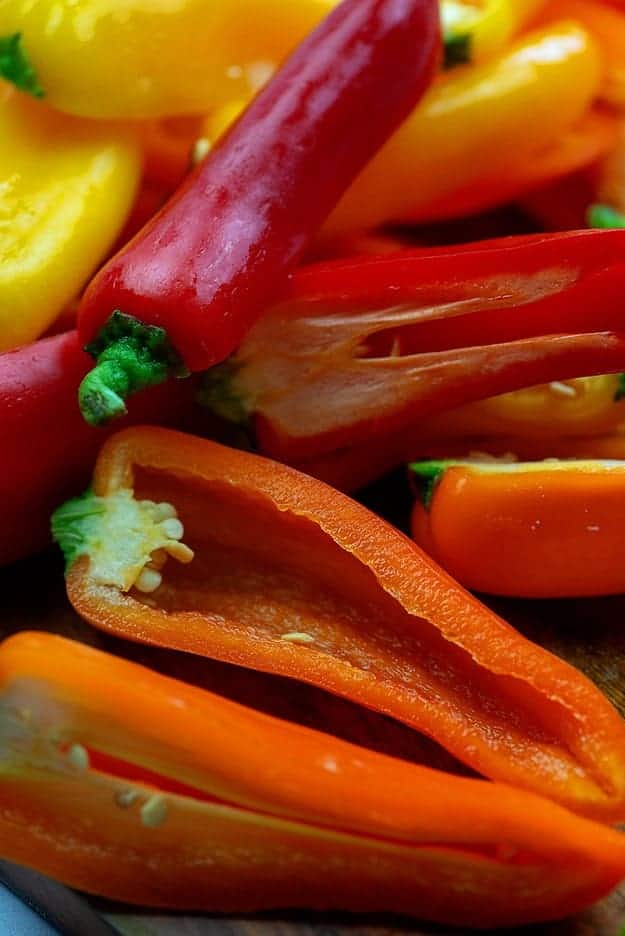 Wash your peppers and then slice them in half length-wise. They should mostly be pretty empty on the inside, but scrape out any seeds and membranes that you come across. <– More room for the taco filling this way!
Spoon your taco filling into the peppers and top them off with more cheese!
We bake these for just 10 minutes – this lets the cheese melt and the peppers get warm, but they don't get soft. We like the crunchy vibe here…kind of like nachos, but with veggies instead of chips!
I like to drizzle these with a bit of sour cream and sprinkle on fresh cilantro before serving to hungry football fans.
Who's ready to dig in?
To find Red Gold® products in stores near you, use this handy product locator.
Taco Stuffed Mini Peppers
Sweet and crunchy mini peppers are filled with a cheesy taco filling for the perfect game day snack!
Prep15 minutes
Cook20 minutes
Ingredients
1 pound mini sweet peppers
1 pound ground beef
1 teaspoon cumin
1 teaspoon garlic powder
1 teaspoon onion powder
1/2 teaspoon salt
10 ounces Red Gold ® Original Tex-Mex Diced Tomatoes & Green Chiles drained
8 ounces cream cheese
1 1/2 cups shredded cheddar divided
2 tablespoons sour cream
1 tablespoon chopped cilantro
Instructions
Preheat oven to 350 degrees.

Cut each pepper in half length-wise and place on a large baking sheet.

Add the ground beef to a large skillet over medium heat. Brown the beef, crumbling as it cooks, until cooked through. Drain the beef and return to the skillet.

Season the beef with the cumin, garlic powder, onion powder, and salt. Stir to coat the meat.

Add the tomatoes, cream cheese, and 1 cup of shredded cheddar to the pan and cook, stirring constantly, until the cheese is melted and everything is well combined.

Spoon the taco mixture evenly between all of the peppers.

Top with the remaining cheddar and place pan in the oven for 10 minutes.

Remove from the oven and drizzle with sour cream and sprinkle with cilantro before serving.
Tips & Notes:
The mini peppers will still be crunchy after just 10 minutes. If you'd like softer peppers, cover the dish with foil and bake for 20 minutes.
Nutrition Information:
Serving: 1| Calories: 470kcal (24%)| Carbohydrates: 7g (2%)| Protein: 23g (46%)| Fat: 39g (60%)| Saturated Fat: 20g (125%)| Cholesterol: 127mg (42%)| Sodium: 549mg (24%)| Potassium: 455mg (13%)| Fiber: 2g (8%)| Sugar: 5g (6%)| Vitamin A: 3183IU (64%)| Vitamin C: 97mg (118%)| Calcium: 267mg (27%)| Iron: 2mg (11%)