A childhood classic with an update! My homemade sloppy joe sauce recipe is perfect on ground beef and stuffed in peppers!
When I was, oh, 20 years old, I worked in a doctor's office. One of the girls that I worked with was always talking about what she was going to have for dinner that night. Should she make this or should she make that? Could she get away with pizza rolls or had she better cook something a little healthier?
Well, it seemed to me that most nights she decided on Sloppy Joes. She said she'd just run by the store and grab the buns and a can of sauce on her way home and that would be easy enough.
Now, me? I had never had a sloppy joe in my entire life. Please tell me how this is even possible for a child in American in the 90s to not have eaten a sloppy joe? My mom is weird and didn't know good and easy food when she saw it.
Anyway, the truth is that I didn't even know what sloppy joes really consisted of and so I finally got up the nerve to ask my friend this ridiculous question: So, is the meat in the can with the sauce too?
I think she laughed at me for days. Maybe even weeks. The meat was definitely not in the can.
Then, some time along the way, my mother-in-law made her famous sloppy joes. I asked her the recipe and it's your standard sloppy joe from a can story, except that she adds in a secret ingredient. Canned corned beef.
Let me be totally real for a moment here – I am a snob when it comes to canned meat. I turn my nose up at it and I roll my eyes and I most definitely do not consume it. Except for when it comes to my mother-in-law's amazing sloppy joes. I would eat them all day, every day without a care in the world. That is some good stuff, you guys.
So, I took a version of her recipe, with my own homemade sloppy joe sauce recipe, and I stuffed it all up in some peppers. It's like sloppy joes for grown ups or something. Except my kids totally eat them too. Use any color pepper that you like. We prefer the red and orange peppers because they're sweeter than green. I also used corned beef hash, instead of plain old corned beef. You can use either, but I like that the hash has little chunks of potatoes in there.
Hope you guys enjoy!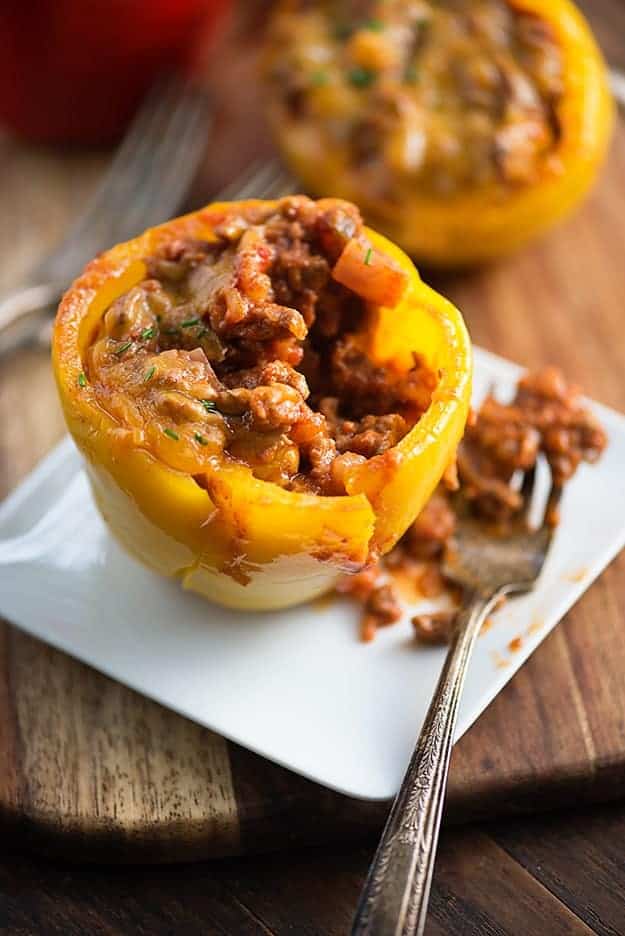 Sloppy Joe Stuffed Peppers
A childhood classic with an update! My homemade sloppy joe sauce recipe is perfect on ground beef and stuffed in peppers!

Prep10 minutes
Cook40 minutes
Total50 minutes
Ingredients
4 bell peppers any color
1 cup ketchup
3 tablespoons water
1 tablespoon vinegar
2 tablespoons brown sugar
2 teaspoons Worcestershire sauce
2 teaspoons prepared mustard
1 teaspoon garlic powder
1 teaspoon onion powder
1 pound ground beef
8 ounces canned corned beef hash
4 ounces cheddar cheese grated
Instructions
Preheat the oven to 350 degrees.

Wash the bell peppers and slice the tops off. Remove the stem and seeds from the inside.

In a small bowl, combine the ketchup, water, vinegar, brown sugar, Worcestershire sauce, mustard, garlic powder, and onion powder. Stir until smooth. Set aside.

Add the ground beef to a large skillet and brown over medium heat. Drain the fat and return to the skillet. Add the corned beef hash to the pan and cook until heated through.

Add the sloppy joe sauce to the pan with the beef and stir to coat.

Spoon the meat mixture into each of the 4 bell peppers and place in an 8x8 baking dish. Cover with foil and bake for 30 minutes.

Remove the foil and top each pepper with the cheese. Continue baking for another 10 minutes, uncovered, or until the peppers have softened to your liking.

Serve immediately.
Nutrition Information:
Calories: 650kcal (33%)| Carbohydrates: 30g (10%)| Protein: 37g (74%)| Fat: 41g (63%)| Saturated Fat: 17g (106%)| Cholesterol: 140mg (47%)| Sodium: 1551mg (67%)| Potassium: 975mg (28%)| Fiber: 2g (8%)| Sugar: 24g (27%)| Vitamin A: 4320IU (86%)| Vitamin C: 170.1mg (206%)| Calcium: 255mg (26%)| Iron: 4.3mg (24%)