Shepherd's pie made with a sloppy joe twist! This is going to be a new family favorite in your house and it's so easy thanks to my little mashed potato shortcut. Big thanks to Bob Evans for sponsoring this post!
I've shared a lot of sloppy joe recipes on this blog and there is one thing I'm still unsure of. Should the 'j' in joe be capitalized or not? I generally don't capitalize it because then it makes me feel like I need to also capitalize the 's' in sloppy and that just feels like I'm very serious about sloppy joes.
Which I am.
Have you even seen the sloppy joe recipes on this site? So many of them and they're all seriously good. I have a major love of this saucy little sandwich and put that sweet and tangy meat in just about everything possible.
Like this easy shepherd's pie! Y'all are seriously going to LOVE this recipe. My son declared it his new favorite. Winning!
I teamed up with Bob Evans to make this shepherd's pie recipe even easier – we're going to start with a package of their creamy, dreamy, perfect mashed potatoes and we're going to doctor them up just a smidge. Are you ready for this?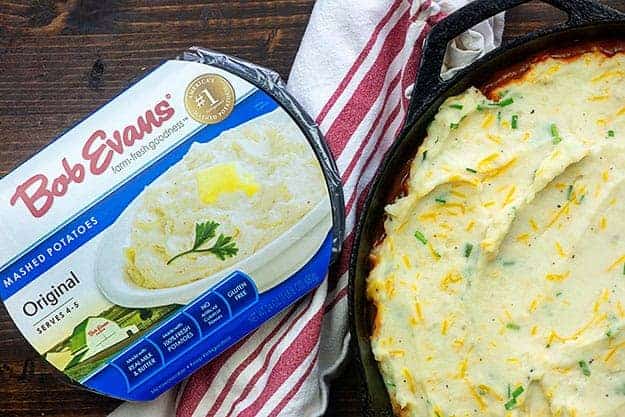 How to make shepherd's pie:
Traditional shepherd's pie is made with beef, veggies, and seasonings and then topped off with mashed potatoes.
We're sloppy joe-ing this recipe and using my tangy and sweet homemade sloppy joe sauce for this. You're going to love it.
Let's start by whipping up that sauce.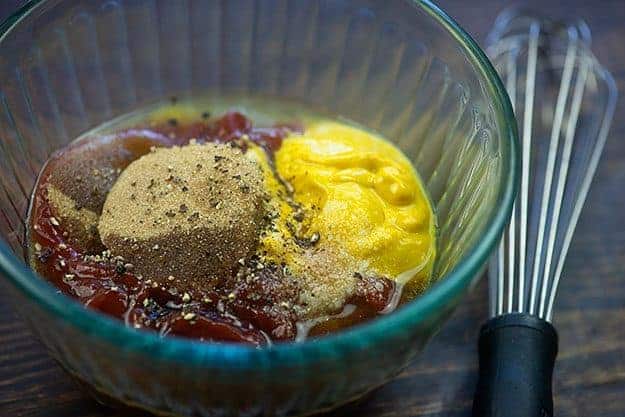 You'll need ketchup, mustard, Worcestershire sauce, vinegar, brown sugar, salt, and pepper. Easy stuff.
Next, brown some ground beef in a large, oven safe skillet. I'm using my 12 inch cast iron skillet (affiliate link) and it's perfect here.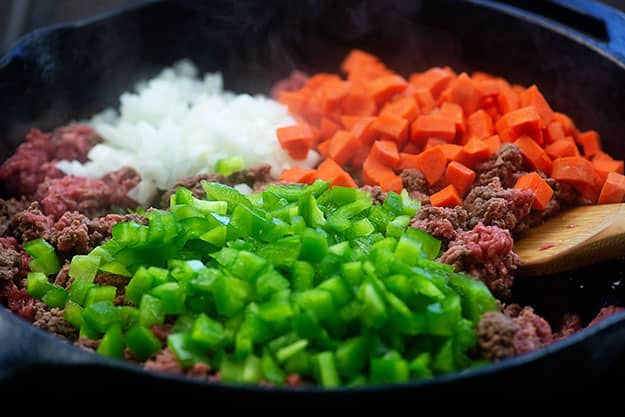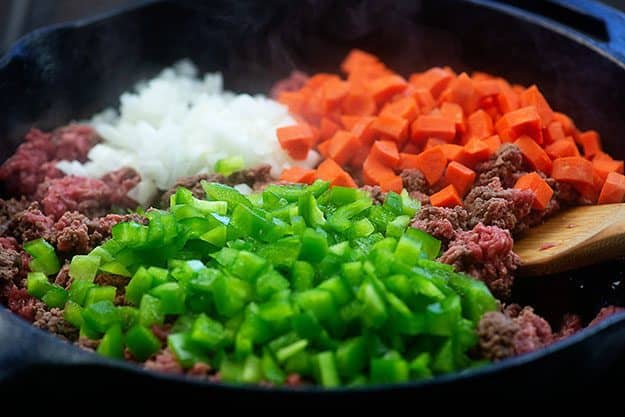 When your meat is nearly browned, toss in some diced onion, pepper, and carrot. Let all that cook until the veggies are starting to get tender and the meat is browned through.
Drain the grease from the skillet and stir in your sloppy joe sauce. Cook on low heat for about 15 minutes.
Stir some corn into the sloppy joe mixture and then get to work on your mashed potatoes.
Grab your package of Bob Evans Mashed Potatoes. Microwave the potatoes for a couple of minutes and stir well.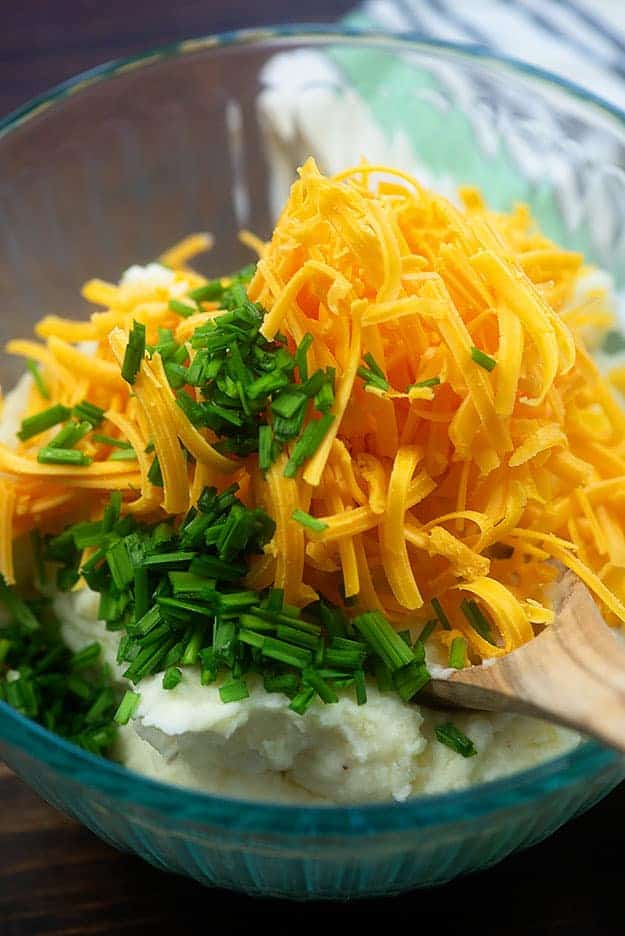 Add the mashed potatoes, grated cheddar, and chives to the mixing bowl and stir them all up. This mixture is seriously good. I think I want all my mashed potatoes to taste like this!
Spread the mashed potatoes evenly over the top of the shepherd's pie and pop it all in the oven.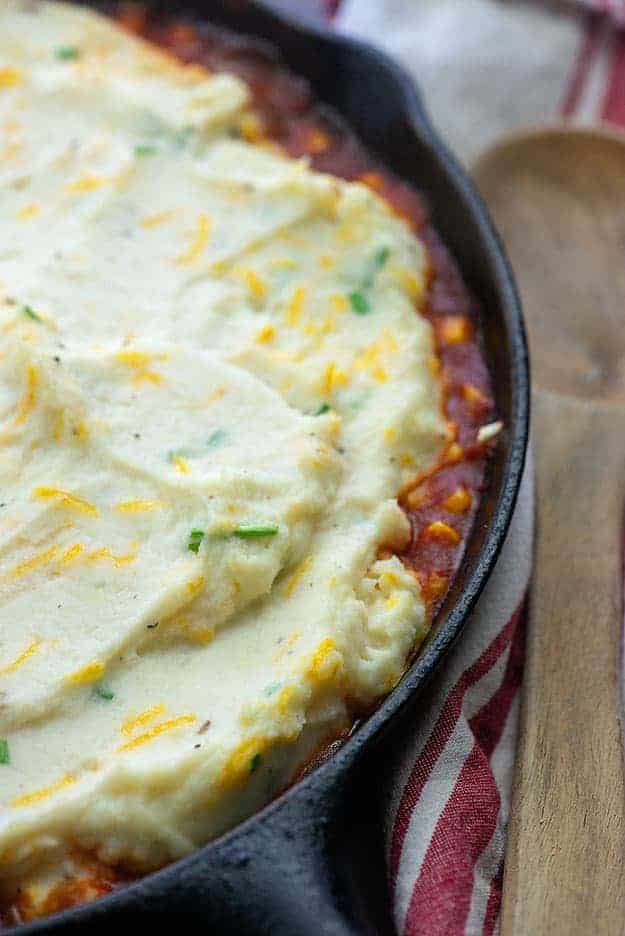 How easy was that??
This is seriously such a family-friendly dinner. You've got veggies, you've got good flavor, you've got convenience, it's just a win all around!
It reheats beautifully in the microwave and it's perfect served with a simple side salad.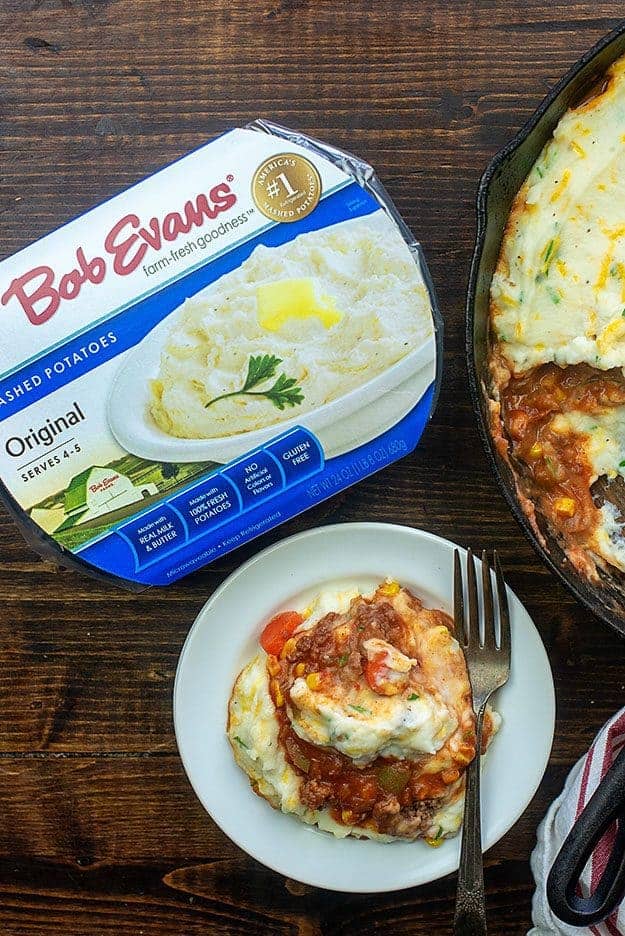 More sloppy joe favorites to try:
Sloppy Joe Casserole: Tater tot casserole just got a whole lot tastier.
Sloppy Joe Grilled Cheese: Because everything tastes better when it's on toasty bread.
Chili Sloppy Joes: This is basically a thick chili on a bun and it's such a fun change from your usual sloppy joe!
Sloppy Joe Stuffed Peppers: Skip the bun and have some veg instead!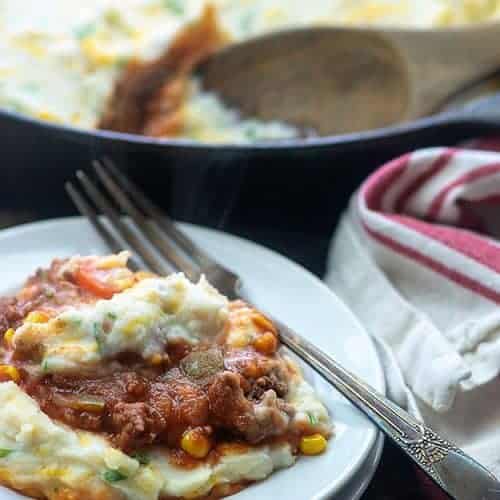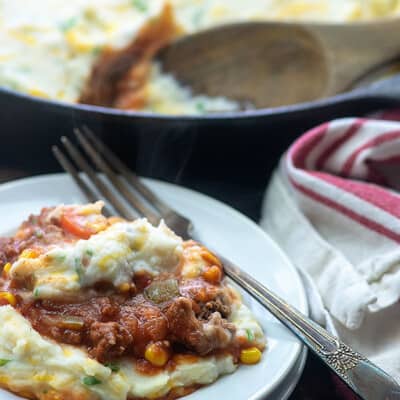 Sloppy Joe Shepherd's Pie
Skip the bun and the mess with this twist on sloppy joes! The homemade sauce is sweet and tangy and the mixture is so good served under creamy, cheesy mashed potatoes.
Prep5 minutes
Cook35 minutes
Total40 minutes
Ingredients
½ sweet onion
1 bell pepper
2 carrots
1 ½ pounds ground beef
¾ cup ketchup
2 tablespoons yellow mustard
2 tablespoons brown sugar
1 tablespoon white distilled vinegar
1 teaspoon Worcestershire sauce
1 teaspoon salt
½ teaspoon ground pepper
1 cup frozen corn
24 ounces Bob Evan's Original Mashed Potatoes
1 cup grated cheddar
1 tablespoon chopped chives
Instructions
Finely dice the onion, pepper, and carrots. Set aside.

Heat a 12-inch oven safe skillet over medium heat and add the ground beef.

Crumble the beef as it begins to brown. When about half of the beef is browned, add the onion, pepper, and carrots to the skillet. Continue cooking, stirring often, until the beef is cooked through.

Drain the grease from the skillet.

Whisk together the ketchup, mustard, brown sugar, vinegar, Worcestershire sauce, salt, and pepper. Pour this mixture into the skillet with the beef.

Cook over low heat, stirring occasionally, for 15 minutes.

Add the corn to the mixture and stir well.

Cut a slit in the film over the mashed potatoes and microwave for 2 minutes.

Add the mashed potatoes, grated cheddar, and chives to a mixing bowl and stir to combine.

Spread the mashed potatoes evenly over the sloppy joe mixture.

Place skillet in a preheated 350 degree oven and bake for 15 minutes.

Serve immediately.
Nutrition Information:
Calories: 869kcal (43%)| Carbohydrates: 116g (39%)| Protein: 35g (70%)| Fat: 29g (45%)| Saturated Fat: 12g (75%)| Cholesterol: 100mg (33%)| Sodium: 1056mg (46%)| Potassium: 1899mg (54%)| Fiber: 9g (38%)| Sugar: 17g (19%)| Vitamin A: 4395IU (88%)| Vitamin C: 123.2mg (149%)| Calcium: 210mg (21%)| Iron: 4.4mg (24%)