August 21, 2018
Chili Sloppy Joes
This easy sloppy joe recipe is a bit different than your traditional sweet homemade sloppy joes! I've turned them into chili sloppy joes and they couldn't be tastier!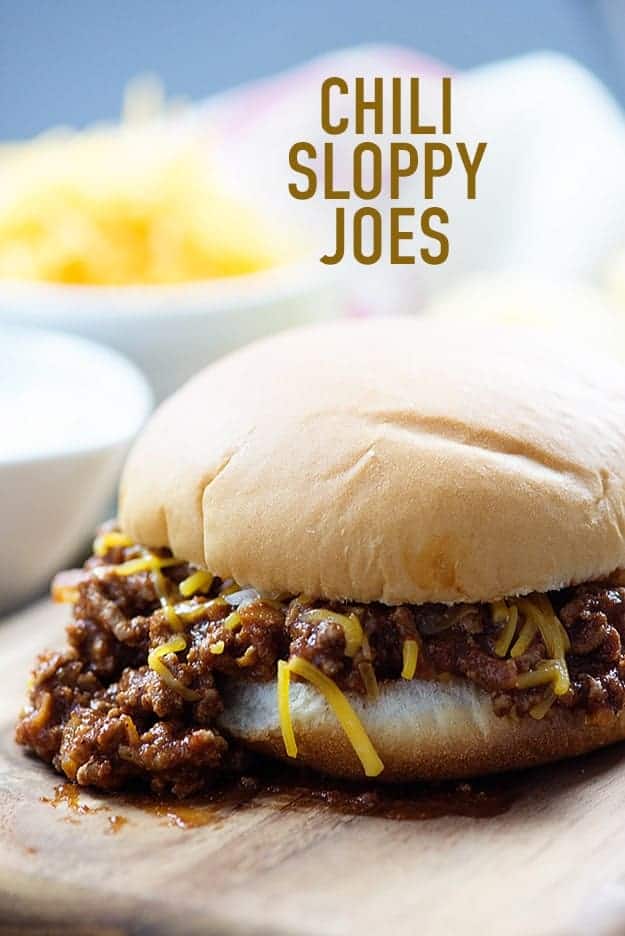 It's entirely possible that I have a problem.
You see, I am straight up obsessed with chili. Not the hours long homemade version with 3 million different spices. I mean, that's good. I like it, don't get me wrong.
It's just that most days around here are busy and I'm on the computer writing about food or in my studio photographing food all day long, so the last thing I want to do at night is turn around and cook another intricate dinner.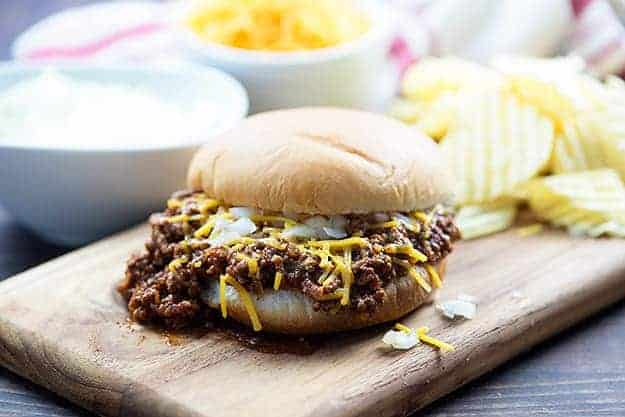 I'm about to admit something: My favorite chili is the kind that comes from the little spice packet.
A pound of beef, a couple cans of tomato sauce, and a packet of seasoning. We don't add beans or diced tomatoes or anything else. It's just beef, seasoning, and sauce.
It literally takes 20 minutes to make and my whole family absolutely loves it. We usually serve it with a bunch of crackers or a grilled cheese sandwich, but I just so happened to be out of bread and out of crackers the last time a chili craving hit. All I had were hamburger buns.
Hi. I made homemade sloppy joes. But I chili-fied them.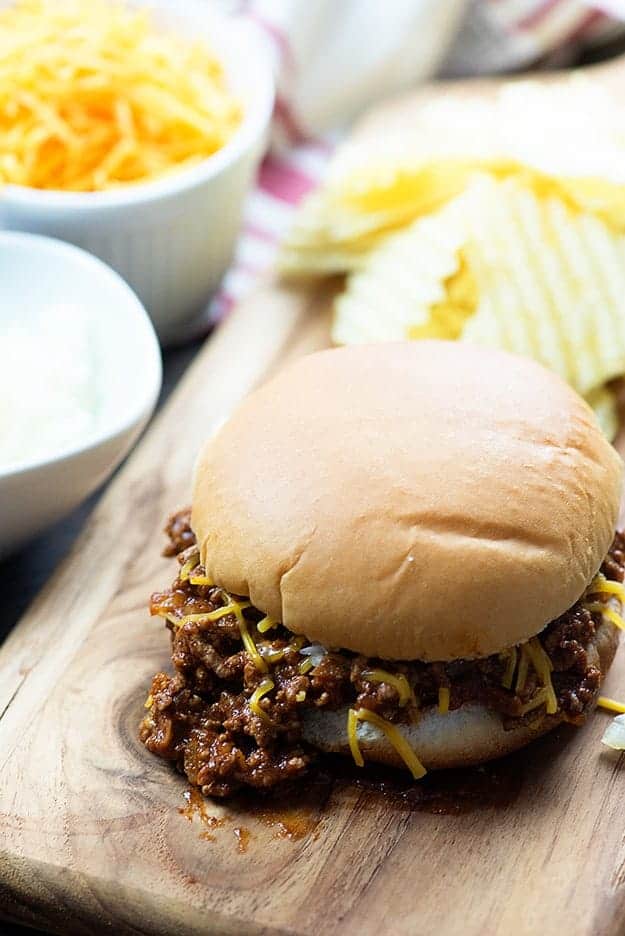 This is kinda like a chili dog, minus the dog, on a hamburger bun. But better. Seriously better.
My kids absolutely loved this twist on sloppy joes and talk about an easy homemade sloppy joe sauce.
This easy sloppy joe recipe is a fun twist on a childhood favorite!
I really like my chili with diced onions, lots of shredded cheddar, and a dollop of sour cream in it. Do you put sour cream in your chili?
It's divine.
I didn't add any sour cream to my sandwiches here, but I'm kind of regretting it. Obviously, I'm going to have make these again and try them with a smear of sour cream on the top bun. Like mayo on a burger. But better.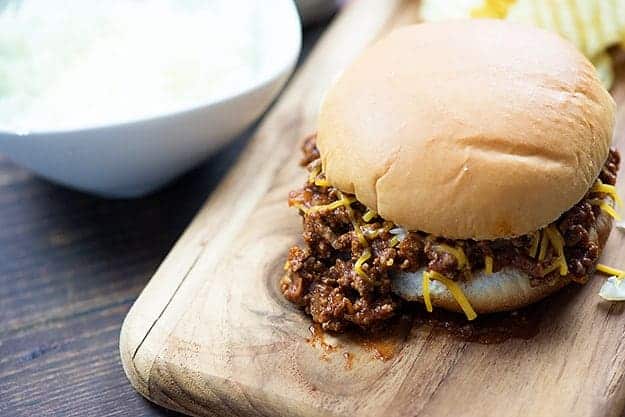 If you need an easy sloppy joe recipe that's a bit different from the standard, I hope you'll give this one a try.
But, if you also just want to stay true to the traditional sweet barbecue kid flavors of a sloppy joe, I've got you covered there too. Check out my sloppy joe stuffed peppers, sloppy joe cornbread casserole, and my sloppy joe casserole full of tater tots. As you can see, we like sloppy joes around these parts!
If you enjoy this recipe, I hope you'll share it with your friends on Pinterest or Facebook! 🙂
Chili Sloppy Joes
Servings: 6 servings
Course: Main Course
Cuisine: American
Keyword: easy dinner recipes, kid-friendly recipes, weeknight dinner recipes
Calories: 402 kcal
This easy sloppy joe recipe is a bit different than your traditional sweet homemade sloppy joes! I've turned them into chili sloppy joes and they couldn't be tastier!

Ingredients
1 pound ground beef
1 diced sweet onion divided
2 tablespoons chili seasoning mix
2 tablespoons brown sugar
12 ounces tomato sauce
6 hamburger buns
1/2 cup shredded cheddar for topping
Instructions
Add the ground beef to a large skillet and cook over medium heat, crumbling as it cooks.

Add half of the diced onion when the meat is nearly cooked through and continue cooking until meat is no longer pink and onions are soft.

Drain grease from the skillet and add the chili seasoning and brown sugar. Stir to coat the meat.

Stir in the tomato sauce. Continue cooking, stirring often, for 5 minutes.

Spoon the meat onto the hamburger buns and top with the shredded cheese and remaining diced onions, as desired.
Nutrition Facts
Chili Sloppy Joes
Amount Per Serving
Calories 402 Calories from Fat 180
% Daily Value*
Fat 20g31%
Saturated Fat 8g50%
Cholesterol 63mg21%
Sodium 628mg27%
Potassium 574mg16%
Carbohydrates 34g11%
Fiber 3g13%
Sugar 12g13%
Protein 21g42%
Vitamin A 1490IU30%
Vitamin C 7.2mg9%
Calcium 183mg18%
Iron 4.2mg23%
* Percent Daily Values are based on a 2000 calorie diet.
Nutrition Disclaimer: All information presented on this site is intended for informational purposes only. I am not a certified nutritionist and any nutritional information shared on bunsinmyoven.com should only be used as a general guideline.