Dinner time just got a whole lot tastier with this combo of two childhood favorites – sloppy joe grilled cheese sandwiches! My quick homemade sloppy joe sauce makes the best sweet and tangy beef and I've piled it in between melty Roth cheese! Big thanks to Roth for sponsoring this post.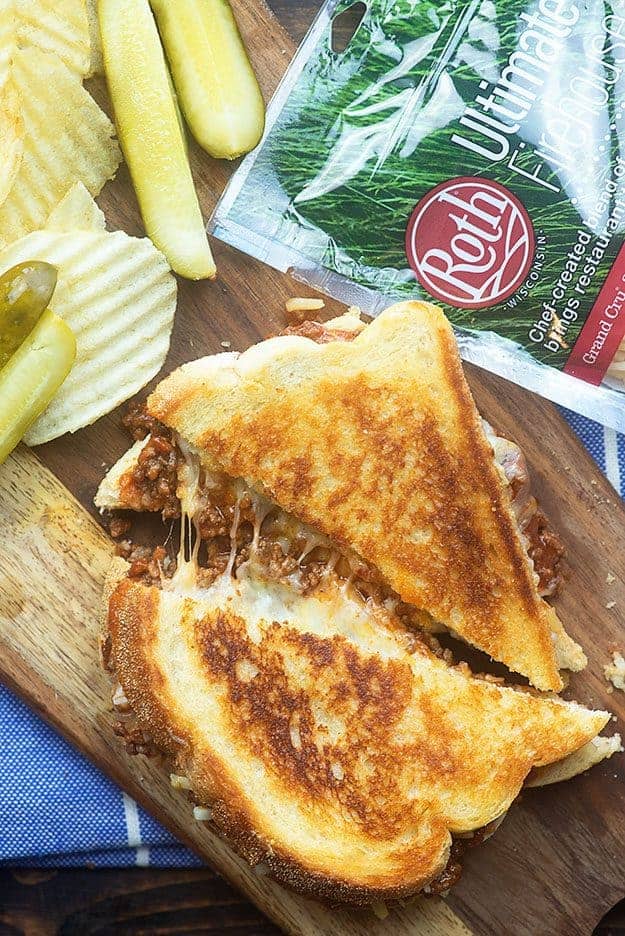 I'll never forget my first sloppy joe.

I mean, I was 21 years old with a toddler at home (I started young on the babies, but was late to the game on the saucy beef sandwiches) and my coworker would wonder aloud before leaving for work what she was going to fix her dinner.
She very often decided upon sloppy joes and I was always left wondering what exactly a sloppy joe was.
Yes, I grew in America, why do you ask?
I mean, I knew they were made of beef and they were messy and they were saucy, but I had no idea what they tasted like or how you made them.
I had it in my head that you opened a can and microwaved the contents and ate it. I thought the meat and the sauce all came in one.
I finally figured things out and made my own kid a sloppy and y'all. Woo boy. I love sloppy joes.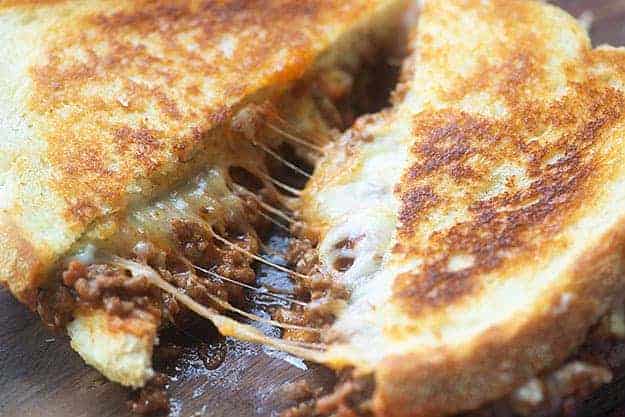 These days I make my own sauce, because it's nearly as easy and always more tasty.
Today, I'll share my homemade sloppy joe sauce with you. And then I'm going to show you the easy way to stuff it inside a grilled cheese and you're going to cry tears of joy.
For the grilled cheese, we're starting with Roth Ultimate Shreds Firehouse blend of shredded cheese. This blend of cheese includes Grand Cru, an alpine-style cheese. It's also got a 3 chile pepper Gouda for a little kick of spice. And, finally, for extreme melty goodness, we have a little Fontina.
I loved the flavors and meltiness of this blend paired with my sweet, tangy sloppy joe sauce.
Roth Mac and Cheese blend would also be perfect in this grilled cheese. I love having these on hand for busy nights – so convenient when you don't have to bust out the cheese grater. 😉
Anyway, here's a little trick for making this big fat grilled cheese with shredded cheese instead of slices – butter your bread as usual, but place both pieces down in your pan or on your griddle. Add the shredded cheese to each piece, top one of the pieces with sloppy joe sauce and let each piece get toasty and melty. Flip the piece with cheese over on top of the piece with the sloppy joe and cook for another minute. It's a whole lot easier than trying to flip the whole sandwich!
Hope you guys enjoy this sloppy joe grilled cheese! I bet your kids will love this for a tasty lunch over summer break!
Sloppy Joe Grilled Cheese
The ultimate mash-up of two classics - sloppy joes and grilled cheese!
Prep10 minutes
Cook30 minutes
Total40 minutes
Ingredients
For the sloppy joes
1 pound ground beef
1/4 cup diced onion
1 clove garlic minced
1 cup ketchup
3 tablespoons water
3 tablespoons brown sugar
1 tablespoon white distilled vinegar
2 teaspoons Worcestershire sauce
2 teaspoons yellow mustard
1/2 teaspoon salt
Instructions
To make the sloppy joes
Add the ground beef and onion to a large skillet and brown over medium heat. Drain the fat and return to the skillet, add the garlic, and cook for 30 seconds more.

In a small bowl, combine the ketchup, water, vinegar, brown sugar, Worcestershire sauce, mustard and salt. Stir until smooth and pour over the beef mixture. Stir to combine.

Reduce heat to low and cook for 5 minutes.
To make the sandwiches
Heat a large skillet or griddle over medium heat.

Butter one side of each slice of bread.

Place two slices of bread, butter-side down, in the skillet and top each slice with 1 ounce of shredded cheese. Spoon the sloppy joe mixture onto one piece of bread and cook for 2-3 minutes or until the bread is toasted and the cheese has melted.

Place the bread with the melted cheese over the piece of bread with the sloppy joe mixture to form a sandwich and cook for 1 minute more.

Repeat with remaining sandwiches, keeping cooked sandwiches warm in a 200 degree oven until ready to serve.
Nutrition Information:
Serving: 1sandwich| Calories: 727kcal (36%)| Carbohydrates: 42g (14%)| Protein: 32g (64%)| Fat: 47g (72%)| Saturated Fat: 25g (156%)| Cholesterol: 143mg (48%)| Sodium: 1345mg (58%)| Potassium: 476mg (14%)| Fiber: 1g (4%)| Sugar: 17g (19%)| Vitamin A: 1125IU (23%)| Vitamin C: 2.6mg (3%)| Calcium: 569mg (57%)| Iron: 4mg (22%)