My BAKED MAC AND CHEESE comes out extra creamy every time! So cheesy and decadent…we could eat this as a meal on it's own, but it really makes a delicious side dish with just about any protein.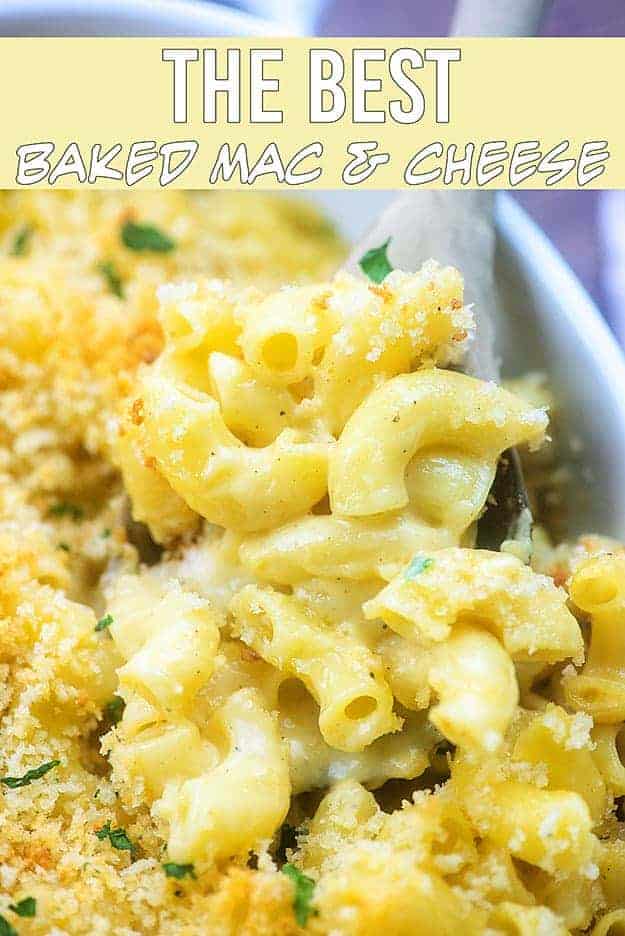 My son, my darling child, the human I gave life to, the fruit of my loins (ew), has an issue with mac and cheese.
He…get this…thinks it's boring. Cheesy noodles…boring. What in the world?
He will happily just skip right over the big pan of gooey creamy baked mac and cheese and never even stop to consider the cheesy goodness that might be missing from his life.
I don't know how he's my child either. He was probably switched at birth.

Not to worry, his lack of love for macaroni and cheese doesn't stop me from serving it up every time the urge hits…which, let's face it, is often. He just loads up on other things and leaves the cheesy goodness for the rest of us.
We love this with pork tenderloin or turkey meatballs. Such a tasty dinner all around.
Ingredients for creamy baked mac and cheese:
This is a brief walk-through of how to make this recipe. Scroll down to the recipe card for full instructions.
Macaroni
Milk
Cream
Butter
Flour
Gruyere
Cheddar
Panko
Spices
This baked mac and cheese is lightly adapted from Ina Garten, so you know it's good.
It starts with all of your basic ingredients, but the addition of Gruyere makes it a bit more 'grown-up' and fancy.
The crunchy panko topping is heavenly.
And there is A LOT of cheese sauce, so this is never dry or boring.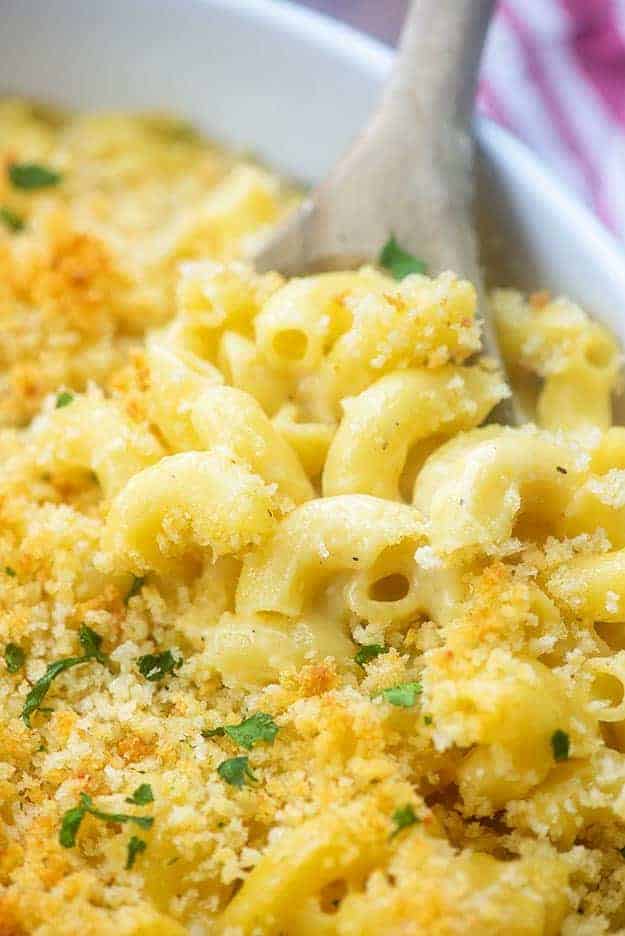 How to make baked mac and cheese:
You'll start by boiling the macaroni and making the cheese sauce.
The cheese sauce is very simple: melt some butter in a pot, whisk in flour until you have a paste, whisk in the milk and cream and let it cook until thickened. Remove from the heat and stir in the cheese.
Pro Tip: Remove your sauce from the heat before adding in the cheese to avoid a grainy cheese sauce.
Once the sauce is all smooth and melty, pour it over the macaroni and stir.
Spread this gooey mixture into a baking dish and then top it off with panko and melted butter.
The cheese sauce soaks into the pasta as it bakes making things ultra creamy, cheesy, and decadent. You really can't go wrong with this baked mac and cheese recipe.
Storage:
I generally don't love mac and cheese that's been reheated, but this one starts out so creamy that it reheats beautifully!
Store tightly covered in the refrigerator for up to 3 days.
Reheat in the microwave when ready to serve.
More family favorite side dishes: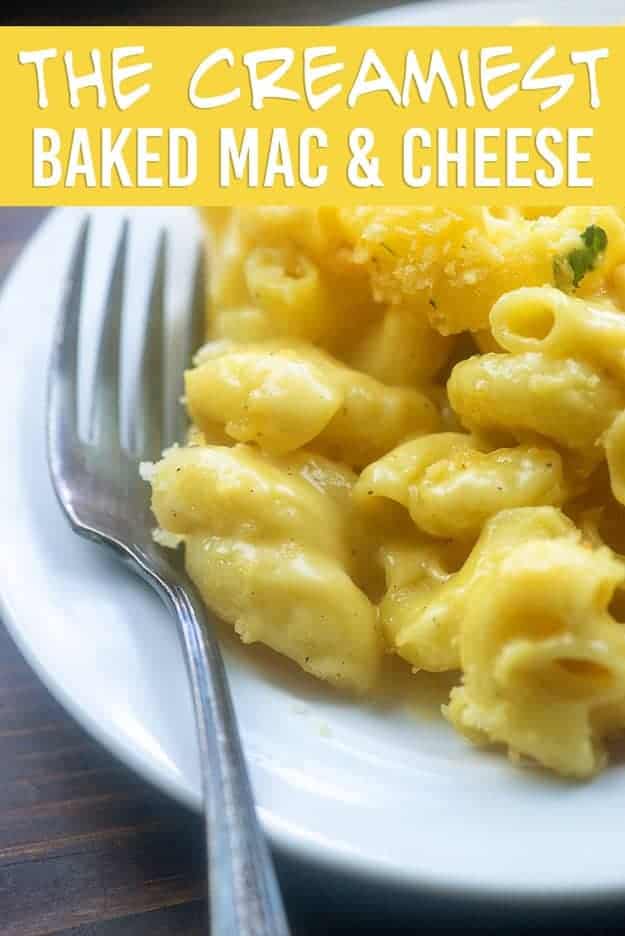 Creamy Baked Macaroni and Cheese
The creamiest baked mac and cheese ever! The crunchy panko topping goes perfect with this creamy pasta!
Prep20 minutes
Cook25 minutes
Total45 minutes
Ingredients
8 ounces macaroni
1 3/4 cup milk
1/4 cup heavy cream
4 tablespoons butter divided
1/4 cup all-purpose flour
4 ounces Gruyere shredded
6 ounces sharp Cheddar shredded
1 tablespoon salt
1/2 teaspoon black pepper
1/2 teaspoon ground nutmeg
3/4 cup Panko bread crumbs
1 tablespoon grated Parmesan cheese
1/4 teaspoon garlic powder
Instructions
Preheat oven to 375 degrees.

Bring a large pot of water to a rolling boil. Cook pasta for one minute less than package directions state. Drain.

Melt 3 tablespoons of butter in a medium sized pot and add the flour. Cook, whisking constantly, over low heat for 2 minutes.

Continue whisking and slowly pour in the milk and cream. Cook for another 2 minutes until thickened and smooth.

Remove from the heat and stir in the Gruyere, Cheddar, salt, pepper, and nutmeg.

Add the cooked macaroni and stir to coat.

Spread into a buttered 2 quart baking dish.

Melt the remaining 1 tablespoon of butter and mix it with the Panko, Parmesan cheese, and garlic powder.

Bake for 25 minutes or until the sauce is bubbly and the bread crumbs are brown and crispy.
Tips & Notes:
This recipe was lightly adapted from Ina Garten.
Nutrition Information:
Calories: 398.22kcal (20%)| Carbohydrates: 31.53g (11%)| Protein: 16.54g (33%)| Fat: 22.79g (35%)| Saturated Fat: 13.77g (86%)| Cholesterol: 69.05mg (23%)| Sodium: 1180.09mg (51%)| Potassium: 182.6mg (5%)| Fiber: 1.3g (5%)| Sugar: 4.03g (4%)| Vitamin A: 718.15IU (14%)| Calcium: 386.61mg (39%)| Iron: 0.99mg (6%)