Baked Ziti with meat is a family favorite around here! It's loaded with pasta, meat sauce, and creamy cheese. The béchamel sauce is simple to make and really takes this whole dish over the top!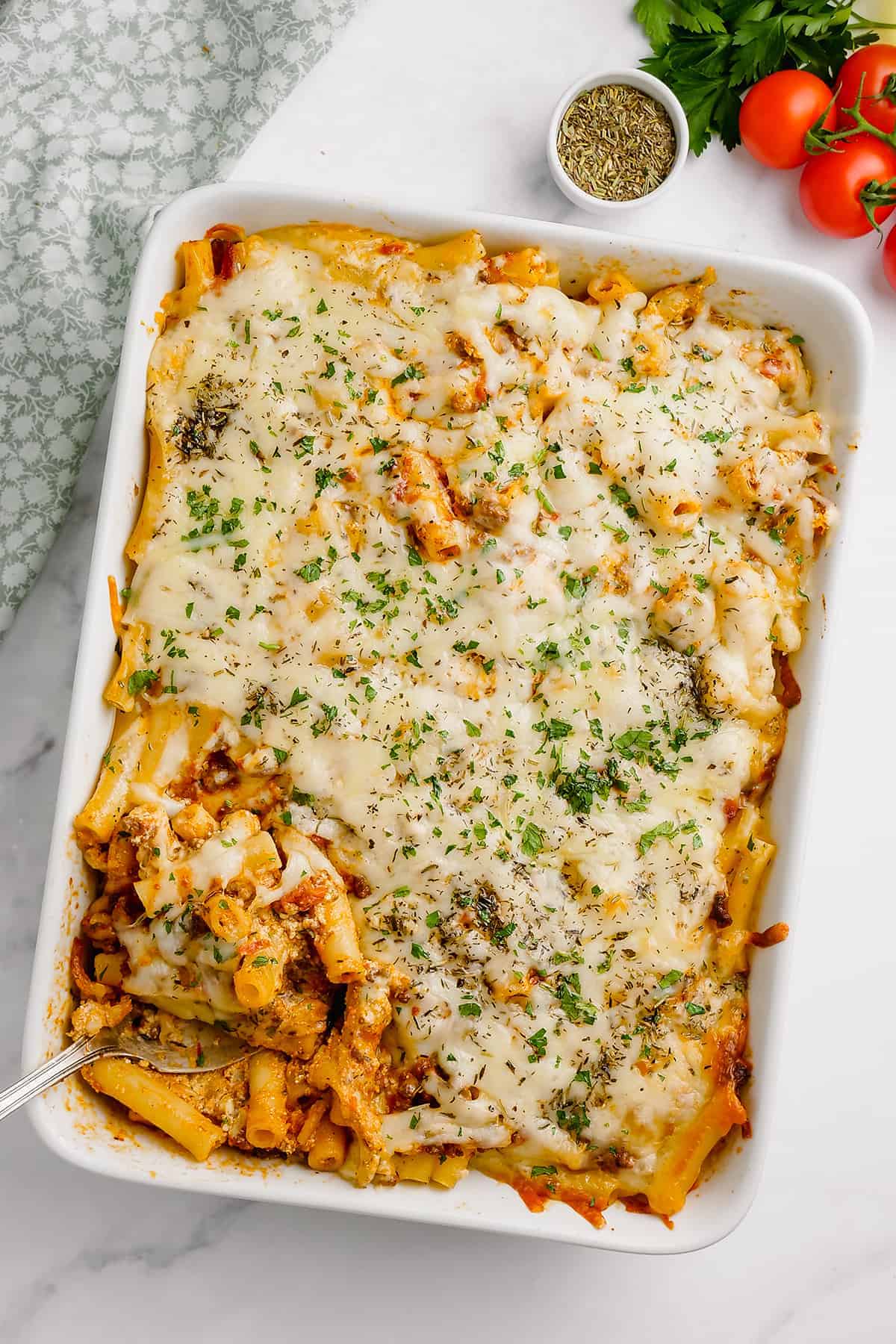 Move over lasagna, this baked ziti with meat sauce is here and you're never going to want to go back.
Okay, maybe that's a bit of a stretch – everyone needs lasagna sometimes, but this baked ziti? It's my favorite type of cheesy pasta casserole.
So cheesy, hearty, and filling. The whole family absolutely LOVES this dish, especially thanks to the 'secret sauce' in the center of it all!
The secret sauce is just a bechamel sauce. It sounds fancy and a little scary, but I promise it's super easy to whip up and you've probably made the start of bechamel a hundred times. You got this, I promise.
Ingredient Notes:
This post contains affiliate links. As an Amazon associate and member of other qualifying programs, I earn from qualifying purchases.
Don't let the long list of ingredients fool you. This baked ziti recipe isn't overly complicated or time consuming, though it does have a few extra steps and ingredients that really make it special.
Ziti Pasta – You could also use penne pasta or other short, tube shaped pasta varieties.
Ground Beef – We use lean beef but any variety will work. You can also change it up and use other meats like ground sausage, chicken, or even lamb.
Marinara Sauce – We love Rao's! It's out favorite marinara sauce for pretty much any Italian recipe, but you can use any brand.
Béchamel Sauce – Also known as white sauce, you'll prepare this using a mix of flour, butter, milk (2% or whole), and heavy cream! Some nutmeg and pepper will add a bit of spice.
Ricotta Mix – This cheesy mixture is prepared with Ricotta, egg, and grated Parmesan mixed together with a bit of seasoning.
Mozzarella – I'd definitely recommend using some freshly shredded mozzarella cheese! This baked ziti recipe is full of cheesy, creamy flavor!
Italian Seasoning – For all those Italian flavors!
What Readers are Saying!
"Having grown up in Boston where there is a huge Italian-American population. I have to say we never added a bechamel sauce to any baked pasta that had a tomato product. Well, I tried it a few years ago and WOW it really enhances the casserole. If you haven't tried it, you should." -ROB
How to Make Baked Ziti with Meat Sauce:
Pasta: Start by cooking your ziti noodles in a pot of boiling water. Cook the pasta for about 3 minutes less than the package says. It will finish cooking in the oven.
Meat Sauce: While the noodles are cooking, you can start browning the ground beef in a medium skillet. When it is done, drain the fat completely and then stir in your marinara. You could add onions and garlic to the meat, if desired.
Bechamel Sauce: Your next step is to make the bechamel sauce. This is done by melting butter in a pot, whisking in flour, and then whisking in milk and cream until it thickens up. Bechamel is basically just a cream gravy and it adds the perfect creaminess to this baked ziti recipe.
Cheese Mixture: Next up, you'll want to prepare the ricotta cheese mixture. Stir together the ricotta, egg, Parmesan, and Italian seasoning until well combined.
Layer: Add a layer of meat sauce to the bottom of a 9×13 dish. Top with half of the ziti and half of the remaining meat sauce. Spread half of the bechamel over the top.
Top that with dollops of the ricotta mixture. Top it all off with a final layer of ziti, meat sauce, and bechamel. Top with the remaining mozzarella and a sprinkle of Italian seasoning.
Bake: Cover with foil and bake for 30 minutes. Remove the foil and continue baking for 15 more minutes. Try serving this baked ziti pasta dish with some easy air fryer breadsticks!
Tips & Tricks:
This recipe definitely has more steps than most of our recipes, but it's truly worth every second.
To make the recipe go even faster, skip the bechamel and use a jar of Alfredo sauce (or our homemade Alfredo sauce) in it's place. We personally LOVE the bechamel and think it's worth it, but #momlife. We get it.
Make this a vegetarian meal by skipping the beef and just using a jar of warmed marinara.
Any shape of pasta will work here. Small tube shaped pasta are best, such as penne, but you could even make this with spaghetti if that's what you have on hand.
This is a great recipe if you are teaching someone how to cook, or looking for a date night activity! The extra hands are great and you can have fun in the kitchen together!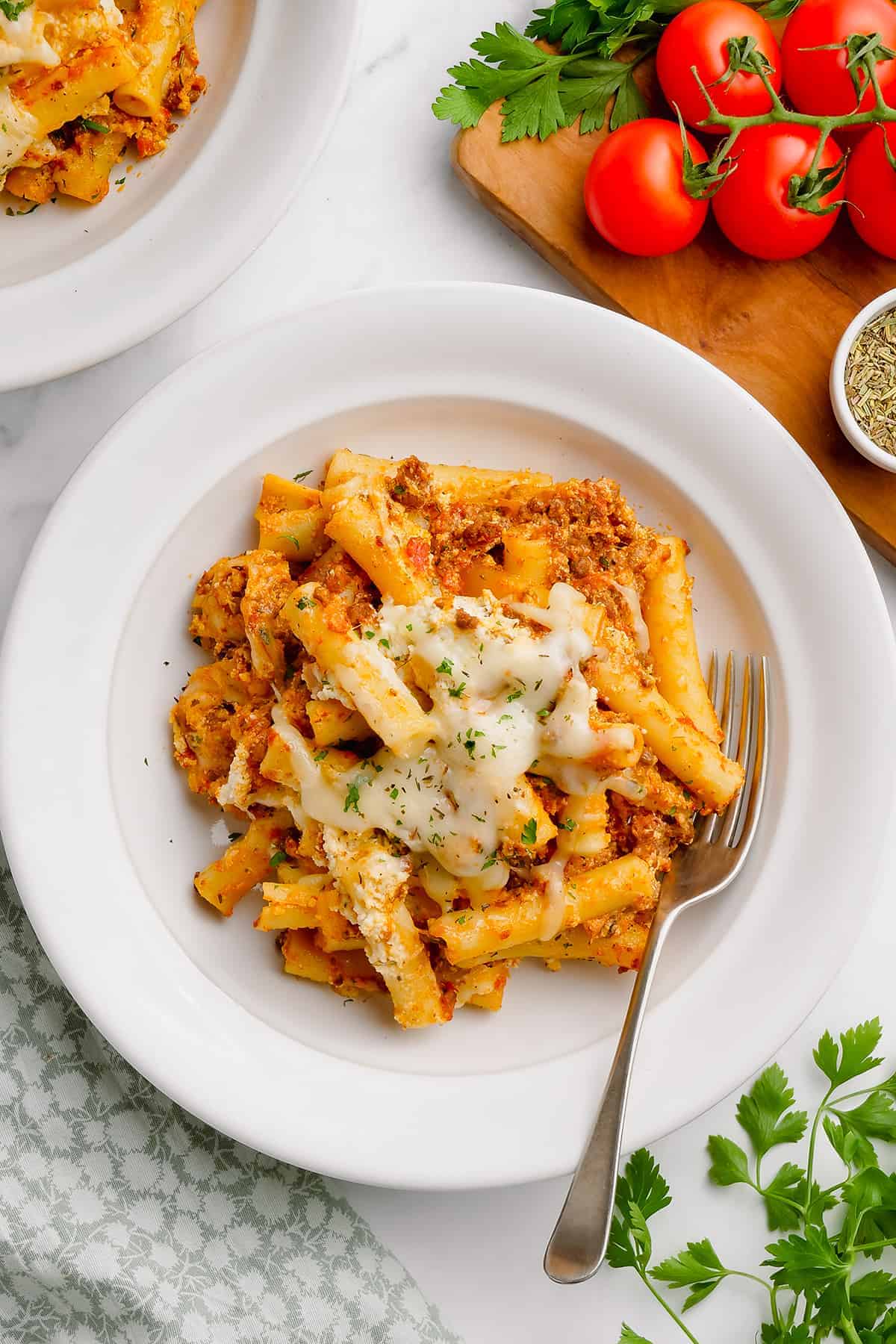 FAQs:
How to store baked ziti?
You can keep leftovers well covered in the fridge for about 4 to 5 days! It can be reheated in the oven or microwave.
Can I freeze baked ziti?
Yes, you can freeze this baked ziti recipe. Wrap it well in aluminum foil a couple of times and freeze for up to a few months.
Baked Ziti with Meat Sauce
This baked ziti recipe is rich, hearty, and loaded with cheese and beef. It has more steps than most of our recipes, but it's absolutely worth the effort and time. Nothing is overly complicated as long as you have a bit of time to spend in the kitchen.
Prep30 minutes
Cook45 minutes
Total1 hour 15 minutes
Ingredients
For the pasta and sauce:
1 pound ziti
1 pound ground beef
20 ounces marinara jarred or homemade
For the ricotta mixture:
15 ounces Ricotta cheese
1 large egg
1/4 cup grated Parmesan cheese
1 1/2 teaspoons Italian seasoning divided
For the bechamel:
2 tablespoons butter
2 tablespoons flour
1/2 cup milk
1/2 cup heavy cream
1/2 teaspoon pepper
1/4 teaspoon nutmeg
For assembly:
8 ounces mozzarella freshly shredded
Instructions
To make the pasta and sauce:
Preheat oven to 350 degrees. Spray a 9×13 baking dish with non-stick spray.

Bring a large pot of water to a boil and season with salt. Boil the pasta for 3 minutes less than the package directs.

While the pasta boils, brown the ground beef in a medium skillet. Drain the fat. Stir in the marinara sauce and warm through over medium heat.
To make the ricotta mixture:
In a medium bowl mix together the ricotta, egg, Parmesan cheese, and 1 teaspoon of Italian seasoning.
To make the bechamel:
In a small pot melt the butter and whisk in the flour. Cook until hot and bubbly. Whisk in the milk and cream and cook 5 minutes or until the sauce has thickened to a gravy consistency. Stir in the pepper and nutmeg.
To assemble and bake:
Spread 1/4 cup of the meat sauce in the bottom of a 9×13 baking dish.

Pour in half of the ziti and spread it out. Pour on half of the meat sauce and spread it over the ziti. Spread half of the bechamel over the meat sauce.

Drop dollops of the ricotta mixture over the meat sauce and then sprinkle with half of the mozzarella.

Repeat the layers of ziti and meat sauce. Pour the remaining bechamel evenly over the top. Place the remaining cheese on top and sprinkle with the 1/2 teaspoon of Italian seasoning.

Bake covered for 30 minutes.

Remove the cover and bake for another 10-15 minutes or until the cheese is melted and bubbly.

Let set for 10 minutes before serving.
Tips & Notes:
Use any variety of short cut pasta that you prefer. Penne and rigatoni both work well here.
You can use our spaghetti sauce recipe in place of the jar of sauce here.
The bechamel sauce sounds a bit fancy, but it's just as simple as making a gravy! Don't be intimidated by this step!
To save time, you can swap the béchamel sauce for a jar of Alfredo sauce.
Nutrition Information:
Calories: 666kcal (33%)| Carbohydrates: 52g (17%)| Protein: 33g (66%)| Fat: 36g (55%)| Saturated Fat: 19g (119%)| Trans Fat: 1g| Cholesterol: 145mg (48%)| Sodium: 729mg (32%)| Potassium: 645mg (18%)| Fiber: 3g (13%)| Sugar: 6g (7%)| Vitamin A: 1134IU (23%)| Vitamin C: 5mg (6%)| Calcium: 357mg (36%)| Iron: 3mg (17%)
This post was originally published in 2011. Updated in January 2021.