Shrimp Alfredo is a quick and easy dinner, but it sure tastes like you spent a lot of time in the kitchen or ordered out from the fancy Italian restaurant!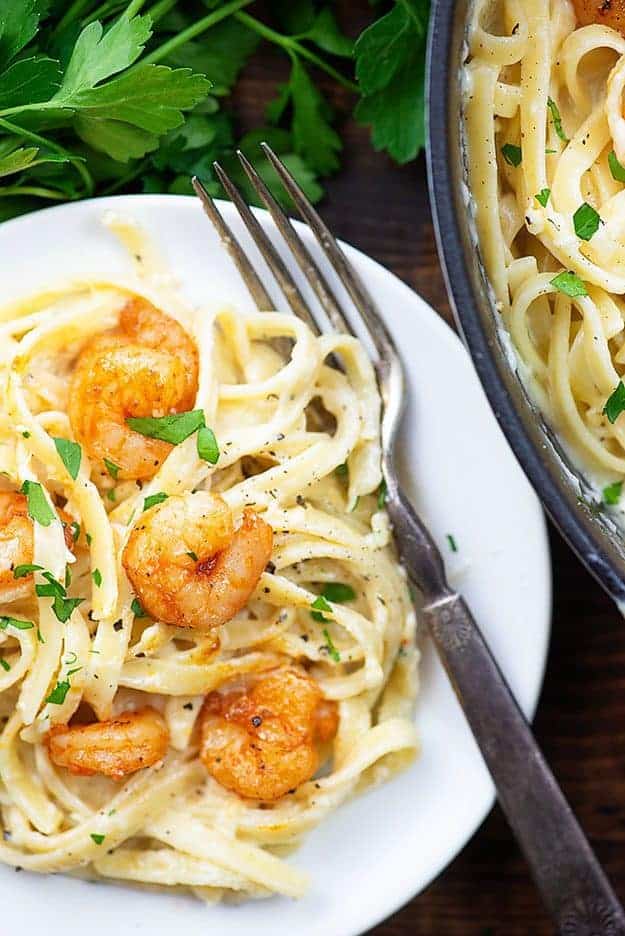 Is a pasta-terian a thing?
Because I'm really thinking about becoming one.
It's all pasta, all the time. No shame.
Especially when there is homemade Alfredo sauce involved.
I skipped the chicken and turned this into a shrimp Alfredo recipe this time around. I'm not mad about it.
This shrimp Alfredo recipe is a pretty tasty switch from the traditional chicken. I mean, don't get me wrong – I love chicken! But sometimes I need a change. Enter the shrimp!

Shrimp Alfredo Ingredients:
Fettuccini
Butter
Shrimp – We used peeled and deveined shrimp with the tail off.
Paprika
Garlic Powder
Salt
Pepper
Heavy Cream
Minced Garlic
Parmesan
Parsley
What We Love About Shrimp Alfredo!
We really love the creamy, homemade Alfredo sauce in this shrimp pasta recipe. The butter, cream, and Parmesan just goes so well with the shrimp and Fettuccini! Plus, it's simple to make, but tastes and looks like a fancy dinner!
How To Make Shrimp Alfredo:
This post contains affiliate links. As an Amazon Associate, I earn from qualifying purchases.
Pasta: This garlic shrimp Alfredo recipe is so quick and simple to prepare. You're going to look like a pro, but you're not even going to break a sweat doing it.
To start, get a big pot of water boiling and cook up your fettuccine. While the pasta is cooking, we'll move on to the next step.
Shrimp: This wouldn't be seafood pasta without some seafood, so let's make the shrimp!
Start by melting some butter in your skillet and seasoning the shrimp with paprika, garlic, salt, and pepper. Easy stuff here, but big flavor! I bet some Tony's Creole seasoning would be amazing too if you wanted some Cajun flair!
The shrimp only takes about 5 minutes, which I love. Much faster than cooking up chicken, right?
Once the shrimp is fully cooked, remove it to a plate and set aside.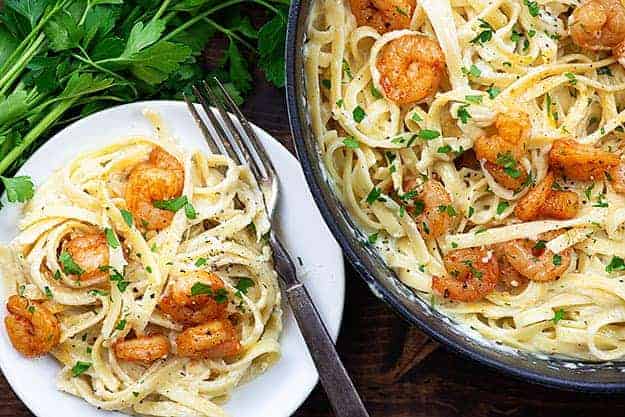 Alfredo Sauce: Wipe the skillet out and let's get started on our creamy homemade Alfredo sauce.
Melt a stick of butter in the skillet and whisk in some cream and garlic. Once everything is nice and hot, remove from the heat and stir in some freshly grated Parmesan cheese.
Keep whisking until the sauce is smooth and creamy!
Add your Alfredo sauce to the cooked and drained fettuccine, toss well, and add your shrimp back in.
How easy is that Alfredo recipe?
Helpful Tip!
Can Alfredo sauce be made ahead?
This is one of those sauces that is really best made fresh. It doesn't reheat very well as it tends to separate and get a bit oily.
Luckily, Alfredo sauce really only takes about 10 minutes to make, so making it fresh isn't much of a problem.
Finish: When the shrimp is all cooked up and the creamy Alfredo sauce is finished, go ahead and combine the sauce with the Fettucini and top with the shrimp.
And that's all there is to it. It's an easy seafood pasta recipe but it is big on flavor and you'll feel like a gourmet chef when it's finished!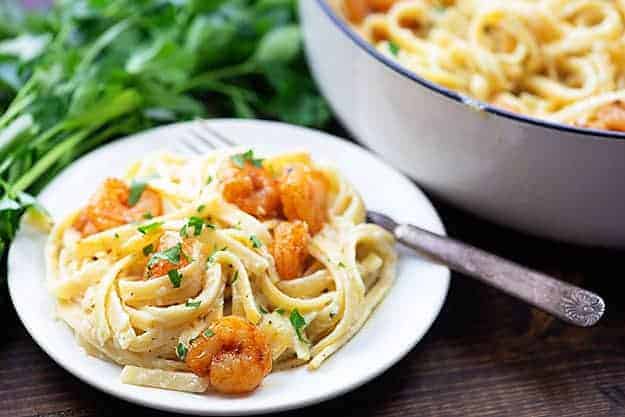 What goes with shrimp Alfredo?
Personally, because this dish is quite rich already, I like to serve something simple on the side, such as a green salad with this Italian keto salad dressing or some steamed broccoli.
My best ever cream cheese garlic bread is quite rich and cheesy, but I'd never turn it down and do often serve it with Alfredo, as well.
My family loves this one and it feels a little fancier than our usual fare of one pot spaghetti.
Want more shrimp recipes? Click that link for the best one yet!
Give this easy shrimp Alfredo recipe a try and let me know what you think!
Next up, I'm trying this chicken pesto pasta with peas!
Shrimp Alfredo
Homemade Alfedo sauce, perfectly cooked shrimp, and a pile of pasta! Dinner doesn't get much better than this.
Prep15 minutes
Cook20 minutes
Total35 minutes
Ingredients
1 pound fettuccine
2 tablespoons butter
12 ounces small shrimp peeled and deveined, tail off
½ teaspoon paprika
½ teaspoon garlic powder
½ teaspoon salt
½ teaspoon pepper
½ cup butter
1 cup heavy cream
1 clove garlic minced
2 cups grated Parmesan
2 tablespoons freshly chopped parsley
Instructions
Bring a large pot of water to a boil and add the fettuccine. Boil according to package directions.

Meanwhile, add the butter to a large skillet over medium heat and melt.

Add the shrimp to the skillet and sprinkle with paprika, salt, pepper, and garlic powder. Stir to coat the shrimp.

Cook for 5 minutes or until shrimp are cooked through, stirring occasionally.

Remove shrimp from pan and set aside.

Melt the butter in a large, deep pot. Stir in the heavy cream and garlic and whisk to combine.

Remove from the heat and stir in the grated Parmesan cheese, whisking constantly until the sauce is smooth and creamy.

Add the drained fettuccine to the Alfredo sauce and top with shrimp.

Sprinkle with parsley just before serving.
Nutrition Information:
Serving: 6servings| Calories: 799kcal (40%)| Carbohydrates: 56g (19%)| Protein: 36g (72%)| Fat: 47g (72%)| Saturated Fat: 28g (175%)| Cholesterol: 340mg (113%)| Sodium: 1344mg (58%)| Potassium: 308mg (9%)| Fiber: 2g (8%)| Sugar: 1g (1%)| Vitamin A: 1700IU (34%)| Vitamin C: 4.5mg (5%)| Calcium: 511mg (51%)| Iron: 3.1mg (17%)