Our 30 Minute Chili Mac recipe is perfect for a quick weeknight dinner that will get the family excited! We whip up a simple chili, stir in cooked macaroni, and swirl in the secret sauce! This chili mac recipe is always a hit!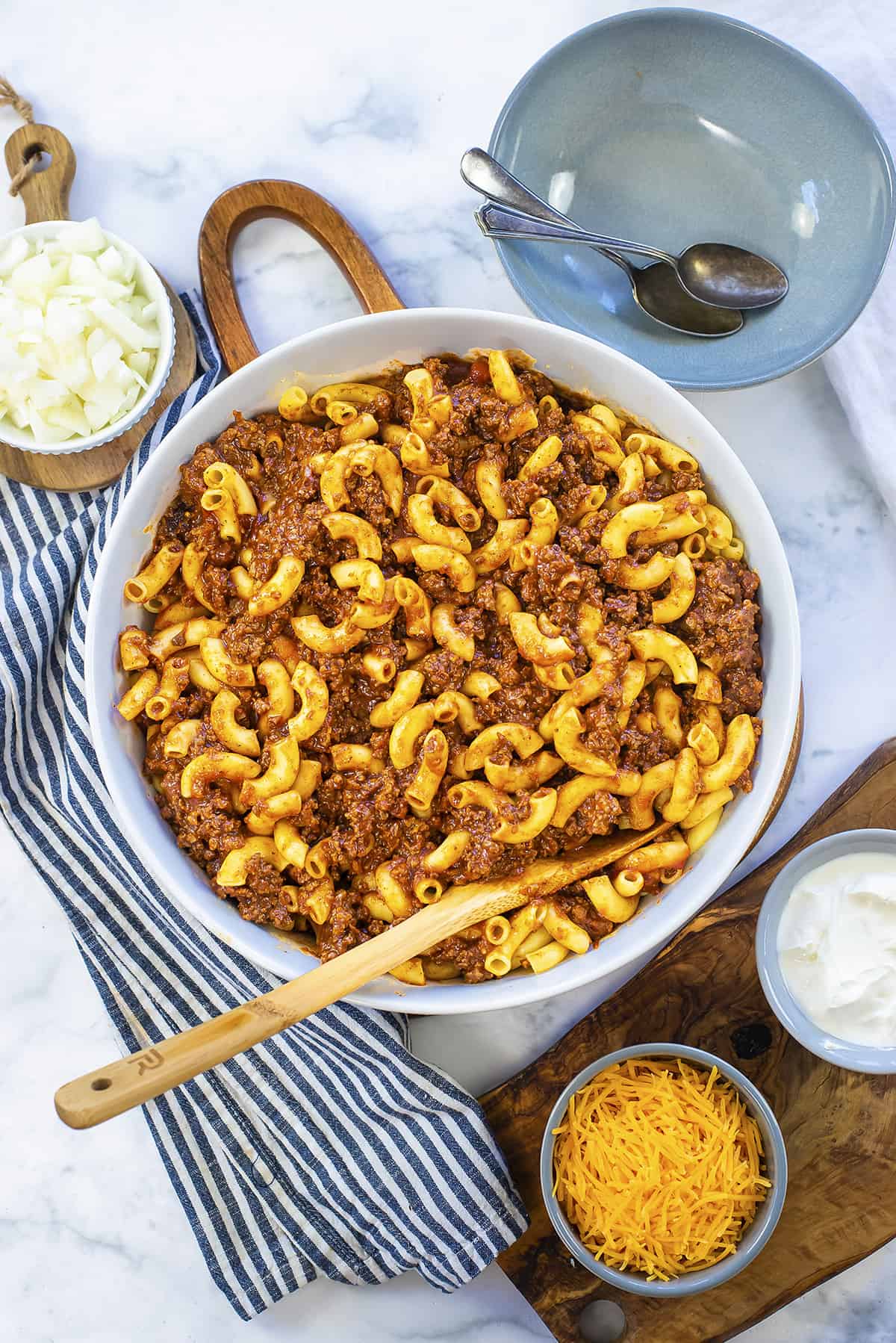 There's a restaurant around here that does the best Chili Mac and I can't help but order it every time we visit.
It didn't take me long to realize that homemade chili mac is super simple and now I make it myself in about 30 minutes a couple times a month.
Between this Chili Mac, my Creamy Baked Spaghetti, and our Beefaroni, we've been on major pasta kick lately. And I love it!!
Anyway, the secret to this recipe is the bottled chili sauce. Do not skip it or this will just be a bowl of chili with noodles. The chili sauce adds a little sweet, a little spicy, and just a whole lot of goodness.
You can top this any way you like. I prefer diced onions, shredded cheese, and a little sour cream. My husband just goes for the cheese. My kids don't put anything on theirs.
Ingredient Notes:
This post contains affiliate links. As an Amazon associate and member of other qualifying programs, I earn from qualifying purchases.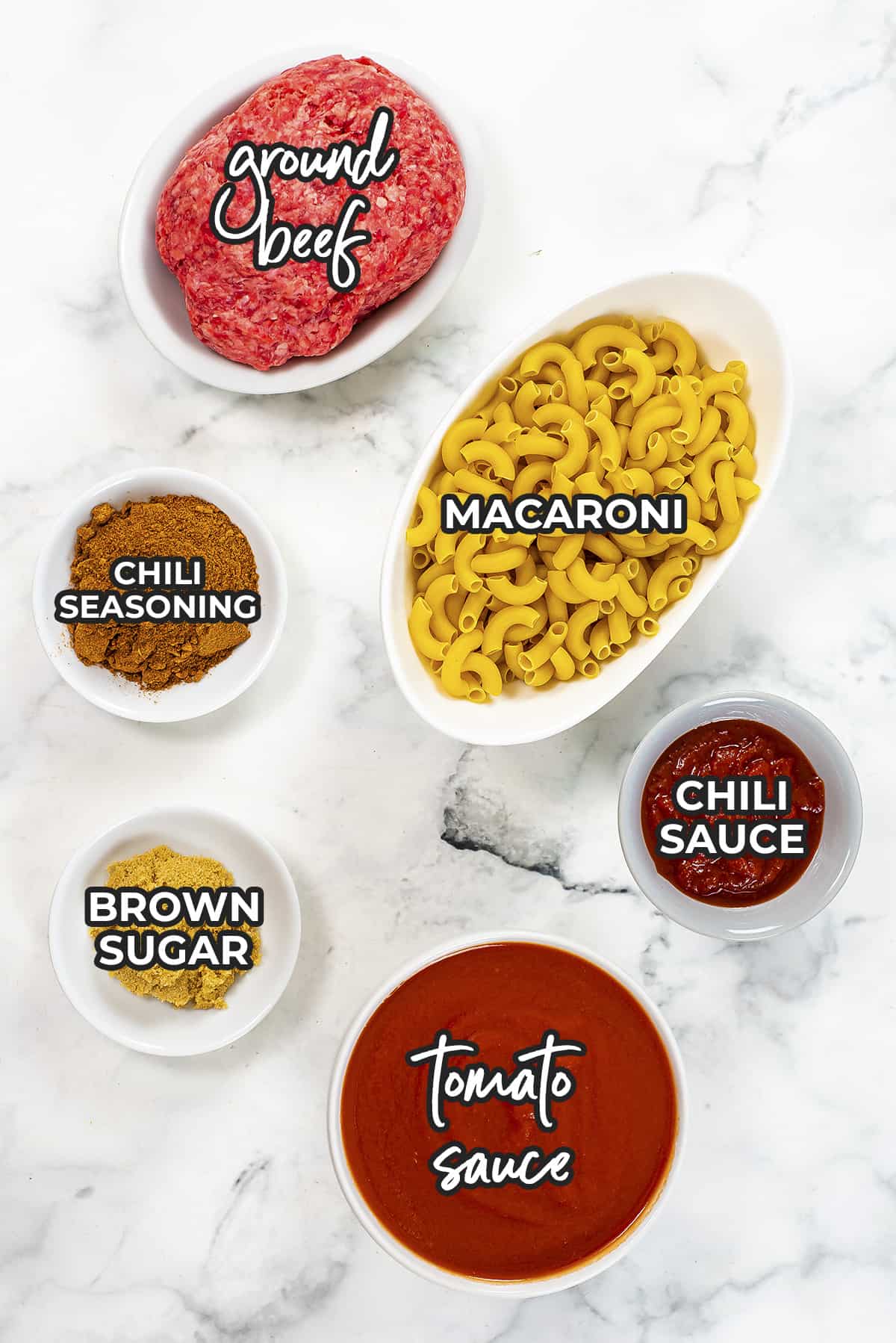 Ground Beef – We like our chili with lots of ground beef in it! You could also use ground turkey if you prefer to avoid red meat.
Macaroni – We'll boil up some macaroni while the chili cooks.
Chili Seasoning – You know those packets of dry chili seasoning in the store? You're going to need one of those! Any brand you like will work. We like McCormick and always keep a stock of them in our pantry.
Brown Sugar – A little bit of sugar helps balance out all that chili powder.
Tomato Sauce – Using tomato sauce as the base makes for a thick, hearty chili.
Heinz Chili Sauce – Our secret ingredient! This classic chili sauce is going to add even more tomato flavor, but also a bit of spice and sweetness. This won't make the dish spicy, so no worries there!
Toppings – You can use any toppings you'd like on your chili mac! I'm using some grated cheese, diced onion, and sour cream. Crackers work too, and diced jalapeno if you want to add some real spice to the dish.
What Readers are Saying!
"I just made this and it was a huge hit for myself and my son! I believe his exact words were "this was the goodest dinner ever." Hey six year old's don't lie!!" – Jen
How To Make Chili Mac: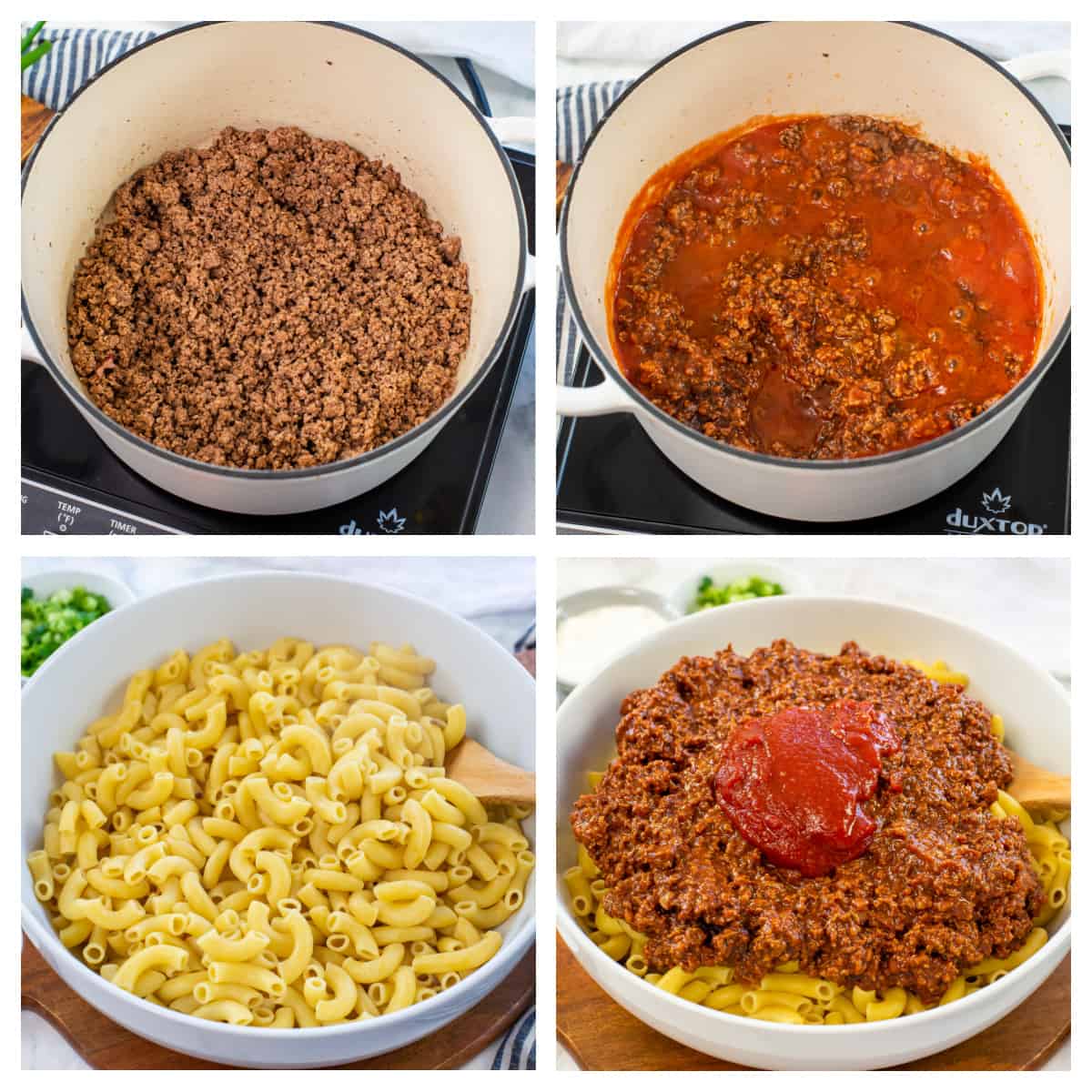 Beef: To get started begin browning the ground beef over medium heat in a large pot. When it has cooked through drain the fat from the pan.
Chili: Add the tomato sauce, brown sugar, and packet of chili seasoning to the pot with the ground beef. Stir all that up until well combined and let it simmer over low heat for 20 minutes.
Macaroni: You'll need a large pot of water and you should cook the macaroni according to the package directions. Drain the pasta when it has finished cooking and then return it to the pot or pop it in a serving bowl.
Combine: Pour the chili over the macaroni and top it all off with the Heinz chili sauce. Stir the chili mac up until the macaroni is well combined in the sauce! Give it a taste and add extra chili sauce, if you think it needs it, or serve the sauce on the side for people to add as much as they'd like.
Serving Suggestions: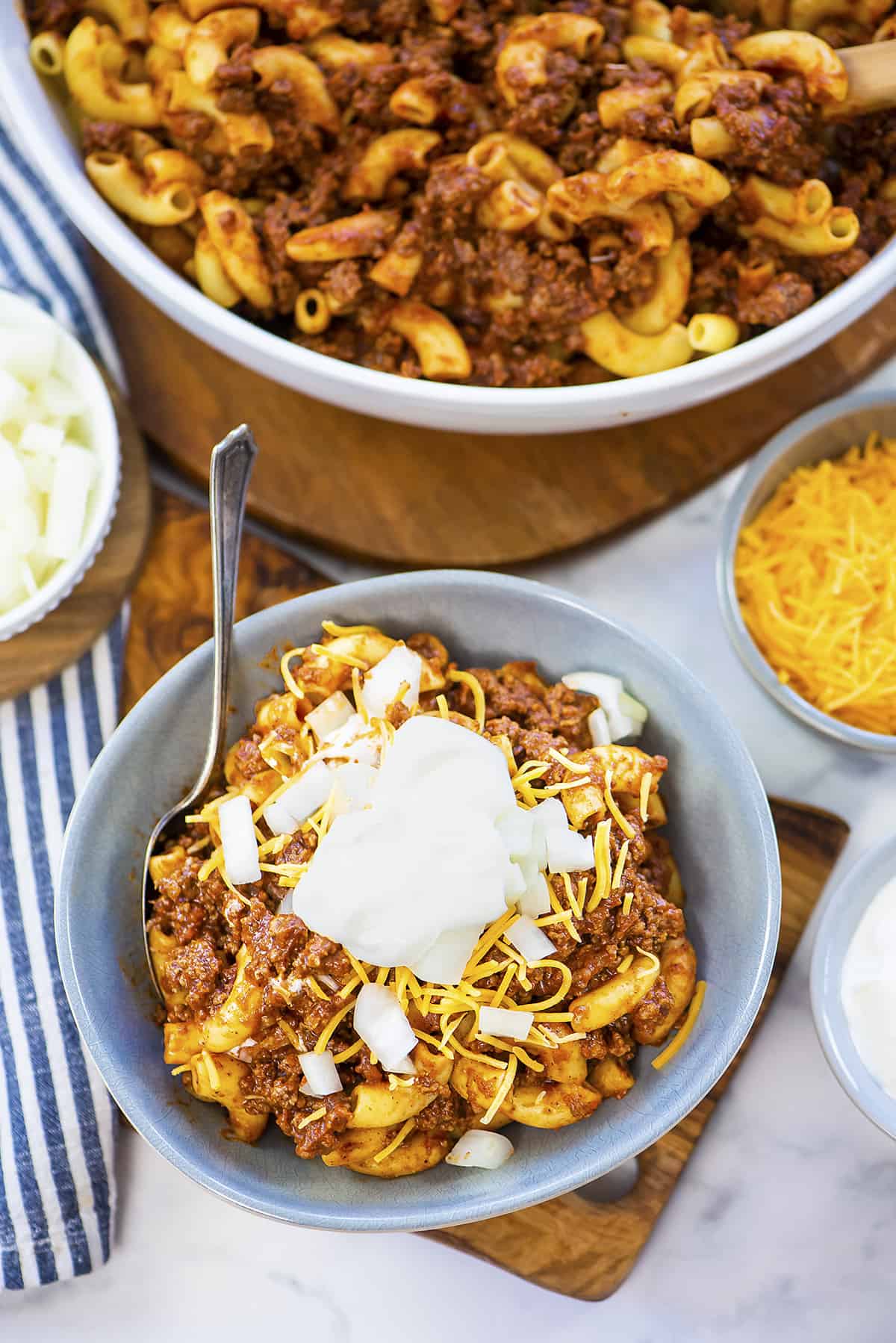 We like to top our homemade chili mac off with a hefty sprinkle of shredded cheddar, a handful of diced onion, and a dollop of sour cream.
Pickled jalapenos, a drizzle of more chili sauce, and some crushed saltines are also delicious toppings!
FAQs:
How do you store chili mac?
If you have leftovers you can keep them stored in the fridge in an airtight container for 3 to 4 days. Reheat on the stove or in the microwave.
Can you freeze chili mac?
While you can freeze leftover pasta, it does tend to get a little mushy upon reheating. To freeze, place cooled pasta in a freezer safe bag or dish and freeze for up to 3 months. Thaw overnight in the fridge for the best results.

Is the chili sauce spicy?
Nope! We use Heinz chili sauce and while it does have more of a kick than ketchup, it's pretty mild and adds a unique flavor.
Is it possible to make chili mac vegan or vegetarian?
To make a plant based chili mac, you'll want to swap the ground beef for your favorite plant based 'beef' crumbles (we like Impossible or Beyond) or use pinto and/or kidney beans in place of the beef.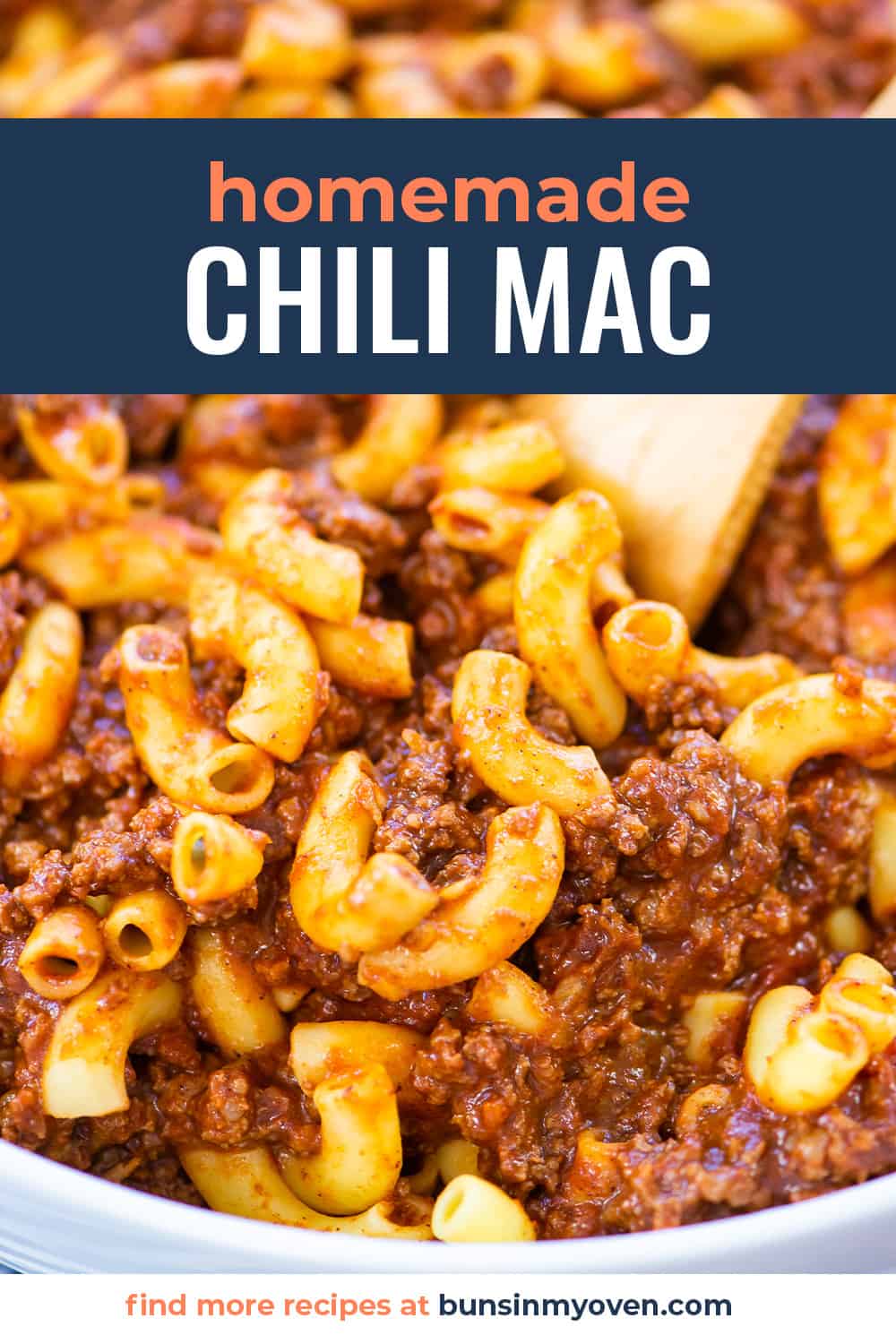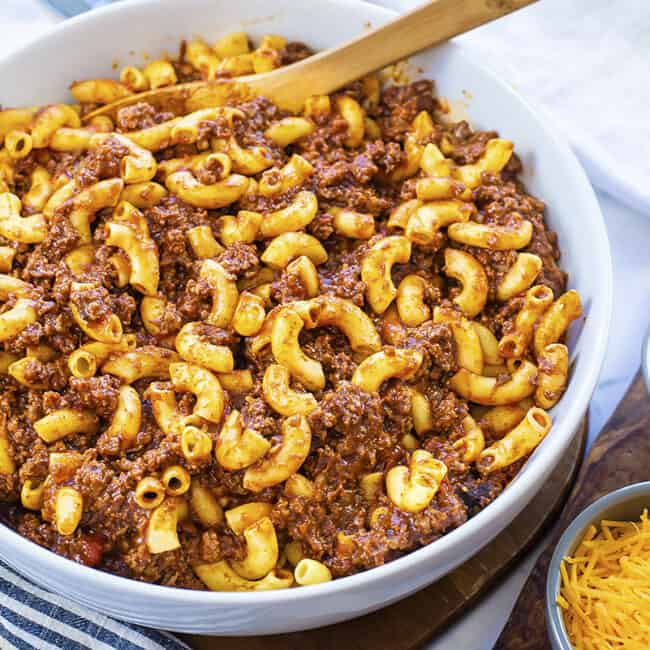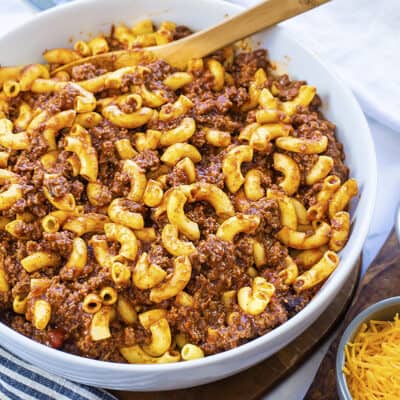 Chili Mac
This chili mac recipe is simple to prepare and makes a great weeknight meal that even picky kids will love!

Prep5 minutes
Cook25 minutes
Total30 minutes
Ingredients
1 1/2 pounds ground beef
1 packet chili seasoning or your own mix
29 ounce can tomato sauce
2 tablespoons brown sugar
1 pound macaroni
1/2 cup Heniz chili sauce
shredded cheese, diced onion, sour cream for topping
Instructions
In a large pot over medium heat, brown the ground beef. Drain the fat and add the chili seasoning, tomato sauce, and brown sugar.

Stir to combine and simmer over low heat for 15 minutes.

While the chili is simmering, bring a large pot of water to a boil. Add the macaroni and cook according to package directions. Drain the macaroni and return to the pot.

Pour the chili into the pan with the cooked macaroni. Add the chili sauce and stir to combine.

Serve with cheese, onions, and sour cream.
Tips & Notes:
You can swap the ground beef for turkey, if preferred. Use any shape pasta you like. The chili sauce adds a lot to this dish, so I wouldn't recommend leaving it out. You can find it in the store near the ketchup. We use Heinz brand.
Nutrition Information:
Calories: 480kcal (24%)| Carbohydrates: 54g (18%)| Protein: 23g (46%)| Fat: 18g (28%)| Saturated Fat: 6g (38%)| Cholesterol: 60mg (20%)| Sodium: 828mg (36%)| Potassium: 765mg (22%)| Fiber: 4g (17%)| Sugar: 10g (11%)| Vitamin A: 685IU (14%)| Vitamin C: 9.9mg (12%)| Calcium: 46mg (5%)| Iron: 3.6mg (20%)
This recipe was originally published in May 2014. It was updated with new photos in March 2023. Original photos below.