This cheese enchiladas recipe is topped with homemade chili and extra cheese for a delicious weeknight dinner!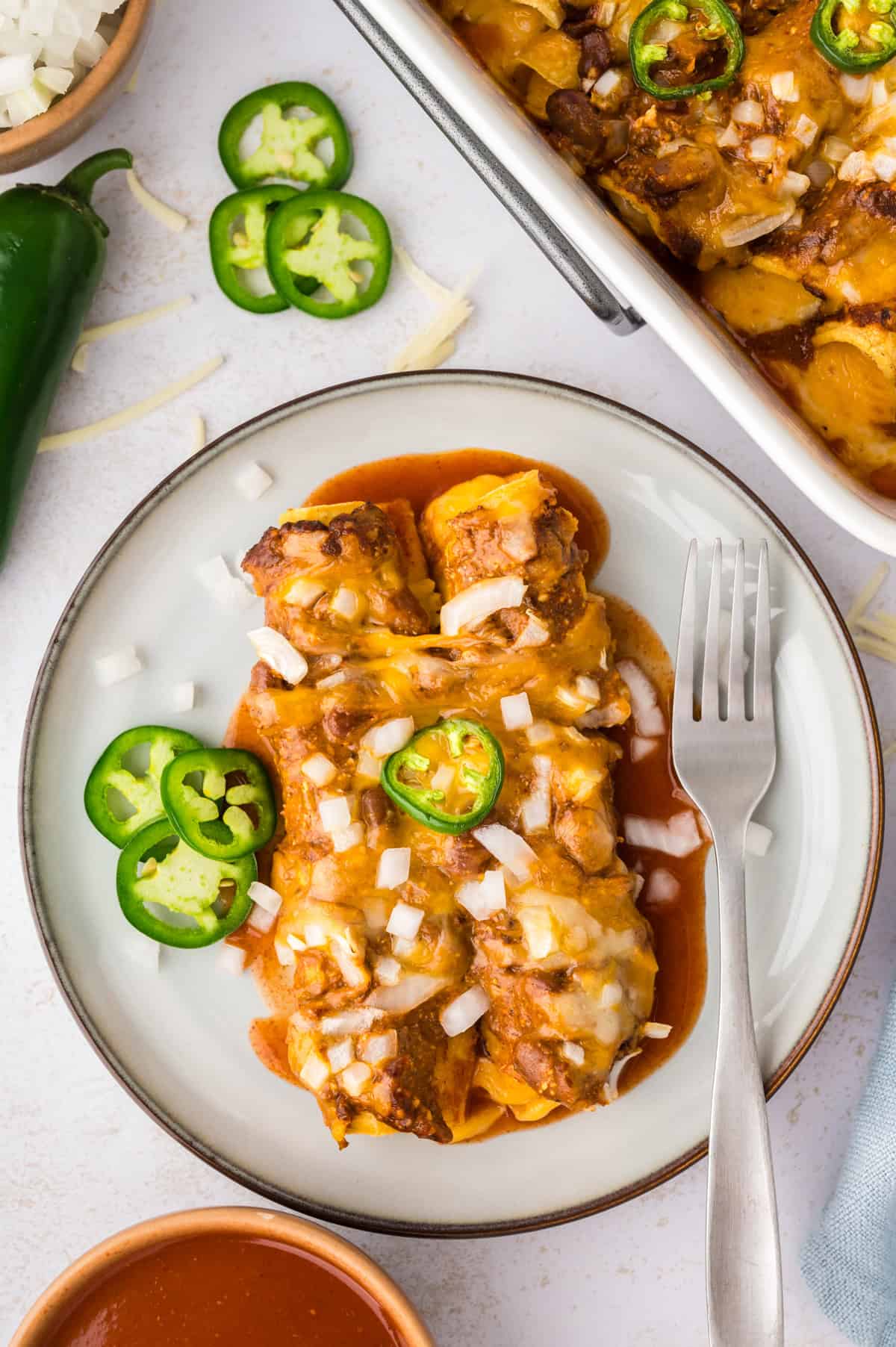 Raise your hand if your significant other has ever been less than enthused about his dinner.
Yeah. Mine too. Ungrateful jerks, all of 'em.
We were talking about how I make casseroles allllll. the. time. the other day and he mentioned that he doesn't really like casseroles. Which, what? I make them like three times a week and you just now, after 14 years of marriage, mention that you don't love casseroles? Also, who the heck doesn't love a casserole? He's from the Midwest. It's not American of him to not like a dang casserole.

He said the Mexican ones were the worst, which led me to cry and contemplate divorce, but then I forgave him because he's never once complained about them before. He just eats them and thanks me afterwards like a good little husband. He did say that this creamy baked spaghetti is his all time favorite dish, though!
Anyway, I made chili the other day. Lots o' chili. So, we had leftovers for days and that is one thing that my husband will absolutely complain about. He hates eating the same thing over and over again. So, I turned the chili into enchiladas and all was right in our world.
These are simple, cheesy, spicy food that you can make with leftover chili or chili from *gasp* a can. No judgement from me. My favorite chili recipe involves a packet of chili seasoning and a can of tomato sauce, so who am I to judge anyway? 😉
The corn tortillas soak up all the liquid and take on a texture similar to cornbread, which is a perfect pairing for chili! You guys are going to love this simple recipe!
Chili Cheese Enchiladas
This cheese enchiladas recipe is topped with homemade chili and extra cheese for a delicious weeknight dinner!

Prep10 minutes
Cook20 minutes
Total30 minutes
Ingredients
1 cup prepared chili canned or leftovers
2 ounces cream cheese
1/4 cup enchilada sauce
10 corn tortillas
2 cups grated cheddar cheese divided
Jalapenos for topping
Instructions
Preheat the oven to 350 degrees. Pour the enchilada sauce into the bottom of an 8x8 baking dish.

Heat the chili and cream cheese together and stir to combine. When the chili is hot and the cream cheese is melted, remove from the heat.

Heat the tortillas on the stove top or in the microwave until soft and pliable. Place the tortillas on a clean surface and place the 1 1/2 cups of cheese evenly divided down the center of each tortilla. Roll up and place seam side down in the baking dish.

Top with the chili, sprinkle on the remaining cheese, and jalapenos. Bake for 20 minutes or until the cheese is melted.
Nutrition Information:
Calories: 198kcal (10%)| Carbohydrates: 15g (5%)| Protein: 9g (18%)| Fat: 11g (17%)| Saturated Fat: 6g (38%)| Cholesterol: 34mg (11%)| Sodium: 355mg (15%)| Potassium: 171mg (5%)| Fiber: 2g (8%)| Sugar: 1g (1%)| Vitamin A: 430IU (9%)| Vitamin C: 0.6mg (1%)| Calcium: 202mg (20%)| Iron: 1.4mg (8%)