These cream cheese chicken enchiladas are one of our favorite Mexican inspired meals!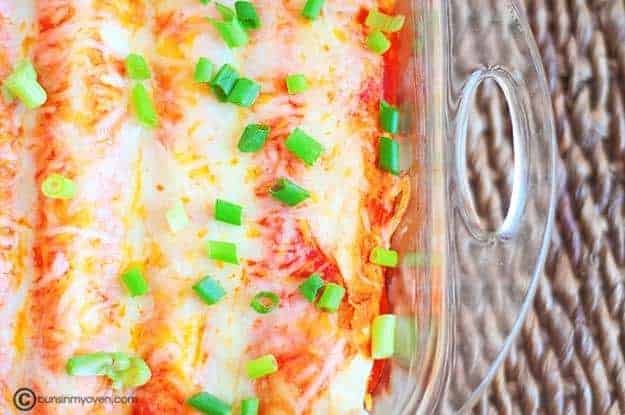 Is it too soon for another Mexican-ish recipe? Y'all seemed to love the Taco Pie, so I have high hopes that you'll enjoy this recipe just as much. I sure did.
I am a huge fan of the cheese enchiladas from our local Mexican restaurant and believe me, I have tried my best to recreate them at home. I just can't ever get them right, though. The cheese, the sauce, the consistency of it all just never seems to work out the way I imagine it too.
I still haven't mastered that recipe, but I don't really care anymore. Now I have these cream cheese enchiladas and they are, dare I say it, even better. They are so creamy with just the perfect amount of spice and the most genius addition I can think of: corn. Yep, corn. In an enchilada.
The corn just gives these this perfect little unexpected sweet crunch. I love it. I bet you will too.
These cream cheese chicken enchiladas come from my friend Deborah at Taste and Tell. She makes some delicious food and these enchiladas don't disappoint!
I hope you'll give these a try and let me know what you think!
You should try my chicken enchilada casserole too! It's so good!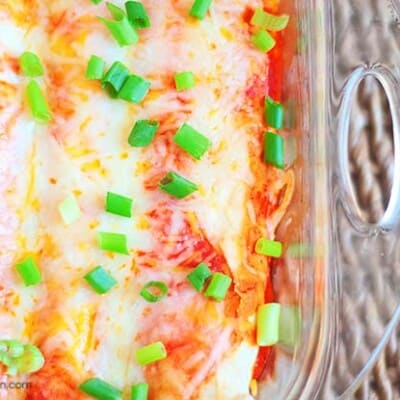 Cream Cheese Chicken Enchiladas
These cream cheese chicken enchiladas are one of our favorite Mexican inspired meals!
Prep10 minutes
Cook20 minutes
Total30 minutes
Ingredients
5 ounces cream cheese softened
1/4 cup light sour cream
10 ounces enchilada sauce canned is just fine
1 cup shredded cheddar cheese divided
1 cup shredded Monterey jack cheese divided
2 cups cooked shredded chicken
1 cup frozen corn kernels thawed (canned corn works just fine, but drain it first)
4 ounces diced green chiles I used the tiny can you get by the taco sauce
1/2 teaspoon chili powder
1/4 teaspoon cumin
Salt and pepper
4 scallions thinly sliced
8 8- inch flour tortillas
Instructions
Preheat the oven to 325 degrees. Spray a 9x13 dish with cooking spray.

In the bowl of your mixer cream together the cream cheese, sour cream, and 1/2 of the enchilada sauce. Stir in 1/2 cup of each type of cheese.

In a second bowl toss together the chicken, corn, cumin, chili powder, salt and pepper, green chiles, and half of the scallions. Add the chicken mixture to the cheese mixture and combine well.

Spread about half of the remaining enchilada sauce in the bottom of the baking dish.

Spoon the filling into each tortilla, roll the tortilla up, and place in the baking dish with the seam down. Pour the remaining enchilada sauce over the top of the filled tortillas and sprinkle with the remaining cheese. Bake for 20-25 minutes or until hot and bubbly. Sprinkle with the remaining scallions and serve.
Nutrition Information:
Calories: 691kcal (35%)| Carbohydrates: 81g (27%)| Protein: 28g (56%)| Fat: 27g (42%)| Saturated Fat: 12g (75%)| Cholesterol: 76mg (25%)| Sodium: 1595mg (69%)| Potassium: 445mg (13%)| Fiber: 4g (17%)| Sugar: 10g (11%)| Vitamin A: 925IU (19%)| Vitamin C: 4.2mg (5%)| Calcium: 396mg (40%)| Iron: 5.6mg (31%)
Recipe slightly adapted from Taste and Tell