August 8, 2018
Crockpot Shredded Chicken – a favorite for freezer meals!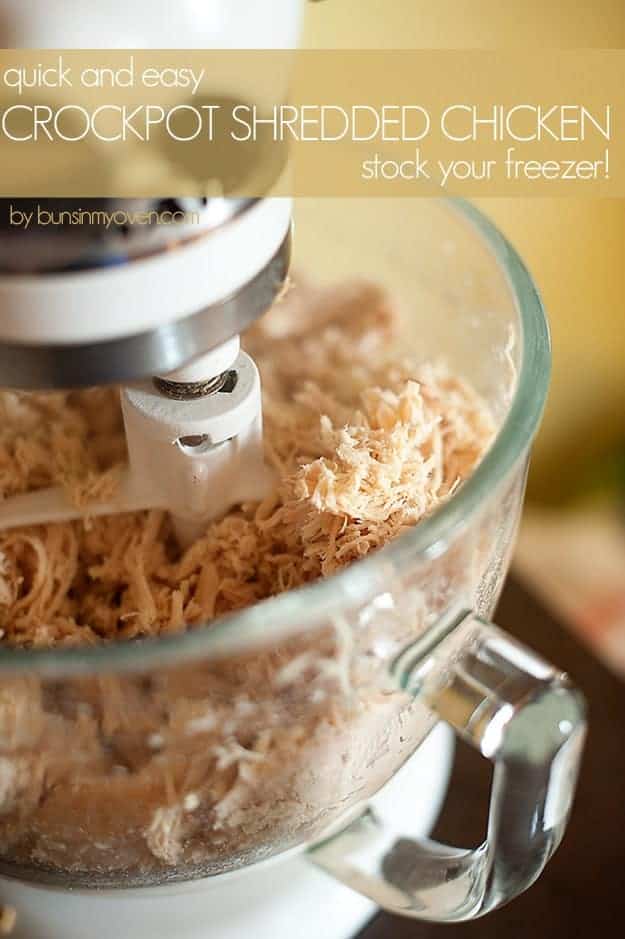 You guys, I almost didn't share this with you, because it's sort of a no brainer. The thing is, it's one of my absolute favorite tips and a super helpful way to get rushed weeknight meals on the table.
I always have bags of already cooked and shredded chicken breasts in my freezer! There are so many uses for shredded chicken that you can seriously never have too much of this chicken hidden away in the freezer! It's perfect for those nights when you've totally spaced dinner and are thinking about drive-thru or cold cereal as a last resort.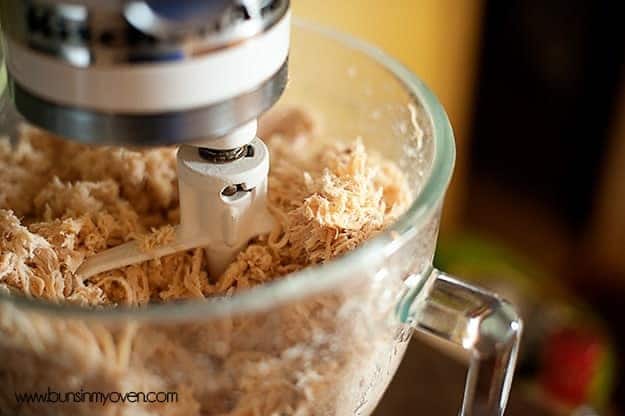 Having this easy shredded chicken in my freezer at all times has seriously saved dinner on more than one occasion in my house!
I like to go to Costco and buy the big packs of boneless skinless chicken breasts for this. They come in packs right around 6 pounds and are $20 at my local store. I'll dump them all into my crockpot, set it to low, and let them cook for 8 hours. I don't add any seasonings or water. The chicken will release enough juice that you don't need it and leaving the meat unseasoned means that you can use it in tons of different ways!
If you'd prefer to do this with just one pack of chicken breasts (I believe they're usually around 1.6 pounds), just cook on low for 4 hours instead of 8!
After the chicken is cooked through, I just remove it with tongs to the bowl of my stand mixer fitted with the paddle attachment. I load the bowl up (I can fit all 6 pounds in my mixer, but it's probably easier and a bit less messy to do this in two batches – I'm too impatient for that, though.) and turn the mixer to low. It seriously only takes a minute and you have perfectly shredded chicken breast that you can use in a variety of ways.
I load the shredded meat into small baggies (one sandwich sized baggie is enough meat for one meal for my family of four and I usually get 7 baggies full out of 6 pounds of chicken) and place them all into one large freezer bag. The meat will keep for months in your freezer!
Looking for some recipes to use up your shredded chicken? I've got you covered!
South Carolina Yellow Barbecue Chicken Sandwiches
Buffalo Chicken Taquitos
Pesto Chicken Panini
Chicken & Cream Cheese Stuffed Peppers
Corn and Chicken Chowder
Penne Alfredo with Bacon and Broccoli (add shredded chicken!)
Buffalo Chicken Dip
Chicken Tamale Casserole
Cream Cheese Chicken Enchiladas
Chicken, Tomato, and Mozzarella Pizza
More shredded chicken recipes from around the web:
Buffalo Chicken Macaroni and Cheese by Taste and Tell
Cheesy Chicken Quesadilla Pie by Mel's Kitchen Cafe
Easy Peasy Chicken Pot Pie by Bluebonnets and Brownies
Tex Mex Chicken White Cheddar Spaghetti by Lauren's Latest
Thai Chicken Pizza by The Novice Chef