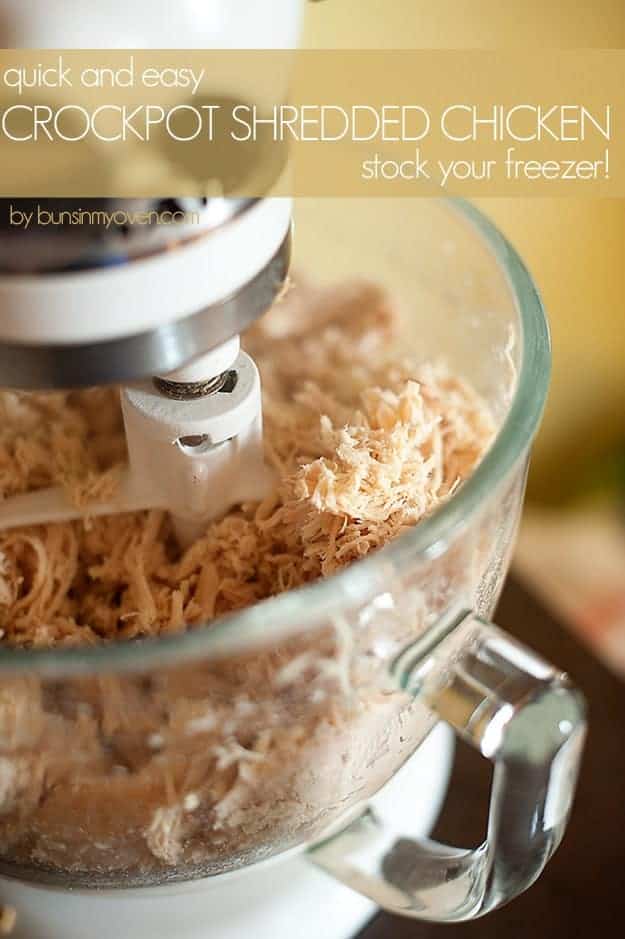 You guys, this dinner hack is so easy, that it's sort of a no brainer. I had to share because it's one of my absolute favorite ways to stay sane and a super helpful way to get rushed weeknight meals on the table.
To keep my family out of the drive-thru and the delivery driver away from our house, I always have bags of already cooked and shredded chicken breasts in my freezer.
There are so many uses for shredded chicken that you can seriously never have too much of this chicken stockpiled! It's perfect for those nights when you've totally spaced dinner.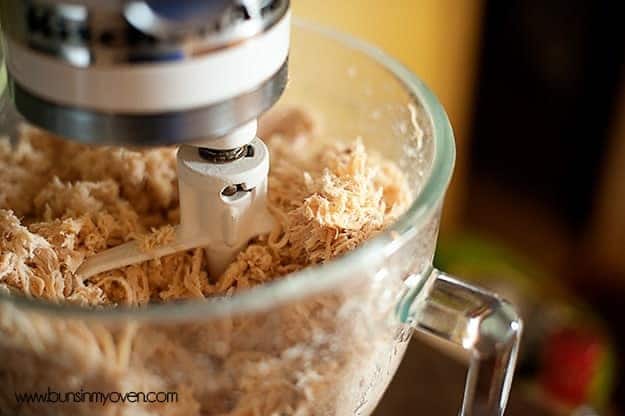 Here's what you do:
Hit up Costco or Sam's Club or your favorite grocery store and buy a huge pack of boneless skinless chicken breasts. You can use thighs if that's what you prefer.
I generally buy around 6 pounds at a time.
Dump the chicken into your slow cooker, add a cup of chicken broth, set it to low, and let the chicken cook for 6-8 hours. I don't add any additional seasonings so that it's a blank slate and I can use it in whatever recipe I like.
After the chicken is cooked through, I just remove it with tongs to the bowl of my stand mixer fitted with the paddle attachment. I load the bowl up (I can fit all 6 pounds in my mixer, but it's probably easier and a bit less messy to do this in two batches – I'm too impatient for that, though.) and turn the mixer to low. It seriously only takes a minute and you have perfectly shredded chicken breast that you can use in a variety of ways.
It's the EASIEST way to shred chicken!
You can even do this with a hand mixer, just be sure to start on low speed and use a big bowl so you're not flinging chicken everywhere.
I portion the shredded meat into small baggies (one sandwich sized baggie is enough meat for one meal for my family of four and I usually get 7 baggies full out of 6 pounds of chicken) and place them all into one large freezer bag. The meat will keep for months in your freezer!
To thaw, just pop it in the fridge in the morning before work. Or, if you're like me and constantly forget to thaw things, you can totally use your microwave to defrost the cooked chicken!
Looking for some recipes to use up your shredded chicken? I've got you covered!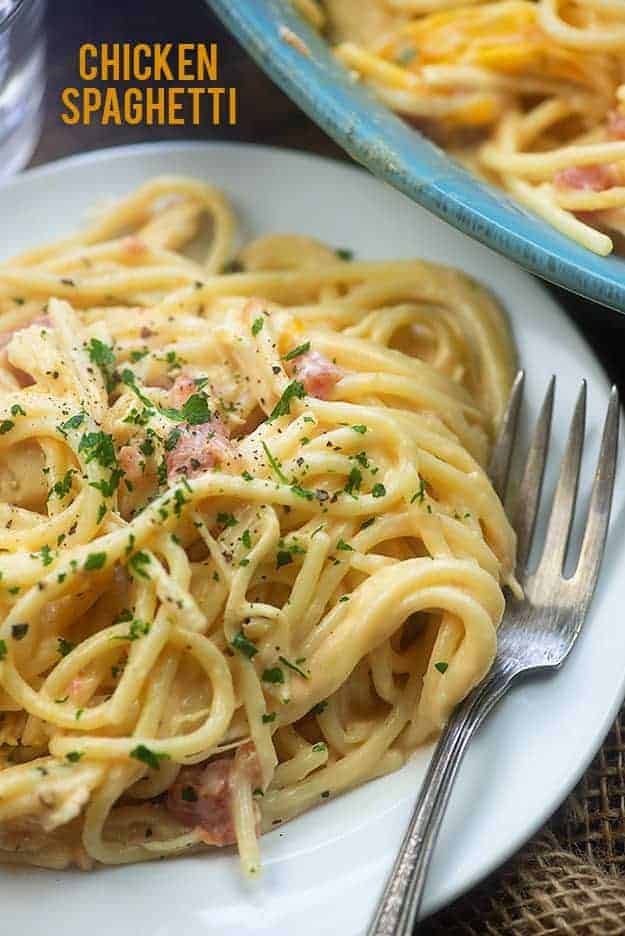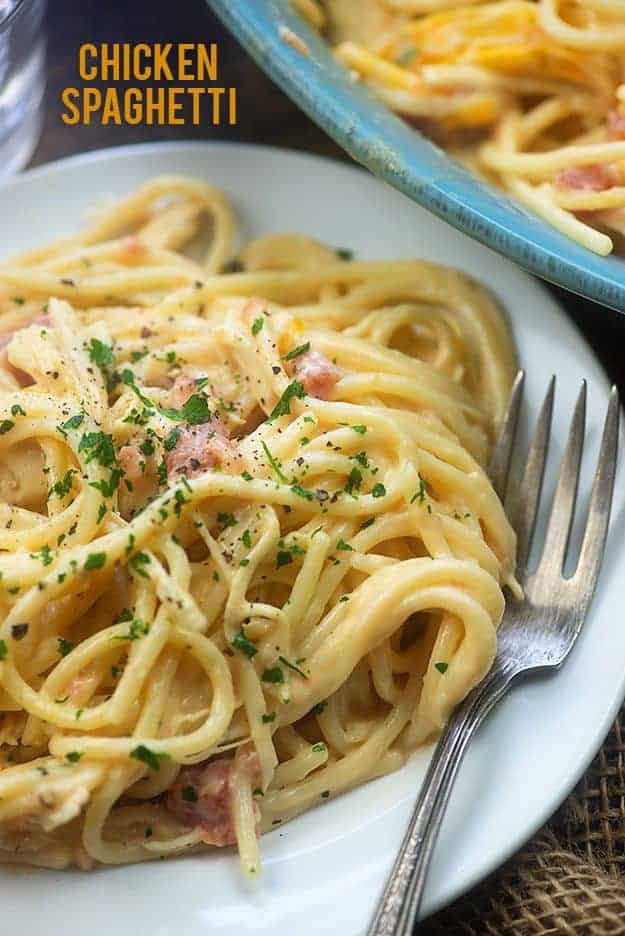 Chicken Spaghetti
Chicken Pot Pie Soup
South Carolina Yellow Barbecue Chicken Sandwiches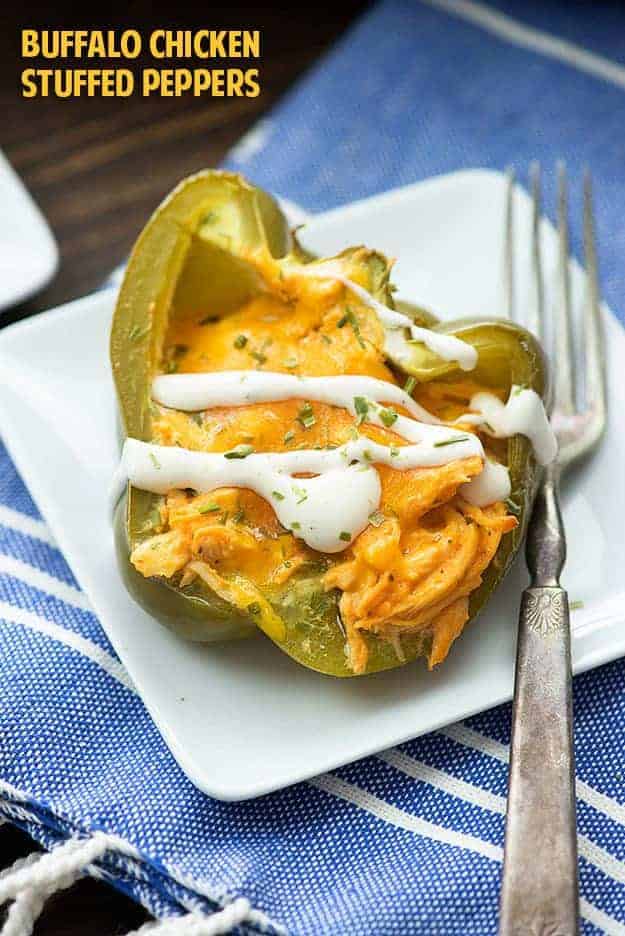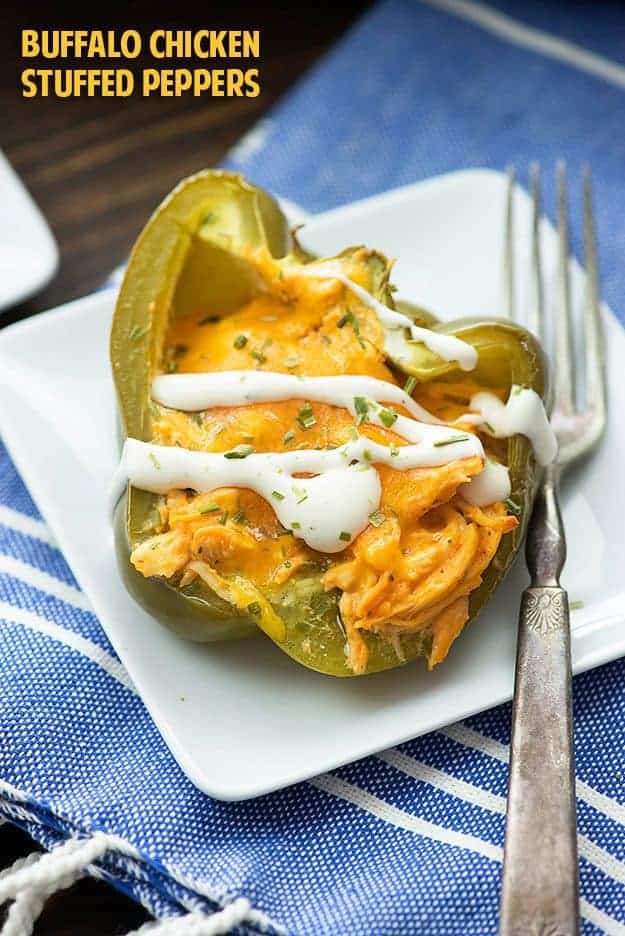 Buffalo Chicken Stuffed Peppers
Chicken Pot Pie
Buffalo Chicken Taquitos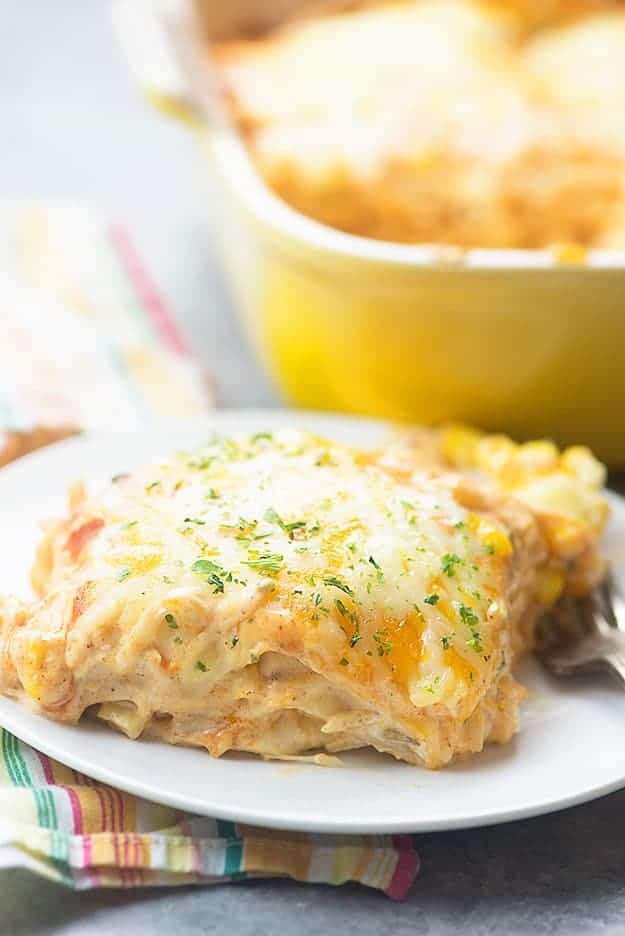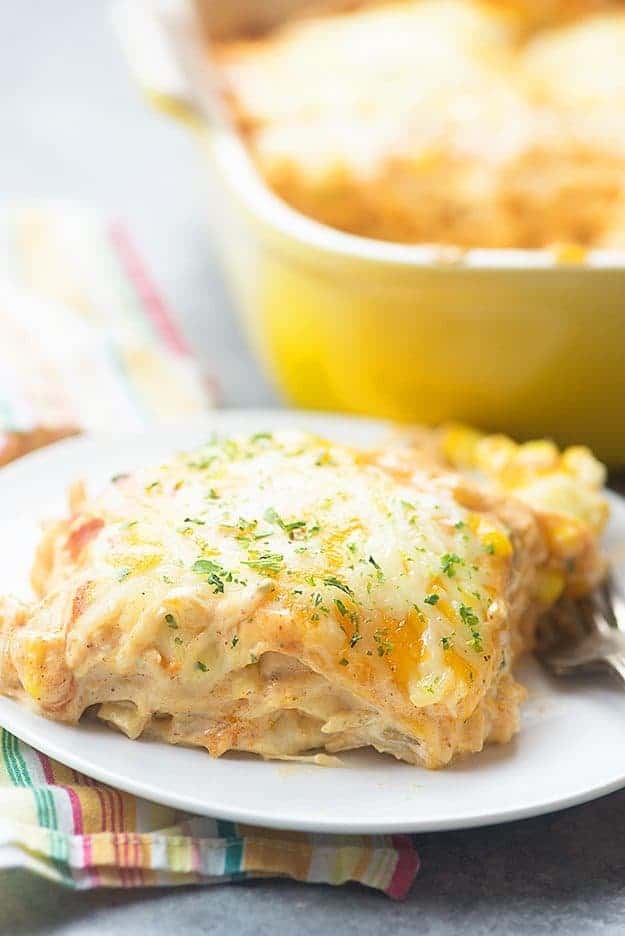 Chicken Enchilada Casserole
Pesto Chicken Panini
Chicken & Cream Cheese Stuffed Peppers

Corn and Chicken Chowder
Penne Alfredo with Bacon and Broccoli (add shredded chicken!)
Buffalo Chicken Dip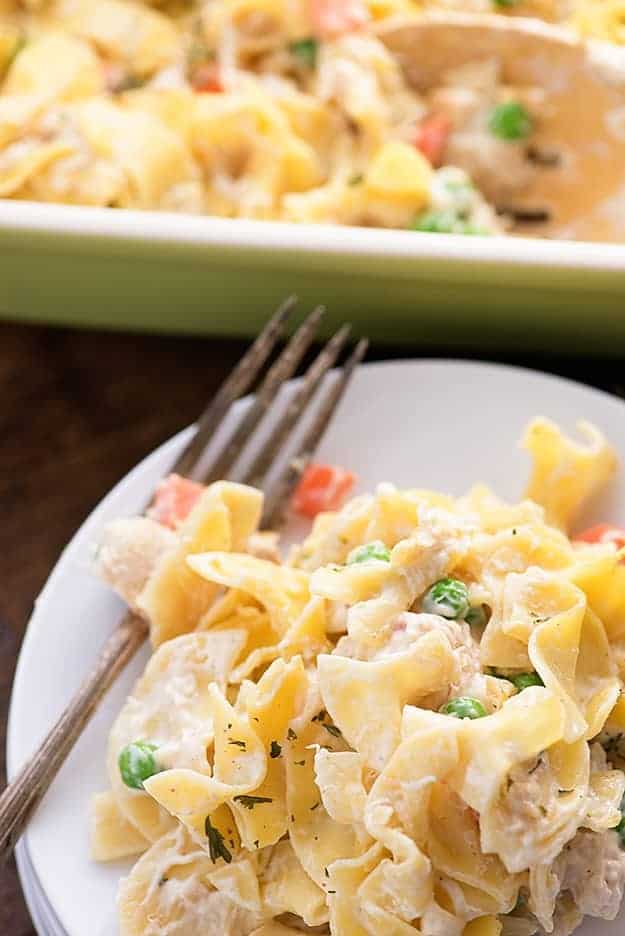 Chicken Noodle Casserole
Chicken Tamale Casserole
Cream Cheese Chicken Enchiladas
More shredded chicken recipes from around the web:
Buffalo Chicken Macaroni and Cheese by Taste and Tell
Cheesy Chicken Quesadilla Pie by Mel's Kitchen Cafe
Easy Peasy Chicken Pot Pie by Bluebonnets and Brownies
Tex Mex Chicken White Cheddar Spaghetti by Lauren's Latest
Thai Chicken Pizza by The Novice Chef
Crockpot Shredded Chicken
You can't beat letting the crock do the cooking and then the mixer doing the shredding!
Prep5 minutes
Cook6 hours
Total6 hours 5 minutes
Instructions
Add the chicken breasts and broth to the crockpot and cover.

Set to low and cook 6-8 hours.

Remove chicken to the bowl of a stand mixer while still hot. Using the paddle attachment, turn the mixer to low and let the mixer shred the meat. (Do this in two batches to keep the chicken from flying out of your mixer, if needed.)

Separate meat into small baggies (I get 7 baggies worth of meat out of 6 pounds of chicken and each bag has enough meat for one meal for my family of 4).

Place the smaller baggies into a larger freezer bag and freeze until ready to use.

Defrost in the refrigerator or microwave before using.
Tips & Notes:
If starting with frozen chicken, you'll likely need to increase the cook time to 8-10 hours.
Nutrition Information:
Calories: 111kcal (6%)| Protein: 20g (40%)| Fat: 2g (3%)| Cholesterol: 62mg (21%)| Sodium: 128mg (6%)| Potassium: 362mg (10%)| Vitamin A: 30IU (1%)| Vitamin C: 1.5mg (2%)| Calcium: 5mg (1%)| Iron: 0.4mg (2%)