These low carb stuffed peppers are filled with buffalo chicken for a spicy low carb recipe! I drizzled mine with ranch dressing before serving, but blue cheese is great too!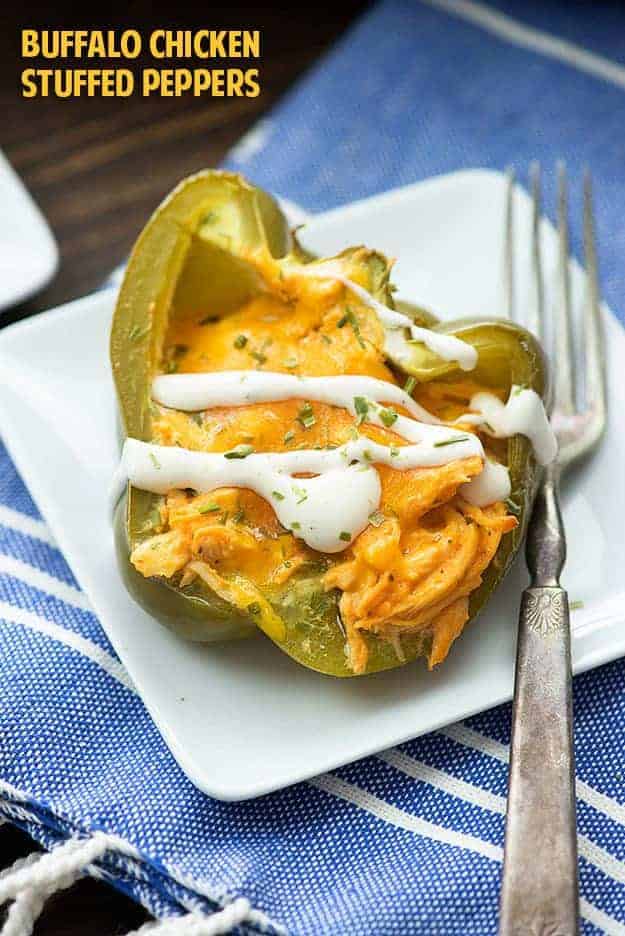 Hi friends!
I'm back with another low carb recipe for you this week and I think you're going to LOVE this one!
I mean, how can you possibly go wrong with buffalo chicken stuffed green peppers? Impossible.
If I'm watching my carbs, I still want foods that are big and bold in flavor, so buffalo chicken is always a win for me.
And, obviously, I always want recipes that are simple. I'm a busy mom, running a business, homeschooling two kids, and trying to get dinner on the table every night.
Easy is where it's at in my household.
I love this stuffed bell pepper recipe because you don't need to parboil the peppers before cooking. They get perfectly soft in the oven, so long as you cover the dish with foil and add a tablespoon of water to the bottom of your baking dish.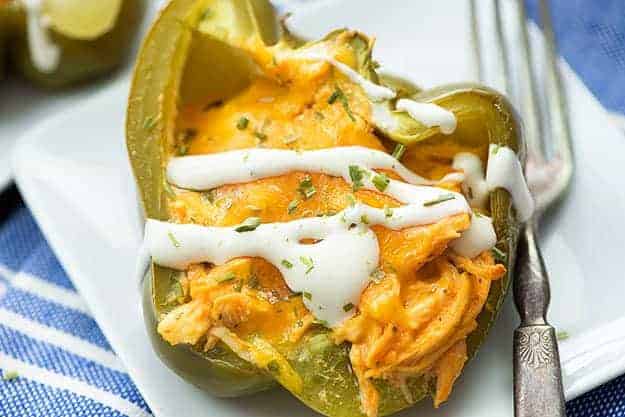 I love that trick, because who has time to boil peppers before stuffing them with good stuff? Nobody.
Anyway, these easy stuffed peppers are filled with what is basically buffalo chicken dip.
You'll want some shredded chicken, cream cheese, Frank's, cheddar and mozzarella. I always season my buffalo chicken dishes with ranch seasoning, because the two flavors just go together for me.
You can totally omit it if you're a purist. You can also swap in some blue cheese for the cheddar and/or mozzarella.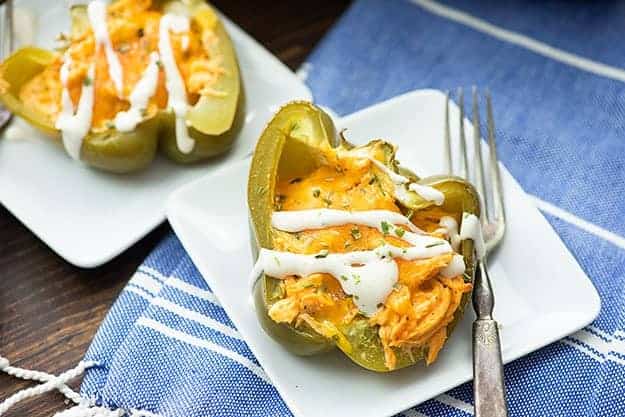 Personally, I'm not a fan of blue cheese, but I know some of y'all are very insistent that the only right cheese for buffalo chicken is blue cheese. So, you do you.
These easy stuffed peppers are filled with buffalo chicken dip!
You'll also notice that I cut my peppers in half length-wise rather than lopping off the top.
I do this because I think it's easier to fill them this way. They lay down nicely and it's easier to cover the dish with foil.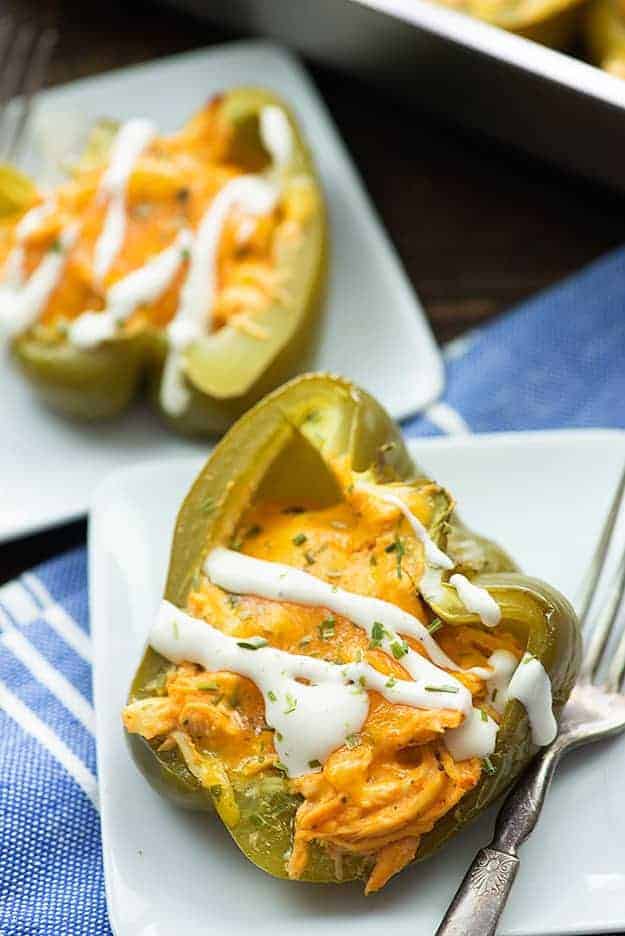 Again, you do you. If you want to lop the top off and fill them standing up, that's fine too.
You can swap in any color of pepper, but stuffed green peppers are a bit lower in carbs than the other colors. If you're not watching your carb intake super close, go ahead and use any color you like!
The nutrition information presented below was calculated using My Fitness Pal. It's not guaranteed to be accurate and is just there as a courtesy. I always recommend calculating your own nutrition facts if this is important to you. 🙂
You should also be sure to pop over and check out these lasagna stuffed peppers and chicken stuffed peppers. Both are low carb and full of flavor! This stuffed pepper soup is looking amazing, too!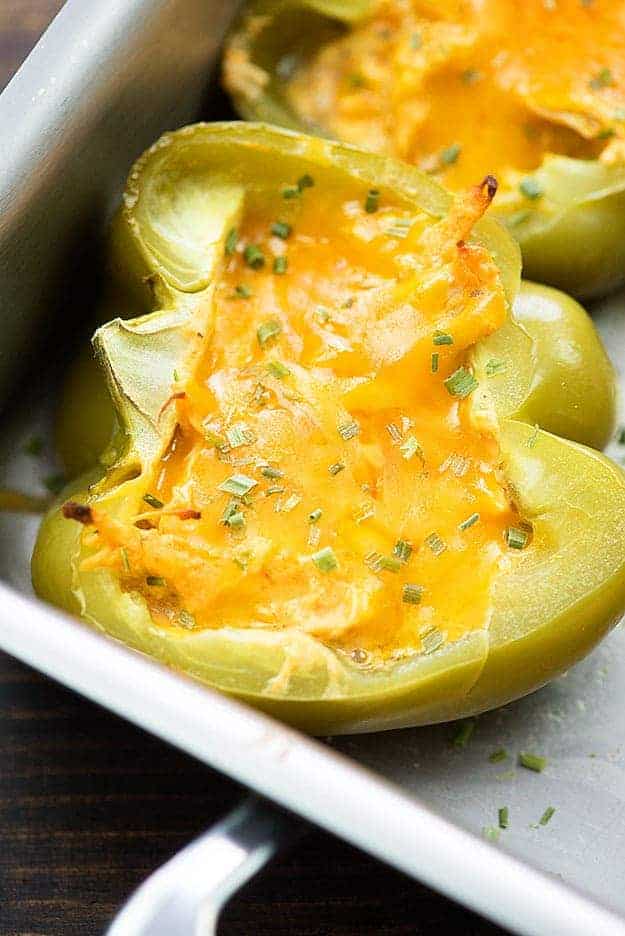 Clearly, I have a love for stuffing low carb foods inside peppers. It's just a perfect combo and I can usually count on my kids to go for their veggies this way.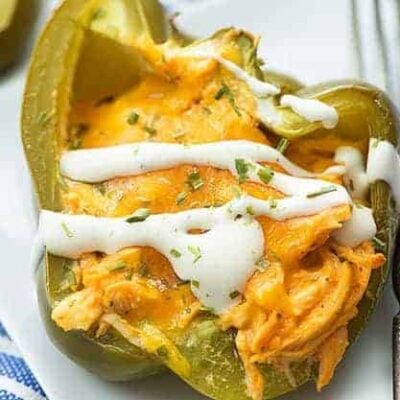 Buffalo Chicken Stuffed Peppers
These stuffed green peppers are filled with a buffalo chicken mixture for a flavorful low carb recipe. Swap blue cheese for the cheddar or mozzarella if you prefer.
Prep15 minutes
Cook25 minutes
Total40 minutes
Ingredients
4 green bell peppers sliced in half length-wise
2 cups cooked shredded chicken
8 ounces cream cheese softened
1/2 cup grated cheddar divided
1/4 cup grated mozzarella
1/3 cup Frank's Red Hot Sauce
1 tablespoon ranch seasoning mix
1 tablespoon chives
Ranch or blue cheese dressing for serving
Instructions
Preheat oven to 350 degrees.

Place the pepper halves in a 9x13 baking dish and set aside.

Add the chicken, cream cheese, 1/4 cup of cheddar, mozzarella, hot sauce, and ranch to a mixing bowl and stir well combine.

Spoon the chicken mixture evenly into the peppers.

Add one tablespoon of water to the bottom of the baking dish and cover pan tightly with foil.

Bake for 25 minutes or until peppers have softened to your liking.

Remove the foil, sprinkle with the remaining cheddar, and set your oven to broil. Broil for 1 minute to melt the cheese.

Sprinkle with chives just before serving. Drizzle with ranch or blue cheese dressing, if desired.
Tips & Notes:
Each pepper half contains 201 calories, 15g fat, and 4 net carbs.
Nutrition Information:
Calories: 203kcal (10%)| Carbohydrates: 5g (2%)| Protein: 12g (24%)| Fat: 15g (23%)| Saturated Fat: 7g (44%)| Cholesterol: 67mg (22%)| Sodium: 703mg (31%)| Potassium: 231mg (7%)| Fiber: 1g (4%)| Sugar: 2g (2%)| Vitamin A: 715IU (14%)| Vitamin C: 48mg (58%)| Calcium: 117mg (12%)| Iron: 0.5mg (3%)