This easy chicken pot pie is always a family favorite. It's the perfect comfort food for any occasion.
When my son was younger, he went through a serious chicken pot pie phase. Of course, back in those days, I wasn't much for cooking.
I mean, sure. I made frozen pizzas and the occasional box of Hamburger Helper, but that was about the extent of my cooking skills.
Oh, how far I've come.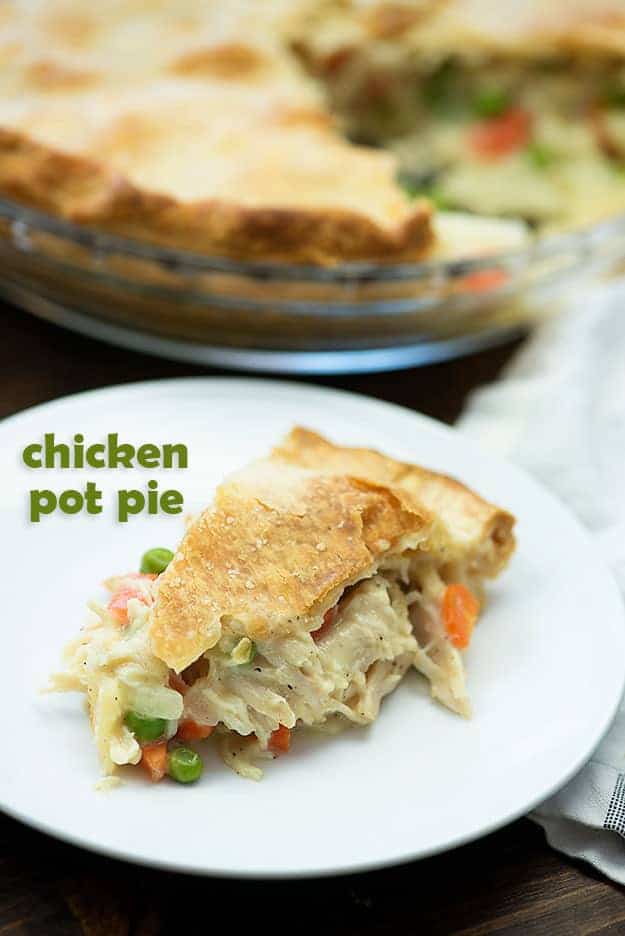 Anyway, the kid used to get stuck eating those mini frozen chicken pot pies. I'd always keep them in the freezer and he would get so excited when he'd see me heating them up for dinner.
These days, I'm much more inclined to cook the kid a proper meal at home. Not always, of course. Sometimes you need a frozen meal or two hidden in the freezer. But, most days, we like to keep things more homemade.
Homemade chicken pot pie is pure comfort food.
It's bursting with flavor from all of the veggies and I love that I can add in extras of the kids' favorites and leave out onions if my husband is home, because that man hates onions.
To keep things extra easy, I'm using a store bought pie crust for this recipe. I still call this a homemade chicken pot pie, but I have a feeling I'm going to get a few comments arguing with me on that point. 😉 You're more than welcome to use your own pie crust here. It'll work great!
This is a double crust chicken pot pie, because yum. Who doesn't want extra crust??
I used my freezer shredded chicken for this recipe. I always have it ready to go, and it's perfect for this one!
The sauce that holds everything together is thick and creamy and totally easy to make. Don't be scared of making a roux. It's totally simple!
I like to serve this chicken pot pie with a big green salad and my favorite brownie recipe for dessert. You can never go wrong with brownies for dessert.
Easy Chicken Pot Pie
This homemade chicken pot pie recipe is quick to throw together and always a hit with my family. It's so comforting and filling. We like to serve it with a big green salad on the side.
Prep15 minutes
Cook35 minutes
Total50 minutes
Ingredients
1/4 cup butter
1/4 cup all-purpose flour
1 1/2 cups chicken broth
3/4 cups milk
1 teaspoons salt
1 teaspoon pepper
1 cup diced peeled potatoes
1 cup diced carrots
2 cups shredded chicken
1/2 cup frozen peas
1/2 cup diced onion
2 prepared pie crusts
Instructions
Preheat oven to 425 degrees.

Heat a large, deep skillet over medium heat. Add the butter and melt.

Whisk in the flour and continue whisking over medium heat for 1 minute.

Slowly pour in the chicken broth and milk, whisking constantly. Continue cooking until mixture has thickened. Stir in salt and pepper.

Add the potatoes and carrots to a microwave safe bowl, cover with plastic wrap, and microwave for 3 minutes.

Add the chicken, potatoes, carrots, peas, and onion to a large bowl. Pour in the chicken broth mixture and stir to combine.

Arrange the bottom pie crust in the pie plate. Pour the filling over the crust. Add the top crust.

Crimp the edges and cut 4 small slits in the center of the top crust to vent.

Bake for 30-40 minutes or until the crust is golden brown.

Let sit for 5 minutes before slicing and serving.
Tips & Notes:
After hearing from a couple readers that their carrots and potatoes weren't quite cooking through, I added an extra step of microwaving them before adding to the pot pie. You could also parboil them on the stove.
Nutrition Information:
Calories: 481kcal (24%)| Carbohydrates: 42g (14%)| Protein: 17g (34%)| Fat: 26g (40%)| Saturated Fat: 10g (63%)| Cholesterol: 59mg (20%)| Sodium: 1065mg (46%)| Potassium: 512mg (15%)| Fiber: 3g (13%)| Sugar: 3g (3%)| Vitamin A: 3960IU (79%)| Vitamin C: 15.2mg (18%)| Calcium: 80mg (8%)| Iron: 3.5mg (19%)