Our Homemade Chicken Pot Pie is a family favorite – loaded with tender chicken, potatoes, peas, and carrots, all in a creamy chicken pot pie roux and hidden inside a flaky crust. We make our chicken pot pie with pie crust, just like Grandma made!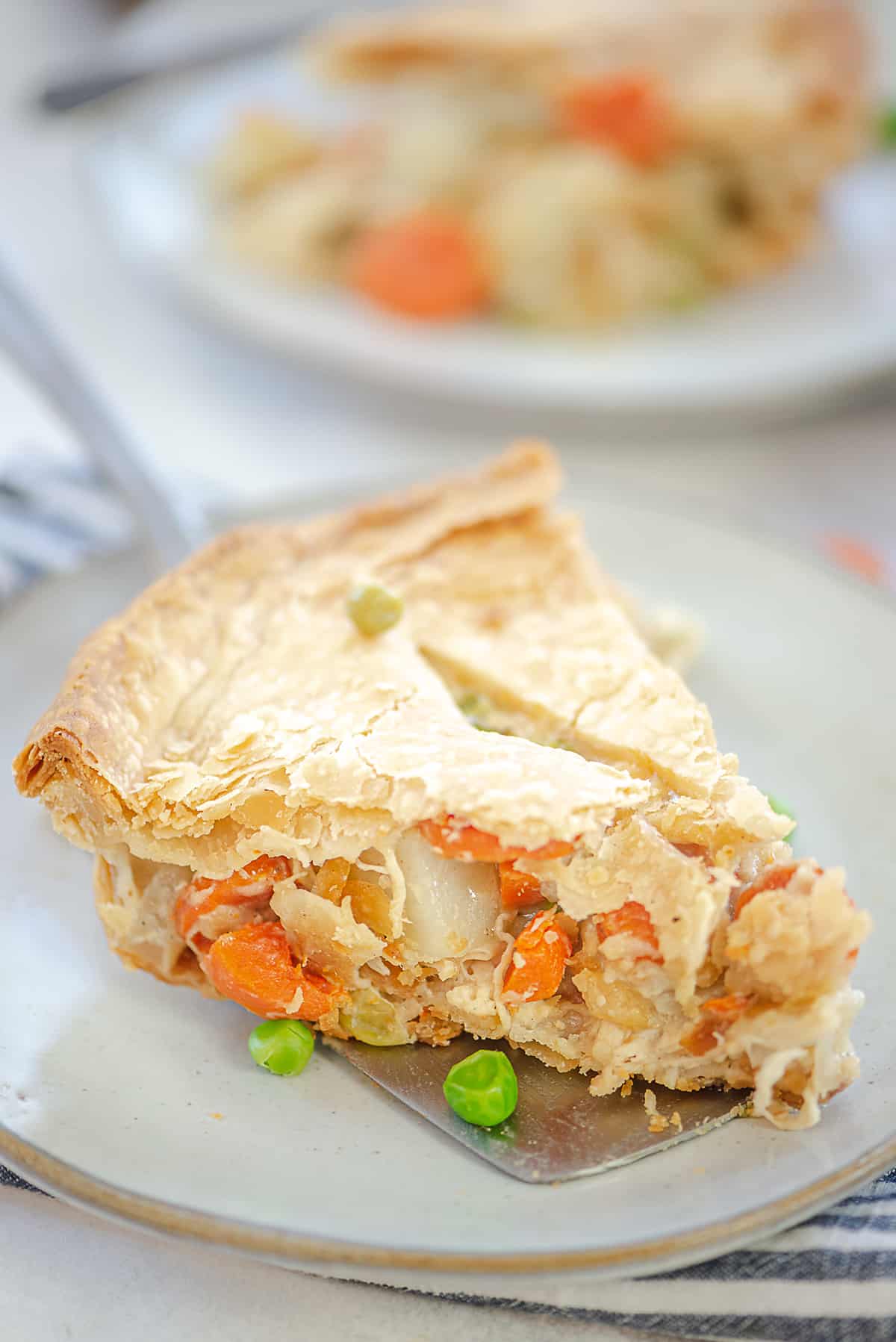 When my son was younger, he went through a serious chicken pot pie phase. Of course, back in those days, I wasn't much for cooking.
I mean, sure. I made frozen pizzas and the occasional box of Hamburger Helper, but that was about the extent of my cooking skills. 😉
Anyway, the kid used to get stuck eating those mini frozen chicken pot pies. I'd always keep them in the freezer and he would get so excited when he'd see me heating them up for dinner.
These days he's happy to see me pulling out the ingredients for this easy chicken pot pie. I keep it simple, but at least it's mostly homemade and it's definitely better than those frozen ones!
This one is easy to customize to fit what you have on hand and what picky eaters you have around – skip onions, add extra carrots, use leftover turkey, etc. You really can't go wrong with this homemade chicken pot pie.
Ingredient Notes:
This post contains affiliate links. As an Amazon associate and member of other qualifying programs, I earn from qualifying purchases.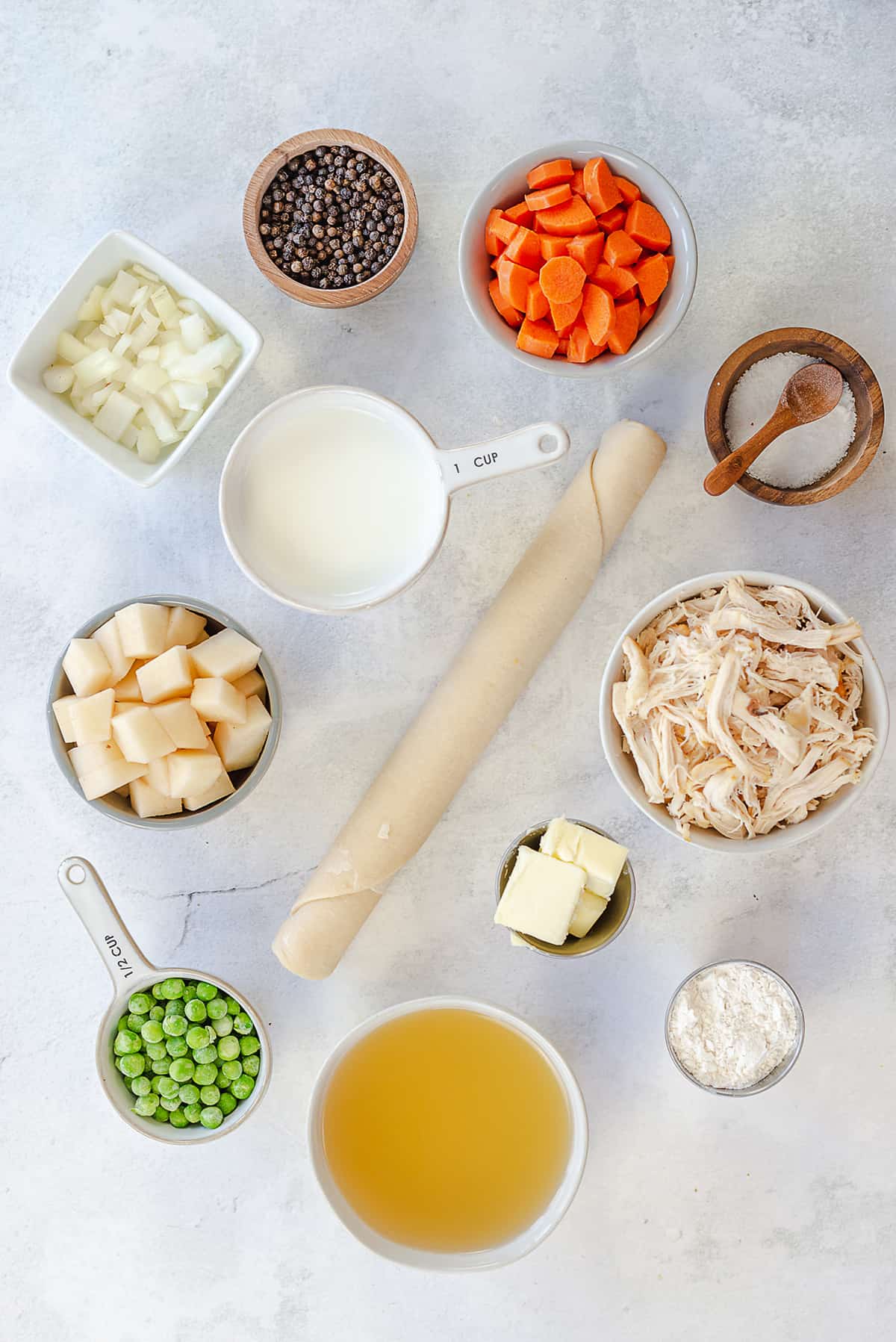 Chicken Pot Pie Crust – To keep things extra easy, I'm using a store bought pie crust for this recipe. I still call this a homemade chicken pot pie because we're making a roux from scratch, but I have a feeling I'm going to get a few comments arguing with me on that point. 😉 You're more than welcome to use your own pie crust here.
Chicken – I used my freezer shredded chicken for this recipe. I always have it ready to go, and it's perfect for this one! Rotisserie chicken also works well.
Veggies – Carrots, onions, peas, and potatoes are our usual go to veggies, but feel free to add what or take away, as it suits your tastes.
Chicken Pot Pie Roux – A roux sounds hard, but it's one of the simplest things! You'll just need butter, flour, and milk and it'll create the creamy sauce that coats all the chicken and veggies.
Pie Plate – You'll want a 9 inch deep dish plate for this recipe. We're using this gorgeous blue dish.
What Readers are Saying!
"Dumped my old recipe of about 20 years for this one. Absolutely love it. It's simple and fresh, and the lack of complication makes this dish shine."
– Amber
How to Make Chicken Pot Pie:
Roux: We like to make a roux for chicken pot pie because it adds to the classic "Grandma made me this" feeling. It's rich, creamy, and so simple. Just melt butter in a sauce pan, whisk in flour and let it bubble for a minute. Then whisk in your chicken broth and keep cooking and whisking until things have thickened up, like gravy. You've made a roux!
Carrots and Potatoes: We're going to pop the carrots and potatoes into a microwave safe bowl, cover them with plastic wrap, and microwave for 3 minutes. This will help all the veggies to cook properly at the same rate once they're in that pie crust.
Combine: Add all of the veggies, chicken, and seasoning to a bowl and pour the roux over the top. Give it a stir to coat everything and you've got the perfect pot pie filling.
Crust: Now you can prepare the crust just like you would with any other pie! Arrange the bottom crust in the pie plate and then pour in the creamy chicken pot pie filling. You know what to do next! Cover it with the top pie crust, crimp the edges, and cut a few slits in the top to vent.
Bake: Pop it into the oven and bake for about 30 to 40 minutes or until the crust is golden brown!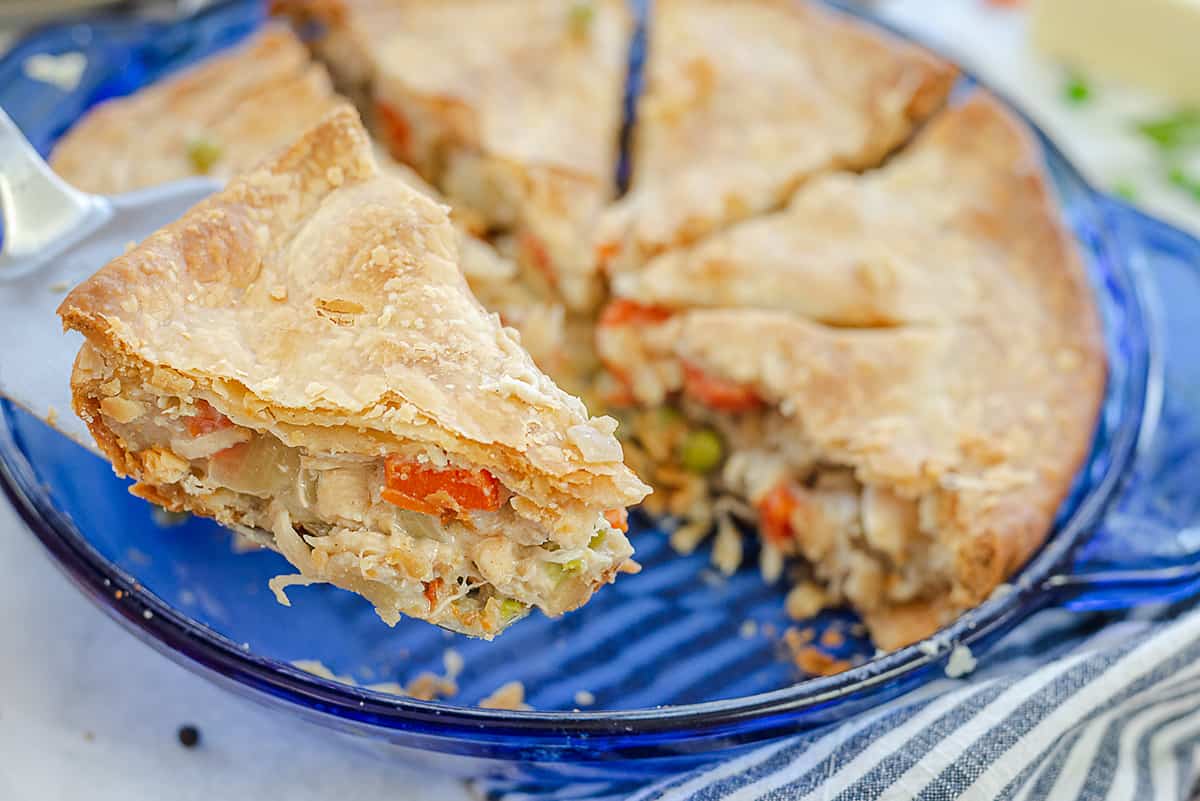 What to serve with pot pie:
Our homemade chicken pot pie is hearty and filling, so we often keep it simple and serve it with a big green salad topped with our favorite homemade ranch dressing and my favorite brownie recipe for dessert. You can never go wrong with brownies for dessert. 😉
Other favorites include:
FAQs:
Can I make ahead and freeze for later?
We've never tried freezing this one, but I would cool the filling before adding to the crust, freeze unbaked, and then bake straight from frozen. Bake for about 30 minutes wrapped in foil and then finish it up without the foil. Probably another 30-45 minutes.
Do I need to thaw the veggies?
Frozen peas do not need to be thawed before baking. If using frozen carrots, you'll still wan to microwave them as detailed in the recipe.
What is a pot pie?
A pot pie is a pie made with a savory filling, usually consisting of meat and vegetables. Our easy pot pie is made with a top and bottom pie crust filled with chicken and vegetables in a creamy roux.
How do I keep pie crust from burning?
An easy way to prevent the edges of your pie crust from burning is to wrap the edges in foil or to use a pie shield.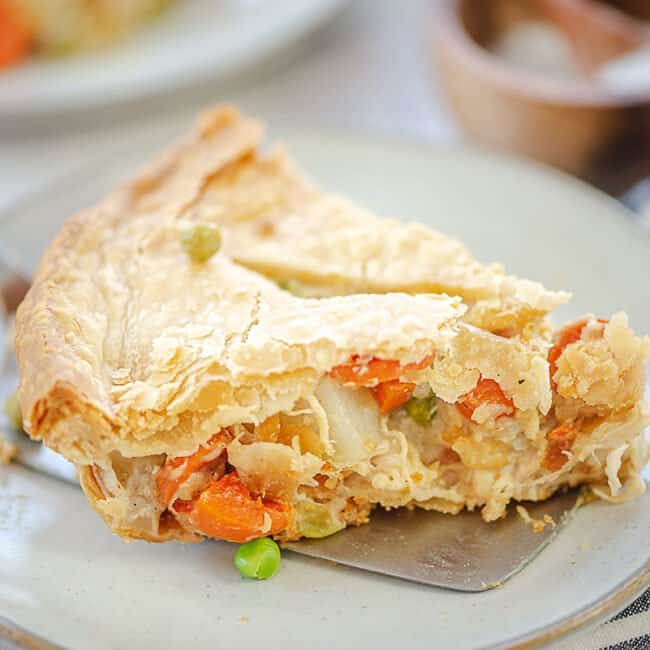 Easy Chicken Pot Pie
This homemade chicken pot pie recipe is quick to throw together and always a hit with my family. It's so comforting and filling. We like to serve it with a big green salad on the side.
Prep15 minutes
Cook35 minutes
Total50 minutes
Ingredients
1/4 cup butter
1/4 cup all-purpose flour
1 1/2 cups chicken broth
3/4 cups milk
1 teaspoons salt
1 teaspoon pepper
1 cup diced peeled potatoes
1 cup diced carrots
2 cups shredded chicken
1/2 cup frozen peas
1/2 cup diced onion
2 prepared pie crusts
Instructions
Preheat oven to 425 degrees.

Heat a medium saucepan over medium heat. Add the butter and melt.

Whisk in the flour and continue whisking over medium heat for 1 minute.

Slowly pour in the chicken broth and milk, whisking constantly. Continue cooking until mixture has thickened. Stir in salt and pepper. Remove to a mixing bowl.

Add the potatoes and carrots to a microwave safe bowl along with 1 tablespoon of water, cover with plastic wrap, and microwave for 3 minutes. Carefully remove the plastic wrap and drain the liquid.

Add the chicken, potatoes, carrots, peas, and onion to the mixing bowl with the roux. Stir well to combine.

Arrange the bottom pie crust in the pie plate. Pour the filling over the crust. Arrange the other crust over the top.

Crimp the edges and cut 4 small slits in the center of the top crust to vent.

Bake for 30-40 minutes or until the crust is golden brown.

Let sit for 5 minutes before slicing and serving.
Tips & Notes:
After hearing from a couple readers that their carrots and potatoes weren't quite cooking through, I added an extra step of microwaving them before adding to the pot pie. You could also parboil them on the stove.
Nutrition Information:
Serving: 1slice| Calories: 481kcal (24%)| Carbohydrates: 42g (14%)| Protein: 17g (34%)| Fat: 26g (40%)| Saturated Fat: 10g (63%)| Cholesterol: 59mg (20%)| Sodium: 1065mg (46%)| Potassium: 512mg (15%)| Fiber: 3g (13%)| Sugar: 3g (3%)| Vitamin A: 3960IU (79%)| Vitamin C: 15.2mg (18%)| Calcium: 80mg (8%)| Iron: 3.5mg (19%)
This recipe was originally published in January 2018. It was updated with new photos in January 2022.