Our Oven Roasted Sweet Potato Cubes are tossed in honey and cinnamon before baking. These are such a simple, cozy side dish that's perfect for any night of the week.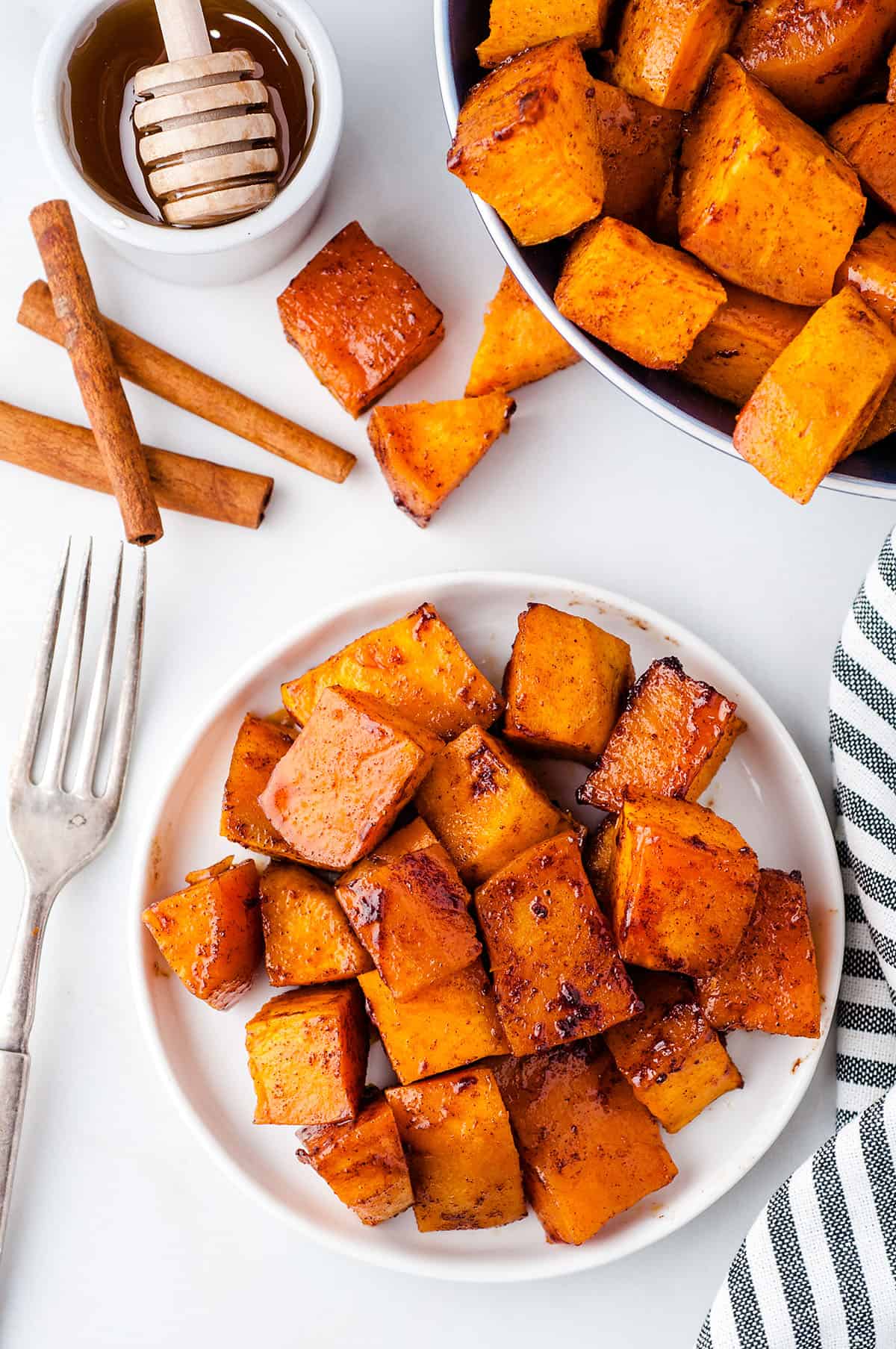 I wasted a lot of time as a kid hating perfectly good vegetables.
Like sweet potatoes…who can dislike a dang sweet potato? They're sweet and earthy and, when cooked right, they practically melt in your mouth.
I'm making up for the time I missed eating sweet potatoes by whipping them up as often as possible these days.
Our Honey Cinnamon Roasted Sweet Potatoes are an absolute staple in my house.
Not only are these roasted sweet potato cubes beyond easy to make, they're so delicious, and they go with absolutely everything!
We're also pretty in love with our sweet potato casserole with canned yams and this easy sweet potato pie recipe can't be beat!
And, if you're obsessed with your air fryer, try these air fryer sweet potato cubes! They're tasty too!
Ingredient Notes:
This post contains affiliate links. As an Amazon associate and member of other qualifying programs, I earn from qualifying purchases.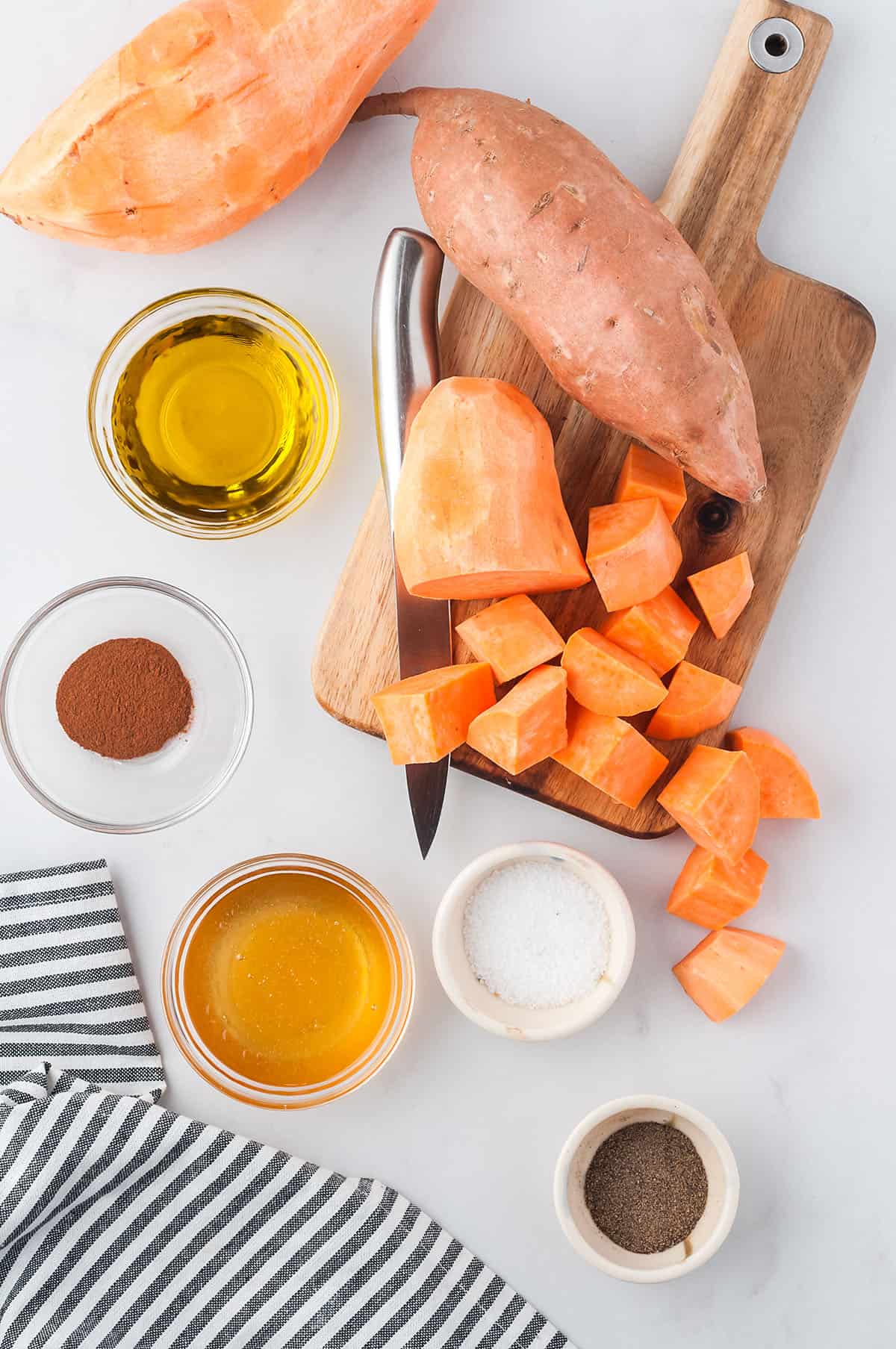 Sweet Potatoes – You'll need 2 large sweet potatoes. See below for tips on picking the perfect potato! You can also buy a bag of already chopped and peeled sweet potatoes at many grocery stores. Such a time saver!
Honey – We love using local honey, but whatever you've got will be great! You could also sub this with maple syrup.
Spices – You will of course need some cinnamon for this recipe, but a small amount of salt and pepper will also help balance out the flavors.
What Readers are Saying!
"I love this! I make it all the time. It is just enough sweetness. Sweet potato casserole is just too sweet – this is perfect. Try it you'll like it!" – Susan D.
How To Choose A Good Sweet Potato:
There are a few things to keep in mind when selecting a good sweet potato for roasting. Here is what to look for:
Color: Stick to an orange or red variety of sweet potato. Two popular varieties are Red Garnet and Jewel. They're great for roasting because they have a higher moisture content. Purple or tan varieties are more dry and won't turn out quite as nice.
Skin & Firmness: Select a firm sweet potato without any soft spots that has smooth skin with as few blemishes as possible. Some small nicks and marks are okay but try to avoid any with large scratches!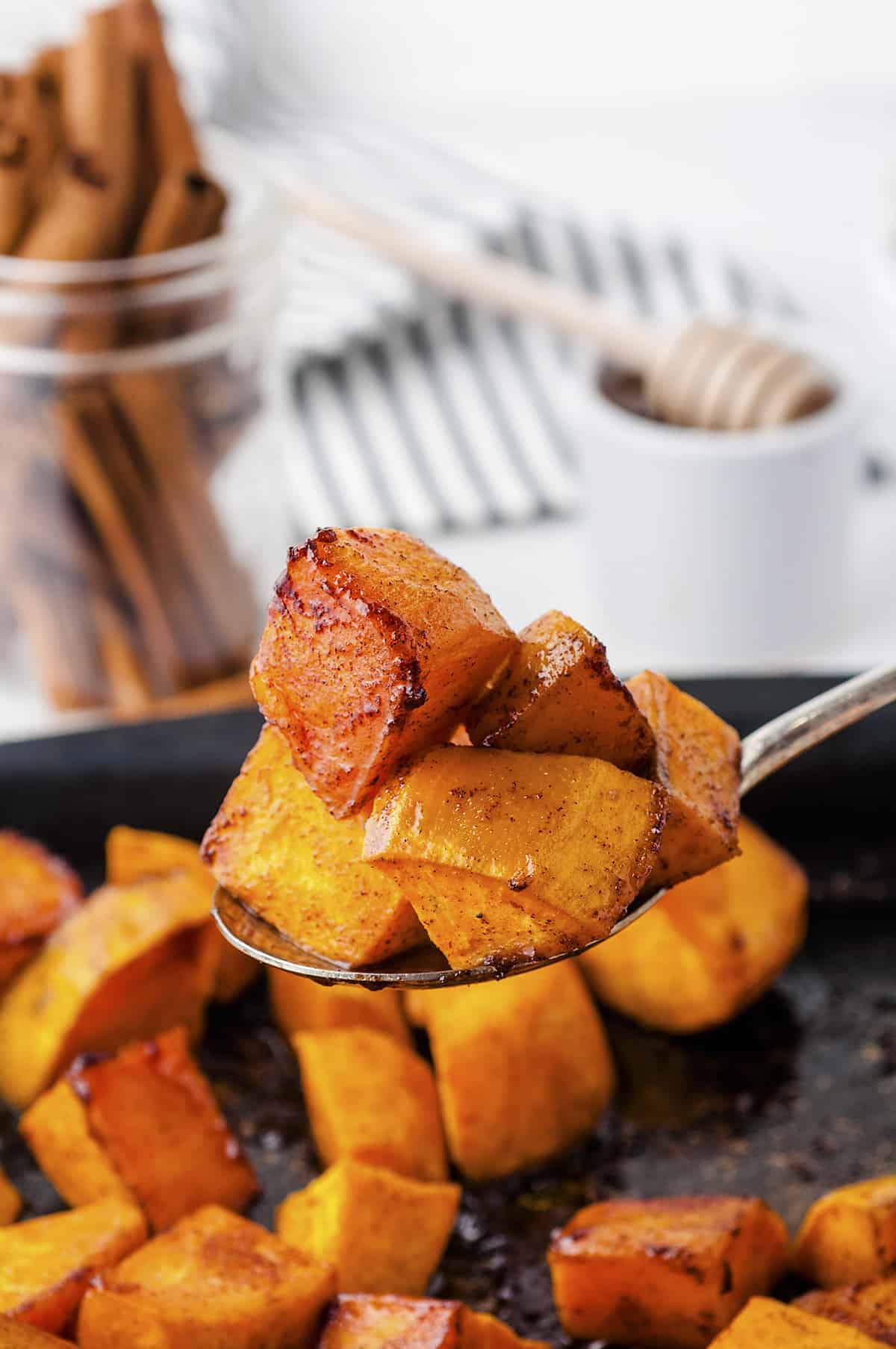 How To Cut A Sweet Potato Into Cubes:
A sweet potato can be pretty irregularly shaped but with a little preparation you can make the task of cutting a sweet potato into cubes a lot simpler and safer! Here's how:
Peel: First up you'll want to remove the sweet potato skins. Some people do like to leave the skins on, which is perfectly fine to do. I think they taste better and roast better when peeled so that's what I'm doing!
Flatten: Slice off the tips of the sweet potato and then cut a thin strip off lengthwise to create a flat area for the sweet potato to rest on your cutting board. It's a lot easier and safer to do the rest of the cutting this way.
Slice: There are a few ways you can cut these into cubes but I prefer to slice the rest of the sweet potato into 1/2″ thick rounds. Once you've got the rounds you can easily slice them into cubes. Try to keep them about 1/2″.
How To Roast Sweet Potatoes:
Mix: Add the honey, cinnamon, olive oil, salt and pepper in a bowl, give it a mix, and stir in the cubed pieces of sweet potato and toss until they are fully coated in the mixture.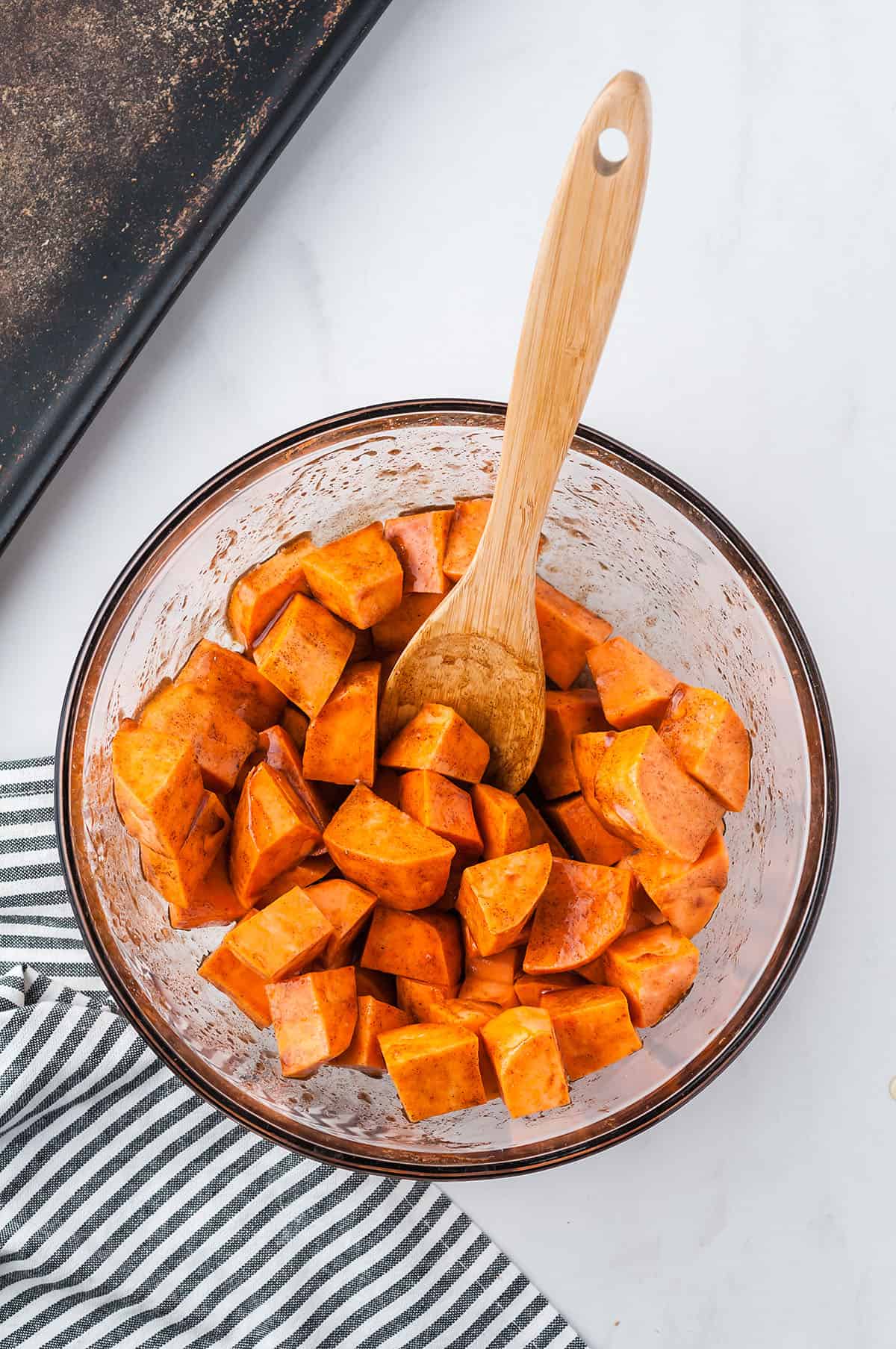 Roast: Once you've finished coating the cubes of sweet potato in the honey and cinnamon mixture, you can spread them out evenly on a baking sheet and roast them in the oven.
Give the honey cinnamon roasted sweet potato cubes a stir about halfway through, it should only take 25 to 30 minutes!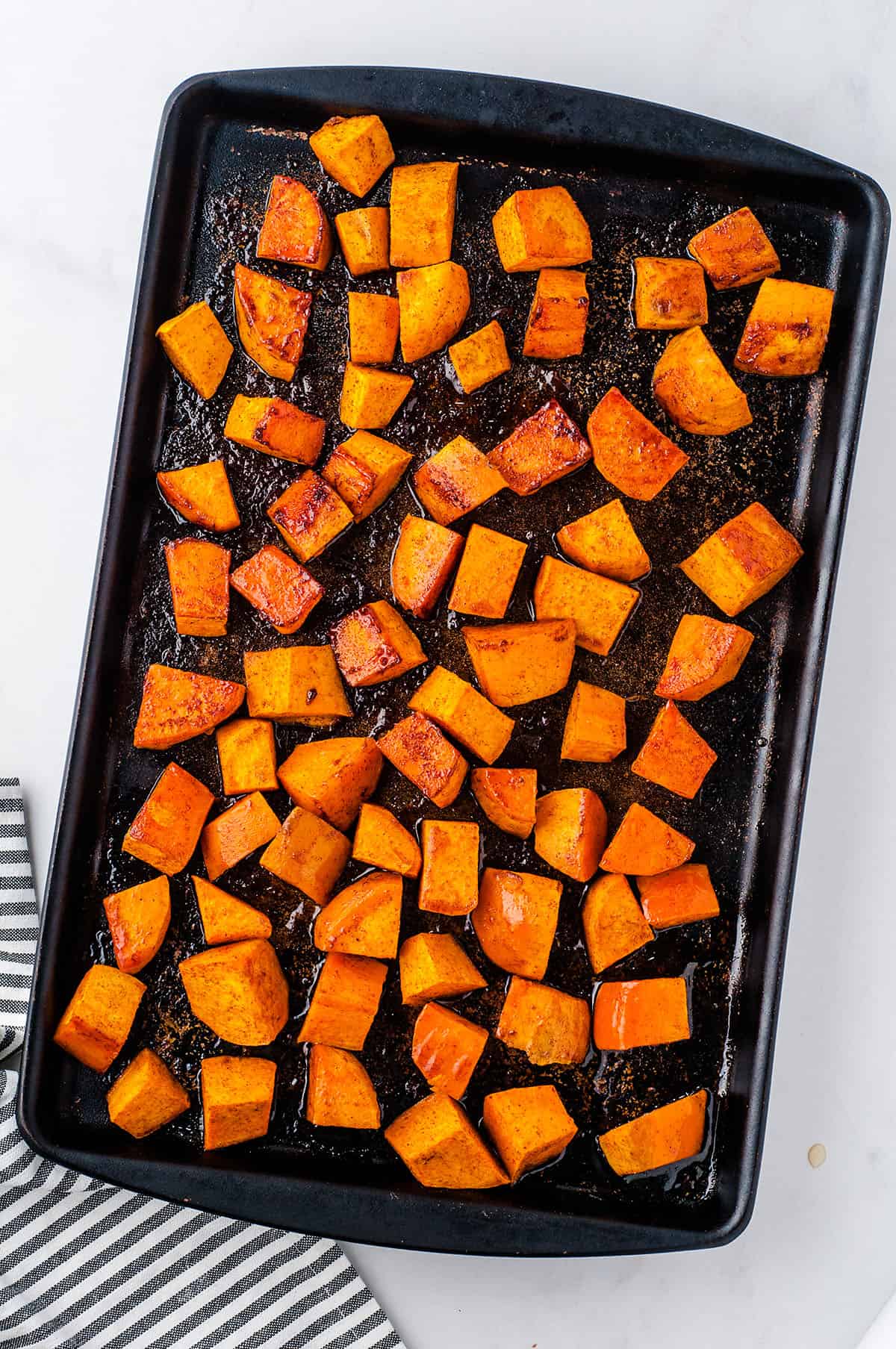 Roasted Sweet Potato Variations:
I love these honey cinnamon roasted sweet potatoes but there are lots of tasty ways to sweeten or spice the sweet potato cubes. I've listed some popular options by three categories: sweet, savory, and spicy!
Sweet: Maple syrup is the obvious choice besides honey. Try it with some chopped pecans sprinkled over the top in the last couple minutes of baking! Another good combo would be brown sugar and nutmeg.
Savory: So many options here. Rosemary and garlic? Parmesan and black pepper? A fresh blend of herbs like oregano, thyme, and parsley with some olive oil is a good choice as well!
Spicy: Toss the sweet potatoes in some oil with your favorite Cajun or Creole seasoning. Smoked paprika, chili lime, and harissa are also great ways to spice up roasted sweet potatoes!
Or combine any of these to make sweet and spicy or sweet and savory variations, like these maple bacon roasted sweet potatoes!
TIPS & TRICKS FOR PERFECT ROASTED SWEET POTATOES!
Parchment Paper: You may be aware that honey is sticky and messy! You can avoid some of the mess by lining your baking sheet with parchment paper before roasting. It'll make cleaning a lot easier!
Cook Time: Different varieties of sweet potato may require more or less time to roast. The size of the cubes can matter too. Just keep an eye on them so they don't burn! Once they're fork tender, they're ready to devour.
Sheet Pan: Use a large sheet pan and try not to overcrowd it. If the sweet potato cubes are too close together, you won't get the crispy edges.
Toss: Give the pan a stir while roasting to keep it from overcooking on one side.
What To Serve With Sweet Potatoes:
You can enjoy our honey cinnamon baked sweet potatoes as a snack, a side, or even a dessert! They're a great choice for Thanksgiving or other family gatherings and they pair well with just about any protein. Here are some suggestions: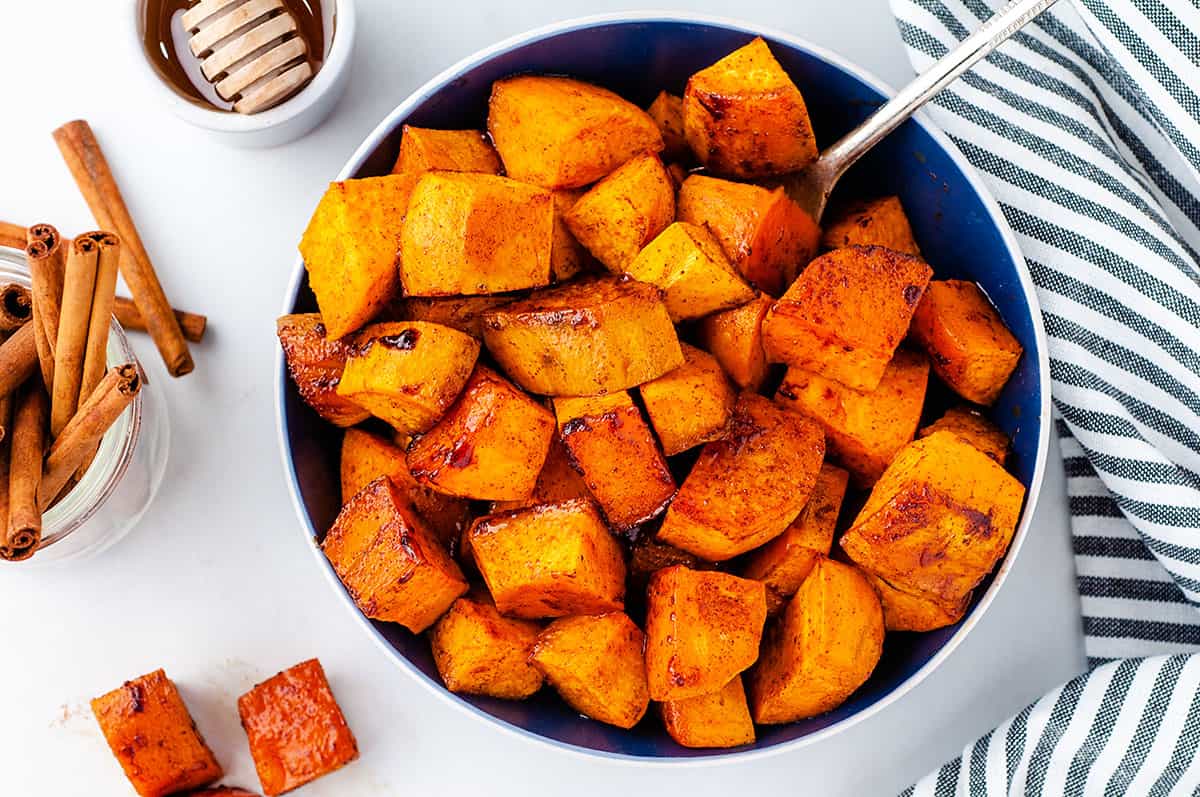 FAQs:
Can I use maple syrup instead of honey?
Of course! It's a great substitute. We often switch these up and use syrup instead of honey – both are great! Be sure to use pure maple syrup – not the cheapy pancake syrup.
How long do I need to bake the sweet potato cubes?
For this recipe, you need to roast the sweet potato cubes for about 25 minutes. Keep in mind that if your cubes are smaller or larger, it will affect the cook time. Try to chop them into even sizes for even cooking.

Don't forget to stir or flip them halfway through so the texture of the sweet potato cubes stays consistent.
Are sweet potatoes low carb?
Traditionally sweet potatoes would not be considered low carb. However, depending on your goals, you may be able to fit a small portion into a low carb diet. The addition of honey in this recipe, though, will likely not be a good choice for your low carb diet.
Can I store roasted sweet potatoes?
Yes, they will last in the refrigerator for 3-4 days if they are well sealed. These are perfect for meal prep.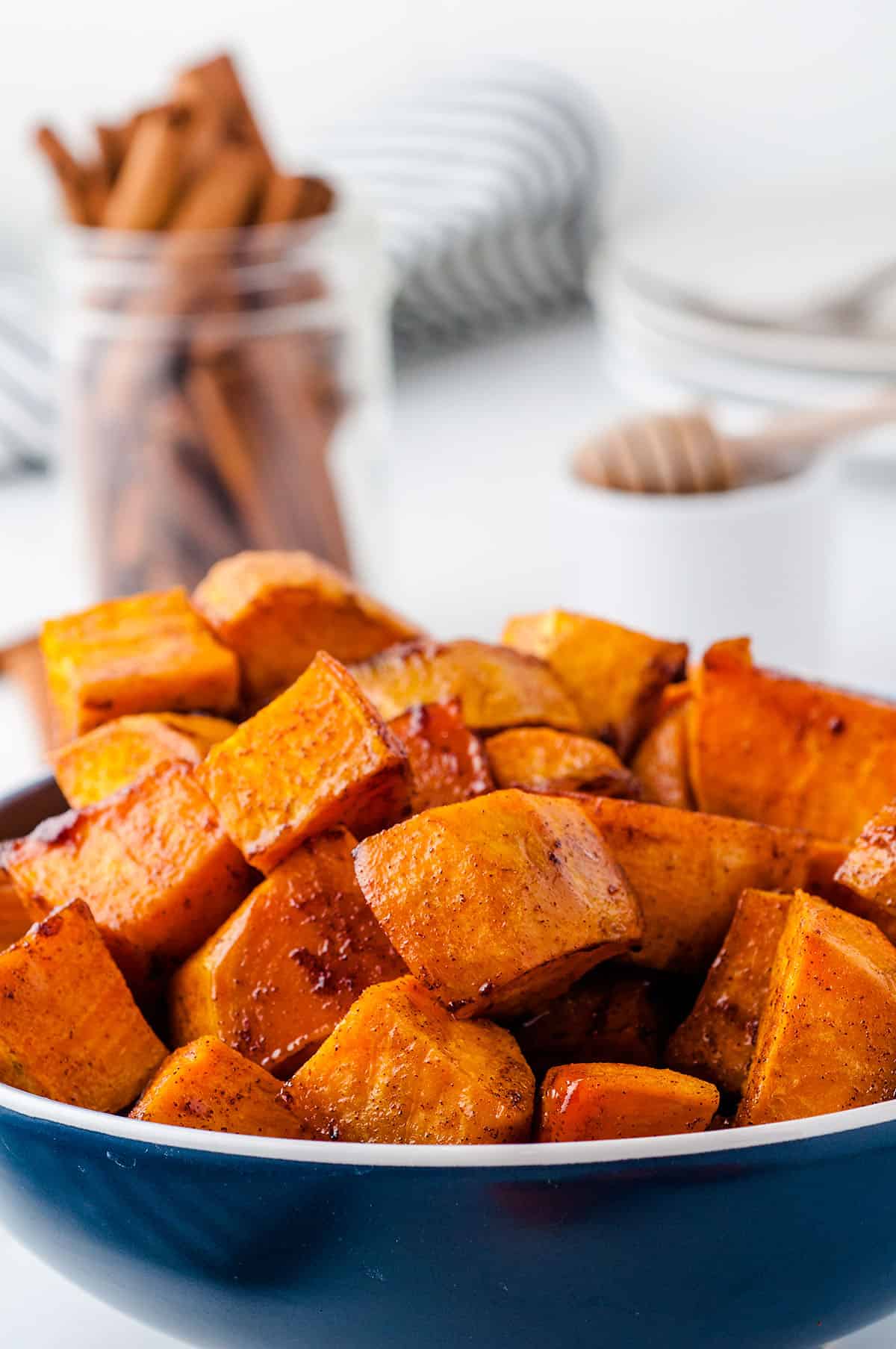 More Delectable Sweet Potato Recipes:
Check out these sweet potato cookies!
I also made some SKINNY sweet potato donuts…they sure don't look or taste skinny, though!
Instant Pot Sweet Potatoes are a favorite here too.
These make a great side dish at Thanksgiving, right along side my favorite sausage dressing.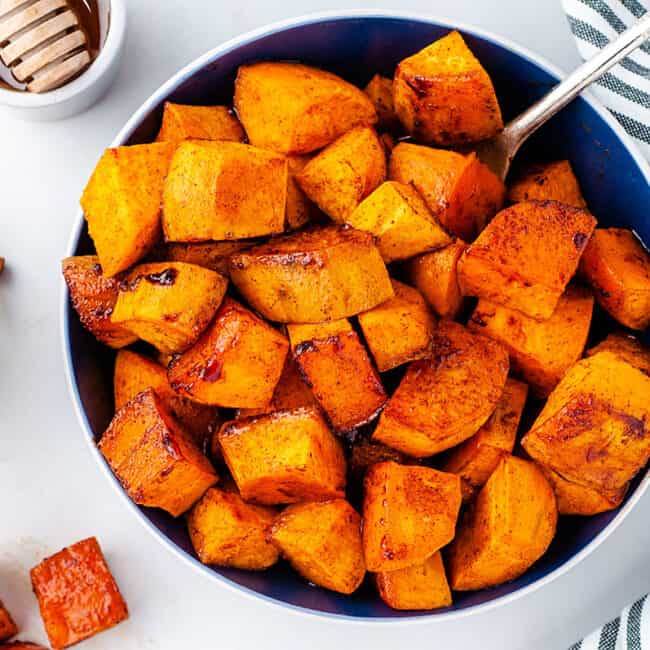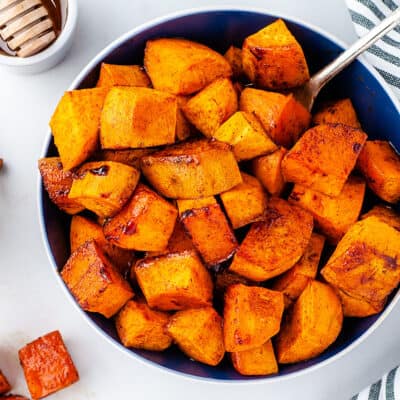 Honey Cinnamon Roasted Sweet Potatoes
These roasted sweet potatoes are tossed in cinnamon and honey for an easy fall side dish that's full of flavor.
Prep5 minutes
Cook30 minutes
Total35 minutes
Ingredients
2 large sweet potatoes peeled and cut into 1 inch cubes
2 tablespoons honey
2 tablespoons olive oil
1 teaspoon cinnamon
1/2 teaspoon salt
1/4 teaspoon pepper
Instructions
Preheat oven to 375 degrees.

In a large bowl, combine the honey, olive oil, cinnamon, salt, and pepper. Add the sweet potatoes and toss to coat.

Dump potatoes onto a large rimmed baking sheet. Roast for 25-30 minutes, stirring halfway through cooking.
Tips & Notes:
This recipe doubles beautifully, but be careful not to overcrowd your baking sheet. Maple syrup can be substituted for honey, if preferred.
Nutrition Information:
Calories: 193kcal (10%)| Carbohydrates: 32g (11%)| Protein: 2g (4%)| Fat: 7g (11%)| Saturated Fat: 1g (6%)| Polyunsaturated Fat: 1g| Monounsaturated Fat: 5g| Sodium: 353mg (15%)| Potassium: 390mg (11%)| Fiber: 4g (17%)| Sugar: 13g (14%)| Vitamin A: 16033IU (321%)| Vitamin C: 3mg (4%)| Calcium: 40mg (4%)| Iron: 1mg (6%)