Cinnamon honey butter, just like you'd find at that steak house with the crazy good rolls! This honey butter whips up in no time and can be kept in the fridge for anytime you need a little something special to add to your biscuits, dinner rolls, or sweet potatoes!
Hello, my name is Karly and it's been approximately 3 minutes since I last spread some honey butter over a piece of toast and devoured it all in one bite.
I need an intervention, you guys!
This cinnamon honey butter is addictive and I just can't stop! I'm not sure I want to stop either.
You guys all know and love my homemade biscuits, but what you didn't know was that they were missing this honey butter recipe. Same goes for sweet potatoes! Let's do this!
How to make honey butter:
It sounds easy enough to just add a bit of honey with some butter and I'm sure that would be lovely, but if we want the right flavor and consistency, we need to add a little extra goodness. Ready for this?
You'll take a stick of room temperature butter and add in a hefty drizzle of honey. Add in some powdered sugar and a little cinnamon. A teensy little pinch of salt helps bring out the flavors.
Use a mixer to beat this all together until it's thick, creamy, and well combined.
That's it, you guys!
Does honey butter need to be refrigerated?
First, let's keep in mind that I'm just a girl with a blog – no food safety history here, just speaking from my own experience.
But in my experience – yes and no. I would be totally comfortable leaving this cinnamon honey butter out on the counter all day when I'm planning to use it, but for storing? It's going in the fridge.
If you forget to take your honey butter out in time to use it, just zap it for 15 seconds in the microwave. It should be softened enough to spread pretty easily, especially if you're spreading it on something warm.
How long will honey butter last:
Honey butter should last in the fridge just as long as butter would last in the fridge! I'd recommend checking the expiration date of your butter and use the freshest you can find.
What to put honey butter on:
Oh my, the list is endless.
7 Up Biscuits, pancakes, toast, dinner rolls, this waffle recipe, fried chicken (seriously!), cornbread, and baked sweet potatoes are good starting places!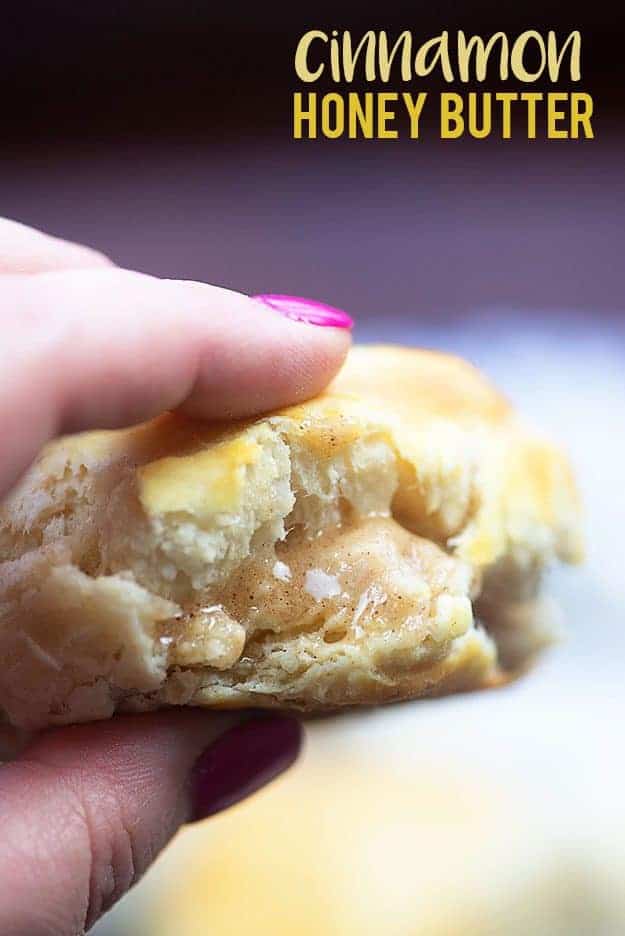 Cinnamon Honey Butter
Smooth, creamy butter with the sweetness of honey!
Prep5 minutes
Total5 minutes
Ingredients
8 tablespoons salted butter room temperature
1/3 cup honey
1/3 cup powdered sugard
1 teaspoon ground cinnamon
1 pinch salt
Instructions
Add all of the ingredients to a medium mixing bowl.

Beat the ingredients together with a mixer on low speed until well combined.

Serve honey butter at room temperature.
Tips & Notes:
Store tightly covered in the refrigerator. Honey butter should last just as long as your butter would. Check the expiration date on your butter before preparing.
Nutrition Information:
Serving: 1tablespoon| Calories: 108kcal (5%)| Carbohydrates: 11g (4%)| Fat: 7g (11%)| Saturated Fat: 4g (25%)| Cholesterol: 20mg (7%)| Sodium: 67mg (3%)| Potassium: 4mg| Sugar: 11g (12%)| Vitamin A: 235IU (5%)| Calcium: 4mg