Our Sweet Cornbread Recipe turns out perfectly moist and tender every time. If you love northern style cornbread, with that perfect balance of sweetness, this will quickly become your go to recipe!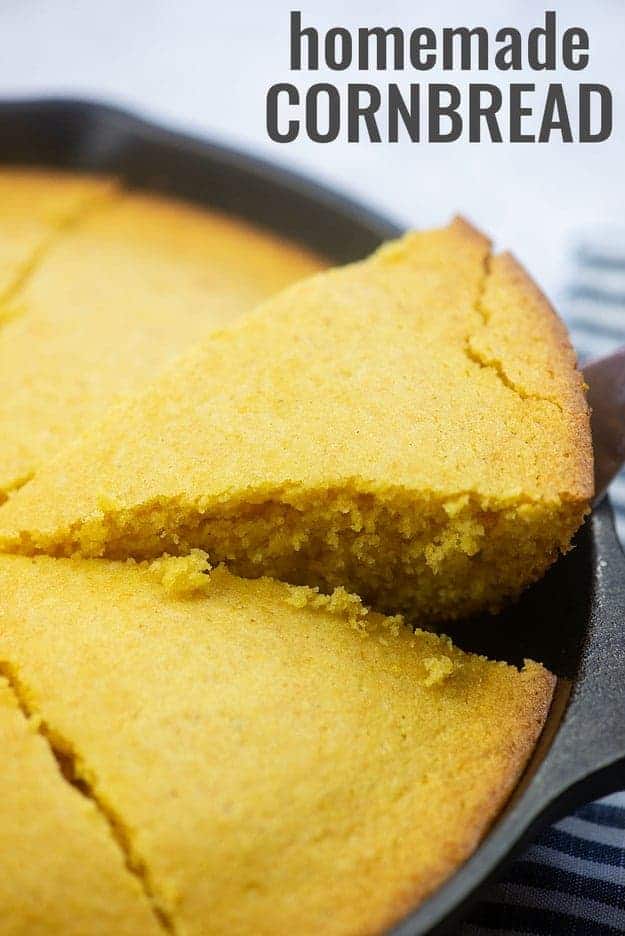 Alright, everyone, I'm about to get controversial.
I am sharing the best cornbread recipe today and you're about to see that it has sugar in it.
That's right.
I generally love me some southern food, but when it comes to cornbread I just have to have the sweet stuff.

I know that people are very passionate about whether or not sugar belongs in cornbread, so please just pass right on by if you like the southern version without a hint of sweetness. You'll hate this recipe. 🙁
If you want a rich, dense, sweet cornbread that goes great with my turkey chili and my Instant Pot ham and bean soup, well, here you are. I have the best cornbread recipe for you and I'm so excited you're here for it.
Not into our plain sweet cornbread? You might like our Cheddar Jalapeno Cornbread instead!
Ingredient Notes:
This post contains affiliate links. As an Amazon associate and member of other qualifying programs, I earn from qualifying purchases.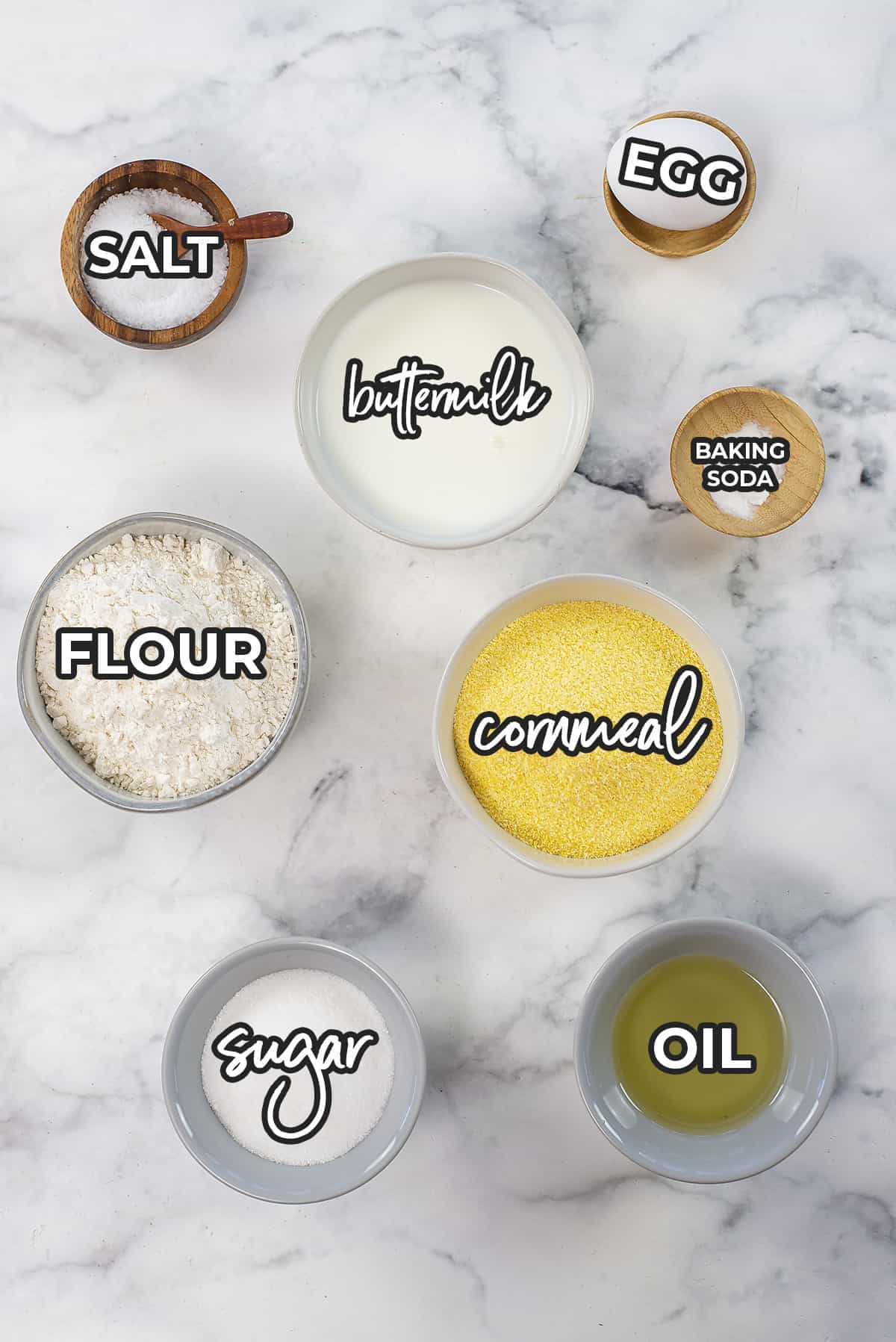 Cornmeal – The key ingredient! This will give the cornbread the taste, texture, and color that we all know and love.
Dry Ingredients – In addition to the cornmeal you'll need some all-purpose flour, sugar, salt, and baking soda for the cornbread batter. The flour helps lighten it up a bit. If you use just cornmeal, the bread will be quite dense.
Wet Ingredients – Some egg, buttermilk, and vegetable oil are the remaining ingredients you'll need for the batter. The buttermilk helps keep the bread moist and the tangy flavor pairs well with the sweet.
What We Love About This Recipe:
Better Than a Box: This homemade cornbread is so much better than the boxed mix! It's a little more work, but you'll love the result.
Versatile: Slather on some butter and have a slice for a snack or serve this alongside your favorite soup, stew, or chili!
Kid-Approved: Kids love the sweet, moist texture of this cornbread, making it a great choice for family dinners.
How To Make Cornbread: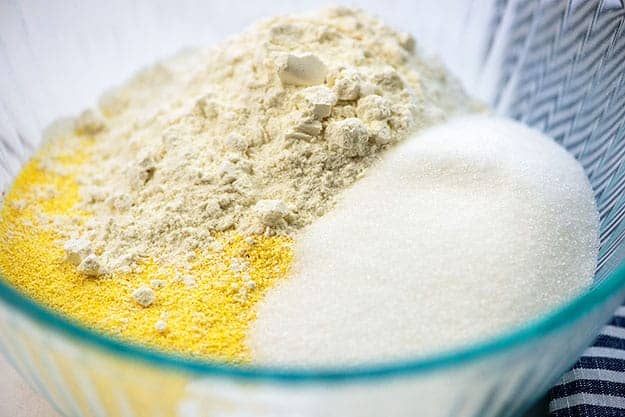 Dry Ingredients: One of the things I love about cornbread is that it's EASY! Start by adding the dry ingredients (cornmeal, flour, sugar, salt, and baking soda) to a large mixing bowl.
Combine: Now you can start adding the wet ingredients (oil, egg, buttermilk) to the mixing bowl with the dry ingredients.
No need to even use a mixer here. Just stir it together by hand until it's a mostly smooth batter with just a few lumps remaining.
Bake: This buttermilk cornbread mixture can be baked in a greased round cake pan or a cast iron skillet. It'll take about 25 minutes for the cornbread to finish baking.
That's it! I told you it was easy.

Cast iron skillets are my favorite! They heat so evenly, get piping hot for searing, and nothing is better than bacon fried in a cast iron skillet.
Variations:
Like a little heat with your sweet? Stir in some diced jalapenos!
Out of buttermilk? Add a tablespoon of vinegar to a measuring cup and then add milk up to the 1 cup mark. Let sit for 5 minutes and you've got a cup of buttermilk. This is buttermilk cornbread, so don't skip the buttermilk! You need the acid to help the cornbread rise.
Like it sweet, but not too sweet? Feel free to adjust the sugar to your tastes. I wouldn't leave it out entirely, but you should be able to cut it down to half without any issues.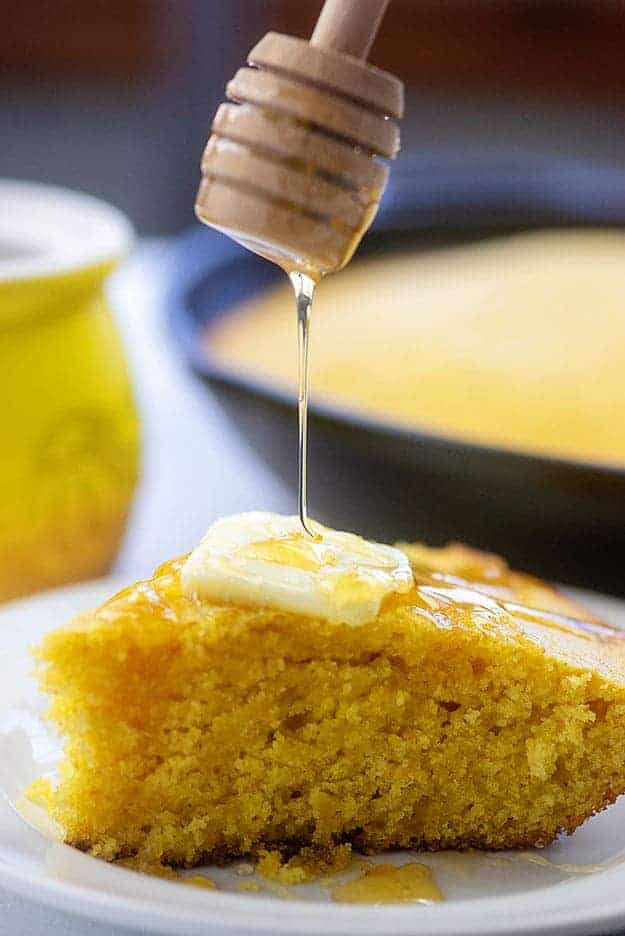 What To Serve With Cornbread:
This sweet cornbread is pretty great all on it's own with some butter and honey, or maple syrup! It's even better served as a side though. Here are some good recipes to serve with this cornbread: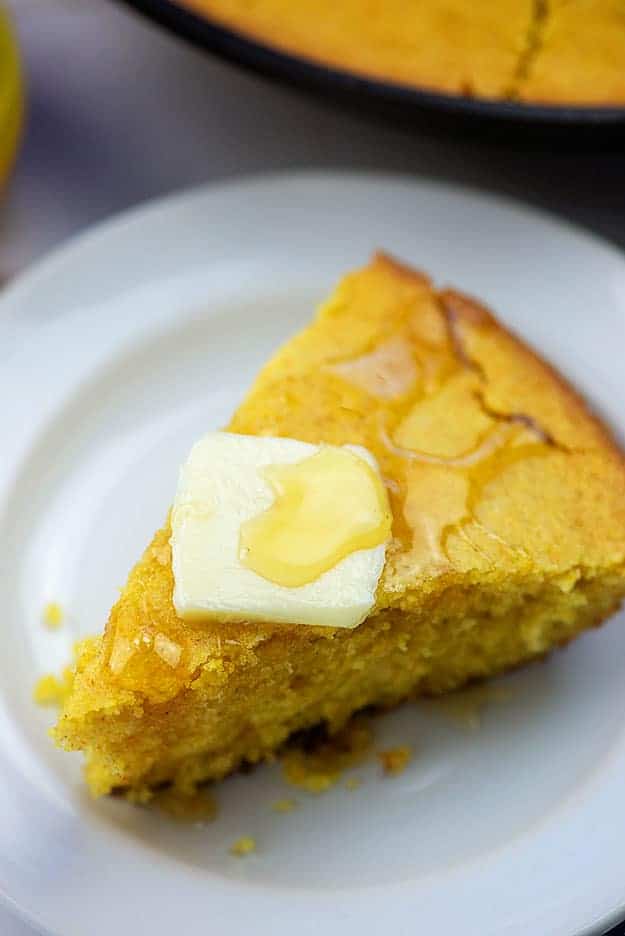 FAQs:
How do you store cornbread?
This sweet cornbread will stay fresh in an airtight container at room temperature for about 3 days. You can extend it to a week in the fridge, or up to a few months in the freezer.
Is this cornbread gluten-free?
No, not with the all-purpose flour being added in. You could substitute that for a gluten-free flour like coconut flour or almond flour.
If you love cornbread as much as I do, you'll want to try these other recipes too!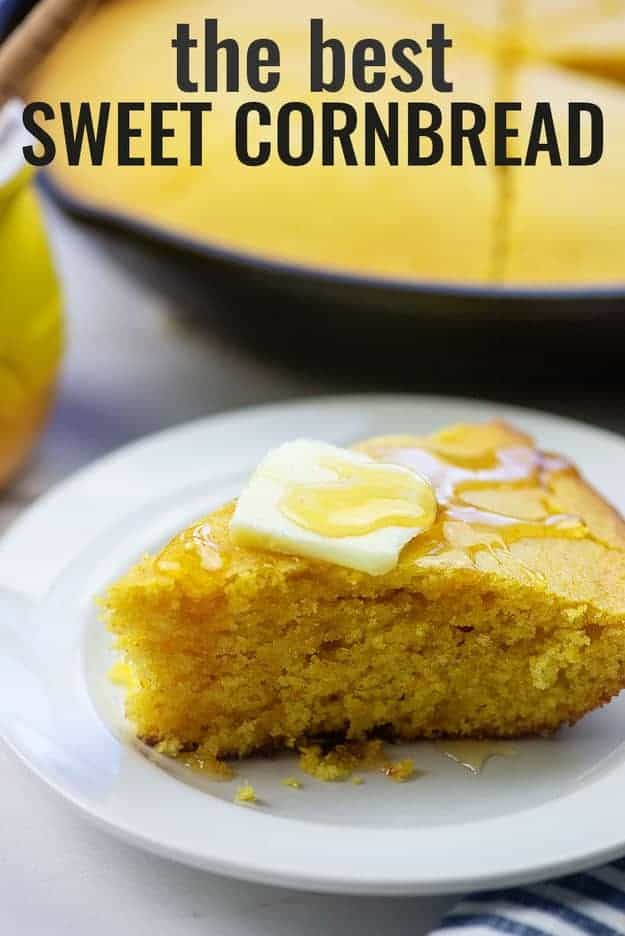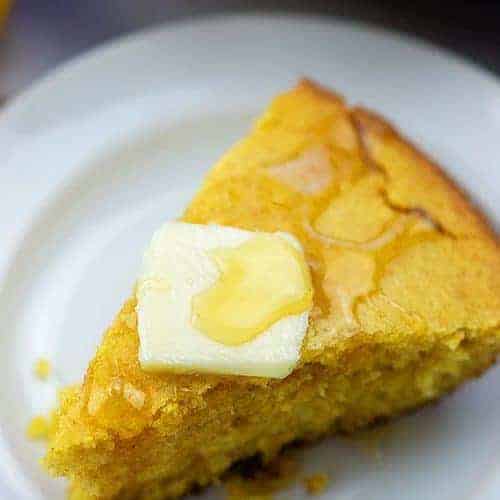 Sweet Cornbead
Northern style cornbread – rich, moist, and sweet! This is perfect topped with a pat of butter and a drizzle of honey.
Prep5 minutes
Cook25 minutes
Total30 minutes
Ingredients
1 cup yellow cornmeal
1 cup all-purpose flour
½ cup sugar
1 teaspoon salt
3/4 teaspoon baking soda
1/3 cup vegetable oil
1 large egg
1 cup buttermilk
Instructions
Preheat oven to 400 degrees. Grease a 9 inch round cake pan or cast iron skillet.

Add the flour, cornmeal, sugar, salt, and baking soda to a mixing bowl and stir to combine.

Add the oil, egg, and buttermilk to a small bowl and whisk to combine.

Add the wet ingredients to the dry and stir until just combined with a few lumps remaining.

Spread mixture into the prepared pan and bake for 25 minutes or until a toothpick inserted near the center comes out clean.

Cool for 5 minutes before slicing and serving.
Tips & Notes:
Recipe lightly adapted from All Recipes.
Nutrition Information:
Serving: 1slice| Calories: 289kcal (14%)| Carbohydrates: 40g (13%)| Protein: 5g (10%)| Fat: 12g (18%)| Saturated Fat: 8g (50%)| Cholesterol: 30mg (10%)| Sodium: 436mg (19%)| Potassium: 131mg (4%)| Fiber: 2g (8%)| Sugar: 14g (16%)| Vitamin A: 88IU (2%)| Calcium: 41mg (4%)| Iron: 1mg (6%)