This ham and bean soup is one of my favorite pressure cooker recipes! This Instant Pot soup tastes like it cooked all day, but it's ready in less than two hours! Big thanks to Hurst's Beans for sponsoring this post.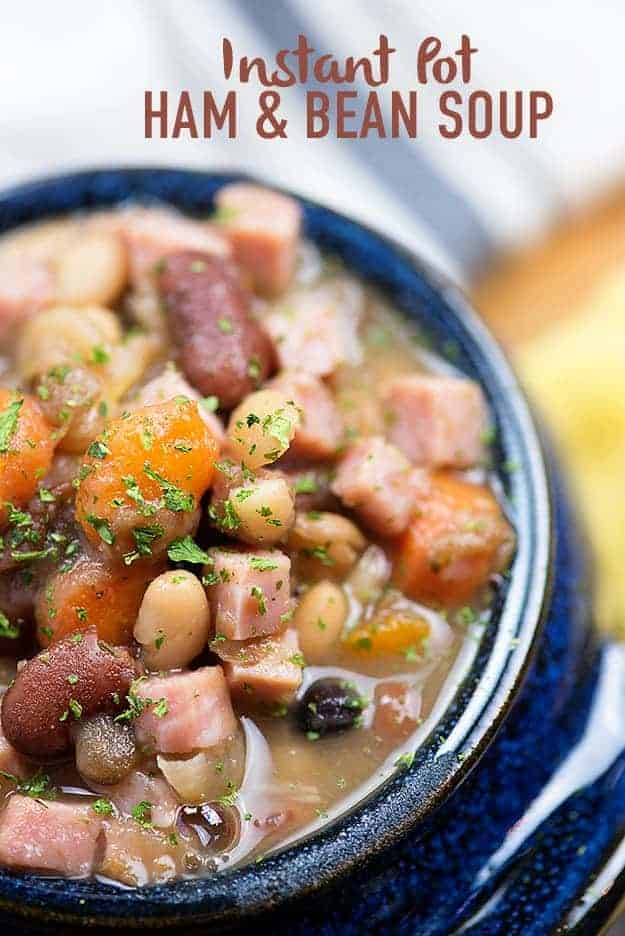 Hi, friends!
Are you in holiday overload right now?
I did a big grocery order yesterday to prepare myself for the holiday feast. We have Christmas Eve at my mama's and then Christmas Day at my house and between the two, well, I needed some groceries.
Online grocery order is basically my favorite thing in the world right now.
My fridge is currently packed to the brim, but then I realized that I forgot one thing. Because of course I did.
That thing I forgot? Was the ham. So, I'm probably going to need to make a run to the store before Christmas. 😉
Does anyone else manage to forget something every time they place an order, meaning that you have to go inside the dang store anyway? So frustrating, but still way better than doing a full grocery shop!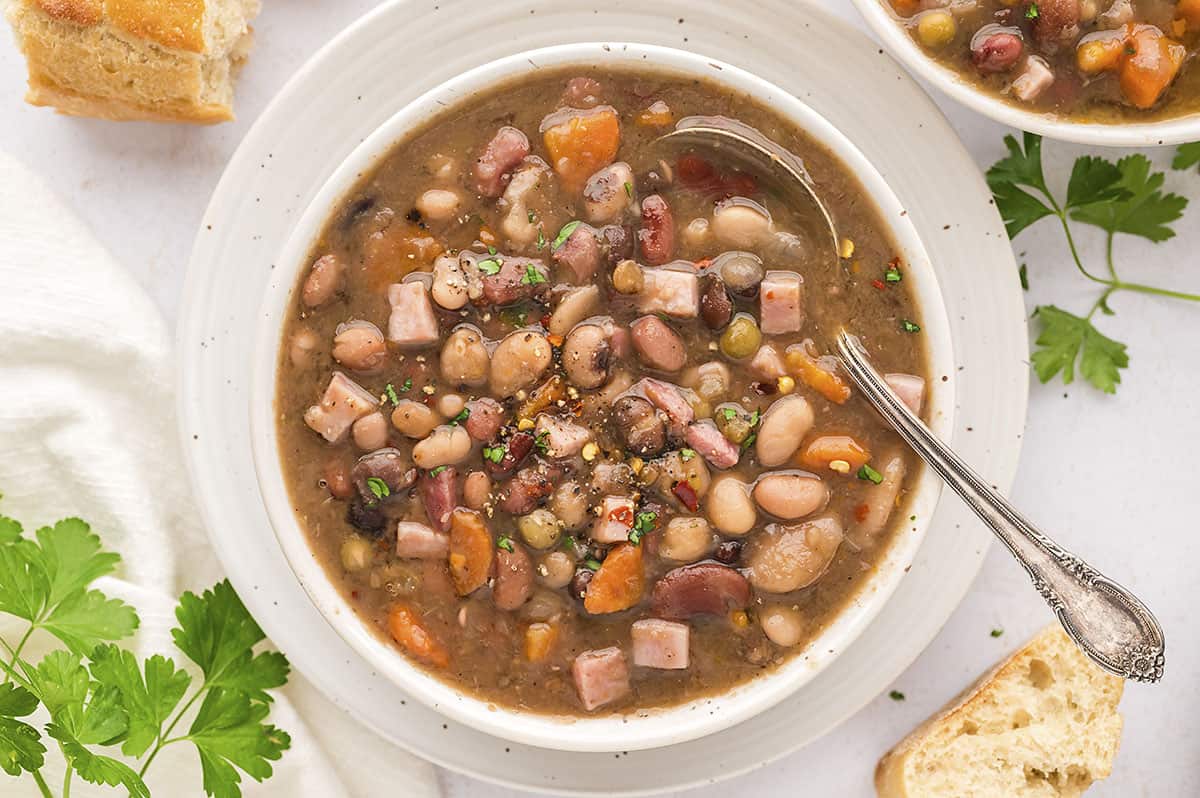 Anyway, I know that most of us have ham for Christmas dinner, although I hear of people who do lasagna on Christmas too.
I am intrigued by you lasagna people.
That sounds delicious and I might have to try it someday. For now, though, we do ham.
I have some friends that do a different ethnic meal every Christmas. I feel like a Mexican food Christmas should be in my future one day.
But like I said. This year, it's ham. It's hard to go wrong with you know?
Since ham is such a popular Christmas dinner, I thought we'd need some leftover ham recipes, am I right?
I have a few recipes for you to try. My crock pot breakfast casserole is always a win. So is my slow cooker Cajun ham and beans.
But, I have a feeling that a lot of you will get an Instant Pot for Christmas, so I wanted to share some new pressure cooker recipes for you to try out!
Enter my Instant Pot soup that is just full of beans, ham, and veggies.
This soup is hearty and delicious and I think it's a great way to test out the magic of the Instant Pot. Taking dried beans to cooked beans in less than two hours is pretty awesome.
I'm working with Hurst Beans to bring you this ham and bean soup! I think you're going to love how flavorful it is.
The soup tastes like it's been simmering all day and is just bursting with flavor. But! It's definitely an easy soup, because after the holidays we all need easy.
I've also made pressure cooker pinto beans that you should try sometime soon! Beans are such a filling food and they're pretty perfect for that New Year's diet we all have coming up. 😉
Anyway, I like using Hurst's 15 Bean Soup in this recipe. The package comes with at least 15 different varieties of beans, it's own ham seasoning packet, and it's so economical.
Easy ham and bean soup in the Instant Pot!
I add some onions, carrots, and celery to my soup because yum. Then, once it's all cooked together, I stir in some leftover ham. Easy peasy!
I think you'll love this ham and bean soup! Let me know if you give it a try.
And also let me know if you got that Instant Pot for Christmas and how you're liking it.
I hear of so many people that are scared to take it out of the box! I was too, honestly.
But, I embraced my fears and got started boiling eggs in the thing and I've never looked back. People aren't lying when they say that boiled eggs from the Instant Pot peel like a dream.
I moved on to rice (also perfect!) and then to dried beans. I promise that you'll have this thing figured out in no time!
So, I'd love to hear from all of you – do you want more Instant Pot recipes? 🙂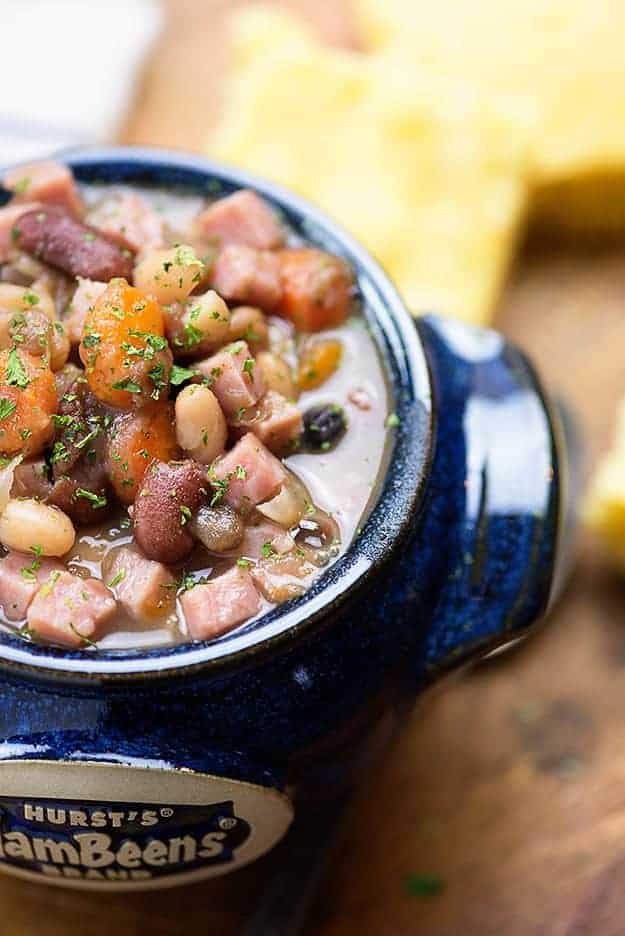 Instant Pot Ham and Bean Soup
This ham and bean soup is one of my favorite pressure cooker recipes! This Instant Pot soup tastes like it cooked all day, but it's ready in less than two hours!

Prep10 minutes
Cook50 minutes
Total1 hour 40 minutes
Ingredients
1 tablespoon olive oil
2 large carrots peeled and diced
2 stalks celery diced
1 sweet onion diced
20 ounces Hurst's Beans 15 Bean Soup 1 bag
7 1/2 cups chicken stock
2 cups cooked diced ham
1 teaspoon black pepper
1 teaspoon red pepper flakes
Instructions
Turn pressure cooker to "saute" and add the oil to the pot. Once hot, add the carrots, celery, and onion and cook, stirring often, for 5 minutes.

Rinse and sort through the beans. Add to the pressure cooker along with the chicken stock. Set the seasoning packet aside for later.

Turn the pressure cooker off. Put on the lid and set the vent to "sealing." Set the pressure cooker to "high pressure" for 40 minutes.

Once the soup has reached pressure and cooked for 40 minutes, allow the pressure to release naturally - about 20 minutes.

Remove the lid carefully and stir in the seasoning packet, ham, black pepper, red pepper flakes. Taste and add salt if needed.

Stir well and let set for 5 minutes to allow the ham to heat through.

Serve hot. Sprinkle with fresh parsley as desired.
Tips & Notes:
To make this in a slow cooker, add the vegetables, beans, stock, and ham to a slow cooker on high. Cook, covered, for 5 hours. Stir in all of the seasoning and continue cooking for 1 hour.
Nutrition Information:
Calories: 259kcal (13%)| Carbohydrates: 38g (13%)| Protein: 18g (36%)| Fat: 4g (6%)| Cholesterol: 14mg (5%)| Sodium: 486mg (21%)| Potassium: 891mg (25%)| Fiber: 7g (29%)| Sugar: 5g (6%)| Vitamin A: 2090IU (42%)| Vitamin C: 4.7mg (6%)| Calcium: 56mg (6%)| Iron: 3.7mg (21%)