Our Crockpot Spiral Ham is the perfect mix of sweet & salty! This ham is so tender and juicy since it cooks in the crockpot and it's super easy too! Serve this up at your next holiday dinner for a special treat.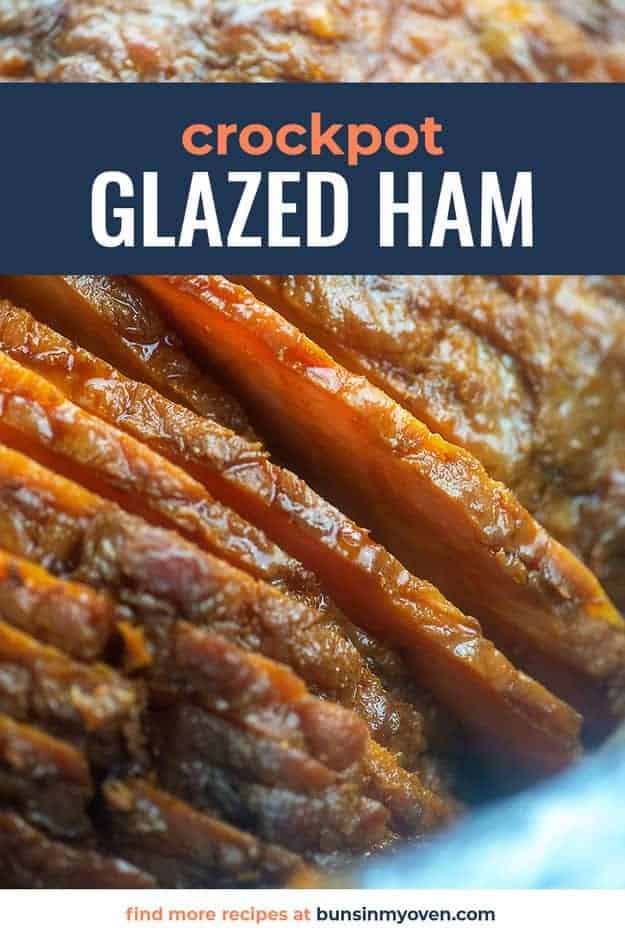 My husband and I are on opposite sides of the fence when it comes to meat…I like it to have a bit of a sweet side. Not like SUGAR sweet, but just a nice mix of sweet and salty. Like barbecue sauce or crock pot honey garlic chicken or grape jelly meatballs. Or a honey glazed ham!
My husband, on the other hand, thinks meat should have no hint of sweetness. I regularly make pulled pork sandwiches and he eats it with zero barbecue sauce, which I just think is wrong. 😉
Anyway, I usually take turns on the ham. The ham is glazed for Christmas, but not for Easter.
Ahh, marriage. Who'd have thought it be full of compromises about ham?
Anyway, the kids and I absolutely LOVE this crockpot spiral ham with a simple honey and brown sugar glaze. It's so juicy and tender, thanks to cooking the slow cooker!
Ingredient Notes:
This post contains affiliate links. As an Amazon associate and member of other qualifying programs, I earn from qualifying purchases.
Spiral Sliced Ham – The size of ham you purchase will depend on the size of your crockpot and the number of people you're feeding. I almost always go for a larger size than I need, because we love leftovers! See below for more info on boneless versus bone-in hams.
Honey Glaze – This sticky sweet glaze for this spiral ham recipe is a quick and easy mix of honey, butter, and brown sugar that you'll melt together and then brush on. Honey glazed ham is perfect for holiday gatherings! It's also optional.
What We Love About This Recipe!
I love holiday recipes that use the crockpot, so I can save the oven space for other foods! Plus, the crockpot keeps the ham nice and moist and the recipe is beyond simple!
How to Make Spiral Ham:
Prepare: To get started you'll want to line your crockpot (see tip below) and place the spiral ham inside. Once ready, set the heat to low.
Helpful Tip!
Mess free!
I use crockpot liners to keep clean up easy here. There will be honey/sugar in your slow cooker for a few hours and that can cause a bit of a sticky mess, so using the liner is really recommended here.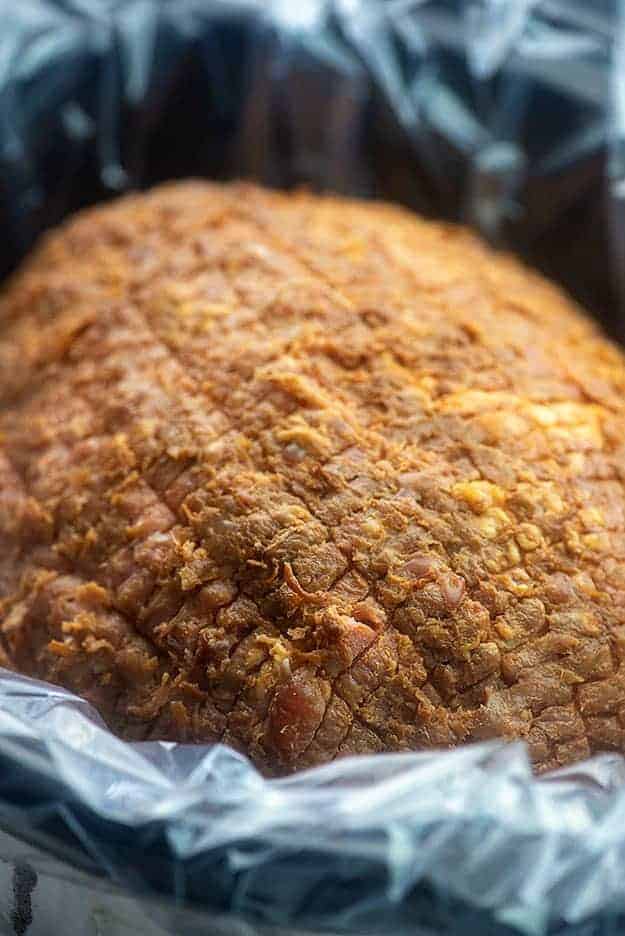 Honey Glaze: Add butter, honey, and brown sugar to a small sauce pan over low heat and melt it together. Once that sweet glaze is all combined, brush it over the top of the ham liberally. Don't use it all at first, this recipe makes a lot and you'll want to reserve some to brush on the ham as it cooks!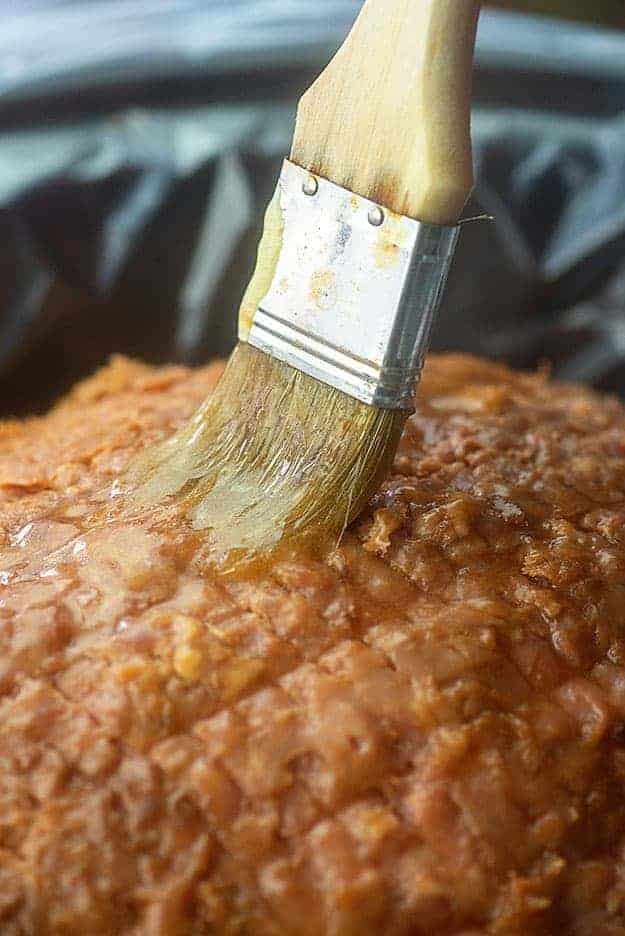 Slow Cook: The crockpot brown sugar ham should be heated through and beautifully glazed in about 5 hours for an 8-10 pound ham. It takes a bit more time than you might expect, because opening the lid to glaze the ham does release a fair amount of heat each time. Your ham may cook quicker if you glaze less often.
I like to brush the ham with the glaze about every 30-45 minutes, but this will totally depend on how much glazed flavor you'd like. If you go longer in between, you certainly aren't going to ruin your ham.
Test the internal temperature with an instant read thermometer. Your fully cooked ham should be heated to 140 degrees before serving.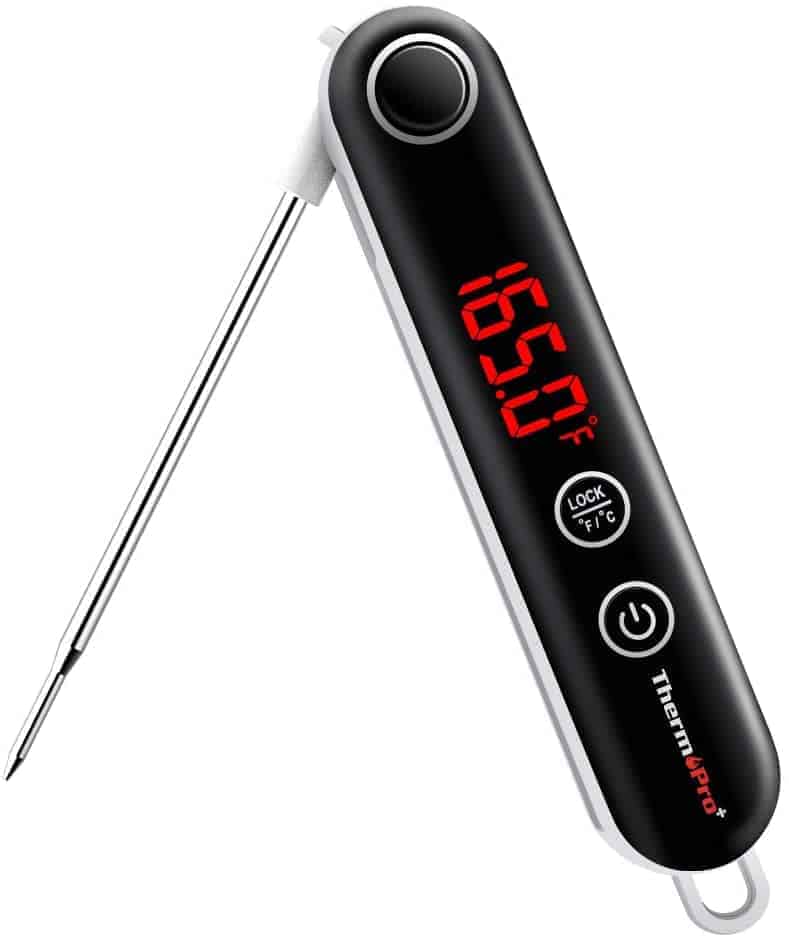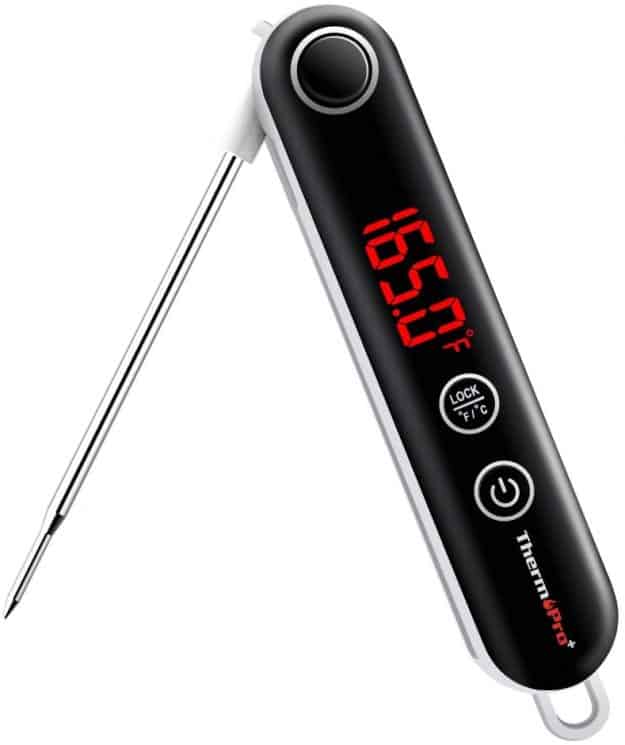 I love using this meat thermometer for making sure the meat is fully cooked! Easy for beginners & absolutely worth the low cost.
Boneless or Bone-In Ham:
You can use either a whole boneless spiral sliced ham or a bone-in spiral sliced ham. Either work great, it will just depend on your personal preference.
The key is to be sure that it will fit within your crock pot. For my 6 quart crockpot, I try to stay around 5-8 pounds of ham.
The crockpot is magic when it comes to making ham nice and tender, so I think you'll enjoy either bone-in or boneless.
What to Serve with Crockpot Brown Sugar Ham:
Ham is easy enough for dinner any week of the year, but we tend to save it for holiday dinners for some reason. A few of our favorite holiday side dishes include:
And don't forget dessert!
FAQs:
How to store ham?
The great thing about ham is that it is perfect for leftovers! It tastes just as good on day two as it did when it came out of the slow cooker. You can refrigerate ham in a sealed container for at least 4 to 5 days.
How to glaze ham?
Easy! Just make the honey glaze, and brush it on there. We brush it on at the start and then continue to brush it on about every 45 minutes or so as it cooks. You can use as much or as little of the honey glaze as you like!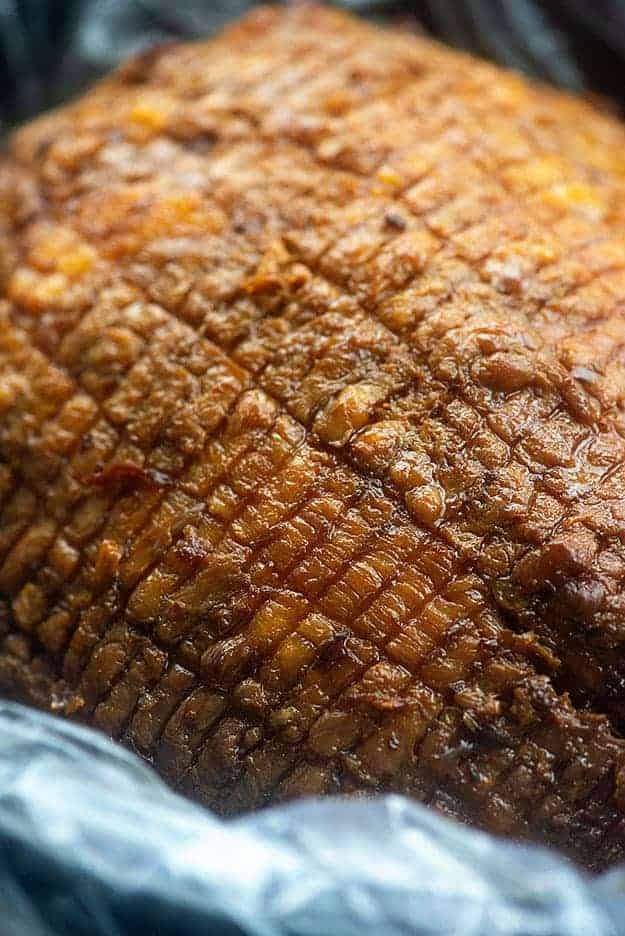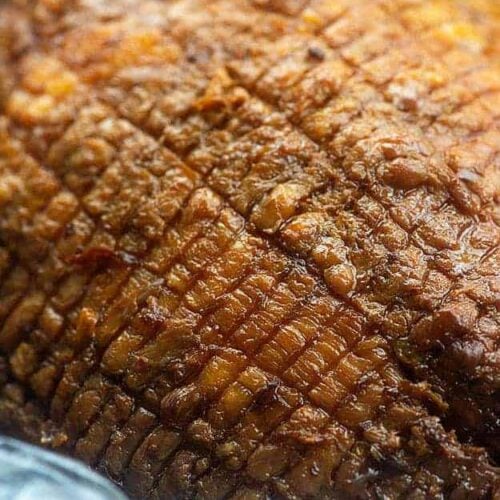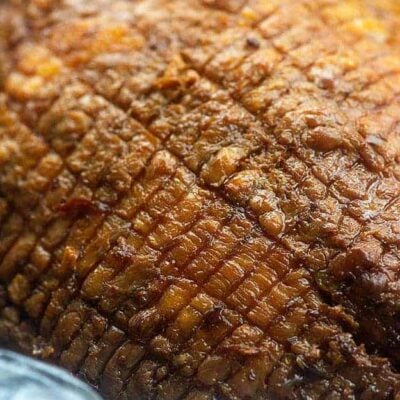 Crockpot Spiral Ham
This spiral sliced ham is so easy to make in the crockpot and it comes out so juicy! We baste it with a mix of honey, butter, and brown sugar to amp up that sweet and salty flavor I love.
Prep10 minutes
Cook5 hours
Total5 hours 10 minutes
Ingredients
5-8 pound spiral sliced boneless whole ham, see note
3/4 cup honey
6 tablespoons butter
2 tablespoons brown sugar
Instructions
Line a 6-8 quart slow cooker with a crockpot liner.

Place the ham in the lined crockpot and set the heat to low.

Add the honey, butter, and brown sugar to a small sauce pan over low heat and cook, stirring often, until melted and combined.

Liberally brush the glaze over the ham.

Cover and cook for 5 hours, brushing with the glaze every 30 – 45 minutes. You may not use all of the glaze.

Ham should reach an internal temperature of 140 degrees before serving. Cook time will vary based on the size of your ham and your slow cooker, but should be close to the 5 hour mark.
Tips & Notes:
You may use bone-in or boneless ham, but be sure it will fit in your slow cooker. We're able to fit a boneless 5-8 pound ham in our 6 quart slow cooker.
Nutrition Information:
Calories: 719kcal (36%)| Carbohydrates: 19g (6%)| Protein: 53g (106%)| Fat: 47g (72%)| Saturated Fat: 18g (113%)| Cholesterol: 167mg (56%)| Sodium: 2968mg (129%)| Potassium: 714mg (20%)| Fiber: 1g (4%)| Sugar: 19g (21%)| Vitamin A: 175IU (4%)| Vitamin C: 1mg (1%)| Calcium: 22mg (2%)| Iron: 2mg (11%)